10 Reasons to Celebrate Beer Month in Raleigh, N.C.
Fri, Mar. 24 2017, 7AM by Kristen Baughman
April is North Carolina Beer Month, and the Raleigh area is celebrating with plenty of beer events, tastings, festivals, dinners and more to enjoy all month long. Throughout the entire month, experience excellent beers and happenings area breweries have to offer.
Here are 10 reasons to raise your pint and celebrate here!
1. Sample amazing beers at some of the biggest beer events in N.C.
Kick off N.C. Beer Month on April 1 by enjoying four-ounce tastings from a selection of more than 250 of the finest beers at World Beer Festival Raleigh. From April 21-22 celebrate all things local at Brewgaloo (pictured below). This festival is the largest of its kind around and features more than 90 N.C. breweries, 50 food trucks, dozens of local vendors and bands. Consider yourself a food lover? Get piggy with it at Cary's porkiest festival, the Beer & Bacon Fest on April 8, with an all-you-care-to-taste extravaganza complete with the best craft beers and bacon. Two tons of gourmet bacons will be griddled on-site as live music plays all day!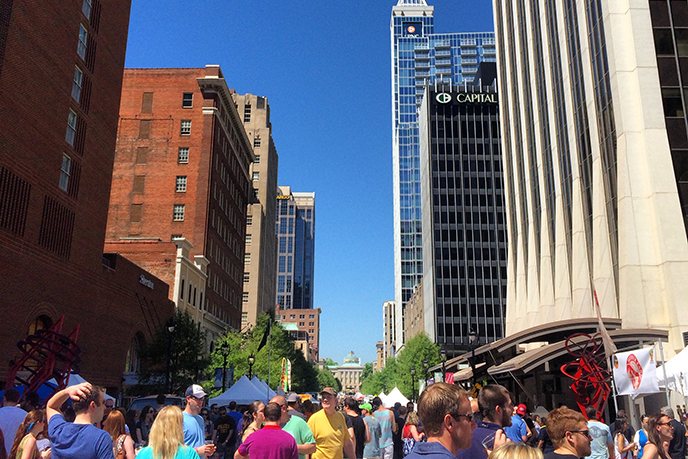 2. Cheers to a cause
What better way to help solve the world's water crisis than by spending a day with friends enjoying a bike ride and beer tasting? Tour de Brew, April 8, brings together beer and cycling fanatics to support local bicycle charities and provide clean water access to people in Central Africa.
3. The Raleigh area has more than 25 breweries!
From a brewery that launched in an airplane hangar to a brewery born from a rickshaw company, Raleigh area brewers know something about thinking differently. And with more than 25 breweries all over the destination, you can bet on a craft beer experience like no other. Our brewers are just as excited to share their passion and inspirations as they are for you to taste the beer. Take Sumit Vohra, for example, from Lonerider Brewing Company, which is a staple in the N.C. beer scene!
 
5. Try special beer releases all around the area
Casks on Fools is an awesome kick-off party for Beer Month! The fourth annual event on April 1 features unique, one-of-a-kind casks from more than 20 breweries, all under one roof at Crank Arm Brewing. You can also try special beer releases at other breweries throughout the month. You'll want to get your hands on Big Boss Brewing Company's oak-aged "Strange Cargo" trio featuring earthy, funky beers, along with Bombshell Beer Company's bourbon barrel-aged Uber Night Imperial Stout, among many others.
4. Hit the Raleigh Beer Trail
Like trying a variety of breweries? Well, pull up a barstool at one of the many breweries across the area! Download and print your free Raleigh Beer Trail passport, get stamps and earn prizes. The more you visit, the more prizes you'll earn.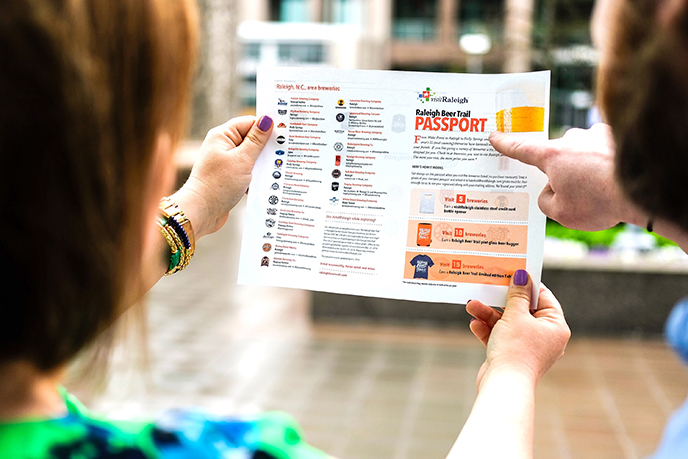 6. Celebrate female leaders in the beer scene
Meet the talented women carving a space in N.C.'s craft beer industry on April 30 at In The Company of Women at House of Hops bottle shop. Engage in conversation with speakers including Highland Brewing Company family owner and president Leah Ashburn; Highland brewmaster Hollie Stephenson; Fullsteam Brewery sales director Mary Eliza McRae; and N.C. Craft Brewers Guild executive director Margo Knight Metzger. Stay after for food from the ladies behind the awesome food truck Pho Nomenal Dumpling Truck, as well as live music!
7. The best new brewery in the U.S.
Bond Brothers Beer Company in Cary was recently voted the "Best New Brewery" in the country in USA TODAY's 10Best. Their sours are not to miss, like the Passion Fruit Sorcery and Blackberry Raspberry Sorcery. Their Mid-Town Square Spring Festival on April 1 is a perfect opportunity to try their beers and kick off Beer Month!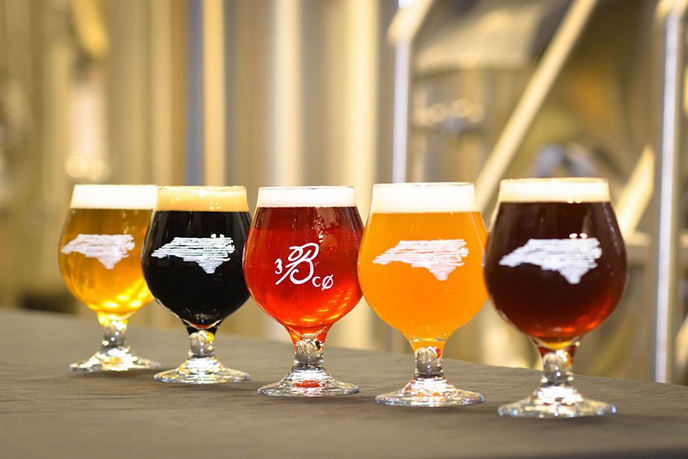 8. Tasty N.C. beer dinners
Many area restaurants are teaming up with breweries from all over the state. Neuse River Brewing Company is partnering with Mandolin to host a four-course dinner with all proceeds from the event donated to Make-A-Wish Eastern N.C. Grounds Cafe in Wendell will also host a beer dinner. This special dinner is in conjunction with Big Boss Brewing Company featuring a multi-course food and beer pairing menu. Another not-to-miss dinner includes an exclusive-but-casual food and beer pairing at Brüeprint Brewing Company. Heaven and Hell's Kitchen food truck/catering will be preparing a delicious, four-course meal to pair perfectly with pours of Brüeprint's tasty beers.
9. Brewers Olympics
Raise a pint to some of your favorite N.C. brewers during the fourth annual Brewers Olympics on April 29 at Raleigh Brewing Company. Teams from breweries around the region are going toe to toe in ridiculous, messy and very unusual games to compete for the championship. Exclusive beers will be on tap from each brewery and admission is free.
10. Raleigh, N.C.
Cool beer scene, cool destination. Watch the video below to see why the Raleigh area is thriving.
Bond Brothers Beer Company photo via the brewery
Author: Kristen Baughman
Kristen Baughman is the founder of Tabletop Media Group, a boutique media agency based in Raleigh and serving clients in the food, beverage and agriculture industries. Her company offers consulting services in the fields of social media, graphic design, illustration, special events, website design and videography. In her free time, you can find her relaxing outside with her dog Cheerwine, writing about food and drink, or at one of the many breweries in the region sipping on a N.C. beer.
Follow her at @TabletopMediaGp on Facebook, Twitter and Instagram
Visit her at tabletopmediagroup.com
Comments