Brew N Que
At Brew N Que in Apex and Cary, these guys source everything they can locally. The beer—nine taps and a good selection of bottles—comes from breweries a short drive away. The pork is pasture-raised just down the road. The veggies are grown on farms nearby. Even the bread is local (from the bakery next door). And if you come away inspired after your meal here, they can even help hook you up with a smoker so you can try your hand at building your own barbecue empire, one pork butt at a time.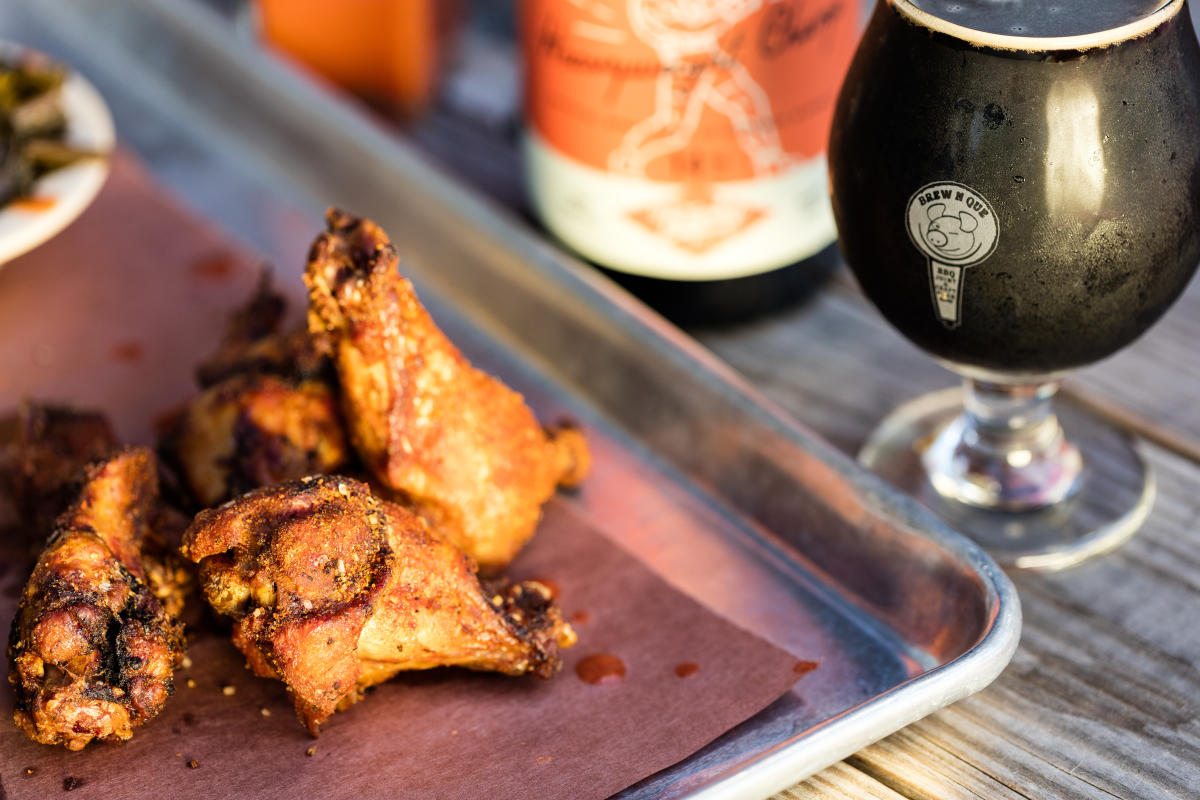 But let's not get ahead of ourselves. Mike Marcum, also known as Big Mike, has taken all he's learned from running his food truck and turned it into a couple of brick-and-mortar restaurants (the little red barn of a food truck is still running, so if you see it out, you know good barbecue is just a couple of minutes away). After he got his start in the backyard—cooking barbecue in a homemade smoker made from a terra cotta pot and an electric hot plate (seriously)—he moved on to the food truck, and now this, the culmination of two of his passions: beer and barbecue.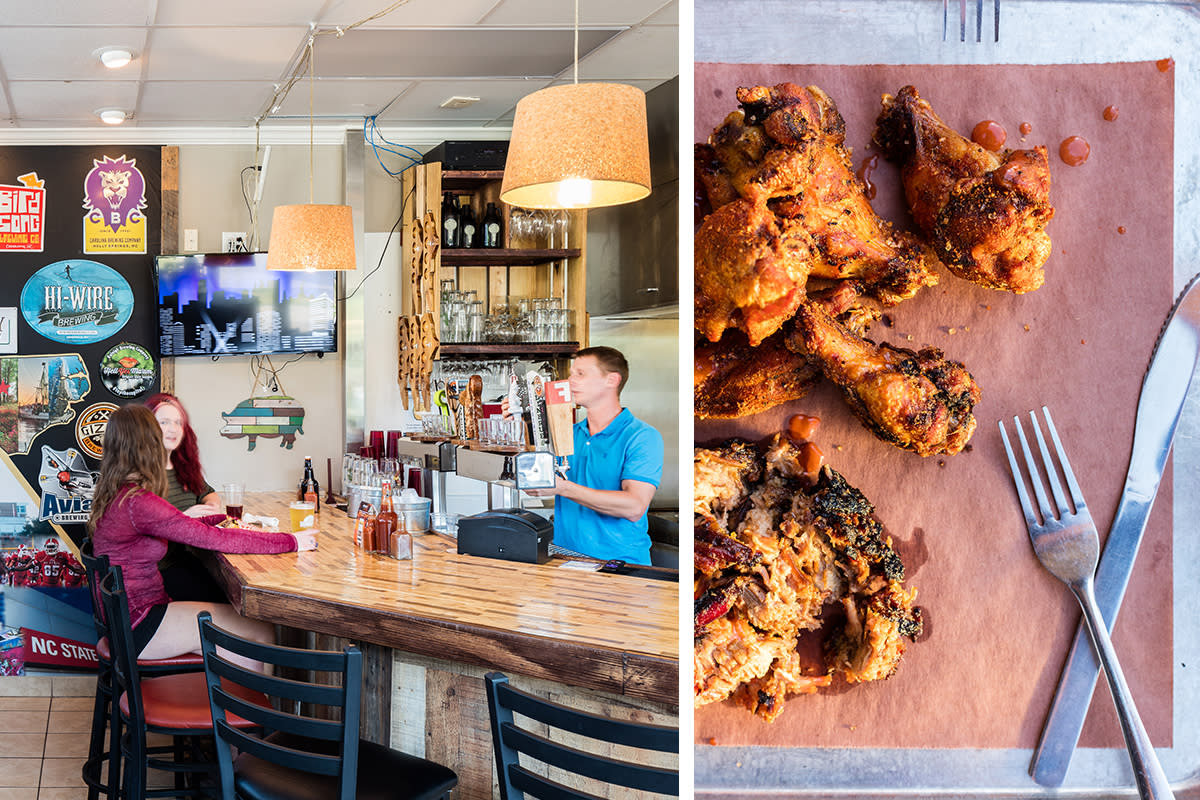 The chopped pork, chicken 'cue, and brisket are perfectly seasoned, expertly smoked and certainly drool-worthy, but Mike's creative flair rules the rest of the menu. House-made pimento cheese shows up in your standard grilled cheese sandwich (so good) and a mouth-watering barbecue-stuffed grilled cheese sandwich (a must-order item). His blue cheese slaw elevates the usual coleslaw game. The BBQ Taco gives an N.C. 'cue twist to an old favorite, and the burger—topped with bacon jam and organic greens—is magnificent.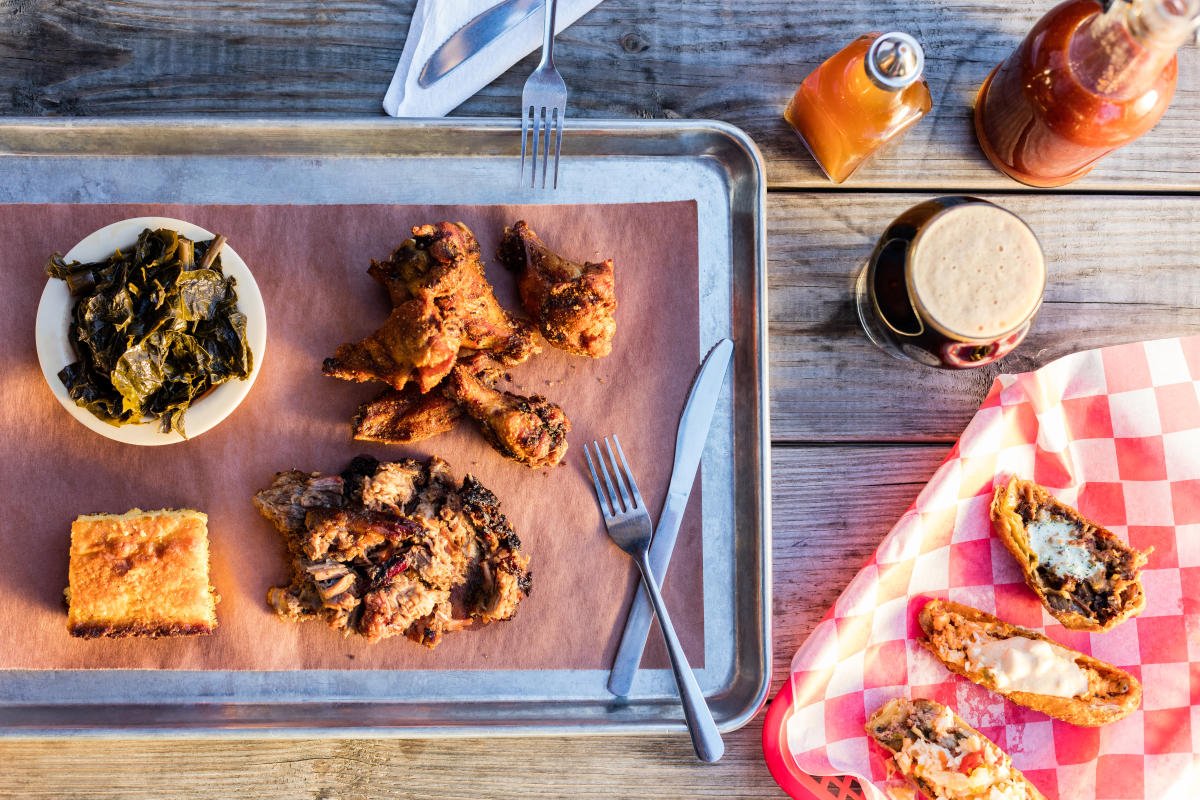 But let's talk really creative.
Look at the starters—Piggy Mac could be a meal in itself. This pork-topped mac-n-cheese comes with salt and vinegar chips and a napkin so you can wipe the tears away (you'll be crying that you can't have this every day of the week). The Redneck Nachos take Fritos and tops them with pork, baked beans, blue cheese slaw, and a zesty sauce. And the BBQ Egg Rolls are an East-meets-West creation that pairs collards with chow chow (a type of relish) or buffalo chicken for a surprising bite.
Brew N Que is a hangout as much as it's a restaurant. Diners tend to linger because they're sampling beers, picking at that Piggy Mac or just enjoying good company. Nothing on the menu tops $15 (unless you're buying 'cue by the pound to take home and eat), and the beer's always fresh, so taking the time to chill here, well it's as easy as ordering another round of wings.
Brew N Que has two locations. Find them at 1222 N.W. Maynard Rd., Cary 27513, or 2045 Creekside Landing Dr., Apex 27502
Photos by Keith Isaacs