50+ of the Biggest Events and Festivals in Raleigh, N.C., in 2020
Thursday, January 16, 2020, 10am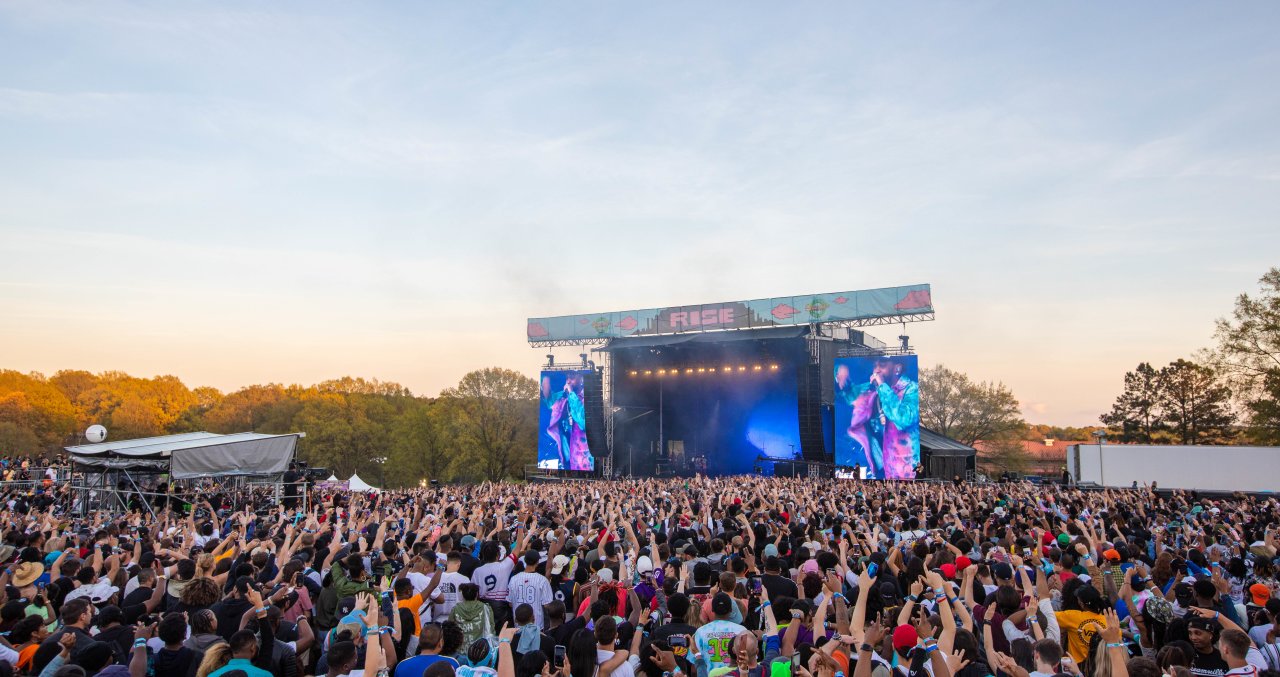 Raleigh, N.C. (Jan. 16, 2020) – A year full of major festivals and celebrations lies ahead in Raleigh, N.C.! These events serve an important purpose—they mark history and sense of pride, plus they showcase talent, creativity and culture, delicious foods and beverages (and some surprises too!). Make plans now to spend a day or a weekend in the Raleigh area around these trip-worthy events in 2020!
A note: Some of the dates for these events have not yet been announced (and some major events—concerts, for example—haven't been announced at all yet).


January
19th Annual African American Cultural Celebration, Jan. 25, 2020
An annual, statewide kickoff to Black History Month at the North Carolina Museum of History, the African American Cultural Celebration brings together 75+ musicians, storytellers, dancers, chefs, historians, artists and more in downtown Raleigh for a day of pride and celebration of culture.
Astronomy Days: Earth and Ocean Worlds, Jan. 25-26, 2020
From comet crafts to solar observing, lectures to rocket launches, space enthusiasts of all ages will find something to do at one of the North Carolina Museum of Natural Sciences' most popular annual events.


February
Krispy Kreme Challenge, Feb. 1, 2020
One of America's most unique running (and toughest eating) events, the Krispy Kreme Challenge requires competitors to run five miles, eat a dozen doughnuts at the halfway point and hit the finish line in under one hour. Started in 2004 with a handful of NC State University students, the annual event now draws nearly 8,000 runners decked out in costumes along with plenty of media attention. For the curious, those doughnuts total 2,400 calories and 144 grams of fat—but who's counting.
Jurassic World Live, Feb. 6-9, 2020
Jurassic World comes to life for the first time in a touring arena show at PNC Arena, where a trip to Isla Nublar takes a terrifying turn after the Indominus rex escapes and causes chaos in the park!
North Carolina Theatre presents Kinky Boots, Feb. 11-16, 2020
Winner of six Tony Awards, a Grammy Award and featuring 16 original songs by pop icon Cyndi Lauper, Kinky Boots is the huge-hearted, high-heeled musical hit that took Broadway by storm. Based on true events, Kinky Boots tells the story of two people with nothing in common (or so they think!).


March
Raleigh St. Patrick's Day Parade and the Wearin' 'O the Green Festival, March 14, 2020
In celebration of the great St. Patrick as well as Irish and Celtic traditions and culture, a parade of dancers, bagpipes, musicians and more march through downtown Raleigh and afterwards continue a day of fun with a full line-up of live music and performances in Raleigh's City Plaza.
34th International Festival of Raleigh, March 6-8, 2020
This three-day event, a comprehensive platform for local ethnic communities and artists to present their culture, serves more than 25,000 each year. Now taking place at the North Carolina State Fairgrounds, more than 70 ethnic groups will participate to present a variety of arts, cuisine, dance, textile design and cultural expression from across the globe. Art exhibits, dance competitions, sidewalk cafés, main stages for music, vendor booths and more make for fun finds and discoveries.
Art in Bloom, March 19-22, 2020
One of the can't-miss events of the year at the North Carolina Museum of Art, Art in Bloom is a four-day festival of art and flowers. More than 50 floral interpretations inspired by the museum's galleries, some more than 10 feet tall, are created on-site by world-class designers and showcased throughout the museum's West Building (have your cameras ready!). The ticketed event invites participants to attend presentations and workshops, dine at Iris and shop for one-of-a-kind gifts.
Casks on Fools, late March or early April 2020
The annual kick-off party for Raleigh, N.C.'s Beer Month celebrations in April, Casks on Fools at Crank Arm Brewing features truly-unique casks from more than 20 N.C.-based breweries. We're talking everything from mango habanero IPAs to chocolate cream stouts, Irish stouts with cherries and way more. The by-the-glass cask festival celebrates the innovation of craft beer across the area—this is for the beer lovers and the adventurous drinkers!


April
Dreamville Festival, April 4, 2020
Back for a second year and curated by platinum-selling rapper and N.C. native, J. Cole, Dreamville is a one-day, multi-stage festival at downtown Raleigh's Dorothea Dix Park with a one-of-a-kind celebration of local culture, food and art that also features a curated selection of music performers blending together some of today's biggest national acts with exciting up-and-comers (full lineup coming soon!).
HerbFest, April 17-19 and 24-26, 2020
Those who love to cook will love HerbFest! Stroll through downtown Wake Forest's charming White St. and shop organic, non-GMO herbs and vegetables, plus heirloom tomatoes and peppers and beautiful perennials specific to the area.
North Carolina 'Cuegrass Festival, tentatively April 18, 2020
What could be finer than a jam-packed day of drool-worthy barbecue from The Pit, plenty of local brews and toe-tappin' bluegrass music in downtown Raleigh's Warehouse District?
Lebanese Festival, mid-April 2020
The 22nd annual Lebanese Festival in downtown Raleigh promises non-stop dancing and musical performances to go along with Lebanese desserts, beer, wine and more (including all the belly dancing you can handle!).
Brewgaloo, April 24-25, 2020
N.C.'s largest craft beer festival-featuring 100 breweries, 50 food trucks and drawing 30,000 people-Brewgaloo takes over downtown Raleigh for two days each April. The festival, which has free admission on Sat. (so bring plenty of friends!), allows you to purchase either beer samples or full pints from breweries located across the state. The event is part of Beer Month in Raleigh, N.C., a month-long celebration of the nearly 30 craft breweries that call the area home.


May
Meet in the Street Festival, May 2, 2020
A day filled with food, fun and entertainment in historic downtown Wake Forest for more than 35 years running, Meet in the Street pulls together all-day live music plus an additional stage of entertainment with dancers, martial arts, magicians and more. Plenty of food trucks and a beer garden headed by Wake Forest's own White Street Brewing Company are sure to keep festival-goers happy.
40th Annual Apex PeakFest, May 2, 2020
Salem St. in historic downtown Apex comes alive with more than 20,000 visitors during PeakFest. For 40 years now, the arts and crafts festival has brought families together for a day of fun, food and fellowship. The town of Apex's largest annual event, PeakFest has all-day live music, all the arts and crafts you can imagine, entertainment for kids and food vendors that bring their best State Fair-style goodies.
Artsplosure - The Raleigh Arts Festival, May 16-17, 2020
One of the Southeast's premier arts festivals, Artsplosure - The Raleigh Arts Festival attracts more than 80,000 people to downtown Raleigh during the third weekend of May each year. Celebrating fine visual art and live music since 1980, the festival puts more than 180 artists' work, using countless mediums, on display for all to see and enjoy during the free festival.
Animazement, May 22-24, 2020
A three-day Japanese animation and culture celebration over Memorial Day weekend that draws 15,000 attendees to the Raleigh Convention Center. Cosplay is a huge draw: guests are encouraged to dress up as their favorite characters simply for fun, or to participate in contests showcasing their talents!
Out! Raleigh Pride, May 30, 2020
Out! Raleigh Pride is the area's annual, family-friendly street festival that celebrates the LGBT community and its allies, and the festival celebrates 10 years in 2020! Organized each year by the LGBT Center of Raleigh, the festival's speakers, performers and vendors (and a Kids Zone) bring eight hours of fun and family to downtown Raleigh's Fayetteville Street district.


June
Raleigh's 5th Annual International Food Festival, June 6, 2020
Celebrate Raleigh's diverse community and welcoming spirit by trying food, beer and wine (plus listen to live music and see more entertainment) from around the world. Nearly 20,000 attendees are expected in downtown Raleigh's City Plaza for the event.
Town of Cary's Pimento Cheese Festival, June 6, 2020
In downtown Cary, food trucks will line the streets to serve their regular menu, along with new dishes featuring a Southern delicacy: pimento cheese! Enjoy live music at Downtown Park, grab a drink from local breweries and taste some of the best pimento cheese samples from local restaurants.
Downtown Raleigh Food Truck Rodeo, June 14, 2020
Food trucks as far as you can see (literally!). The Downtown Raleigh Food Truck Rodeo brings more than 50 food trucks to the city centerabout, spanning a half-mile and 11 city blocks and drawing thousands of hungry visitors to taste the best of the best from local trucks. It's one of the biggest rodeos in the country.
Peak City Pig Fest, June 19-20, 2020
Live music, a beer garden, a barbecue competition (sanctioned by the Kansas City Barbecue Society) and more make for one of Apex's tastiest events of the year.


July
Raleigh 4th of July Fireworks Display, July 4, 2020
You can't miss Raleigh's Fourth of July fireworks extravaganza! Having returned to West Raleigh in 2018, the city's annual July Fourth fireworks are held near the Stadium and Arena Complex (Carter-Finley Stadium and PNC Arena area). With plenty of free parking available, this breathtaking show is a must-see (and best enjoyed with lots of family and friends!).
Town of Cary July 4th Celebration, July 4, 2020
Relax under the pines at Koka Booth Amphitheatre for the Town of Cary's July 4th Celebration, where you'll be able to enjoy family-friendly activities, including rides and games, a venue-wide scavenger hunt, watermelon eating contests and even a 50-foot Ferris wheel! Live music—often performed by the Cary Town Band and followed by a performance from the North Carolina Symphony—caps the evening just before fireworks light up the sky.
SunFest at Dorothea Dix Park, mid-July 2020
A gorgeous field of sunflowers was temporarily a well-kept secret in 2018 before being unveiled at the first ever SunFest event at Dorothea Dix Park-a celebration of summer for the whole family that included live music, performing arts, arts and crafts, food trucks and more. The sunflowers, and the celebration, is expected to return even bigger and better for a third time in 2020.
GalaxyCon Raleigh, July 30-Aug. 2, 2020
A three-day festival for fans of pop culture, superheroes, science fiction, anime and more, GalaxyCon Raleigh will be back and bigger than ever at the Raleigh Convention Center. Featuring celebrity guests, comic book creators, artists, cosplayers and other industry guests, GalaxyCon Raleigh is expected to bring an incredible 30,000 attendees together in downtown Raleigh to see and be seen, to meet celebrities, go head-to-head in video games and have a blast participating in all things geek.


August
Beer, Bourbon & BBQ Festival, Aug. 7-8, 2020
Beer sipping, bourbon tasting, music listening and barbecue eating-what's not to love? Don't miss the two-day Beer, Bourbon and BBQ Festival at Cary's Koka Booth Amphitheatre. Admission buys you a souvenir sampling glass so you can enjoy an all-you-care-to-taste sampling of beer and bourbon, plus chow down on some pulled pork, ribs, biscuit and more, all while enjoying all-day live music.
Packapalooza, Aug. 22, 2020
This annual, all-day block party and street festival, drawing more than 80,000 attendees, caps off North Carolina State University's Wolfpack Welcome Week at the start of another academic year. The free and open-to-the-public event features more than 300 vendor booths lining Hillsborough St., along with food, games, arts and crafts, a water slide (bring your bathing suit!), visual and performing arts and more. Music will take center stage to close out the evening.
CaribMask Carnival, Aug. 22, 2020
A festival to promote diversity, equality and create a deeper appreciation for Afro-Caribbean culture in the Raleigh area, CaribMask returns for its ninth annual event in downtown Raleigh in 2020. A parade of bands, flag ceremony, live music and tons of food and drinks keep a joyful crowd of more than 15,000 people plenty happy.
Lazy Daze Arts and Crafts Festival, Aug. 22-23, 2020
For more than 40 years, the Lazy Daze Arts and Crafts Festival has put local artists and crafts makers in the spotlight. This Cary festival has grown to two days and features more than 300 artists from 16 states, has multiple live music stages, a beer garden and plenty of food trucks to keep everyone happy.
10th Annual African American Cultural Festival of Raleigh and Wake County, late Aug. 2020
An annual celebration of African American culture expressed through art, music, food and community, this two-day downtown Raleigh festival showcases local, national and international artists, performers, food vendors and area business owners.


September
Hopscotch Music Festival, Sept. 10-12, 2020
Three days, nearly 150 bands, 12 venues in downtown Raleigh, 50 totally-free day parties and 25,000 fans–-it's no wonder why Hopscotch is time and time again named one of America's can't-miss music events. The acts and genres are as wide ranging as the venues they play in (the 5,000-seat Red Hat Amphitheater and a tiny dive bar, Slim's Downtown, for example). Headlining acts in recent years have included Angel Olsen, Big Boi, Solange, Run The Jewels, Margo Price, The Flaming Lips and more.
BugFest, tentatively Sept. 19, 2020
Experience more than 100 exhibits, crafts, games and activities at BugFest, N.C. Museum of Natural Sciences' annual event that lets you interact with entomologists and other scientists while learning about the fascinating world of bugs. Featuring the ever-popular Café Insecta, where the brave can sample buggy dishes prepared by local chefs. The event is totally free for the expected 35,000 attendees.
La Fiesta del Pueblo, tentatively Sept. 20, 2020
Back for a 27th year, La Fiesta del Pueblo, a Hispanic cultural event held in the Fayetteville Street district in downtown Raleigh, draws nearly 20,000 attendees each year and showcases music, art, dance performances, educational booths, children's activities and food from different regions of Latin America, all in celebration of the diversity of Latin-American culture.
Groove in the Garden, mid-to-late Sept. 2020
Groove in the Garden is back for year five at Raleigh Little Theatre's beautiful Stephenson Amphitheater. The annual music and arts festival shines the spotlight on some incredible local talent. Two stages of music, plus food trucks, beer, wine, local artists and vendors, a kids' zone and more make this a can't-miss late summer event in Raleigh.
N.C. Pride at Night Festival and Celebration, late Sept. 2020
Thirty years ago, Raleigh's first Gay Pride celebration was held on Sat., June 25, 1988. Participants, numbering more than 2,000, gathered at North Carolina State University's Memorial Belltower on Hillsborough St. and marched to Capitol Square. In 2020, participants will again honor the past and celebrate the future with a free street festival outside of Legends Nightclub, a leader in LGBT nightlife in the Raleigh area for more than 25 years.
World of Bluegrass, Sept. 29-Oct. 3, 2020
The arrival of a toe-tappin', banjo-strummin' week of non-stop week of bluegrass in downtown Raleigh is one of the most anticipated times of the year. The International Bluegrass Music Association brings their business conference, along with the world's most talented bluegrass musicians, to Raleigh during this week. Those musicians then perform in clubs, on street corners and in hotel lobbies-anywhere they can find a jam session-during the Bluegrass Ramble. Then the week is capped off with Wide Open Bluegrass, a two-day festival that sets up five stages of free music, a dance tent, a barbecue championship, tons of art vendors and more. The free Main Stage at Red Hat Amphitheater has featured the Steep Canyon Rangers with Steve Martin, Sierra Hull, The Infamous Stringdusters and more in recent years.


October
93rd Annual Wendell Harvest Festival, early Oct. 2020
A tradition dating back to 1927, the Wendell Harvest Festival features a parade, more than 100 craft vendors, a beer garden, games for kids and adults and live music (fun for the entire family!).  
Taste of China Food and Cultural Festival, tentatively Oct. 3, 2020
This third annual event, presented by the Chinese-American Friendship Association of N.C., features delicious Chinese food, traditional arts and live performances (dragon and lion dances, martial arts demonstrations, musical performances, children's activities and more) at Bicentennial Plaza in downtown Raleigh.
Beericana Craft Beer and Music Festival, Oct. 10, 2020
This fast-growing beer and music festival held at beautiful Sugg Farm Park brings together more than 70 breweries (including most of the nearly 30 craft beverage brewers in Raleigh, N.C.) and more than 20 food trucks, along with a full lineup of Americana jams, to celebrate good friends, good beer and good times in Holly Springs.
2020 N.C. State Fair, Oct. 15-25, 2020
The largest annual event in the state, the N.C. State Fair draws one million visitors through the gates each Oct., marking what many consider to be the unofficial beginning of the fall season. Eleven days of high-flying rides, deep-fried foods, live music, stunt shows and other entertainment (including nightly fireworks) has been a can't-miss event for generations of families—the 2020 version of the N.C. State Fair marks the 153rd year of the event!
SAS Championship, Oct. 9-11, 2020
See some of golf's best at the SAS Championship, a PGA Tour Championships event. Held annually at Prestonwood Country Club in Cary, the event is widely recognized as one of the most important events of the year. The tournament is expected to once again play host to 'Wildcard Weekend'—the last full-field event before the Charles Schwab Cup Playoffs.
Triangle Oktoberfest, mid-to-late Oct. 2020
The sixth annual Triangle Oktoberfest at Koka Booth Amphitheatre in Cary is set to provide plenty of family-friendly activities including live music, storytelling, dancing and traditional Bavarian food and fare (plus local and authentic German beers on hand).


November
Moonlight in the Garden, mid-Nov. 2020
A magical lighting exhibition that's suited for the entire family, Moonlight in the Garden at JC Raulston Arboretum at North Carolina State University is a once-per-year opportunity to see the nationally-acclaimed gardens artfully illuminated by colorful lights. Each evening of the ticketed event is paired with live music, food trucks, hot apple cider, fire pits and marshmallows to roast!
American Indian Heritage Celebration, mid-to-late Nov. 2020
Musicians, dancers, artists, storytellers and authors from N.C.'s eight state-recognized tribes will gather for this popular family event. For all ages, the celebration is a firsthand opportunity to learn about the state's American Indian culture, past and present. Activities include craft demonstrations, hands-on activities, games, foods and much more.
North Hills Tree Lighting Celebration, mid-to-late Nov. 2020
The annual lighting of a 41-foot-tall Christmas tree, a visit from Santa Claus, trackless train rides for kids, live music and plenty of vendors on hand make this celebration an equally great event for families and a fun date idea. Arrive a tad early to join in on the Holiday Sip & Shop to knock out some shopping at local retailers like Peter Millar, Quail Ridge Books, Scout & Molly's plus more while enjoying complimentary hot chocolate and cider.
76th Annual Raleigh Christmas Parade, Nov. 21, 2020
A Raleigh tradition for more than 75 years, the Raleigh Christmas Parade is the largest parade of its kind between Atlanta and Washington, D.C. The parade-filled with marching bands, dancers, classic cars, superheroes and more marches through downtown Raleigh for two hours along a 1.4-mile route that draws a crowd of 60,000 spectators.
North Carolina Chinese Lantern Festival-Cary, late Nov. 2020 through mid-Jan. 2021
The North Carolina Chinese Lantern Festival puts hundreds of larger-than-life lanterns on display at Cary's Koka Booth Amphitheatre, creating an incredible, colorful adventure for you to walk through during the holiday season. In all, the lanterns and more than 15,000 LED lights make up 20 distinct displays, including a 200-foot-long, 21-foot-tall mythical phoenix that sits on Symphony Lake.


December
State Capitol Tree Lighting Ceremony, early Dec. 2020
With luminaries lighting the Capitol grounds and local choral groups filling the air with seasonal songs, the lighting of the tree at the North Carolina State Capitol building is a sign for many that the holiday season is officially here. After the lighting of the tree, stick around to tour the inside of the Capitol, covered in wreaths and draped in garland.
Raleigh Little Theatre presents Cinderella, early Dec. 2020
Celebrating its 37th year at Raleigh Little Theatre in 2020, the musical comedy Cinderella is a holiday sugarplum for the whole family. Just the right mixture of comedy and romance, plus a visually stunning set and costumes, make this fairy tale a favorite holiday tradition in Raleigh.
Theatre In The Park presents A Christmas Carol, early Dec. 2020
This theater production from local passionate mind Ira David Wood III, celebrating its 46th year during the 2020 holiday season, has wowed more than a million guests throughout the years. The beloved musical comedy, in which Wood himself puts on an incredible performance as Scrooge, has been a longstanding tradition for families in the area–tickets tend to go quickly so plan ahead!
Carolina Ballet presents The Nutcracker, early Dec. 2020
Grace, grandeur and mysterious illusions. Carolina Ballet's holiday classic is a can't-miss tradition for locals, visitors, families and friends. The only production in the country using illusions created by renowned magician Rick Thomas, The Nutcracker will make characters levitate, disappear and reappear before your eyes in 14 performances at the Duke Energy Center for the Performing Arts.
The Justice Theater Project presents Langston Hughes' Black Nativity, mid-Dec. 2020
This gospel music experience, a production of The Justice Theater Project, takes the audience on a journey back to the Bethlehem of Mary and Joseph, resplendent in African costumes and uplifting songs of worship. With a joyous inspirational score, Black Nativity is a legendary family show that shares this unforgettable story of the Nativity through compelling gospel music and the beautiful poetry of Langston Hughes. Through love and faith, the story finds strength and triumphs over adversity to offer powerful messages of joy and hope, all brought to life by more than 70 show-stopping singers, dancers and musicians.
Holiday Open House at the North Carolina Executive Mansion, mid-Dec. 2020
The North Carolina Executive Mansion, designed by prominent architect Samuel Sloan, is one of the state's architectural gems and serves as a repository for a fine collection of 18th- and 19th-century N.C. furnishings and paintings. For four days, visitors are invited to tour the home, take in the decorations and enjoy seasonal musical entertainment by local performing groups. The first floor of the mansion will be decorated with N.C.-grown Christmas trees, floral and mixed evergreen arrangements and ornate mantle displays. The Holiday Open House is one of the only times each year for visitors to enter the house without a prior reservation or group tour scheduled.
First Night Raleigh, Dec. 31, 2020
A downtown Raleigh New Year's Eve celebration for more than 25 years. This is an all-day event with more than 100 performances (music, dance, theater, comedy and more) across 35 venues. Tons of kids' activities, a 90-foot-tall Ferris wheel and a countdown to midnight (where, yes, a giant acorn drops from the sky as the clock strikes 12) and celebratory fireworks highlight a full day of festivities.


About the Greater Raleigh Convention and Visitors Bureau (Visit Raleigh):
As the official destination marketing organization for Wake County, the Greater Raleigh Convention and Visitors Bureau (Visit Raleigh), is responsible for promoting Wake County as an attractive travel destination and enhancing its public image as a dynamic place to live and work. Through the impact of travel, the organization strengthens the economic position of and provides opportunities for people throughout Wake County. Raleigh, N.C./Wake County welcomes nearly 17 million visitors annually whose spending tops $2.7 billion. The visitor economy supports more than 27,000 local jobs in Wake County and generates $268 million in state and local tax revenues, saving each Wake County household $700 in taxes annually. VisitRaleigh.com.
Media Contact:
Greater Raleigh Convention and Visitors Bureau (Visit Raleigh)
Jessica Holt, Public Relations Manager
jholt@visitRaleigh.com
919.645.2654
# # #