The Best Hidden Gems in Raleigh, N.C.
Tuesday, September 22, 2020, 7am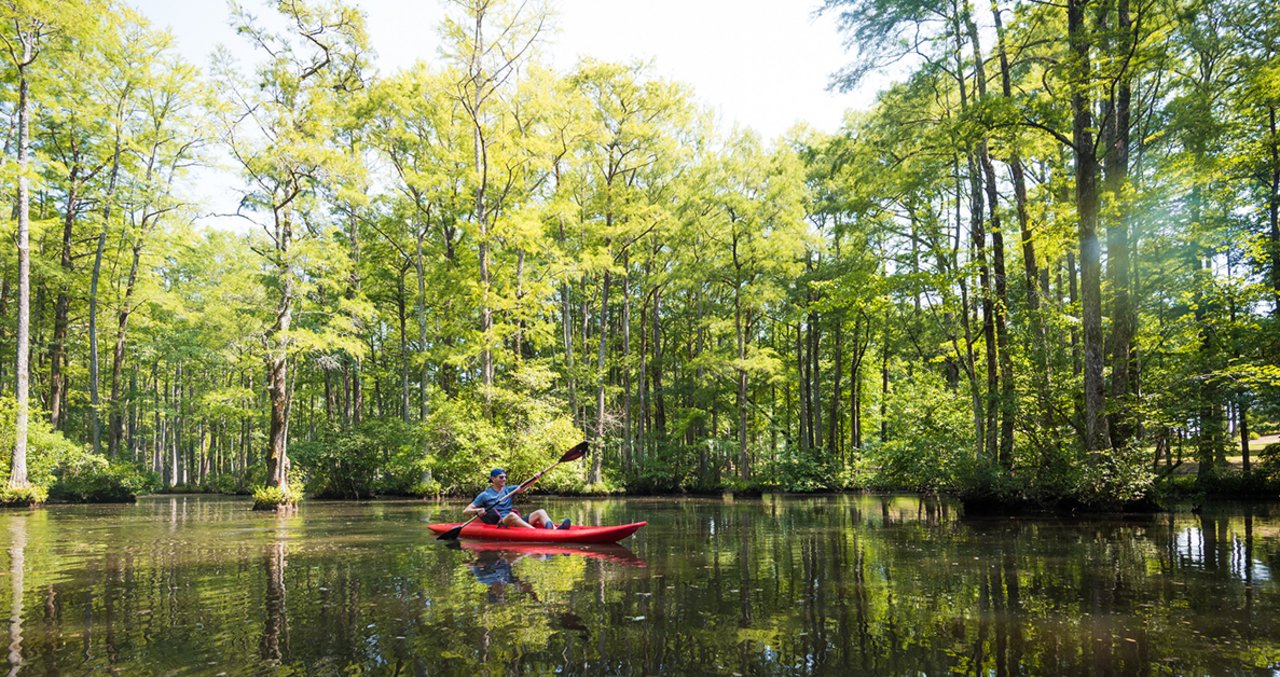 Raleigh, N.C. (Sept. 22, 2020) – The Raleigh area is home to some of the best-kept secrets when it comes to entertainment, food, shopping and more. For some truly awesome experiences, be sure to add these hidden gems to your travel list. Many area restaurants and hotels have been certified through the Count On Me NC program, which teaches hospitality businesses how to ensure the best and safest practices when serving guests. Attractions, museums and historic sites are now open with enhanced safety guidelines in place, and the great outdoors are still great—you're invited to hike and bike miles and miles of greenways, hit the water to create your own paddling adventure, step off the beaten path and discover the stand-still beauty of nature and a whole lot in between.


Outdoor Gems
Annie Louise Wilkerson, MD Nature Preserve
Perched along the southern shores of Falls Lake State Recreation Area, this 157-acre outdoor retreat opened in 2006 as the City of Raleigh's first designated nature preserve. The preserve's open fields and two miles of hiking trails meander between meadows, through an oak-hickory forest, around a one-acre farm pond and past hidden rock crops, making for easy exploring for the entire family. Those looking for a bit more adventure will be happy to know that Wilkerson Nature Preserve is a perfect starting spot for a jaunt along the Mountains-to-Sea Trail (MST, known as "N.C.'s hiking trail," stretches more than 1,000 miles from the Great Smoky Mountains to the Outer Banks). Connecting on the north end of the nature preserve, hikers can follow the white dot markers on trees to take the MST approximately three miles to the Visitor Center near Falls Lake Dam, trekking through a super-varied array of landscapes, plant life and wildlife along the way. The round-trip hike from Wilkerson to Falls Lake Dam and back is among our picks for best six-mile hikes in the Raleigh area.
Status: Free, open to the public and social-distance friendly. Tues.-Sun., hours vary.
Carl Alwin Schenk Memorial Forest
Escape the noise of civilization without looking outside of the city and embrace serenity at a well-kept horticultural secret, the Carl Alwin Schenck Memorial Forest. Although it's a whopping 245-acres, it's often overlooked for more popular outdoor attractions. Make no mistake however, the Schenck delivers the goods—from birdwatching to wildlife spotting to scenic views perfect for picnic lunches. Best of all, the forest serves as a teaching and research forest for North Carolina State University. Local tip: The Frances L. Liles Trail is the most popular and easiest trail to navigate, and a small amount of parking is available along the main gravel road.
Status: Open every day from dawn to dusk. 
Robertson Millpond Preserve
Perhaps you prefer a hidden gem you can paddle through. For that, take a short drive from Raleigh out to the town of Wendell to find Robertson Millpond Preserve, the area's only bald cypress habitat. Here, canoeists, kayakers and paddle boarders can float peacefully through a serene, forest-like setting. Recognized today as a wetland treasure, Robertson Millpond is home to a variety of animals, many of which can be spotted in and around the water.
Status: Currently in off-season hours, open on Sat. and Sun. from 8am-sunset. Please note that currently there are no rentals available on site.
Neuse River Greenway Trail
Many consider the Neuse River Greenway Trail to be the gem of the 100-plus-mile Capital Area Greenway System. Whether it's hidden or not is up for debate, but there's no denying its appeal to outdoor enthusiasts—joggers, walkers, runners, cyclists, you name it. The 27.5-mile uninterrupted greenway stretching from Falls Lake in North Raleigh to the Wake County line in southeast Raleigh offers views of historical sites, scenic photo ops, wildlife sightings and good old-fashioned fun.
Status: Open every day from dawn to dusk. Note that bathrooms and water fountains may be closed due to COVID-19.
Hemlock Bluffs Nature Preserve/Stevens Nature Center
Whether you're an avid birdwatcher or seek solitude in the middle of a bustling town, Hemlock Bluffs Nature Preserve is sure to captivate and delight. Tucked away in the middle of suburban Cary, Hemlock Bluffs is a 140-acre preserve with miles of trails, unique vegetation and a forest ecosystem as old as the last ice age. Head on over to lose yourself in the stillness, break a sweat on a trail or brush up on your wildlife and history facts at the Stevens Nature Center.
Status: Trail are open from 9am-sunset. Stevens Nature Center is closed until further notice.
Raleigh Municipal Rose Garden
On the backside of the Raleigh Little Theatre complex is another one of Raleigh's precious natural gems, the Raleigh Municipal Rose Garden. Home to 1,200 roses of 60 different varieties, evergreen and deciduous trees, the garden is breathtakingly beautiful especially with flowers in full bloom from May until autumn. Visitors not only appreciate the roses here, but also spend enjoyable quality time with family and friends taking in outdoor plays, movies and other events.
Status: Open from sunrise-sunset. Please note that a construction project has closed approximately 40% of the gardens.
WRAL Azalea Gardens
Hidden behind the WRAL television studios and between the campuses of North Carolina State University, the WRAL Azalea Gardens have offered tranquility in the heart of Raleigh since 1959. Take a break from the day to surround yourself with beautiful azaleas of all shapes and colors—"at peak" around mid-April—as wonderful fragrances fill the air.
Status: Open daily from dawn to dusk.
Durant Nature Preserve
This 237-acre nature preserve in North Raleigh offers five miles of lesser-trafficked, mostly unpaved hiking trails that loop through heavily wooded areas around two lakes in the center of the park (not challenging terrain, but one of our top choices for peaceful outdoor exploring). Dog- and kid-friendly, portions of the trails are also open to mountain bikes. The park also offers amenities including a fishing pier, playground, sand volleyball court, bird and butterfly gardens, picnic areas and more.
Status: Trails are open 8am-8pm every day. Other amenities are currently closed.

Foodie Gems
The Roast Grill
Since 1940, The Roast Grill in downtown Raleigh has served up some of the best hot dogs around along with glass bottle cokes and homemade Greek desserts. Blink, and you just might miss this charming hole-in-the-wall restaurant with its old-fashioned barstools and antique memorabilia on display. Pony up to the counter to order dogs uniquely cooked to a crisp, black char and topped with a combination of mustard, homemade chili, coleslaw and onions. Best known for its "HOT WEINERS!" sign, The Roast Grill is a hometown staple inspiring loyalty from visitors and locals alike.
Status: Open varying lunch hours for takeout, please call ahead to confirm. 
Soo Café
In North Raleigh, you'll find a humble Korean restaurant in a quiet shopping center attracting a fair amount of attention from lovers of Korean fried chicken and BBQ. Soo Café, with its simple, homespun décor, entices patrons with staples like crispy tempura vegetables, bibimbap and, of course, craveable spicy fried chicken wings doused in a soy-garlic sauce. Drop in for an unforgettable meal or order to-go; just don't pass this hidden gem by.
Status: Open for indoor dining and takeout.
Black & White Coffee Roasters
Black & White Coffee Roasters endeavors to bring exciting coffee to the people and boy do they deliver. Just like their black-and-white panda logo, the shop wholeheartedly believes that coffee should be simple and taste great no matter how you drink it. Black & White roasts new single-origin beans and beautiful complex blends sure to convert even the most avid coffee lovers. You won't regret making a pit stop by their locations in downtown Wake Forest and Rolesville.
Status: Open for takeout and limited outdoor seating at both locations. 
The Green Light
The definition of hidden, The Green Light is literally tucked away behind a secret bookshelf inside The Architect Bar & Social House. It's a small, dimly-lit room with a 1920s speakeasy feel—the bar is clad with reclaimed wood, and vinyl records play in the corner. This is the spot to disappear, sit, relax and enjoy a serious cocktail. But don't just take our word for it—Thrillist just named it one of the "21 Best Secret Bars in the World Opens in New Window."
Status: Temporarily closed, as bars are currently not allowed to open during Phase 2 of North Carolina's plan to reopen.
The Third Place
Third Place should probably be one of the first places you think of when it comes to delectable dishes, delightful baristas, local art and handmade crafts. Set in a nondescript spot along Glenwood Ave., this offbeat oasis is begging to be discovered and enjoyed. Come relax with a cup of joe and a bite to eat while also enjoying the art, antiques and exotic décor of warmly hued walls, rich red Oriental rugs and exotic glass lanterns.
Status: Open for takeout and taking orders/payment by phone only.
NOFO @ the Pig
NOFO @ the Pig has been recognized several times for having the best brunch in Raleigh, but its location set back from the main drag in Raleigh's Five Points neighborhood can make it easy to miss for visitors. A shame since this combination café/food market/gift shop is visually vibrant, quirky and unique. Snag a reservation to be dazzled by delectable Southern fare and a quirky pig-themed dining room. Make sure to head upstairs before or after your meal to shop all things North Carolina and Southern.
Status: Market, groceries and cafe are open. Check website for varying hours.
Sunni Sky's Homemade Ice Cream
Sunni Sky's Ice Cream, the small-town ice cream hangout shop located about 20 minutes south of Raleigh in Angier, has a menu loaded with more than 90 flavors. With hours that stretch until 11pm seven days a week during the warmer months, the shop, along with the front porch and signature rocking chairs waiting outside, is nearly always packed (with a line that moves quicker than you'd expect thanks to a hustling staff). More than 120 homemade flavors are crammed onto the menu—Blueberry Cheesecake, Pumpkin Pie, Coconut Fudge, Sour Apple Sherbet and plenty more (ask to taste as many samples as you'd like, and they'll happily oblige). With super-low prices (it's just $4 for a triple cup or cone—cash only, by the way), it's no wonder why this ice cream parlor is a favorite for so many.
Status: Open Tues.-Sun. for drive-through service only and may take cash only at this time (subject to change at any time).

Art Gems
Cloud Chamber for Trees and Sky
Stroll through the Ann and Jim Goodnight Museum Park at the North Carolina Museum of Art to find the Cloud Chamber—a unique work of art that mixes fairy tale design with medieval technology to create the most unique space. Step inside and close the door to find the world gone topsy-turvy. Functioning as a camera obscura, a tiny pinhole in the chamber's roof results in an inverted image of the outside world. The Cloud Chamber allows visitors to virtually walk among the clouds and the treetops using a technology that requires nothing but sunshine.
Status: The museum park is open for exercise and exploration. The museums galleries are open Wed.-Sun., with free timed tickets to encourage social distancing.
"Life in Bloom" Downtown Garner mural
One look at this art piece, and you'll immediately see that life in Garner is in full bloom. Every aspect of this mural by local artist Sean Kernick adorning the side of Full Bloom Coffee and Craft Cafe has vibrant energy from the native N.C. flora and fauna to the elements of Garner's historic railroad heritage. Find it at 141 W. Main St., Garner.
Status: Open and free to see. Full Bloom Coffee is open for takeout and has some indoor seating as well.
Chainsaw Art at William B. Umstead State Park
In 2015, a storm blew over a massive oak tree in William B. Umstead State Park. But, instead of becoming firewood, the debris was transformed into a beautiful work of chainsaw art. Artists spent a week carving a series of animals, tree branches and leaves in the downed tree that lays off the Graylyn multi-use trail—one of six inside the park. This hidden treasure is a showstopper for park-goers and makes for the perfect Instagram photo opp. Read more about it hereabout.
Status: Open and free to see. Please note that William B. Umstead State Park has been busy, and visitors are encouraged to visit during off-peak hours.
Kennedy Theater at Duke Energy Center for the Performing Arts
For an intimate encounter with the arts, catch a show at the Kennedy Theater. This 170-seat black box theater, discreetly tucked away behind Meymandi Concert Hall at the Duke Energy Center for the Performing Arts, provides performance space for innovative groups like Theatre Raleigh (whose 2020 show lineup includes Into the Breeches, Oh, What a Night! and Chicago). During every exceptional play and musical, you'll feel less like a spectator and more like a part of the show. Local tip: Shows here are general admission, so get to the theater early for the best seat selection.
Status: Performances have been postponed and are currently on hold.
Rialto Theatre
When it comes to a classic movie-going experience, The Rialto wins hands down. With its retro movie marquis, large theater with Dolby sound, comfortable old-school rocker seats, friendly staff and ample concessions, the place is a veritable trip to a simpler time in cinema. Head on over to catch foreign and independent films as well as the Rocky Horror Picture Show, showing every Fri. at midnight.
Status: Temporarily closed.
"Oliver" - The world's largest tobacco worm mural
Seventy feet long and 17 feet tall, "Oliver"—the world's largest tobacco worm—was painted in late 2016 by artist Michael Brown across a building in downtown Wendell, commissioned by the town in order to pay homage to the town's tobacco heritage. Oliver can often be found wearing a hat depicting the current season, and you can find this mural at the corner of N. Cypress and W. 4th St. in downtown Wendell.
Status: Open and free to see.

Historical Gems
Saint Agnes Hospital
For many years, Saint Agnes was one of the few well-equipped hospitals for African Americans between New Orleans and Washington, D.C., and the only hospital serving blacks in N.C. up until 1960. Opened in 1909, the hospital was also the site of the state's first nursing school for African American students. Portions of Saint Agnes remain standing today, and history buffs can view the condemned property from a safe distance and imagine the place as it once was.
Status: Open (but, as always, viewable from a safe distance).
Historic Oakwood Cemetery
Oakwood Cemetery, with its winding roads, glistening stream and towering oak trees, provides a tranquil final resting place for more than 28,000 residents. For 150 years now, the cemetery has told the stories of generations: families who formed Raleigh, soldiers who honored our country and the people of today who chose to rest among the historic oaks. It's also an excellent example of Victorian landscaping and mortuary art.
Status: Open every day from 8am-4pm.
Pope House Museum
As the only African-American house museum in the state, the Pope House offers a look into the life of one of Raleigh's prominent African-American citizens, Dr. Manassa Thomas Pope. Dr. Pope was a graduate of the Leonard School of Medicine, an officer during the Spanish-American War and the only African-American man to run for mayor of a Southern capital in the Jim Crow Era. Built in 1901, the Pope House was built in the once thriving African-American enclave known as the Third Ward, which included the 500 block of S. Wilmington St. Today, visitors can tour the home complete with original furnishings, artifacts and documents dating back to 1851. Admission is free.
Status: Temporarily closed.
 
Museum and Family Fun Gems
Randleigh Dairy Heritage Museum
Why just buy the milk when you can learn about milk production from start to finish as well? At the Randleigh Dairy Heritage Museum, the non-farming public can get a brief education in the ways of the modern dairy farm. Tour the North Carolina State University Dairy Farm and let your children learn about dairy cows by playing with the museum's interactive exhibits. At the end of the tour, visitors get to enjoy a sample of Howling Cow ice cream. Need to know: You'll need to schedule a tour in advance before visiting.
Status: Please contact the museum for availability of tours. Note that the newly opened Howling Cow Dairy Education Center and Creamery (located on the same property) is open 4-8pm, Wed.-Sun.
North Carolina Railway Museum & New Hope Valley Railway
In the southwest corner of the Raleigh area is one of the area's best-kept secrets for anyone interested in trains, history or just an off-the-beaten-path adventure. Dedicated to the preservation of railway history in N.C., the North Carolina Railway Museum offers visitors fascinating exhibits, including several vintage train cars, locomotives and a collection of historic memorabilia. Check out the gift shop, housed in a renovated rail car, to shop a variety of unique gifts and souvenirs. Local tip: The Railway Museum is also home to New Hope Valley Railway which offers one-hour excursion train rides on vintage equipment.
Status: Temporarily closed through Oct. 2.
Gregg Museum of Art & Design
Dubbed the "best museum you haven't been going to," the Gregg Museum of Art & Design boasts a collection of more than 35,000 objects and artifacts from ceramics to photography to modern furniture. Additionally, the museum houses the largest collection of pieces by self-taught artists in N.C. Perched on the edge of the North Carolina State University campus, the museum is a work of art itself with its bright and airy lobby and terrace that overlooks the Rose Jackson and Evelyn Thiem Pollinator Garden. You won't find a museum like the Gregg anywhere else, so it's well worth the trip.
Status: Public access to the Gregg Museum will resume Sept. 23 with timed reservations required.
RDU Observation Deck
Popular with aviation enthusiasts of all ages, the RDU Observation Deck provides an expansive view of RDU International Airport's 10,000-foot runway. Watch in amazement as massive, metal birds taxi, take off and touch down right before your very eyes. Accessible via elevator as well as stairs, the elevated deck features educational displays on various types of planes and audio speakers where you can listen to pilot-tower communications. Smaller kids will love playing on the playground (complete with its own runway), and there are wheelchair-accessible picnic tables, bathrooms and free parking onsite.
Status: Temporarily closed.
Laurel Hills Park/Sassafras All Children's Playground
Sassafras All Children's Playground—the largest in the City of Raleigh park system—is a gem that's accessible to all children including those with special needs. Located at Laurel Hills Park, the playground includes an elaborate wooden play structure of tunnels, bridges, towers, swings and rings built over soft sand. There's also a 50-foot-long zipline, a basketball hoop and therapeutic, independent play elements to help build body strength.
Status: Temporarily closed.
Raleigh Fire Museum
Looking to visit a cool museum around an incredibly hot topic? Then check out the Raleigh Fire Museum which displays hundreds of artifacts and photographs presenting the story of firefighting in N.C.'s capital city. Learn about Raleigh's volunteer firemen of the 19th Century and the development of the career fire department that protects the city today. You can also view a variety of antique fire engines on display at the museum as well as other station locations throughout Raleigh. Local tip: The museum is only open to the public on the second Sat. of each month, from 10am-2pm.
Status: Temporarily closed.

Shopping Gems
The ZEN Succulent
Green and glamourous, the ZEN Succulent is where you'll find unique gifts for those with a true green thumb. The neighborhood plant shop has recently taken root in downtown Raleigh but has specialized in unique greenery and handcrafted gifts since 2012. Drop by not just for the shopping, but also the workshopping where you can learn how to build modern terrariums and walk away with a creation of your very own.
Status: Storefront is open Fri.-Sun., noon 5pm with shopping available online 24/7.
The Green Monkey
Although it's been voted one of the top gift shops in the Raleigh area, the Green Monkey is more commonly known as one of the best neighborhood bars in Raleigh. The fact that they sell craft beer and wine shouldn't deter you from making a stop to browse their curated selection of souvenirs, quirky cards and unique gifts created by small makers from across the city, state and country. This hidden gem is a welcoming safe space chock full of goodies that keep customers coming back for more.
Status: Open with varying hours, please call for shopping and event information.
Escazú Chocolates
Whether it's a stop along the way or the only stop of the day, leaving Escazú without a sweet treat is nearly impossible. Boasting their bean to bar chocolate, original ice cream flavors and hot chocolate bar for the cooler months, Escazú has been a sweet staple of the downtown community for more than a decade now.
Status: Open and taking online orders for pickup. See website for details as this can change.
Zest Cafe & Home Art
Zest Cafe & Home Art offers a feast for your eyes, your palate and your artistic sensibilities. On one hand, it's an inviting, casual restaurant serving an ever-changing menu of contemporary American fare made with locally sourced ingredients. On the other, it's an amazing boutique of colorful, sometimes cheeky home furnishings, art, accessories and more. As the perfect marriage between dining and shopping, Zest packs a lot of punch for customers lucky enough to stumble upon its modest location.
Status: Dining room is open for lunch, dinner and brunch (takeout orders also accepted). Shopping is also open.

Note: Due to COVID-19, the hours or operational status of some of the items above have changed. We have included current information as of today, but please check websites or social media to confirm before finalizing plans.
 
About the Greater Raleigh Convention and Visitors Bureau (Visit Raleigh):
As the official destination marketing organization for Wake County, the Greater Raleigh Convention and Visitors Bureau (Visit Raleigh), is responsible for promoting Wake County as an attractive travel destination and enhancing its public image as a dynamic place to live and work. Through the impact of travel, the organization strengthens the economic position of and provide opportunity for people throughout Wake County. Raleigh, N.C./Wake County welcomes nearly 18 million visitors annually whose spending tops $2.9 billion. The visitor economy supports more than 28,000 local jobs in Wake County and generates $284 million in state and local tax revenues, saving each Wake County household $727 in taxes annually. visitRaleigh.com
Media Contact:
Scott Peacock, Director of Public Relations
614.551.7981
speacock@visitRaleigh.com
# # #