The Best Weekend Getaway Itineraries in the Raleigh Area
Thursday, March 17, 2022, 5pm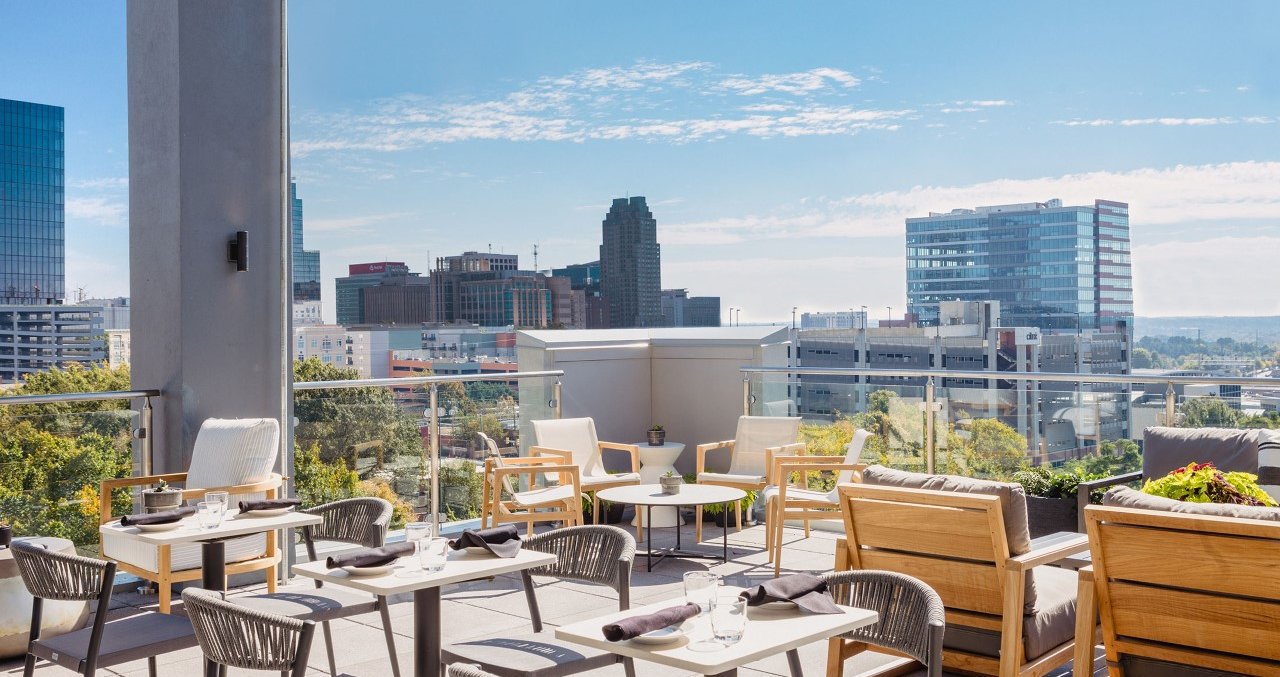 Raleigh, N.C. (March 17, 2022) – Looking to "retreat" yourself in the coming months? Need a weekend getaway with a loved one? In the Raleigh area, Southern charm meets your sweet escape (and relaxing days at the spa and outdoor adventures await!) Rich history, Southern and global cuisine and authentic experiences are all at your fingertips when exploring in the City of Oaks, Cary and beyond. Below are insider suggestions for the best ways to put it all together for a perfect visit!
How does a weekend stay in one of America's coolest new hotels sound? Just opened in spring 2021, Heights House Hotel—born from a completely revitalized pre-Civil-War-era mansion in downtown Raleigh—is a 10,000-square-foot, Italianate-style home that provides nine incredibly gorgeous guest suites. Hardwood floors, cozy fireplaces and grand common spaces with immaculate decor undoubtedly make this one of the Tar Heel State's most unique getaways.
Named for its location within Raleigh's historic Boylan Heights neighborhood and originally built in 1858, the two-story home was purchased by Raleigh residents Jeff and Sarah Shepherd in 2018, who have since meticulously restored, renovated and redesigned the interior of the hotel while maintaining the integrity of the original architecture. Much of the project has been documented on Instagram. The building is listed as a National Historic Landmark.
A big bonus? The hotel sits just steps from the center of the City of Oaks, making for an easy walk to the recently opened Sam Jones BBQ (one of America's most exciting restaurant openings of 2021), beautiful Dorothea Dix Park (among the most important urban park projects in North Carolina history) and the award-winning Boulted Bread (where coffee and scones are a way of life). Heights House has bicycles available for guests to borrow—great for a ride into the Warehouse District to explore all its attractions.
 
If you're looking for a fun retreat at one of the City of Oaks' newest hotels, look no further than Origin Raleigh, a boutique brand that has just five hotels located in the U.S. This incredibly stylish and modern full-service property not only provides top-notch amenities and a must-try restaurant, but also goes the extra mile to give guests a true taste of the area. One of the many things that makes the Origin unique is their savvy "Do List"—a handcrafted, battle-tested and inspired guide of things to do, places to eat and stuff to see. Every guest receives one upon check-in.
This pet-friendly, 126-room, seven-story hotel with locally inspired décor is the perfect spot for a fantastic getaway for you, friends or family. Its unique amenities include in-room yoga kits and kids camping (sleeping bags and a starry night light) upon request.
As you step outside the doors, you'll discover countless exciting things to begin your Raleigh adventure. Directly across the street is Dram & Draught, a neighborhood bar with more than 300 whiskeys from around the world, hand-crafted cocktails and draft beer. Step over to Morgan Street Food Hall for a mind-boggling array of mouth-watering food options to be enjoyed on the massive back patio. If you're itching for a little exercise and want a nimble way to get around the city, head over to the Citrix Cycle station across from the food hall, rent a bike and pedal to your heart's content. For beer enthusiasts, make the easy walk over to Wye Hill Kitchen & Brewing for refreshing craft brews, great bar food and what many believe to be the best view of the Raleigh skyline from your table.
Don't miss out on dinner at Origin's on-site restaurant, Good Day Good Night, to cap off an amazing day of fun and adventure in and around the hotel. The plant-forward and thoughtfully sourced menu allows incredible flavors to shine through.
 
Vintage motor lodge charm meets contemporary comfort at this refreshingly unique and completely modernized, mid-century gem. Renovated from the ground up, The Longleaf Hotel—opened in early 2020—manages to hold on to the character of the 1960s-era motor lodge it once was.
Step inside and you'll discover crafted bespoke room details from local artists like retro light fixtures, custom photography and wallpaper inspired by the hotel's namesake, the longleaf pine.
Be sure to make yourself comfortable at The Longleaf Lounge—a relaxed, unpretentious hangout for both visitors and locals alike. As you indulge in evening drinks with the lounge's selection of wines, classic cocktails and local beers, you'll be surrounded by retro décor while enjoying Southern hospitality that would make anyone feel special (bonus: the private back patio includes a fire pit for chilly evenings).
Conveniently located at the northern gateway to downtown Raleigh, the Longleaf is an easy jaunt to, well, just about everything! Make a reservation at Mulino Italian Kitchen & Bar for some of the area's best food, yes, but also for perhaps the most unique outdoor dining setting. Craving some flaky blankets of buttery goodness? Stroll on over to Layered Croissanterie for a divine selection of the flakiest croissants you'll ever sink your teeth into. Your trip to also wouldn't be complete without a visit to the North Carolina Museum of Natural Sciences, the largest natural history museum in the Southeast and one of the most popular attractions in North Carolina.
 
AC Hotel Raleigh Downtown (pictured in header)
The newest hotel on the scene, the AC Hotel Raleigh Downtown, opened in late 2021 and it includes a rooftop bar, The Willard Rooftop Lounge, which boasts one of the city's best views. Lucky us: it's open to both hotel guests and the public (with a separate entrance for the public– for maximum guest privacy)!
The full service, 146-room hotel—which bills itself as a "unique combination of timeless European design and comfort"—sits in the center of the city, nestled between Raleigh's booming Warehouse District and bustling Glenwood South entertainment district. While you're there, be sure to check out the brew lover's whimsical sanctuary Raleigh Beer Garden, jazzy cocktail favorite C. Grace, iconic eatery 42nd St. Oyster Bar & Seafood Grill and so much more.
 
Tucked away among Cary's natural beauty and spacious woodlands is an oasis beckoning you for a weekend of ultimate relaxation. Recognized by Forbes Travel Guide and AAA as a Five-Star and Five-Diamond property, respectively, The Umstead Hotel and Spa is not only N.C.'s most highly rated hotel but has also received world-wide recognition, earning a ranking as the No. 3 Best Hotel in the U.S. and the No. 40 Best Hotel in the World. From the moment you step into one of the exquisite guest rooms or onto the stunning lakeside terrace, you'll understand the accolades. The incredible spa, which is open seven days a week for hotel guests (non-hotel guest access may be limited), includes everything from body treatments and massages to manicures, pedicures and facial treatments. The spa also boasts a sauna, steam room, whirlpool, outdoor pool and meditation courtyard.
After a day at the spa, let the hotel's first-class service "wow" you with a tasty meal at Herons—one of only 62 Forbes Five-Star restaurants in the country (and led by executive chef and James Beard Award semifinalist Steven Devereaux Greene). Open for breakfast, lunch, dinner and weekend brunch, the intimate, 98-seat dining room features a full-view kitchen, original artwork and floor-to-ceiling windows with views of the outdoors. The bar and lounge area offers signature cocktails, a wine cellar stocked with selections from around the world and live music in the evenings.
While it might be difficult to pull yourself away from such bliss, it's worth mentioning that William B. Umstead State Park is less than a mile away. Escape to nature's own retreat where 22 miles of wooded hiking trails and opportunities for horseback riding, mountain biking and picnicking await.
 
Opened in 2016 in downtown Cary, The Mayton is a 44-room, Georgian-style boutique inn just steps from Cary's Downtown Park (note: closed for major construction, opening summer 2023). Feast on Southern comfort food at the hotel's elegant restaurant, Peck & Plume, step next door to meet and mingle in the backyard at Cotton House Craft Brewers or stroll a handful of blocks to Bond Brothers Beer Company (an award-winning brewery with an awesome, dog-friendly outdoor space) for the finest sours and ales around. Grab a hand rolled bagel for breakfast at Big Dom's Bagel Shop, or reserve a dinner table at Pizzeria Faulisi, a lively spot for gourmet, wood-fired pizzas (both restaurants are the brainchildren of husband-and-wife duo Zack and Amber Faulisi).
On Saturdays, the Cary Downtown Farmers Market is just steps away, and Hank's Downtown Dive—a favorite new hangout with some of the most exciting upscale food and drinks in downtown Cary.
 
For a one-of-a-kind retreat experience, devote a weekend to Raleigh's first independent boutique hotel, Guest House Raleigh, located in downtown Raleigh. This 1880s historic Gorham House was saved from demolition and relocated it to its new location in 2017, opening as an eight-room hotel in late 2018. A smaller, more intimate space than your typical hotel, Guest House truly makes you feel like you're at home—a home with a backyard courtyard, skyline views, a historic parlour and elegant rooms, that is!
Inside, visitors are greeted by a tasteful mix of historic charm and modern comfort. The bedrooms—calm, soft and flooded with daylight—are intentionally designed. Comfy common spaces include the historic parlour and study and a spacious kitchen that opens into a special backyard courtyard with skyline views.
This delightful space also has another perk: it's easily within striking distance of award-winning restaurants (including two new food halls—Morgan Street Food Hall and Transfer Co. Food Hall) and relaxing outdoor spaces (you'll find weekly yoga classes at the beautifully renovated Moore Square, and picnic-goers and Frisbee games at the massive Dorothea Dix Park).
 
Overlooking the picturesque Lake Raleigh on North Carolina State University's beautiful Centennial Campus , StateView serves as a modern, innovative retreat ideal for you and a group of friends.
The StateView offers plenty of experiences inside and outside of its walls. For starters, the advanced amenities and tasteful décor of this tech-savvy and fascinating hotel are worth admiring any time during your stay. You'll find the attention to detail and innovation truly remarkable. Then, there's Flask & Beaker—the hotel's creative, upscale restaurant and a hopping spot to take in beautiful views of Lake Raleigh and dig in to a locally curated menu. After your meal, take a stroll through campus—you'll find the incredible James B. Hunt Jr. Library (named 14th-most beautiful library in the world) and Lonnie Poole Golf Course (a challenging, NCAA championship-level layout) just outside the front doors of the hotel.
Just a few minutes from downtown Raleigh, The StateView also provides easy access to Raleigh's finest bars, restaurants and museums, plus a perfect relaxation spot within easy biking distance at beautiful Dorothea Dix Park. You're also close to PNC Arena, which makes adding sports to your weekend retreat a breeze—the NHL's Carolina Hurricanes (in action Oct.-April, plus playoffs!) and the North Carolina State University men's basketball team (Nov.-March) call the arena home.
About the Greater Raleigh Convention and Visitors Bureau (Visit Raleigh):
As the official destination marketing organization for Wake County, the Greater Raleigh Convention and Visitors Bureau (Visit Raleigh), is responsible for promoting Wake County as an attractive travel destination and enhancing its public image as a dynamic place to live and work. Through the impact of travel, the organization strengthens the economic position of and provide opportunity for people throughout Wake County. Raleigh, N.C./Wake County welcomes nearly 13 million visitors annually whose spending tops $1.7 billion. The visitor economy supports more than 17,000 local jobs in Wake County and generates $186 million in state and local tax revenues, saving each Wake County household $470 in taxes annually. visitRaleigh.com.
Media Contact:
Jessica Holt
Director of Public Relations
919.645.2654
jholt@visitRaleigh.com
# # #
The Willard Rooftop Bar and Lounge photo by Baxter Miller