First Person: From Interns at GRCVB
Thursday, August 15, 2019, 8pm by visitRaleigh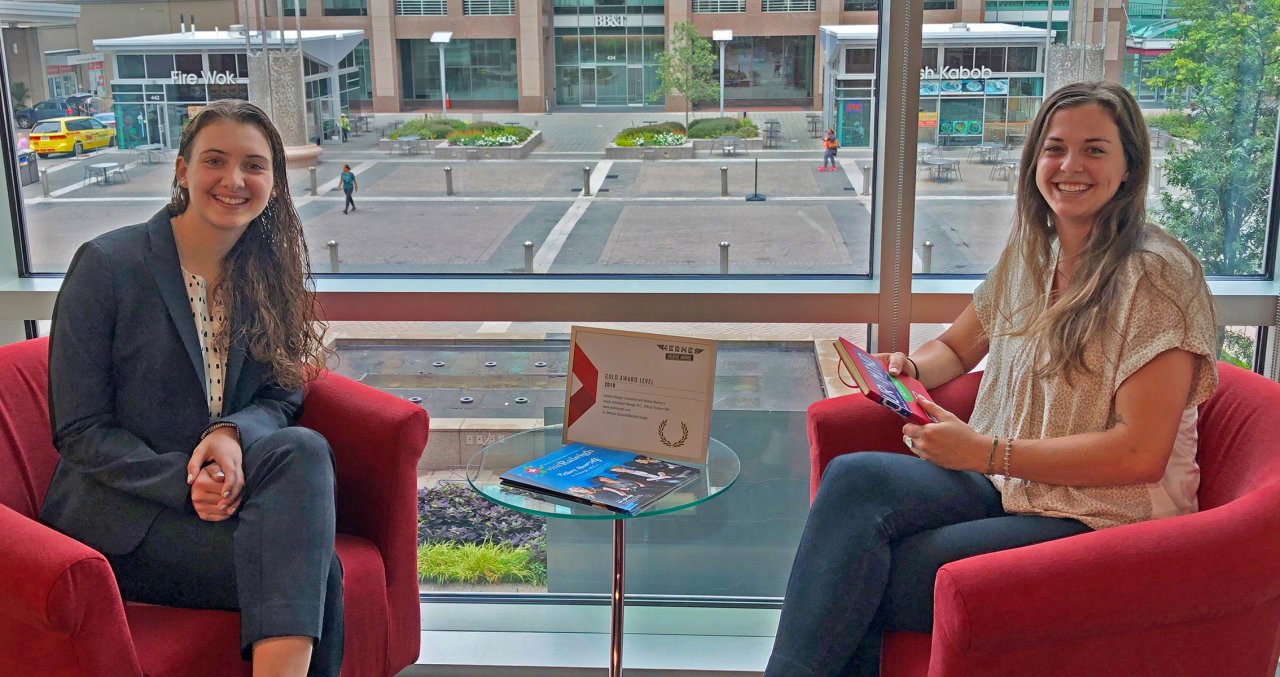 You may not be aware that GRCVB hosts several interns in our Services and Sales Departments each summer. These enterprising students help our staff with logistics and prospecting or serving groups that arrive as well as participate in all kinds of projects, such as "Celebrate Services Day," and much more.
Three interns* served with us this summer, and we had a chance to ask two of them about their experiences. Lynn Johnson (pictured above on the left) is a business administration major at Washington and Lee University, and Alyssa Stroker (on the right) is a sustainable tourism major at North Carolina State University. Lynn interned with our Sales team, and Alyssa worked with Services.
GRCVB's Andrew Baker, assistant marketing manager, asked them a few questions about their internships.
What brought you to GRCVB for your internship?
Lynn: "As I began thinking about internship possibilities for the summer, I knew I wanted to work at a place where I would learn new things while also having fun. I have interned at law firms and other small businesses, and while I have had great experiences in those environments, I wanted to explore something new this summer. When I heard about the GRCVB and its internship, I was immediately interested for two main reasons. First, I did not know much about the [CVB] industry, so I knew right away that I would learn a ton. The second reason is simple: Raleigh. Having been born and raised in Raleigh, I have completely fallen in love with this city and all it has to offer. Furthermore, the idea of interning at a place that works to enhance this city and bring people to it seemed ideal to me."
Alyssa: "I was first introduced to the GRCVB internship program through the previous summer intern, Ellison Lambert, who spoke very highly of her experience. She, as well as a handful of my professors, encouraged me to pursue a position with the GRCVB due to the hands-on, real-world involvement and participation I would gain. Following its completion, I can attest that I have acquired a substantial understanding of the importance a CVB plays in the hospitality and tourism industry, and as a result, I'm eager to apply this knowledge and awareness to my future professional endeavors."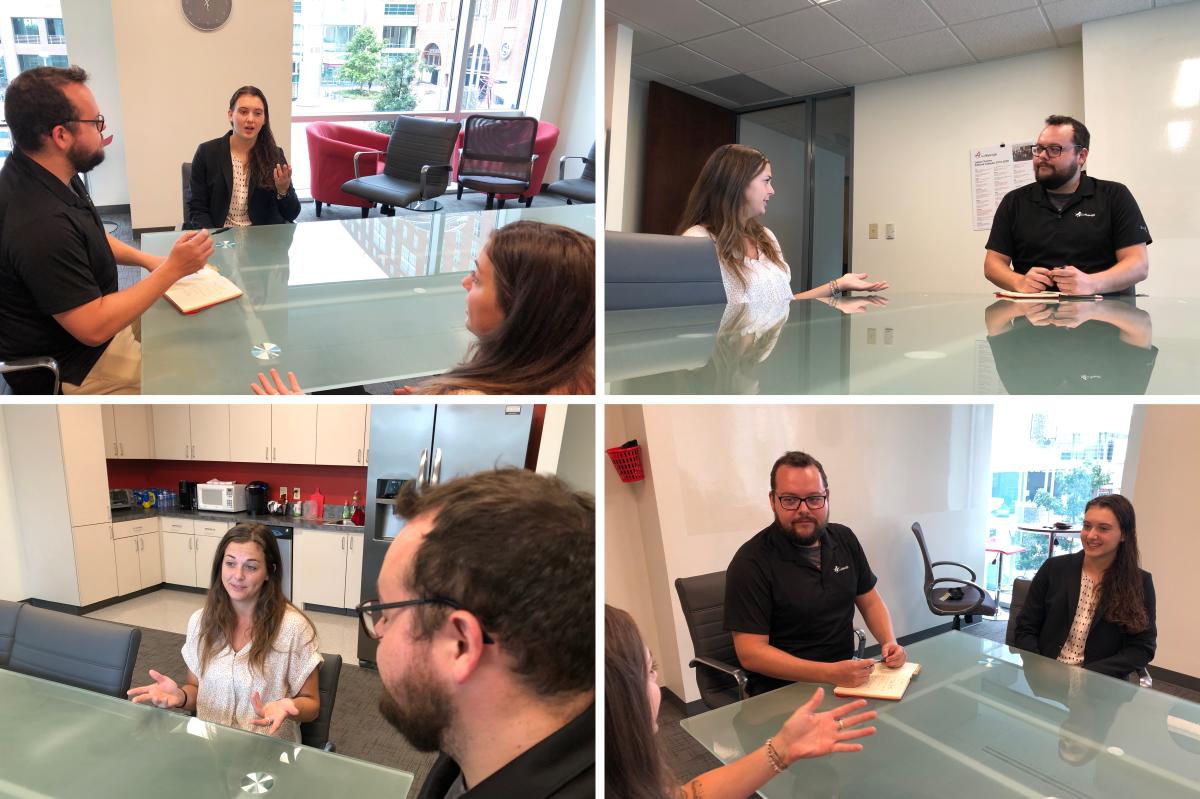 What kinds of projects have you worked on?
Lynn: "This summer I have specifically worked for the Sales department of the GRCVB. The sales team works to assist planners all across the country bring conferences and events to the city of Raleigh and the Raleigh area. Some of the projects I have been assigned to include conducting research on various hotels in the area, compiling contact lists for different organizations and assisting team members with specific client needs or requests.
"For one of my larger projects, I researched professors at N.C. State University to figure out any type of academic organization that they are affiliated with. After compiling a list of all of these organizations, I looked up where each one is based and divided my master list based on the geographical region of each organization's headquarters."
Alyssa: "As a Services intern, I had assignments tailored to serving various incoming groups traveling to Raleigh for conventions, conferences and family reunions, among other events. These assignments and projects generally involve finalizing arrangements and finishing touches in preparation for the arrival of meeting planners, groups and attendees. This was seen as arranging welcoming and VIP gifts, dispersing banners/signage and preparing service kits, packets and shipments. 
"On a smaller scale, I was responsible for accommodating the leisure tourists traveling to the Wake County area. I worked closely with the Visitor Information Center (VIC), dedicated to providing visitors with resources and information necessary to navigate and enjoy all that Raleigh and Wake County has to offer. I was responsible for ensuring that the VIC is adequately stocked and up-to-date with resources for travelers, including visitors guides, R-LINE maps, event calendars and the Hanging Around Downtown and Shopping Around Downtown maps."
What have you learned about the industry that you didn't know before?
Lynn: "I would say that the main thing I have learned about the industry, while it might sound a bit cheesy, is just how much work goes into each event that GRCVB assists with. After working with GRCVB/Visit Raleigh over the summer, I truly believe that this industry plays a vital role in not only bringing people to the Raleigh area but also making the area grow and develop as it has over the years and will continue to do in the future. Throughout the summer, I have been amazed at all of the hard work that the entire staff puts into their jobs, and I have been even more amazed at seeing just how vital their work is to Wake County as a whole." 
Alyssa: "Tourism is one of the fastest-growing industries in the world with multiple different influences to the host community including socioeconomic, environmental and cultural factors. There are many moving parts that go into play for a destination to be successful and have a competitive advantage over others. My time at the GRCVB allowed for a deeper understanding of these components that are significant and critical to place Raleigh on the map as not only a business destination but a travel and leisure attraction as well."
What was the best part of your internship?
Lynn: "I believe that the best part of my internship was the overall learning experience that came working in an industry that was completely new to me. I can without a doubt say that I learned something new every day. And I owe a huge credit to the entire staff at the GRCVB for being a large part of this amazing experience for me. I had no clue as to what I was getting myself into before I started my internship this summer, yet because of the people I got to work with, I can now say that I had an amazing experience interning at Visit Raleigh." 
Alyssa: "It's nearly impossible for me to narrow down the best part of my internship. However, I am extremely grateful that I was provided with a holistic internship experience and was granted exposure to other departments and opportunities. I was constantly invited to attend various meetings, conference calls and events outside of the Services Department. This additional exposure allowed for not only an alternative perspective to the operations of the CVB but permitted the possibility of networking and engaging with others in the hospitality/tourism industry.
"Not only can I applaud the exposure I've been provided over the course of my internship, but the best part of every day was the staff. I enjoyed not only all the employees at the GRCVB but also the organizational culture. Aside from being very approachable and friendly, the entire staff has been more than willing to provide any assistance or guidance to benefit my internship experience and ensure success in my future."
............
"After working with GRCVB/Visit Raleigh over the summer, I truly believe that this industry plays a vital role in not only bringing people to the Raleigh area but also making the area grow and develop as it has over the years and will continue to do in the future."—Lynn Johnson
............
What was the most challenging part?
Lynn: "Because I have a special interest in sports, I was very interested in the Greater Raleigh Sports Alliance as a department. I remember immediately wanting to pick the brains of the department members as soon as I first discovered there was a whole team devoted to sports. And thankfully, I was eventually able to sit down with different members of the sports department and learn more about what they do, and I was even given the opportunity to check out some of the amazing sporting events that they assist with. 
"Because of this, I would say the most challenging part of my internship for me was making sure that I devoted enough of my time to the Sales team and completing all the tasks and projects assigned to me on time, while also finding time to learn more about GRSA. I had to work hard to ensure that I was helping out the sales team to the best of my abilities, and I am grateful that I also had the chance to work with some of the sports team as well!"
Alyssa: "There was no particular aspect of my internship that proved to be a challenge or a difficult task. I give credit to having a great orientation to the workplace and effective training that allowed for an easy transition. Nonetheless, there were a handful of instances that left me feeling confused due to a lack of understanding and awareness of the topic at hand. I attended some very prestigious and prominent meetings that were beyond my scope but nonetheless were extremely valuable and instrumental to my perception of the tourism field."
What surprised you the most?
Lynn: "I have been genuinely surprised at just how much I have learned and how much experience I have gained over the course of my internship. I am not exaggerating when I say that I truly learned something new every single day throughout the summer. And I believe that this learning experience contributed greatly to the amount of fun I had. 
"Another surprise for me was the overall environment in the office. I felt so welcomed and valued as an intern at the GRCVB, and I owe that to the amazing people who are a part of the Visit Raleigh staff. I was amazed at how these people are so hard-working and devoted while also extremely caring and down to earth. There truly is never a dull day at the GRCVB. I have met so many great people and have made so many lasting relationships that I never thought would have happened prior to the start of my internship." 
Alyssa: "I was surprised by how much I enjoyed the function and the mission of the CVB. Considering I have a strong interest in sustainable development and Women's Health/Studies, I find it surprising that I may entertain the idea of seeking employment with a CVB in the future. Nonetheless, I am extremely surprised by how much a CVB does and all the working parts that form a destination marketing organization. I was amazed by the extensive list of departments that have fluid interchange and frequently cross-communicate to accommodate various visitors, groups, conventions and events." 
After having spent several weeks with the GRCVB, do you think you will want to pursue a career in the industry?
Lynn: "Because I still have two more years of college ahead of me, I can say that I am pretty unsure of the exact career path I want to pursue. However, working at the GRCVB this summer definitely got me thinking a bit more about what I want to do with my career. Growing up and throughout high school, I always thought I wanted to go to law school and become a lawyer after college, and part of me still wants that. However, I also have a large interest in sports, and after working some specifically with the Greater Raleigh Sports Alliance, I have definitely thought more about doing something with sports in my career."
Alyssa: "With my major and concentration in Sustainable Tourism, my passion concerns representing a community on a smaller, more personal scale. I am particularly interested in serving marginalized communities that could greatly benefit from the introduction of tourism in a sustainable and calculated approach. I have acquired a deeper understanding and insight of the tourism industry throughout the course of my internship, and I'm eager to apply this appreciation to my area of interest. As I continue forward in my undergraduate career, I am very grateful for all that I have achieved during my time with the GRCVB and for a deeper appreciation of the tourism industry that will subsequently shape the path of my future."
*The third intern was Madison Merk, a leisure and tourism management major at East Carolina University.

Author: visitRaleigh
The Greater Raleigh Convention and Visitors Bureau (GRCVB) is the official and accredited destination marketing organization (DMO) for all of Wake County.
Comments