10 Delicious Eats at Morgan Street Food Hall, Voted a Top 10 'Best New Food Hall' in the U.S.
Friday, January 18, 2019, 2pm by Tabletop Media Group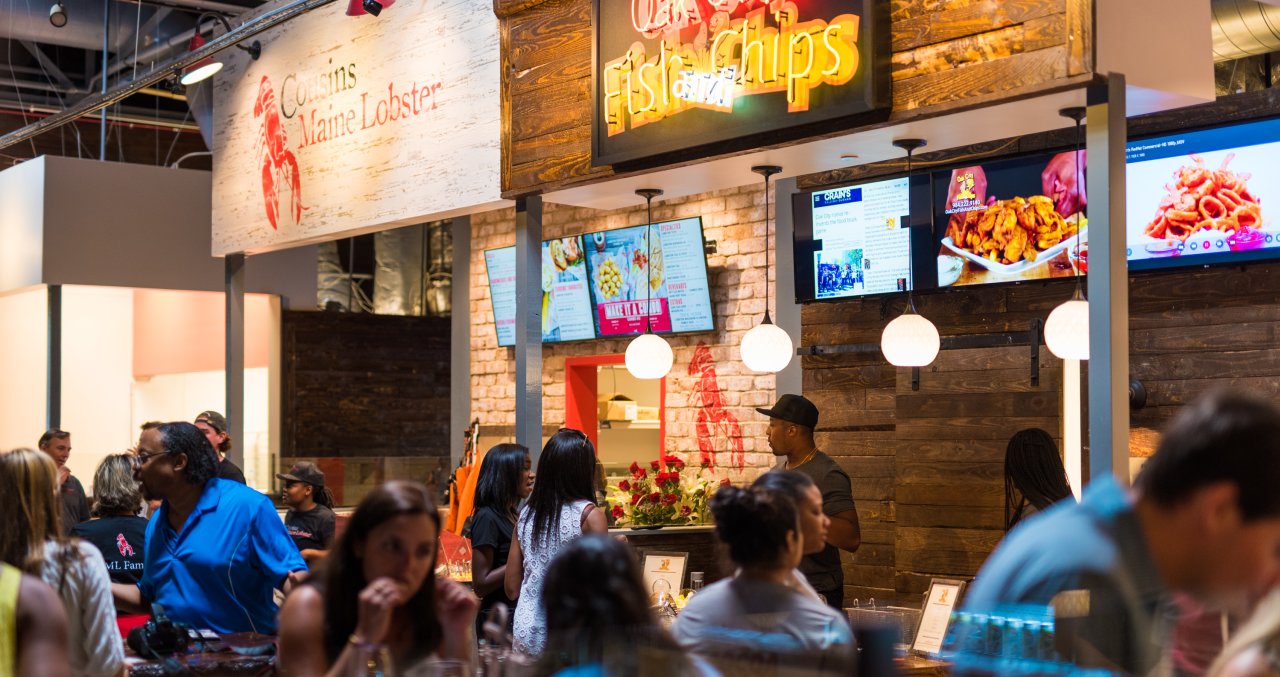 Fresh off a highly-anticipated opening in Aug. 2018, Morgan Street Food Hall has been voted one of the top 10 best new food halls in the country!
The downtown Raleigh, N.C., foodie attraction and brainchild of passionate mind Niall Hanley came in at No. 3 in the USA TODAY 10Best Readers' Choice Awards' "Best New Food Hall" category, thanks to all the love!
Located in the rapidly-growing Warehouse District in a repurposed, 22,000-square-foot warehouse, Morgan Street Food Hall provides a unique dining experience from a wide variety of local chefs, restaurateurs and purveyors. The space was the first of its kind in Raleigh and features 20 culinary concepts ensconced in fully-outfitted spaces offering cooked-to-order meals, snacks and specialty foods, plus specialized retail carts selling packaged food and culinary-related items. The food hall is also home to a massive indoor/outdoor bar—The Arbor—and a gorgeous outdoor space that's already proven to be a super-popular hangout spot. A smaller, gin-focused bar set to open at a later date.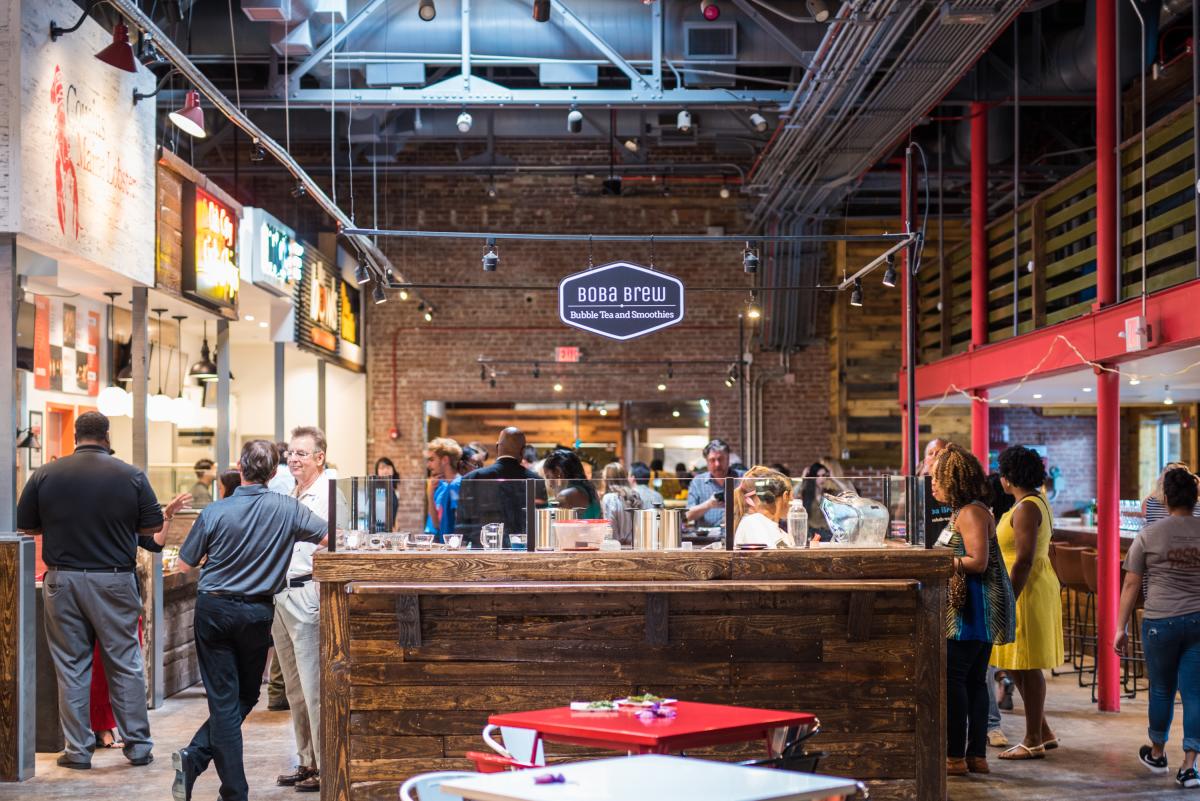 With 20 different food and drink vendors, each with plenty of menu items, you can bet there are tons of options to choose from. To help navigate, and to give you an idea of all the deliciousness, here are 10 eats to look out for:
 
Chicken Shawarma at Sassool Select
If you're looking for healthy options without sacrificing flavor, check out Sassool Select, the Morgan Street Food Hall location of the local-favorite, family-owned Lebanese and Mediterranean restaurant Sassool. Opt for the Chicken Shawarma, easily becoming a favorite. Juicy, grilled chicken with garlic whip is served with tomatoes, Lebanese pickles and lemon tahini dressing—get it wrapped or over rice or mixed greens.
Truffle Burger or Quad Stack at Cow Bar
Cow Bar is a handcrafted, artisanal burger joint priding itself on producing unique takes on the standard burger. Try the Truffle Burger, with your choice of a fresh ground beef patty or vegetarian burger, topped with caramelized onions, truffle butter, shaved truffles and smoked Gouda. Feeling extra hungry? Opt for the Quad Stack with four beef patties, lettuce, tomato, onion, American cheese, bacon and Cow Bar Sauce.
Kolaches at Carroll's Kitchen
Support a great cause while eating some delicious food! Carroll's Kitchen is a social enterprise, nonprofit restaurant with a vision to end homelessness for women in Raleigh and inspire everyone in the city to make a positive change by providing job training for women coming out of homelessness (their original location is located nearby at the corner of E. Martin and S. Wilmington Sts.). We recommend ordering a few of the assorted kolaches, doughy pastries containing either sweet or savory fillings. Flavors range from spinach and feta to apple pie!
The popular food truck loved by the nation (and especially in Raleigh, N.C.) opened up a permanent location at Morgan Street Food Hall to locals' and visitors' delight. Be sure to try the Lobster B.L.T., which is only available at the brick-and-mortar location. This sandwich features Maine lobster, sliced tomato, bacon, mixed greens and herb-spiced aioli on an artisan bun.
Pork Dumplings at MKG Kitchen
MKG Kitchen was brought to Morgan Street Food Hall by the family who owns Mekong Vietnamese Cuisine in Morrisville. MKG—short for Mekong, the area in South Vietnam that the family is from, plus an acronym for "My Kinda Grub"—brings you a modern take on Vietnamese classics. If you're looking for something easy to share with a group, order the homemade, pan-fried Pork Dumplings, served with a side of soy-vinegar dipping sauce. Tip: Hurry in! These tasty dumplings are made in limited quantities daily.
Benelux Biscoffee Ice Cream at Raleigh Rolls
Preparing ice cream with an interesting technique, Raleigh Rolls is certainly putting on a show at Morgan Street Food Hall. This Thai rolled ice cream kiosk creates a variety of rolled ice cream flavors right before your eyes and features year-round classics, including the Benelux Biscoffee. Mixed with Biscoff cookies and locally-brewed Benelux Coffee, it's a great treat if you're looking for something sweet after (or before!) dinner.
Calling all seafood lovers! Get a taste of the coast with Oak City Fish and Chips. This popular food truck now has a location at the food hall and is serving up their signature seasoned fish, shrimp, calamari and fries. You can't go wrong with their classic fish and chips, putting a Southern twist on a British classic.
Butter Chicken and Garlic Naan at Curry in a Hurry
Curry in a Hurry serves up authentic Indian cuisine using the best and freshest ingredients available. This is the first permanent location for Curry in a Hurry, which still operates their popular food truck. Need a little spice? Try their Butter Chicken curry served over basmati rice, and make it however spicy you'd like. Pro tip: Order a side of their Garlic Naan, a traditional Indian bread baked in a clay oven with fresh garlic. It's perfect for dipping into the curry!
Chocolate Dipped Vanilla Cheesecake at Cocoa Forte
Cocoa Forte is a family-owned and operated dessert business by husband-and-wife team Freddie and Nicole McIntyre. What was once a food truck, Cocoa Forte now has a stand in the Morgan Street Food Hall, and crowds are loving their Chocolate Dipped Vanilla Cheesecake, dipped in various flavors with toppings. How could you resist?
Former sous chef at The Ritz-Carlton, Charlotte, and grande manager chef at the Fairmont Washington, D.C., Georgetown, chef Greg Nelson and his wife's love for the South prompted them to move to Raleigh in 2015. Now executive chef and owner of Iyla's Southern Kitchen, chef Greg is serving up spins on classic Southern cuisine. One of our favorite items is the BBQ "Sundae" with smoked cheddar mac 'n' cheese, pulled pork, collard greens and BBQ sauce drizzle—several Southern favorites, all in one mouthwatering dish!

This list includes just a sample of the many dining vendors at Morgan Street Food Hall—check out the full list here!
Comments