10 "Must See" Things at the North Carolina Museum of Natural Sciences
Monday, March 24, 2014, 2pm by Kristy Stevenson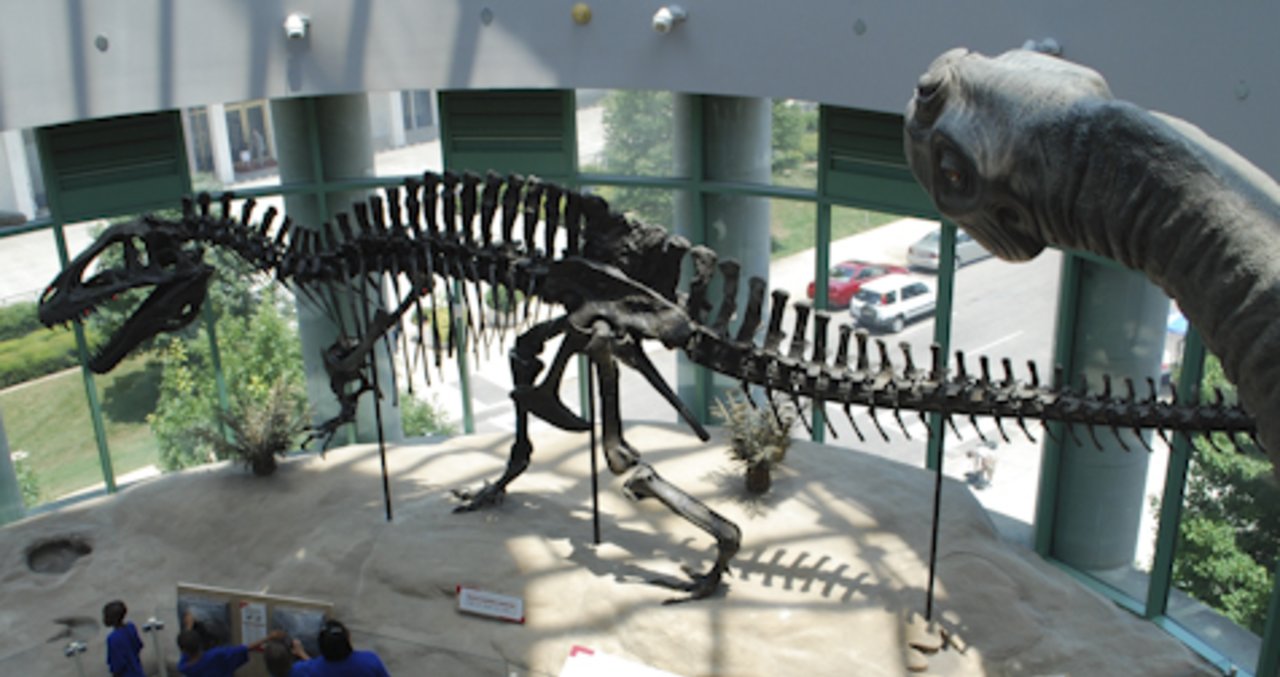 So you're looking for something educational and really, really fun to do with the kids (or maybe just the kid in you)? Look no further than the North Carolina Museum of Natural Sciences in downtown Raleigh. Sometimes referred to as the "dinosaur museum" by kids (because it has a kickin' dinosaur exhibit), it's also about so much more. Named the Southeast's largest natural history museum and one of the state's most visited attractions, it features an array of permanent and special exhibits, live programs and educational films that appeal to audiences of all ages. The museum encourages visitors to explore the natural world and their connections to it. Here are some of my favorite parts:
1.  Nature Research Center: The new 80,000-square-foot wing, with state-of-the-art laboratories, research opportunities, interactive exhibits and live presentations given by top scientists. The goal of this addition is to make science a tangible and enjoyable experience while helping visitors understand the practical applications of it in their daily lives.
2.  Living Conservatory of Live Butterflies: Filled with tropical plants and animals, the fourth-floor Conservatory recreates the sights, sounds and smells of a dry tropical forest where butterflies flutter freely and feed on sweet nectar.
3.  The Two-Toed Sloth: And speaking of the Conservatory, be sure to hunt for the sloth while you're there. He seems to be a bit of a lazy fellow. "Is he awake? Is he alive? I want to know!" said Kelly Luter of Clayton. He doesn't have a name, but he is very real. Can you catch him out and eating?
4.  Siren Salamander: "We like the Eastern Lesser Siren; it's a cool salamander-type animal with the lungs on the outside," said Jenni Hart of Raleigh. "We can never leave the museum until we see him!"
5.  Emerald Tree Boas: Joyce Almond and George Fore of Raleigh said, "There are about five of these, all perfectly posed like this one in the Tropical Connections exhibition in the east building. Saw them for the first time this weekend."
6.  Gemstones: See beautiful gems and minerals, soil and seismic displays in the Underground North Carolina exhibit. "This one's my favorite," said Raleigh's Roxie Comer. N.C. is the only state where the four most valuable gems—rubies, emeralds, sapphires and diamonds—have been found.
7.  Whale Bones: Comer's daughter, Rachel, loves the two-story-high and half-block-long Coastal North Carolina exhibit hall. Home to N.C.'s entire ocean spectrum: from whales to wetlands, seahorses to sargassum, with giant whale skeletons hanging overhead.
8.  Discovery Room: Young children and families share the fascination of exploring, filled with touchable objects and specimens from the museum's collections. It's an interactive atmosphere as you're invited to touch, smell, hear and see real animals, fossils and other natural objects.
9.  North Carolina Geological Map: Prominently displayed on the floor of the museum's street level, this map illustrates broad groupings of rock with similar geologic histories (from Ancestral North America, Suspect Terranes, Exotic Terranes and Sedimentary Rocks). It also makes a great photo opportunity.
10.  Dinosaurs: The museum's Acrocanthosaurus skeleton is the most complete specimen of its kind on display in the world, seen pursuing a 50-foot-long prey. The dramatic Terror of the South exhibit is lit from above and enclosed by a stunning glass dome. Your kids will be talking about this one for weeks.
Get up close and personal with science and nature on your next visit to Greater Raleigh, and create your own list of "must see" elements. The museum is located at 11 W. Jones St. Hours: Mon.-Sat., 9am-5pm (open until 9pm every Thurs. and on First Fridays); Sun., noon-5pm. General admission is free.
Comments