10 Places for Brunch in Raleigh, N.C.: Dine Like a Local
Thursday, February 11, 2016, 11am by Lacie Lindstaedt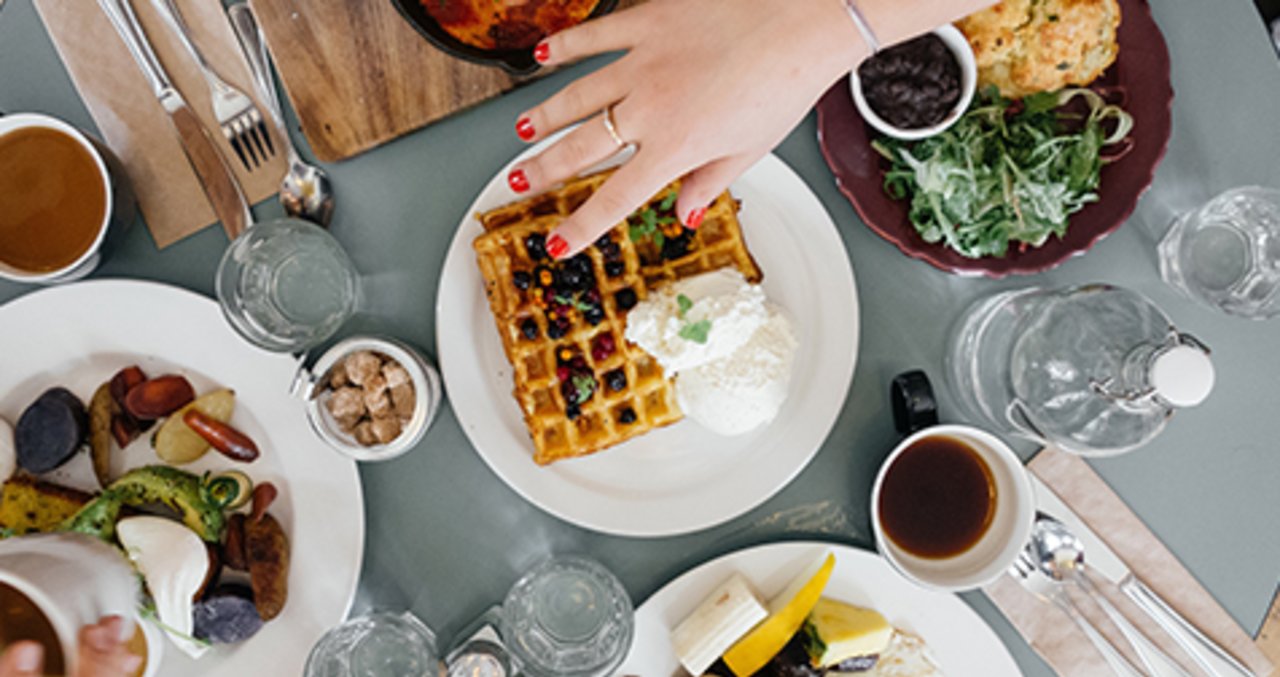 An ever-growing Raleigh, N.C., restaurant scene means even more options for a delicious weekend brunch. Sleep in a little, roll out of bed and hit these local favorites for cutting-edge takes on Southern delights, international classics and more. Take it from Raleigh blogger Chana Lynn, these are places you don't want to miss.
bu·ku
Brunch is a great time to indulge and bu·ku's brunch buffet is one of the best places in town to try different menu items. A variety of food options from a Belgian waffle station to a meat carving station is set out every Sun. from 10am-3pm.
Coquette
To find a true French brasserie in Raleigh is a one-of-a-kind experience. Brunch is served every Sun. from 10am-3pm and offers authentic crepes, petit-déjeuner sucre (pancakes and pastries), quiches and more.
Driftwood Southern Kitchen
One of the newest places in town that offers a unique chef's table, featuring an open kitchen and an ever-changing menu of some of the finest local ingredients, serves brunch Sun. from 10am-2pm.
Humble Pie
In the mood for a tapas-style brunch? Humble Pie encourages their guests to share all their humble fare, including Sun. brunch, which is served from 11am-2pm.
Irregardless Cafe and Catering
A true farm-to-table restaurant that has been serving healthily-prepared fresh foods for more than 40 years is open for brunch on Sat. and Sun. from 10am-2:30pm. The brunch menu has something for everyone and should not be missed.
Joule Coffee & Table (update: closed as of Jan. 1, 2017)
The popular eatery is owned by one of Raleigh's passionate minds, Ashley Christensen, and offers a seasonal menu with Southern brunch mainstays. Brunch is served on the weekends from 7am-4pm.
Mandolin
The Raleigh-native chef serves traditional Southern foods with influences drawn from all over the world. The menu changes daily due to the commitment of using only the freshest ingredients, including brunch on Sat. from 11am-2:30pm and Sun. from 10:30am-2:30pm.
NOFO @ the Pig
The combination café, food market and gift shop is visually vibrant, quirky and unique and has been named as having the best brunch in Raleigh by several local publications. Take a seat Sat. and Sun. from 10am-3pm and enjoy an award-winning meal.
Remedy Diner
When visiting vegetarians are looking for a brunch spot, this is the place to go. Much of the brunch menu, served Sat. and Sun. from 11am-3pm, is made fresh that morning.
Tupelo Honey Cafe
A restaurant to enjoy creative Southern food that's good for the soul. It's all about comfort at Tupelo Honey Cafe, especially during brunch. Traditional breakfast foods, sandwiches and Southern small plates are served every Sat. and Sun. from 9am-3pm.
Blogger Chana Lynn has spent the past 15 years living in Raleigh with her family. She's a web design/social media consultant, and after watching Raleigh evolve into a hip, trendy, fun and quite-delicious city, started her entertainment and dining blog, RaleighWhatsUp. Check it out!
Comments