10 Reasons to Experience Hopscotch Music Festival in Raleigh in 2018
Friday, August 24, 2018, 8am by visitRaleigh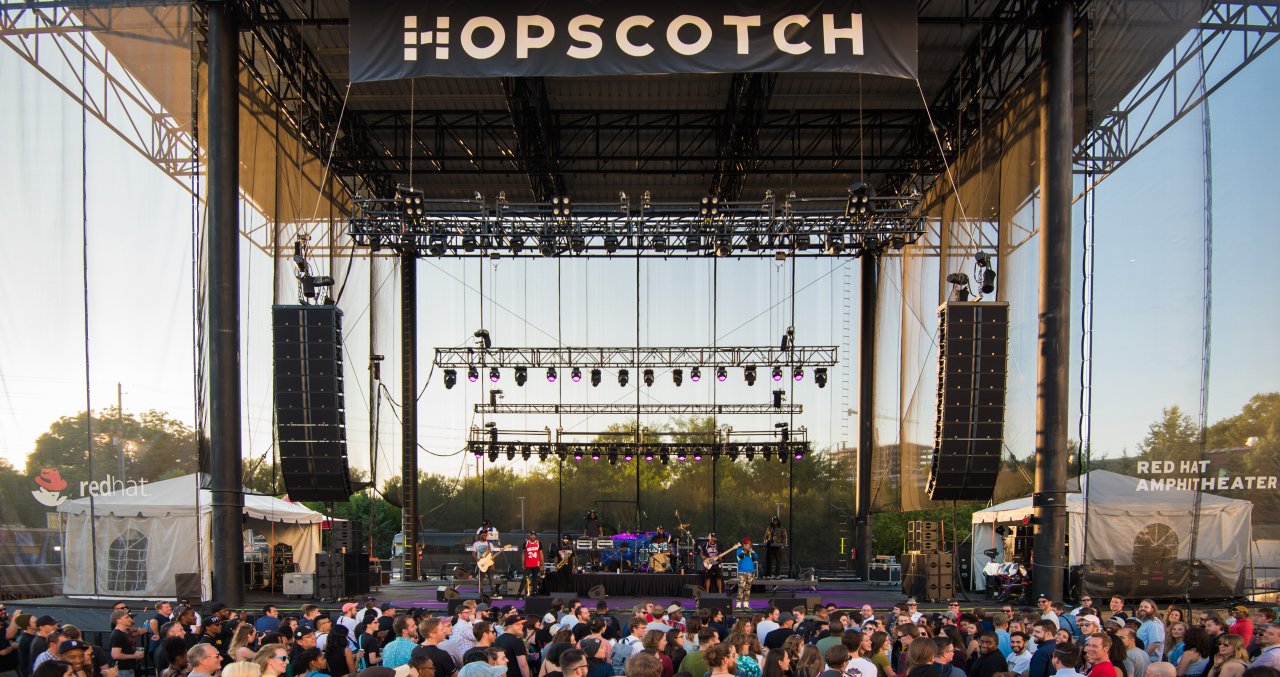 The ninth edition of Hopscotch Music Festival, Sept. 6-8 in Raleigh, N.C., is an experience you won't want to miss. For three days downtown Raleigh becomes a musical playground, with incredible performers, bands and dedicated music fans hopping between music venues and bars for a festival that never rests. 
Here are 10 reasons not to miss out! 
 
1."One of the best and most eclectic music festivals in America." - SPIN
So much praise has been heaped upon Hopscotch it can be hard to keep track. "The premiere experimental and underground festival in America," said AdHoc. "All about an extraordinarily cool roster of bands....a Mardi Gras-like atmosphere," according to Rolling Stone. "Perfect," claim both The News & Observer and We Listen For You. And, of course, Hopscotch winds up on lists like Rolling Stone's 2016 Must-See Summer Music Festivals. 
 
2. A mind-blowingly cool lineup of 120 bands
Known for adventurous lineups that feature music in every genre imaginable—rock, hip-hop, metal, electronic, folk and more—the schedule includes 120 bands so you get the chance to see personal favorites plus discover new ones. Get details on the bands, here.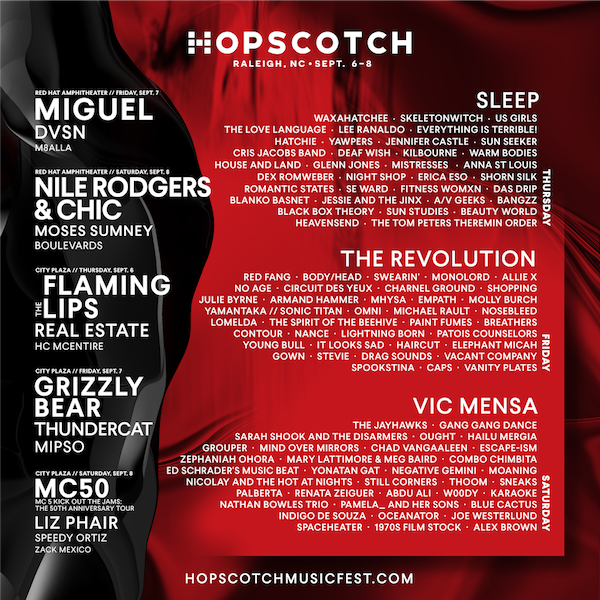 3. Twelve awesome venues (all within walking distance)
Bands will rock 12 total venues in 2018, ranging from smaller, no-frills bars to a major amphitheater. Red Hat Amphitheater returns for a third year—the 6,000-seat venue sitting in the shadows of the Raleigh skyline—hosting headliners Fri. and Sat. All the venues sit within about a 10-block radius, making it easy to hop from one venue to another to make the most of the experience. Check out our guide to the Hopscotch Music Festival venues, here. 
 
4. Just look at this beautiful schedule!
Whether you're the type to meticulously plan out your entire Hopscotch experience ahead of time or just wing it on the fly, this schedule is what you'll need.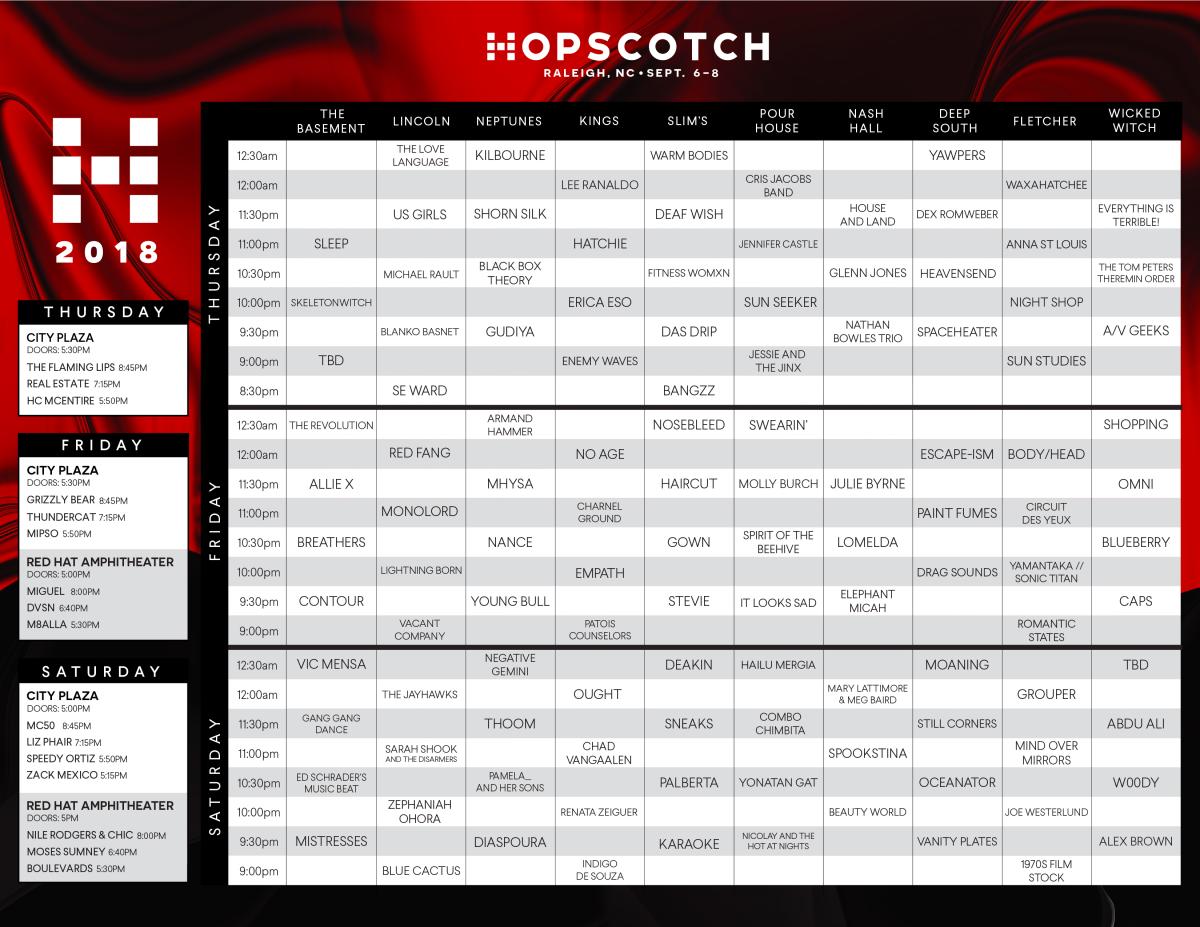 5. Stellar headliners every night!
Hopscotch isn't just about underground and experimental—festival organizers make sure to bring in some big name (and soon-to-be big name) acts to headline some of the main stages. Every night is a big night, with The Flaming Lips and Real Estate Thurs. night; Miguel, DVSN, Grizzly Bear and Thundercat Fri. night; and MC50, Liz Phair, Nile Rodgers & Chic and Moses Sumney (plus Boulevards—more on him below) on Sat. night.
 
6. Plenty of delicious restaurants to try over the weekend
Southern Living called Raleigh a "culinary mecca." Zagat named us one of the "Hottest Food Cities of 2016." OpenTable says we're home to two of the best 100 restaurants in the country. Forbes recognized the City of Oaks as one of 12 global destinations you should travel to in 2017, thanks to our culinary superstars. Two of our passionate chefs and one of our restaurants were named James Beard Award semifinalists this year. From one of the top 10 best new restaurants in the country to a lineup of can't-miss spots from chef Ashley Christensen, who was named Eater's 2017 Chef of the Year, you're in for a treat. Another must-try, Morgan Street Food Hall just opened in the rapidly-growing Warehouse District, with 20 unique culinary concepts, a full bar, a gin cocktail bar, an outdoor patio and retail.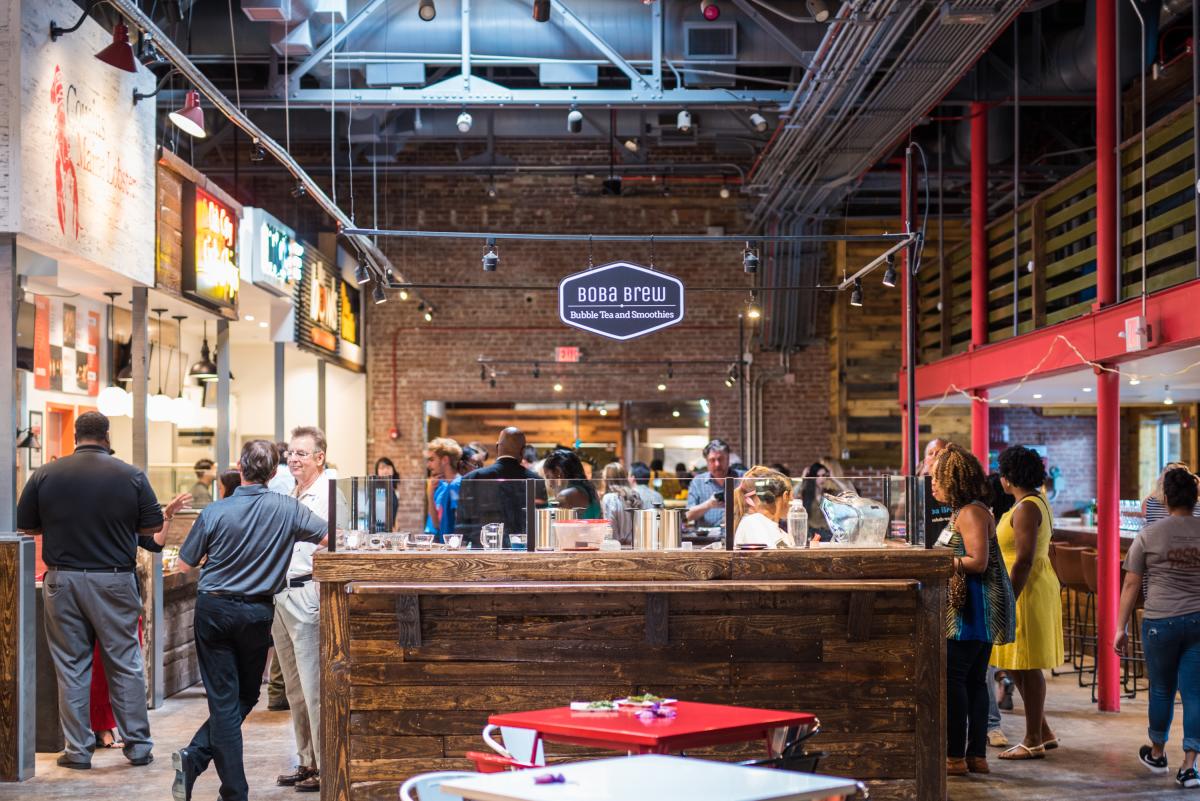 7. Day parties!
Day parties have always been an essential part of the Hopscotch experience. More than 30 free, open-to-the-public shows (no Hopscotch ticket needed) go down beginning Thurs. with all kinds of bands rocking at a whole bunch of venues and bars around downtown Raleigh—a great way to explore even more of Raleigh's coolest bars and hangouts (and some include free pizza, if you get there early!). Check out the schedule, here.
 
8. Local artists Boulevards, The Love Language and more
There are a number of N.C.-based artists on the festival schedule this year, and we've got to call out Boulevards, who rocked Hopscotch in 2017, 2016 and 2015, plus just got huge crowds jumping at this year's Montreal International Jazz Festival. Jamil Rashad, a.k.a. Boulevards, is the embodiment of funk. Taking queues from pioneers such as Prince, Rick James and Earth Wind & Fire, Boulevards seamlessly delivers cheeky, party-themed jams that range from raw and risqué to soulful. Catch his set at Red Hat Amphitheater Sat. at 5:30pm.
Other Raleigh area bands in the lineup are The Love Language (another popular local favorite), Nicolay and The Hot at Nights, Nance (Wake Forest), Lightning Born, Gudiya, Spookstina and Heavensend. 


9. Hopscotch Day Show
Topping off the already-incredible lineup and day party schedule, the Sat. Hopscotch Day Show brings more bands, a Makers Market featuring 40+ vendors and makers, food trucks, a beer garden and more to Fayetteville St. and Hargett and Wilmington Sts. Pets are welcome at the day show! The street fest will have Merit Pit Bull Foundation on hand with adopt-a-bull dogs, and Blue Buffalo is set to give out free pet food samples. Look out for more info here and on Hopscotch's Facebook Page.
 
10. Raleigh, N.C.
Cool music festival, cool destination. Watch the video below to see why Raleigh is thriving.


Convinced now to go to Hopscotch this year? Get more info. and tickets here!
Comments