10 Reasons to Experience Hopscotch Music Festival in Raleigh in 2017
Friday, August 19, 2016, 7am by Michael Robson
The seventh edition of Hopscotch Music Festival, Sept. 8-10 in Raleigh, is an experience you won't want to miss. For three days downtown Raleigh becomes a musical playground, with incredible performers, bands and dedicated music fans hopping between music venues and bars for a festival that never rests. 
Here are ten reasons not to miss out!
1."One of the best and most eclectic music festivals in America." - SPIN
So much praise has been heaped upon Hopscotch it can be hard to keep track. "The premiere experimental and underground festival in America," said AdHoc. "All about an extraordinarily cool roster of bands....a Mardi Gras-like atmosphere," according to Rolling Stone. "Perfect," claim both The News & Observer and We Listen For You. And of course, each year Hopscotch winds up on lists like Rolling Stone's 2016 Must-See Summer Music Festivals.
2. A Mind-Blowingly Cool Lineup of 120 Bands
Known for adventurous lineups that feature music in every genre imaginable—rock, hip-hop, metal, electronic, folk and more—the schedule includes 120 bands so you get the chance to see personal favorites plus discover new ones.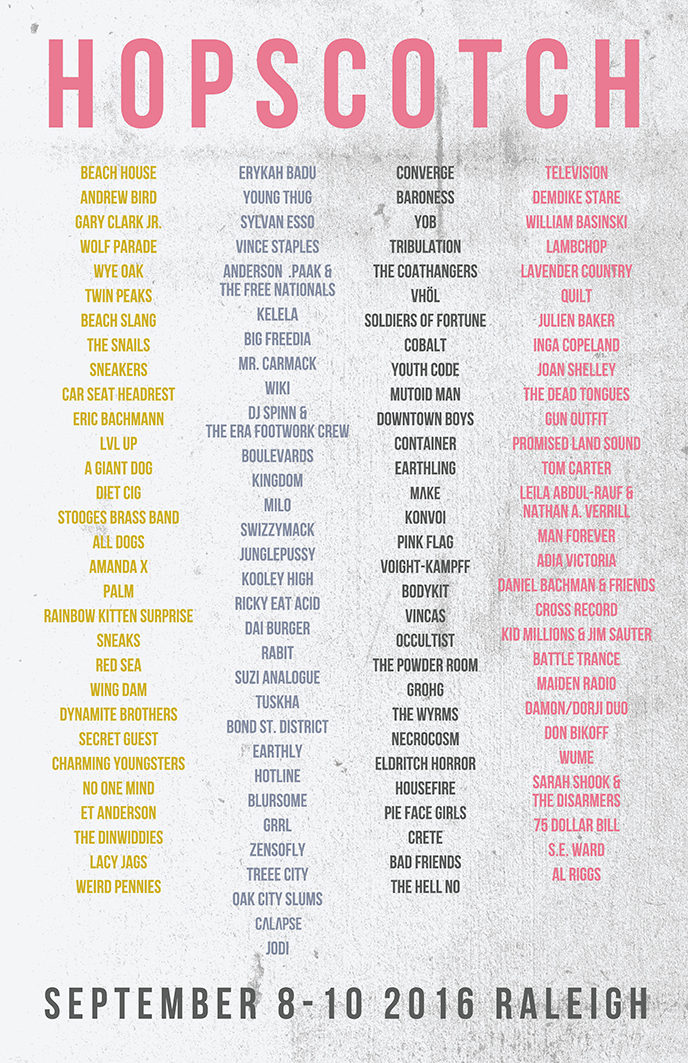 3. 12 Awesome Venues (All Within Walking Distance)
Bands will rock 12 total venues in 2016, ranging from smaller, no-frills bars to a major amphitheater, plus even a contemporary art museum that will be transformed into a can't-miss music party for three days. New this year, Red Hat Amphitheater—the 5,500-seat venue sitting in the shadows of the Raleigh skyline—will host headliners on Fri. night. All the venues sit within a 10-block radius, making it easy to "hop" from one venue to another to make the most of the experience.
4. Just Look at This Beautiful Schedule!
Whether you're the type to meticulously plan out your entire Hopscotch experience ahead of time or just wing it on the fly, this schedule is what you'll need.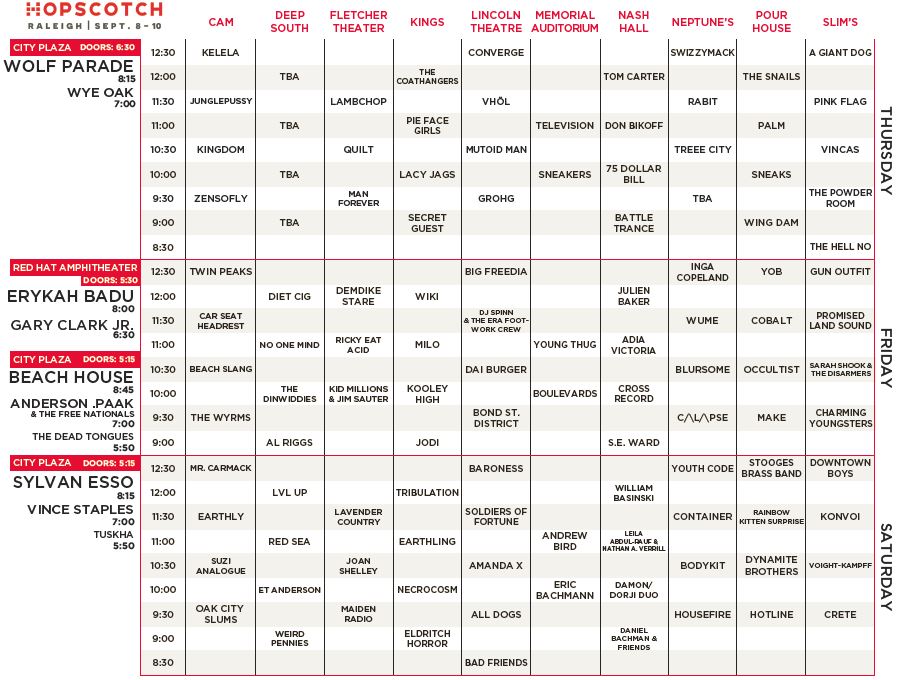 5. President Obama Co-Signs Gary Clark Jr.
When the President of the United States takes to Twitter to throw out his summer music playlist, you listen! President Obama's hand-picked summer tunes include Gary Clark Jr.'s "Don't Owe You a Thang," an upbeat, part-rock-and-roll, part-blues anthem. Clark Jr. is set to headline Hopscotch on Fri., Sept. 9, at Red Hat Amphitheater. We invited the President to join us in the City of Oaks for this year's festival (and, well, no response yet) so keep your eyes peeled!
Been waiting to drop this: summer playlist, the encore. What's everybody listening to? pic.twitter.com/mqh1YVrycj

— President Obama (@POTUS) August 11, 2016
6. Erykah Badu, Gary Clark Jr., Beach House and Anderson Paak (In One Night!)
Hopscotch isn't just about underground and experimental—festival organizers make sure to bring in some big name (and soon-to-be big name) acts to headline some of the main stages. This year, you'll find R&B/jazz/hip hop singer Erykah Badu, the aforementioned Gary Clark Jr., eclectic hip hop artist Anderson Paak plus the indie rock, hypnotic duo of Beach House all playing to huge crowds on Fri. night! Spread across two outdoor stages (Red Hat Amphitheater and City Plaza), just a stones throw from each other, the musical experience on Fri. night alone should be worth the price of admission to Hopscotch.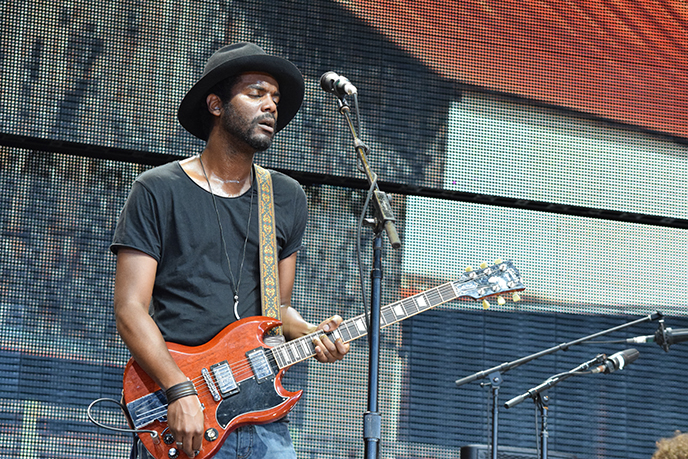 7. Local Artists Boulevards and Kooley High  
With a number of N.C.-based artists on the festival schedule this year, we can recommend a few from Raleigh that standout. Boulevards, the funky, '80s-inspired R&B artist who puts on incredibly-fun shows recently released his debut full-length album, "Groove!" (available on Spotify) and will perform at Duke Energy Center for the Performing Arts Memorial Auditorium on Fri. night. Kooley High, the five-member hip hop group who met as students at North Carolina State University, will perform at KINGS on Fri. night plus play a Sat. day party. Also not to miss: local rapper Ace Henderson will hit the stage Fri. at 2:30pm at The Pour House Music Hall for a free day party show.
8. Day Parties!
Day parties have always been an essential part of the Hopscotch experience. A host of free, open-to-the-public shows (no Hopscotch ticket needed) begin at noon on Thurs., Fri. and Sat., with all kinds of bands rocking at a whole bunch of venues and bars around downtown Raleigh—a great way to explore even more of Raleigh's coolest bars and hangouts. Nearly 40 day parties will complement the official Hopscotch music schedule this year, providing tons of entertainment (and some free food and other goodies, if you choose your spots right) for festival-goers.
9. Hopscotch Design Festival
This two-day spinoff festival offers a chance to hear and learn from a host of bright minds, makers, storytellers and designers—think digital, urban, architecture and more. The concept is similar to the music festival; hear from some awesome people and hop around to a number of cool venues in downtown Raleigh (and have a great time doing it!). Tickets to the design festival will need to be purchased separately, here. 
10. Raleigh, N.C.
Cool music festival, cool destination. Watch the video below to see why Raleigh is thriving.
Convinced now to go to Hopscotch this year? Get more info. and tickets here!
Comments