10 Delicious Eats at Transfer Co. Food Hall in Downtown Raleigh, N.C.
Wednesday, September 11, 2019, 1pm by visitRaleigh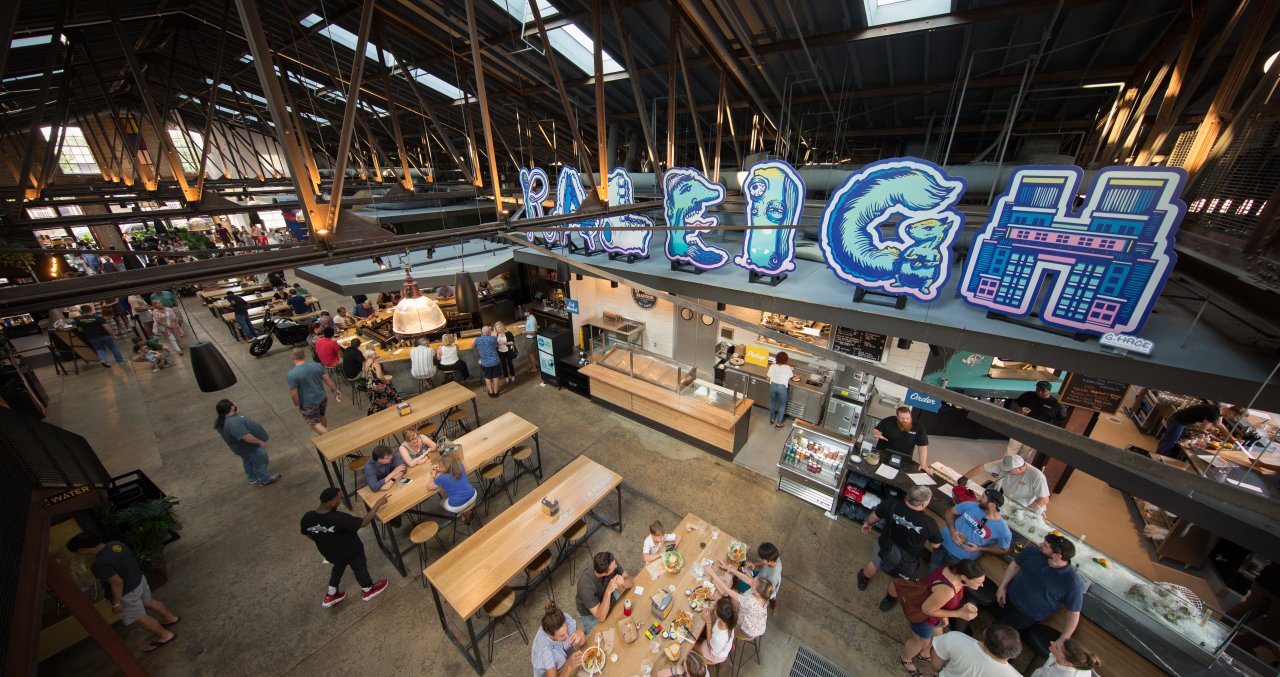 Take your taste buds on a trip around the world at Transfer Co. Food Hall in downtown Raleigh's Olde East neighborhood, where community, fellowship and delicious food and drink abound. From the streets of Mumbai to the barrios of Argentina, from the sea to the farm, this renovated warehouse-turned-wonderland of flavor takes the concept of a food hall to its peak with these 10 awesome dining and drinking options. 
Note: Good news! Transfer Co. Food Hall is now open breakfast through dinner, seven days a week (one exception: not open until 11am on Mondays). See the full hours for each vendor here.
 
For fans of sweets and treats, don't leave Transfer Co. without getting a gigantic ice cream sandwich for dessert (or a mid-day snack). Choose between a variety of delicious cookies, like peanut butter, Nutella, ginger molasses and, of course, the traditional chocolate chip cookie. Then select a scoop of your favorite ice cream to sandwich between two warm, gooey cookies. You'll need a lot of napkins and one a tall glass of milk from a local creamery to wash it all down! 
Tikki masala and bison momos at Chhote's 
From the streets of Mumbai to a cozy little corner inside Transfer Co., Chhote's is ready to impress. Serving up some fantastic Mumbai street food in bite-sized offerings, Chhote's seeks to inspire good conversation over a great meal. The tikka masala, curry and warm naan bread are to die for, and the bison momos (similar to a dumpling) are like nothing you've ever tasted before!
Whether you're a burrito, bowl or salad person, Dank Burrito is ready to serve up any menu item just the way you like it. Recognizable by their funky, bright (and yes, dank!) art and logo, Dank Burrito's eclectic menu speaks to their artsy side as well. With flavorful fillings like honey truffle buffalo chicken and cheesesteak, toppings like ginger slaw and kimchi and incredible house-made salsas and pico to top it all off, you'll want to make sure you come here hungry!  
Think bagels are just for breakfast? Think again. Benchwarmers Bagels is where two beloved Raleigh staples collide—Boulted Bread and Jubala Coffee. To say the Benchwarmers concept has been warmly received would be a massive understatement—the bagel shop was named as one of Bon Appétit's 50 best new restaurants in America! On the menu, you'll find unique bagel sandwich fillers liked charred grapefruit glaze, pickle of the day and banana. Or, you can go with the classic option of a wood-fired bagel with cream cheese and choose between pimento cheese, pecan butterscotch or, for the brave ones, the spicy Carolina reaper spread to name a few. Grab a cup of fresh coffee, chai tea or hot butterscotch, and you're good to go!
Oysters and po' boy sandwiches at Locals Oyster Bar
Seafood meets Southern food at Locals Oyster Bar in form of fried mullet, shad roe with bacon, roasted oysters and tuna bloodline burger. Pull up a barstool at the Raw Bar and grab a cocktail or beer to pair with your oyster shooters. Or, order a meal and sit outside to enjoy fresh air with your fresh seafood. This new collaboration between Person Street Bar and Locals Seafood is a force to be reckoned with at Transfer Co.—they even feature a seafood market where you can purchase a fresh catch to take home. 
A food hall wouldn't be complete without at least one dynamite burger joint. Mama Crow's serves up not one, but two patties on each burger, alongside a generous portion of fries and special crow sauce. For the herbivores out there, try their Superfree vegan burger with black garlic-tahini dressing, or get an incredible salad with fresh ingredients from local gardens. Get a local beer while you're in line to complete your all-American smorgasbord. 
Bulgogi and bubble tea at Bul Box
Though new at their Transfer Co. location, the Bul Box team has been serving amazing Asian food in Raleigh for more than two decades. Try a signature bul box like the bulgogi (beef), bul-dak (chicken) or tofu. The Bul-Dak ramen boasts bold and spicy flavors and is a fan favorite at the food hall. To balance the spice, order a bubble tea slushie with tea flavors such as matcha, mango and pomegranate. 
Argentina-style empanadas at Che Empanadas
If you're craving food from the south—South America, that is—Che Empanadas should be first on your list. The Argentina-style empanadas with delicious chimichurri dipping sauce are out of this world. With traditional options (jamón y queso and famous Argentinian chorizo) and nontraditional (like prune and pancetta) you'll be relieved to find the empanadas are small enough to try more than one (in fact, a hungry diner may be able to take down three empanadas, with some room left over for dessert)! For a sweet end-note, try the alfajores cookies to round out your experience. 
Burial Beer Co. – The Exhibit—an offshoot of the eccentric and well-known Asheville, N.C., brewery—has taken the Raleigh beer scene by storm. When the cozy exhibit was no longer large enough to accommodate all their beer fanatics, they expanded not only their physical space but their hours as well (now you can tap into their taps seven days a week!). With eccentric names like "An Abyss of Human Experience" and "Allured by the Endless Void," their beers range from IPAs to coffee saisons to blueberry berliners. Though their aura is dark and mysterious, their location is not. Their new space, a century-old revived coach house, is filled with light, succulent plants and plenty of seating for your next gathering. 
Coming soon…barbecue!
New flavor is on the horizon for Transfer Co.! Longleaf Swine BBQ, famous for their whole hog barbecue and smoked meats, got its start as a food trailer in 2016 and has been locally adored ever since. They're expected to open their physical space at Transfer late in 2019, but in the meantime, they sell their fantastic 'cue most weekends on the back patio until it runs out. Keep up with their schedule and more on Instagram here.
Header photo by Brian Strickland
Comments