11 Places for Tasty Hot Dogs in Raleigh, N.C.
Wednesday, July 19, 2017, 7am by Tabletop Media Group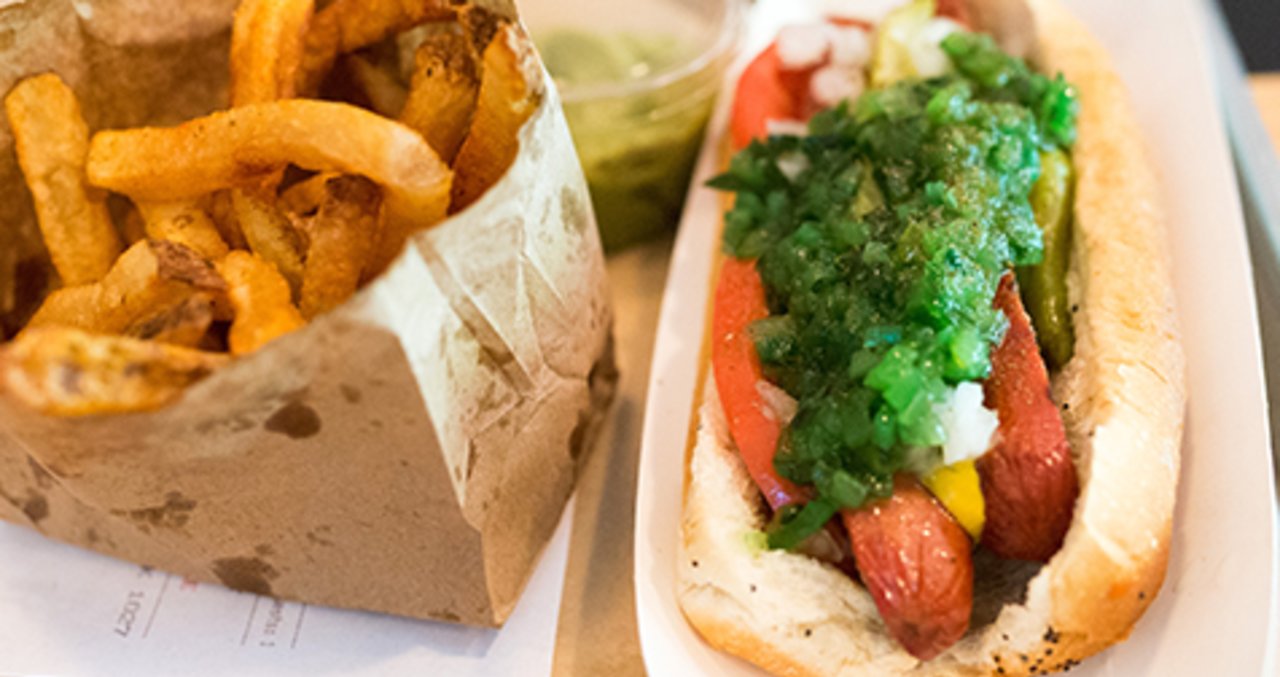 From gourmet to classic Carolina options, grab one of these top eleven hot dogs in the City of Oaks and beyond!
 
The Roast Grill
Ketchup? Forget about it! Offering counter service and hot dogs served with only chili, onions, slaw and mustard, downtown Raleigh's The Roast Grill has been open since 1940. Order a hot dog along with a glass bottle of Coke for one of the cheapest and most delicious lunch options in town.
Snoopy's Hot Dogs & More
Located in a converted old gas station on the corner of Wake Forest Rd. and Whitaker Mill Rd., the first Snoopy's opened in 1978. This N.C. grill includes four locations within the destination. "Snoopy's Famous Hot Dog" is a local favorite and includes mustard, onions and chili on a steamed bun. Don't forget to order some crinkle-cut fries to go with your dog!
 
Shorty's Famous Hot Dogs
Because beer and hot dogs! Summer days are the perfect excuse to visit White Street Brewing Company in Wake Forest. After sipping on a few locally-brewed libations, head next door to enjoy a hot dog from Shorty's Famous Hot Dogs, a family-owned business since 1916.
Tasty 8's
Located in downtown Raleigh, Tasty 8's (pictured in header) is known for their gourmet dogs. Featuring a Continental Sausage Fat Tire Beer Brat, "The National" is overloaded with Southern pimento cheese and chow chow, then topped with pieces of fried okra. This over-the-top hot dog most definitely requires a knife and fork, and pairs perfectly with a side of Belgian frites with jalapeño buttermilk ranch for dipping. Try all eight dogs on Tasty 8's menu to earn your title as "King of the Dogs."
 
Royale
Royale, a French-American bistro in the heart of downtown Raleigh, serves up a delicious, fun menu. Well-known for their hot dog served on an English muffin roll and topped with Camembert and black currant preserves, their dish is a hit with foodies. Feeling extra hungry? Try the "Hot Dog Royale" with two wieners.
Cloos' Coney Island
Looking for something classic? Head to Cloos' Coney Island in Raleigh's Mission Valley shopping center. This retro restaurant is serving up their specialty, a Coney Dog served with chili, onions and mustard in a steamed bun.
 
The Cardinal
Enjoy a great view and a hot dog in downtown Raleigh. The Cardinal boasts a simple, tasty menu. The hot dog toppings menu includes "free stuff," toppings like sriracha and ketchup. For a few cents more you can upgrade your toppings to cheddar cheese, beer onions, jalapeños and more. The daily specials are a must, and are usually fun spin-offs of fast food menu items like the "Big Cardinal" or "McCardinal Riblet."
RJ's Place
Located in Fuquay-Varina, RJ's Place offers beef hot dogs in an unassuming roadside stand. Order your hot dog Carolina style, served with chili, mustard and onions. Then, pair your dog with a mound of French fries and a milkshake.
 
Hillbillies
Located in Zebulon and adorned with a giant hot dog sign, Hillbillies is a great small-town eatery serving up classic American staples. Order your hot dog with chili, cheese, mustard and onions for a tasty lunch.
Char-Grill
Since 1959, Char-Grill has been serving Raleigh delicious Carolina Packers' red hot dogs. Try one of these delicious hot dogs with chili and onions, and pair it with a chocolate milkshake for the perfect all-American lunch. Find a location here.
 
JoCa's Gourmet Dawgs & Shakes
Located in North Raleigh's Lafayette Village, JoCa's is an elevated version of the classic American hot dog stand. Their "Campfire Dawg" features a bacon-wrapped wiener with warm queso, smashed baked beans and relish, along with JoCa's homemade smoked ale mustard and chipotle-honey ketchup.
Even more places! In addition to the great spots above, also try Grill '57 (just a short drive south of downtown Raleigh) and Gallo Pelón Mezcaleria's Colombian Hotdog, a quarter-pound hot dog topped with queso, jalapeño marmalade, mayo-ketchup, pickled onions, chorizo beans, avocado puree and spicy tortilla crisps, served with fried yuca and chipotle aioli.
Comments