15 Soups, Stews and Hot Pots to Warm You Up This Winter in Raleigh, N.C.
Wednesday, January 10, 2018, 7pm by Kristen Baughman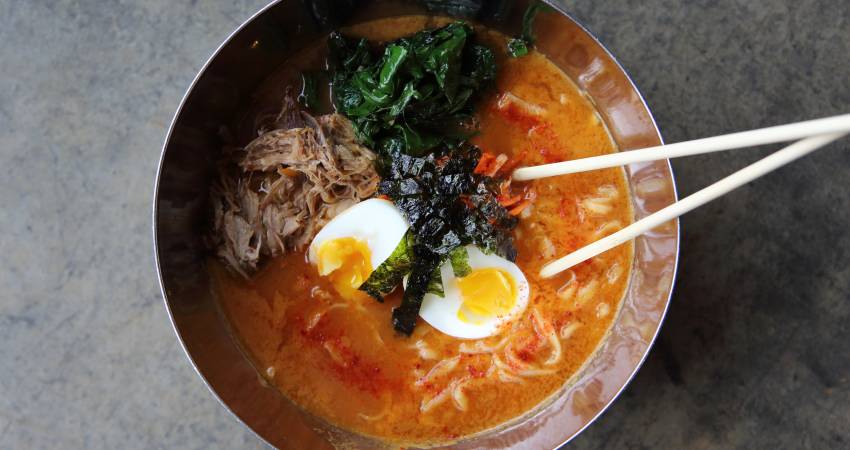 These chilly winter nights inspired us to button up our jackets and set out to find the best soups, stews and hot pots in Raleigh, N.C. Your taste buds and bellies will approve!
 
Tonkotsu Ramen from Sono Japanese Restaurant
80 pounds of bones are reduced down to perfection in this rich, silky bowl of ramen at Sono. Our suggestion: add an extra egg!
Sopa de Pollo (Chicken Soup) from Centro
If you're craving Mexican food, Centro's chicken soup is right up your alley. The broth is homemade, and your bowl comes loaded with cilantro rice, pico de gallo, cilantro, avocado and grilled chicken.
 
Rare Beef and Beef Meatball Pho from Mo-Te Vietnamese
Hearty with a deep, complex flavor, the pho does not disappoint at Mo-Te. A favorite is the rare beef and beef meatball; watch as your beef cooks from the piping hot broth. Top your bowl of pho with bean sprouts, fresh basil and jalapeños, plus squeeze in some fresh lime juice.
 
Brunswick Stew from The Pit
The Pit opened in downtown Raleigh in 2007 with Brunswick stew on the menu. For a Raleigh classic, try this stew loaded with shredded chicken, potatoes, vegetables and Texas Pete.
Udon Chicken Noodle Soup from David's Dumpling and Noodle Bar
David's Dumpling and Noodle Bar offers an interesting spin on the classic chicken noodle soup. Featuring thick udon noodles, Chinese broccoli, chicken broth, fried garlic scallions, onions and sesame oil, the Udon Chicken Noodle Soup is a great dish to cozy up with on a winter evening.
 
Farmers' Market Stew from Kimbap
You'll often find chef Kim Hunter at the Western Wake Farmers Market picking up vegetables from local farmers for Kimbap's stew. The broth takes 12 hours to prepare and is served with brisket, rice cakes, seasonal greens, shiitake and, of course, a perfectly-cooked egg. Additionally, the smoked pork soup bowl (pictured in header), also served in 12-hour broth with handmade noodles and topped with kimchi and a six-minute egg, is tough to pass up when it's been featured on the menu.
 
Mee Ka Tee (Crispy Pork Belly Soup) from Bida Manda
Pork lovers, get ready! This local-favorite Laotian restaurant in the heart of downtown Raleigh is serving up giant bowls of coconut curry adorned with crispy pork belly, peanuts, eggs, fresh vegetables and herbs. See if you can finish the whole bowl.
Garlic Soup from Bella Monica
Start your delicious Italian meal off at Bella Monica with a cup of garlic soup. Topped with spicy croutons and thyme, this garlic soup is sure to warm you up.
 
Curried Lamb Stew from Sitti
With so many delicious vegetables and lamb serving as the star of the show, the Curried Lamb Stew from Sitti is a must in the cold months. The stew features butternut squash, portobello mushrooms, chickpeas, onions, tomatoes, garlic, cilantro, coconut milk, and braised leg of lamb, served with basmati rice.
 
Spicy Lamb Hot Pot from Nine's China
Bring a group of friends to devour this giant hot pot at Nine's China. Filled with plenty of spice, bok choy and tender lamb, this hot pot will leave you with a happy, full belly.
 
Bún bò Hue at Pho Far East
Be transported to the streets of Vietnam after tasting just one bite of the bún bò hue at Pho Far East. This traditional Vietnamese soup originates from the city of Hue and is commonly served from street food vendors.
Soon Doo Boo with Kimchi from Seoul Garden
For the adventurous food lover, head to Seoul Garden for a traditional Korean soup. We enjoy this soft tofu soup with kimchi and pork.
 
Red Curry from Thai Villa
In the mood for Thai food? The red curry with crispy tofu and chicken is a crowd favorite. The red coconut curry sauce is creamy and spicy, and is served with tender pieces of chicken, bamboo shoots, bell peppers and fresh basil leaves. If you are a vegetarian, Thai Villa's curry dishes can easily be created with extra tofu or vegetables.
 
Tonkotsu Miso Ramen from Torii Noodle Bar
Located at Crabtree Valley Mall, Torii Noodle Bar offers noodle dishes that speak from the heart. The Tonkotsu Miso Ramen features pork belly, soft egg, fish cake, corn, green onions, nori, napa cabbage and wakame with pork miso broth. We highly suggested adding pork and shrimp wontons! It's the perfect way to warm up after a day of shopping at the mall.
 
Malaysian Curry Noodle Soup from Ni Asian Kitchen
Served with tofu, bean sprouts, string beans and scallions in coconut curry broth, this Malaysian soup is perfect on a chilly winter night.
 
Header photo: Felicia Perry Photography (Kimbap)