15 Soups, Stews and Noodle Bowls to Warm You Up This Winter in Raleigh, N.C.
Tuesday, January 15, 2019, 11am by Tabletop Media Group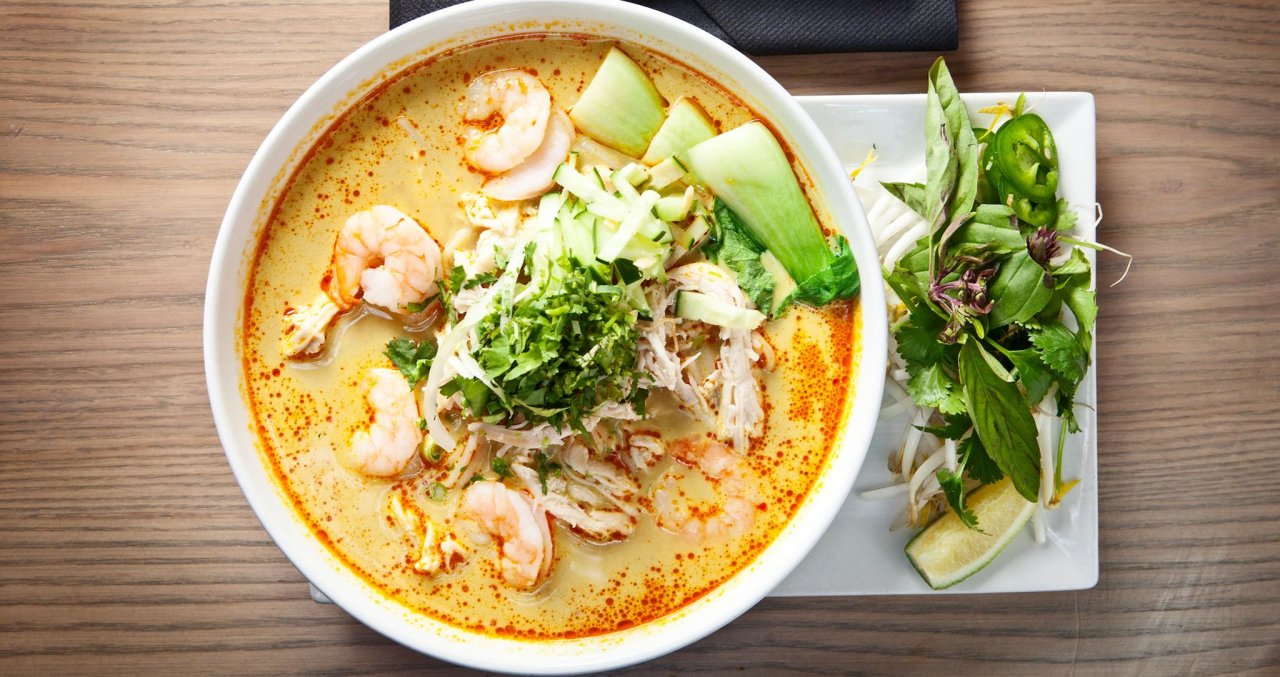 Winters in North Carolina can range from warm to bitter cold. For those chilly winter nights, we've rounded up 15 of the best soups, stews and noodle bowls in the Raleigh area to keep you warm. Your taste buds and belly will approve!
 
Eighty pounds of bones are reduced down to perfection in this rich, silky bowl of ramen at Sono. Our suggestion: Add an extra egg!
Hillsborough St. staple David's Dumpling and Noodle Bar offers an interesting spin on the classic chicken noodle soup. Featuring thick udon noodles, Chinese broccoli, chicken broth, fried garlic scallions, onions and sesame oil, the Udon Chicken Noodle Soup is a great dish to cozy up with on a winter evening.
Spicy Seafood Tom Yum Ramen from Noodle Blvd in Cary
Loaded with a variety of seafoods like shrimp and squid, as well as veggies like bok choy and mushrooms, this ramen noodle soup is quite filling and satisfying on a cold night. The soup has a fantastic tom yum base, which has a distinct hot and sour flavor created from ingredients like lemongrass, kaffir lime leaves, ginger, lime juice and more. Pro tip: Take advantage of online ordering at Noodle Blvd as seating is limited, especially during the busy lunch rush!
Just opened last year in downtown Raleigh, Tonbo offers up made-from-scratch ramen and izakaya—pull up a seat at the bar and get cozy while you watch the chefs pour warm, savory broths like miso and shoyu over steamy noodles. We suggest the Duck Ramen, with duck breast confit, grilled bok choy, sautéed shiitake mushrooms, roasted sweet potato, a marinated soft egg, scallions and nori, all bursting with flavor.
Mee Ka Tee (Crispy Pork Belly Soup) from Bida Manda
Since opening in 2012, Bida Manda—one of the first Laotian restaurants in the U.S.—has wowed visitors and has been raved about by locals. Founded and co-owned by brother and sister Vansana and Vanvisa Nolintha, the downtown Raleigh restaurant specializes in the tastes and flavors of their childhood, including the undeniably-delicious Crispy Pork Belly Soup. A giant bowl of coconut curry is adorned with crispy pork belly, peanuts, eggs, julienned fresh vegetables, herbs and rice noodles—time and time again, visitors fall in love with this dish and make it a priority when they return to Raleigh.
Start your delicious Italian meal off at Bella Monica with a cup of Bella Bean Soup. This traditional Italian soup is made with cannellini beans, chicken stock, tomatoes, pancetta and topped with a Parmesan crostino.
Curried Lamb Stew from Sitti
With so many delicious vegetables and lamb serving as the star of the show, the Curried Lamb Stew from downtown Raleigh's Sitti is a must in the cold months. The stew features winter squash, mushrooms, chickpeas, leeks, onions, tomato, garlic, cilantro, coconut milk and braised leg of lamb, served with basmati rice.
Be transported to the streets of Vietnam after tasting just one bite of the Bún Bò Hue at Pho Far East. This traditional Vietnamese soup originates from the city of Hue and is commonly served from street food vendors. Wide rice noodles are served in a spicy beef soup with pork, beef and pork ham.
Soft Soon Doo Boo (Soft Tofu Soup) from Seoul Garden
For the adventurous food lover, head to Seoul Garden for a traditional Korean soup. We enjoy this soft tofu soup with kimchi and pork!
In the mood for Thai? The Red Curry with crispy tofu and chicken is a crowd favorite. The creamy, spicy red coconut curry sauce is served with bamboo shoots, bell peppers, fresh basil leaves and your choice of protein. If you're a vegetarian, Thai Villa's curry dishes can easily be created with extra tofu or vegetables.
Tonkotsu Miso Ramen from Torii Noodle Bar
Located at Crabtree Valley Mall, Torii Noodle Bar offers noodle dishes that speak from the heart. The Tonkotsu Miso Ramen features pork belly, soft egg, fish cake, corn, green onions, nori, napa cabbage and wakame with pork miso broth. We highly suggest adding pork and shrimp wontons!
Malaysian Curry Noodle Soup from Ni Asian Kitchen
Served with tofu, bean sprouts, string beans and scallions in coconut curry broth, this Malaysian soup is perfect on a cold night.
Pho Chay (Vegetarian Pho) from Pho Pho Pho
The Pho Chay from Pho Pho Pho, located in downtown Raleigh's bustling Glenwood South district, is a delicious vegetarian take on a traditionally meat soup. Made with tofu, bamboo shoots, oniko mushrooms, carrots, onions and traditional pho noodles, this dish is sure to satisfy your soup cravings.
Inside passionate mind Niall Hanley's brand-new Morgan Street Food Hall, The Broth is serving up warming bowls of ramen in compostable containers, so it's easy for you to take with you on the go. Soft egg noodles are served in a hot and savory tonkotsu broth along with slice of pork belly, a soft egg and other garnishes. Pro tip: Pair a bowl of their Tonkotsu Ramen with some Korean fried chicken and share with a friend!
Curry Laska at CO
Located in the AC Hotel by Marriott Raleigh North Hills, CO serves up a menu full of bright, bold flavors from Southeast Asia—explore new dishes or taste familiar ones, from noodles to pho, to sushi to banh mi. A star of the menu and a great dish to warm up with is the Curry Laska, with shredded chicken, bun rice noodles, shredded cucumber, Thai basil and baby bok choy, all served in a spicy coconut broth. Add in your choice of a protein—shrimp, short rib, drunken pork belly, seared salmon or poached egg.