20+ Arts Events You Can't Miss in Raleigh, N.C., This Spring
Tuesday, March 20, 2018, 4pm by Kristen Baughman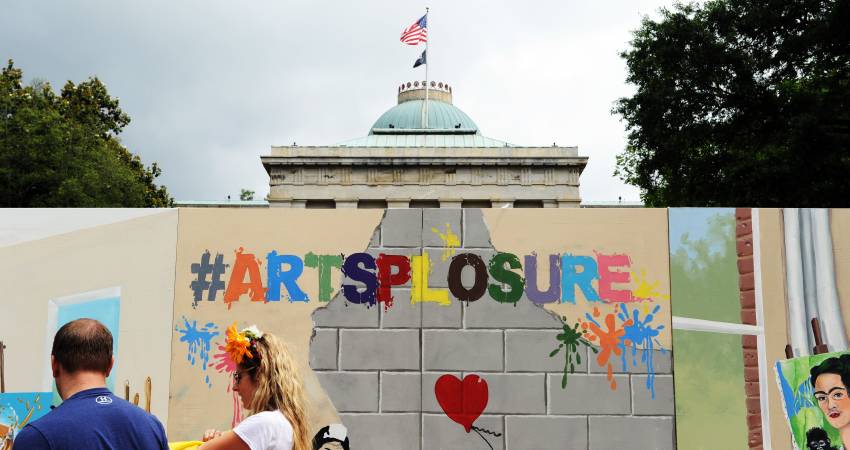 From art walks to highly-anticipated exhibitions to major festivals, the Raleigh area offers up a bevy of unique arts experiences this spring. Check out our list of more than 20 events you can't miss in the capital city and its surrounding towns. And see even more events here!
 
Hear the North Carolina Symphony create beautiful, feel-good and sometimes evocative music by seeing a show at the Duke Energy Center for the Performing Arts or Koka Booth Amphitheatre in Cary (starting in May!). There's no shortage of music this spring! Here are several highlights:
Classical Series
Special Event Concerts
Pops Series
Summerfest at Koka Booth Amphitheatre, Cary
April 7-July 22
Visit an incredible, truly one-of-a-kind exhibit at the North Carolina Museum of Art, You Are Here: Light, Color, and Sound Experiences, which will feature immersive art installations by 14 contemporary artists, including large-scale light works, sound installations, video works, mixed-media room-size environments and site-specific projects. This exhibition takes over an entire floor of the museum's temporary exhibition galleries and also transforms the landscape in the Ann and Jim Goodnight Museum Park, creating a campus-wide presentation of contemporary experiential art.
April 13-22 and April 28 (sensory-friendly performance)
The folly of the 21st century collides with the madness of Wonderland in this new adaptation presented by Raleigh Little Theatre that remains fairly faithful to Lewis Carroll's original tale. Alice is a texting, tweeting, and Googling girl of the modern digital era, but she finds herself in the Wonderland of old. On April 28, Raleigh Little Theatre will put on a sensory-friendly performance, designed especially for individuals with autism spectrum disorders, sensory sensitivities or other disabilities, creating a welcoming, inclusive and relaxed environment.
 
Adventure Road: A Story of Huck and Tom
April 14-29
Come alongside Huckleberry Finn and his friend Tom Sawyer as they find themselves knee-deep in adventure, shenanigans and Mississippi mud at Theatre Raleigh's production at the Duke Energy Center! This show is perfect for the kids and features a variety of audience participation elements as well as original music.
 
BRIGHT STAR
April 17-22
From Grammy, Emmy and Academy Award-winning Steve Martin and Grammy Award-winning Edie Brickell comes BRIGHT STAR, the five-time Tony-nominated, new Broadway musical. Join North Carolina Theatre at the Duke Energy Center for this original musical that tells a sweeping tale of love and redemption set against the rich backdrop of the American South in the 1920s and '40s.
The Dixie Swim Club
April 20-28
Presented by the Towne Players of Garner at the Garner Performing Arts Center, The Dixie Swim Club is about five Southern women whose friendships began many years ago on their college swim team, then later setting aside a long weekend every Aug. to recharge their relationships. They meet at the same beach cottage on N.C.'s Outer Banks to catch up, laugh and meddle in each other's lives. The play focuses on four of those weekends and spans a period of 33 years.
 
Hand To God
April 20-22, April 26-29 and May 4-6
Kick back, relax and laugh at passionate mind Ira David Wood III's Theatre In The Park for a special performance of Hand to God. Hand to God is an irreverent, dark, occasionally shocking and perpetually hysterical romp that explores the ideas of faith, morality and human nature and will leave you sore with laughter!
Serenade
April 26-29
Serenade is the first original ballet George Balanchine created in America and hasn't been performed by Carolina Ballet since its inaugural season in 1998. Although Balanchine insisted Serenade had no "story," the ballet is not without meaning. More poetry than narrative, it is the imagery of dreams and mystery, danced in the moonlight. Serenade truly is the romance of Tchaikovsky's music come to life.
Sleeping Beauty
May 17-20
Once upon a time, in a kingdom far away, a beautiful princess was born—a princess destined by a terrible curse to prick her finger on an enchanted spindle and sleep for 100 years. With Tchaikovsky's music performed live and choreography by Robert Weiss after Marius Petipa's original, Carolina Ballet's production of Sleeping Beauty will thrill young and old alike.
Spring Daze Arts and Crafts Festival
April 28
A Cary staple celebrating 25 years, Spring Daze features more than 170 N.C. artists, entertainment on four stages with music, storytelling and more, food and Cary's annual Earth Day Celebration under the shady canopy of Bond Park. Bring the kids! This family-friendly event also offers fun, interactive activities and entertainment for the little ones.
 
North Carolina Opera: Samson and Delilah
April 29
Mighty Samson can single-handedly kill 1,000 men, but no one knows the source of his great strength. Enter the beautiful Delilah, the one woman who will do whatever it takes to learn his secret and bring him down. This concert presentation of the Biblical story features a stellar cast and exquisite music by the North Carolina Opera at Duke Energy Center.
 
A Night With Janis Joplin
May 4-20
Like a comet that burns far too brightly to last, Janis Joplin exploded onto the music scene in 1967 and, almost overnight, became the queen of rock and roll. Share an evening with the woman and her musical influences in the hit musical, A Night With Janis Joplin by North Carolina Theatre.
 
En Plein Air (Outdoor Painting and Auction)
May 4-5
En Plein Air Paint-Off is an exciting, free outdoor event in the town of Fuquay-Varina, sponsored by Fuquay-Varina Downtown as a way to support local artists and bring public art to the town's streets. On Fri. and Sat. afternoons of this special event, a contest of skills will challenge each artist to create an original oil or acrylic masterpiece of a Fuquay-Varina landscape. On Sat. evening a public auction will be held where art enthusiasts will have a chance to take home one of these treasures that will become a collection for many generations to come.
En Plein Air: Paint the Town, Cary
May 5
Offer your inspiration to artists as they paint a part of downtown Cary's history, culture and changing landscapes as well as scenic views from Cary's parks and greenways at En Plein Air: Paint the Town. Get a sneak preview of the art that will be auctioned at the Town of Cary's upcoming Silent Art Auction & Gala, June 1. Bonus: Take in some of the fun things to do in downtown Cary—town dining institutions, one of the country's best breweries and local-favorite shops—in between stops! 
 
Longleaf Film Festival
May 11-12
Consider yourself a film buff? The Longleaf Film Festival at the North Carolina Museum of History is free to attend and explores historic and contemporary stories from the state, the country and the world through narrative and documentary movies. You'll also have the opportunity to meet independent filmmakers and actors associated with many of the films at the festival. Oh, and did we mention there's free popcorn?
 
Front Porch Artwalk
May 12
Stroll through the gorgeous tree-lined streets of the Oakwood/Mordecai neighborhood during the 10th Annual Front Porch Artwalk this May. The homeowners and businesses are hosting up-and-coming and established local artists on their porches and in their yards. Shop for ceramics, photography, glass, jewelry, paintings, fiber arts, handmade bath and body products, sculptures, metal works and more. The event is free and families, kids and pets are all welcome!
14th Annual Ritmo Latino Music, Art & Dance Festival, Cary
May 12
Bring the entire family for the Ritmo Latino Festival! Learn more about Latino music, dance and visual arts. Plus, taste traditional Latino foods from around the world and shop with many of the craft vendors at the festival. You'll enjoy taking in the sizzling sounds, hot rhythms and cuisine of Spain, Latin America and the Caribbean!
 
Spring Into the Arts Walk
May 12
Wendell celebrates the arts with this day-long outdoor gala of arts. Join the fun and spend the day meeting artists from 9am-4pm, including a sidewalk chalk artist working from noon-3pm. Paintings will be judged starting at 4pm, followed by an artists' reception and public viewing at 5pm at Wine and Beer 101 on N. Main St. (beer and wine will be available for purchase, plus light snacks). After winners are announced, take part in an hour-long silent auction beginning at 5:30pm to take some art home for yourself or friends and family!
 
Artsplosure - The Raleigh Arts Festival
May 19-20; pictured in header
The arts take over streets of downtown Raleigh during Artsplosure with sidewalk chalk murals, large-scale, interactive visual art installations, an Art Market with more than 170 exhibitors and more! The festival balances critically-acclaimed national artists with some of N.C.'s best performing and visual artists. There's also something for the kids! Make plans to enjoy Kidsplosure, showcasing interactive educational activities and entertainment for children and their parents.
Cary Music & Arts Festival
May 20
Relaxation and live music with friends and family on the Koka Booth lawn make for the perfect spring day. This free concert and festival showcases the talents of band, chorus and visual arts students from Cary high schools. Expect jazz bands, symphonic bands and more!
 
Animazement
May 25-27
Animazement is a volunteer, fan-run anime convention at the Raleigh Convention Center celebrating popular Japanese visual culture in all of its forms. Attracting thousands of attendees, expect to find a huge range of events, such as videos, cultural demos, fan and guest panels, J-pop/rock concerts, martial arts demos, craft classes, artists, vendors and more. Fan of anime and also comic books and graphic novels? Check out these other cons coming up in the area. 
Artsplosure header photo by Chris Richman
Comments