40+ Arts Events You Can't Miss in Raleigh, N.C., This Spring
Wednesday, March 06, 2019, 12pm by Kristen Baughman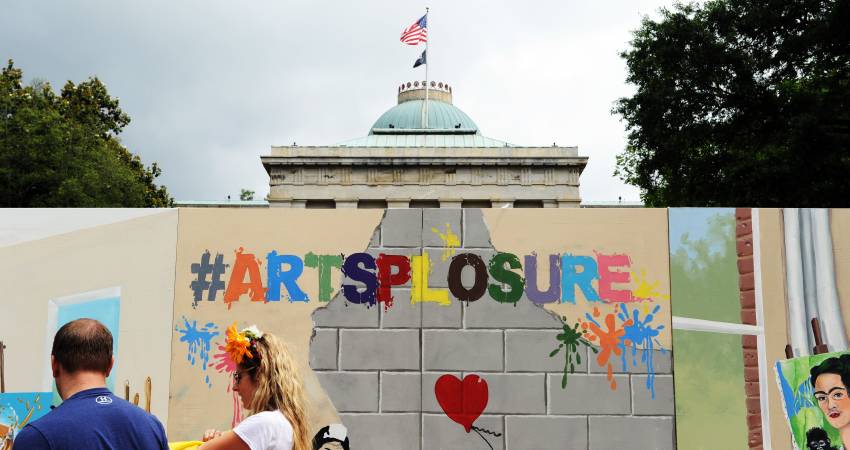 From art walks to highly-anticipated exhibitions to major festivals, the Raleigh area offers up a bevy of unique arts experiences this spring. Check out our list of more than 40 events you can't miss in the capital city and its surrounding towns. And see even more events here!
 
Through May 12
Make it a goal this spring to visit downtown Raleigh's CAM Raleigh to see Screened In, an installation of sculptural elements constructed with a variety of textiles and fabrics to contextualize the domestic art and values prevalent in the lives of women and mothers who spent their lives on the front porch. Highlighted are the women's skills that were used for practical application, personal expression and to connect to younger generations.
Located on vibrant Hillsborough St. is the Gregg Museum of Art & Design, North Carolina State University's collecting and exhibiting museum with more than 35,000 objects ranging from 19th century Japanese woodblock prints to antique N.C. quilts. Plenty of thought-provoking and intriguing exhibits are on display right now and through the spring—you can't miss these.
Left-Handed Liberty
Through June 23
Left-Handed Liberty features a variety of self-taught N.C. artists who started out exploring their art in deeply personal ways. Many of the artists featured in this exhibition responded to hardship and trauma by making art, discovering that the act of being creative helped them overcome the difficulties they were experiencing.
Explorations
Through July 28
Explorations features the work of Christina Lorena Weisner, incorporating scientific instruments, found objects and elemental materials. View her sculptures, all of which have a scientific twist, and link the gallery with earthquakes, meteorite strikes and ocean waves.

Borderlands
Through July 28
Borderlands, created by Susan Harbage Page, is a powerful exhibit and testimony to courage, fear, hope and determination that drives people to risk everything in search of a better life. Page has traveled to the border of U.S.-Mexico for more than a decade to record the journey of immigrants entering the U.S. in search of a new life. View her documentary photos and found objects from this part of our country during this special exhibition.
Southern Surreal
March 21-Sept. 8
Southern Surreal features remarkable examples of creativity from a truly-innovative and clever furniture designer. Touch a hidden catch, and a bookshelf groaning with novels suddenly drops forward to reveal a desk behind a false front. Press another catch, and a secret panel pops out and slides open. All are creations of Tilden J. Stone, grand eccentric and master furniture maker born in 1874 in Thomasville, N.C.
The North Carolina Museum of Art has a variety of exhibits straight ahead, from captivating, hand-colored birds to fantastic photographs of nature. 
Sayler/Morris: Their World is Not Our World
Through July 7
In the incredible video installation Their World Is Not Our World, a photographer and her smitten assistant document the Oostvaardersplassen, a fantastical manmade "wilderness" about 20 miles from Amsterdam. In connecting with the animals that make this nature reserve their home, the artists blur the boundaries between control and freedom, highlighting the human desire for connection even to those different from us.
In addition, this artists are creating three new images for the Park Pictures billboards in the Ann and Jim Goodnight Museum Park this spring, merging contemporary art with the "wilderness" at the museum.

Within the Frame
Through July 21
Photography provides an opportunity to see what might otherwise be overlooked—capitalizing on this concept, Within the Frame presents a collection of images that reveal hidden scenes within mirrors, frames, windowpanes and other constructions. The exhibition includes 13+ artists, including David Simonton, Nan Goldin, Alec Soth and more.
John James Audubon's The Birds of America
Through Dec. 31, 2020
Today only about 200 complete sets of The Birds of America illustrations exist. The museum's set, bound in four leather portfolios, was acquired by the State of N.C. in 1848 and kept for more than a century at the State Library before being transferred to the North Carolina Museum of Art. The hand-colored engravings were recently conserved and rebound. See these gorgeous works of art in special cases designed for each of the "double elephant" volumes, with hydraulic lifts allowing the museum to turn pages periodically to display new selections of birds.
Along with The Birds of America, take in The Audubon Experience (through Sept. 15, 2019), a temporary presentation adjacent to the exhibition where visitors can learn about the naturalist's life and artistic process.

Art in Bloom
March 21-24
One of the can't-miss events of the year at the North Carolina Museum of Art, Art in Bloom is a four-day festival of art and flowers. More than 50 floral interpretations inspired by the museum's galleries, some more than 10 feet tall, are created on-site by world-class designers and showcased throughout the museum's West Building (have your cameras ready!). The ticketed event invites participants to attend presentations and workshops, dine at Iris and shop for one-of-a-kind gifts.
Hear the North Carolina Symphony create beautiful, feel-good and sometimes evocative music by seeing a show at downtown Raleigh's Duke Energy Center for the Performing Arts or the outdoor Koka Booth Amphitheatre in Cary. There's no shortage of music this spring! Here are several highlights:
Classical Series
Special Event Concerts
Pops Series
Summerfest at Koka Booth Amphitheatre
Every first Fri. of the month
This downtown-wide occasion showcases the vibrant art and creative community of downtown Raleigh, with hot spots from art galleries to local shops staying open late to welcome thousands of art-seeking enthusiasts. A detailed map/guide is available at each location, with locations offering special First Friday activities and events! Look for the First Friday flag outside of businesses as you're walking through downtown, too—another way to see who's celebrating. Pro tip: Take advantage of participating restaurants' First Friday specials to experience art in all of its forms! Also, join in on a fun, in-depth art tour in the Warehouse District each First Friday with artist and educator Thea Howell's Make An Art Scene walking tour—a People-First Tourism experience.
April 5 and 7
Immerse yourself in Italian culture by watching Tosca, the quintessential Puccini thriller set in 1800s Rome. Not seen in the area since North Carolina Opera's premiere season, Tosca returns with a cast of rising stars and the North Carolina Opera Orchestra and Chorus, all conducted by Joseph Rescigno. This fully-staged production is sung in Italian with projected English translations.
The Carolina Ballet continues its 2018-2019 season with beautiful productions at the Duke Energy Center that are sure to delight.
Monet Impressions
April 11-14
Join the Carolina Ballet for an evening of dance inspired by the famous paintings of Claude Monet, featuring Lynne Taylor-Corbett's Picnic on the Grass and Robert Weiss' The Gardens of Giverny. This beautiful homage to the great French painter features the evocative music of his compatriots Chausson, Debussy and Poulenc. Originally commissioned in 2007 by the North Carolina Museum of Art, this two-part ballet has everything a dance lover could wish for: a story ballet based on Monet's life to open and a sweeping impressionistic second act based on his famous garden paintings.
Swan Lake
May 16-19
Carolina Ballet closes out its 21st season with one of the most popular story ballets of all time. Swan Lake is an enchanting fairy tale that tells the story of a beautiful swan princess cursed to live as a swan until she can find true love. Set to one of Tchaikovsky's greatest scores, Robert Weiss' version is truly spectacular! Music for this performance will be played live by The Chamber Orchestra of the Triangle.
April 12-28
Godspell is about the timeless tale of friendship, loyalty and love! This musical, presented by passionate mind Ira David Wood III's Theatre In The Park, features songs by acclaimed writer Stephen Schwartz. Filled with a variety of musical styles and high spirited songs, this musical is a reminder that kindness, tolerance and love should live on!
One of the nation's longest-running community theatres, since 1936, Raleigh Little Theatre presents these great productions this spring:
Ken Ludwig's Baskerville: A Sherlock Holmes Mystery
April 12-28
The male heirs of the Baskerville line are being eliminated one by one. To find their ingenious killer, Sherlock Holmes and Dr. Watson must brave the desolate moors before a family curse dooms its newest heir. Watch as the intrepid investigators try to escape a dizzying web of clues, silly accents and elaborate disguises. Full of humor, horror and plenty of stage magic, this kooky and spooky caper will have you howling with laughter.

Pippin
May 31-June 16
Meet Pippin, a young prince who longs to find passion and adventure in his life. To prove his loyalty to his distracted father, King Charles, Pippin goes on a death-defying journey to look for his purpose. He makes a grave mistake by killing his father to take over the throne. In the pursuit to right a wrong, Pippin struggles to decide whether he should settle down and pursue a peaceful life or continue to make magic with the dazzling troupe of performers.
April 13
Live & Local Spring Fest is presented by Artsplosure in partnership with Live It Up! Hillsborough Street. This spring celebration is your chance to join your community in celebrating the unique art, music, food and beer of N.C. There will be an afternoon of performances on the Main Stage, a Kids Zone with performances and craft activities plus a food truck rodeo and craft beers from Raleigh Brewing Company. We'll see you there!
April 26-May 5
Catch this musical comedy at the Duke Energy Center, telling the story of a small town policeman with dreams of making it to detective. In this hilarious rendition, just two performers play 13 roles! You'll die laughing.
April 27
Raleigh Little Theatre's arts festival, Art in the Garden, is back, featuring a jury-selected lineup of visual artists, food trucks and live entertainment. This unique, outdoor event takes place in the historic Raleigh Municipal Rose Garden—have your cameras ready for photos with the beautiful backdrop!
April 27
Celebrating its 26th year, Spring Daze features more than 170 N.C. artists, entertainment on four stages with music, storytelling, a food festival and Cary's annual Earth Day Celebration under the shady canopy of Cary's Fred G. Bond Metro Park. Bring the kids! This family-friendly event also offers fun, interactive activities and entertainment for the little ones.
April 28
This free concert and festival at Koka Booth Amphitheatre showcases the talents of band, chorus and visual arts students from Cary high schools. Expect jazz bands, symphonic bands and more! Relaxation and music with friends and family on the Koka Booth lawn make for a great spring day. Tip: Bring a picnic and the whole family!
May 4
Offer your inspiration to artists as they paint a part of downtown Cary's history, culture and changing landscapes as well as scenic views from the town's parks and greenways at En Plein Air: Paint the Town. Get a sneak preview of the art that will be auctioned at the Town of Cary's upcoming Silent Art Auction & Gala (scheduled for June 7).
May 10-11
Consider yourself a film buff? The Longleaf Film Festival at the North Carolina Museum of History is free to attend and explores historic and contemporary stories from the state, the country and the world through narrative and documentary movies. You'll also have the opportunity to meet independent filmmakers and actors associated with many of the films at the festival. Oh, and did we mention there's free popcorn?
May 11
Stroll through the gorgeous tree-lined streets of the Oakwood/Mordecai neighborhood during the 11th annual Front Porch Artwalk this May. The homeowners and businesses are hosting up-and-coming and established local artists on their porches and in their yards. Shop for ceramics, photography, glass, jewelry, paintings, fiber arts, handmade bath and body products, sculptures, metal works and more. The event is free and families, kids and pets are all welcome!
May 11
Bring the entire family for the Ritmo Latino Festival in Cary! Learn more about Latino music, dance and visual arts. Plus, taste traditional Latino foods from around the world and shop with many of the craft vendors at the festival. You'll enjoy taking in the sizzling sounds, hot rhythms and cuisine of Spain, Latin America and the Caribbean!
May 11
Wendell celebrates the arts with this outdoor gala. Join the fun and spend the day meeting artists from 9am-4pm, including a sidewalk chalk artist working from noon-3pm. Take part in the Arts & Crafts Fair and take some art and handmade items home for yourself or friends and family!
May 18-19
The arts take over streets of downtown Raleigh during Artsplosure with sidewalk chalk murals, large-scale, interactive visual art installations, an Art Market with more than 170 exhibitors and more! The festival balances critically-acclaimed national artists with some of N.C.'s best performing and visual artists. There's also something for the kids! Make plans to enjoy Kidsplosure, showcasing interactive educational activities and entertainment for children and their parents.
May 18-19
Witness forbidden love, fierce family loyalties and the ruthless feud between the Sharks and the Jets through the iconic music of "West Side Story," performed by the Raleigh Symphony Orchestra in the beautiful Stephenson Amphitheatre at the Raleigh Municipal Rose Garden.
May 24-26
Animazement is a volunteer, fan-run anime convention at the Raleigh Convention Center celebrating popular Japanese visual culture in all of its forms. Attracting thousands of attendees, expect to find a huge range of events, such as videos, cultural demos, fan and guest panels, J-pop/rock concerts, martial arts demos, craft classes, artists, vendors and more. 
Header photo: Chris Richman
Comments