12 Raleigh-Made Holiday Gift Ideas
Friday, November 04, 2016, 8am by visitRaleigh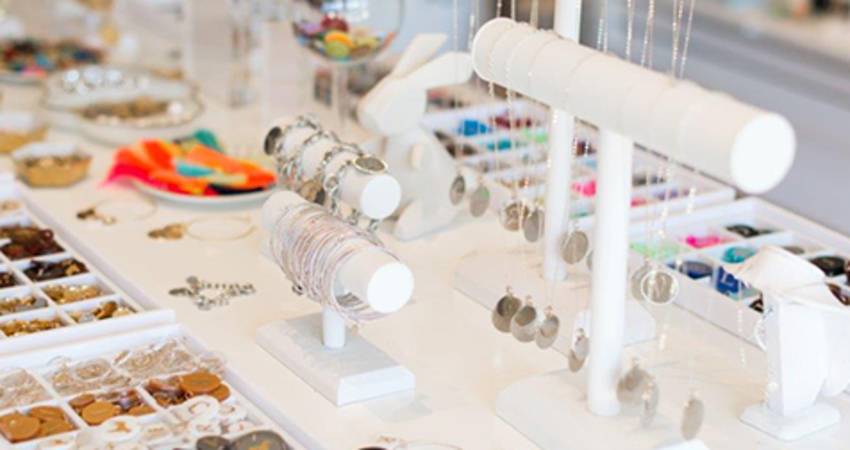 There's no doubt that Raleigh, N.C.'s "maker" scene is thriving. Passionate entrepreneurs are creating and selling handmade products, some nationally-known, throughout the destination. And residents and visitors alike are hooked on them. If you're looking for the perfect gifts for family and friends this holiday season, the capital city is your place to shop. You can't go wrong with these picks:
Kelly Shatat's jewelry-making started as a hobby, but it didn't take long to bloom into a full-scale business. Her jewelry has been featured in publications nationwide and is honored to have been on Oprah's Favorite Things list more than once. Hit the DIY Charm Bar at the Moon and Lola headquarters in Apex or at one of the Raleigh locations to personalize jewelry on the spot; monogram and themed charms are at your fingertips. For animal lovers, the Oprah's Favorite Things-featured pet ornaments are perfect for the holidays.


Chocolate
The chocolate factory in downtown Raleigh, dreamed up and created by Sam and Starr Ratto and Chris Heavener, offers up bean-to-car chocolate using fair-trade, organic beans, which Sam sources himself from Central and South America. Popular picks are the 70% Classic Dark chocolate bar and the 70% Dark Chocolate with Organic Candy Cane (pictured below), available now and throughout the holidays.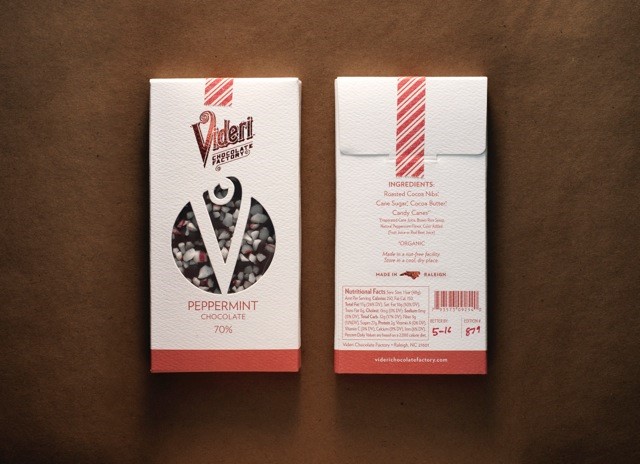 Escazu, also downtown, offers up handcrafted bars, truffles, confections and more. Inspired by a 2005 trip to an organic cacao farm in Costa Rica, Hallot Parson returned to the U.S. and began to study the chocolate making process and how it might be produced on a small scale. Soon enough, his chocolate would become a Raleigh favorite. Goat's Milk, Sea Salt and Roasted Nib are a few of the bars you can choose from.
John Pugh was playing gigs as Johnny Swank in bars and blues jams. In an effort to offset his bar tab, he decided to make some Johnny Swank merch T-shirts. With the power of the silkscreen, John started to make other shirts that would represent his love of N.C., music and food. Part-time hobby gave way to full-time passion in 2012 as House of Swank was born and became a regular presence at local festivals and events. Shop House of Swank's downtown home-base for N.C.-themed graphic tees, hats, hoodies and more.
Homegrown talent Holly Aiken draws inspiration from dime store aisles and vintage racing jackets, combining crisp colors with striking shapes for a modern take on vintage vibe. And fashion editors have taken notice, with Lucky, Design Milk and Teen Vogue recently showcasing her designs. Bags are made onsite at her downtown Raleigh shop by textile artisans, enabling you to shop a seemingly-endless variety of ready-to-wear items, or to commission their own custom design.


With 25 breweries (and counting) in the Raleigh area, there's no shortage of local beers to choose from as gifts. A good number of the breweries bottle or can, and all of them offer up growler pours (just gift the growler as soon as you can for freshness). You can also pick up a souvenir glass or two to include with the gift!
When designers Victor Lytvinenko and Sarah Yarborough decided to start their own line of handmade jeans, they chose an unconventional place to launch a clothing line—downtown Raleigh. It's one of those unexpected things you find here, but Raleigh Denim is helping to make the city fashion-forward and a destination for true fashionistas. Everything they use at Raleigh Denim is from N.C., including the denim, thread, zippers and the numbered labels. Shop their downtown Raleigh store, Raleigh Denim Workshop, and gift a loved one their next favorite pair of jeans.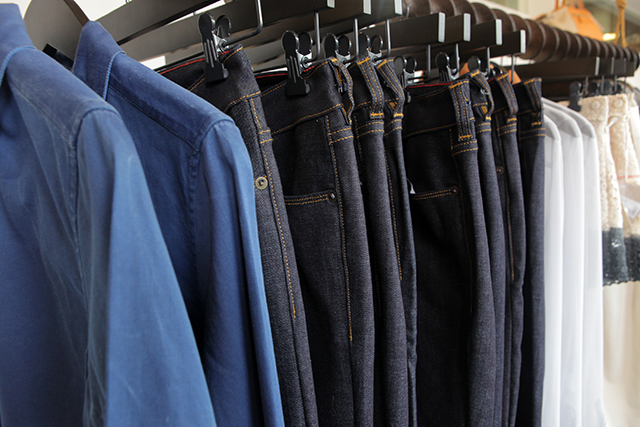 The Menards own the Carolina Popcorn Shoppe, which has been popping flavorful corn in Raleigh since 2000. All of their recipes are original, and their many varieties are hand-blended using real creamery butter, brown sugar, fresh-roasted nuts, rich cheese blends and other superior ingredients. Want to gift something sweet? Pick up their the ever-popular kettle corn, birthday cake, chocolate caramel or cookies-n-cream flavors. How about something salty with a Carolina kick? Choose from salt-n-vinegar, bacon cheddar or Chicago-style popcorn.
Coffee
Founded by "coffee's head bean," Larry Larson, Larry's Coffee works with farming partners to get beans with the deep, rich flavor profiles needed for their slow-roasting process. And you can find the coffee at their new downtown hot spot, 42 & Lawrence, also carrying cans of their nitro cold brew.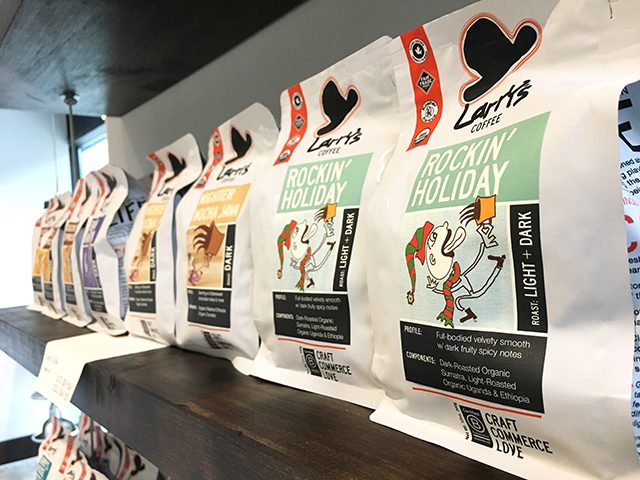 Oak City Coffee Roasters makes it a point to personally know the farmers who supply their beans, bringing the customer as close to the origin of the coffee as possible. Grab their canned nitro coffee, bags of their delicious coffee and more at their location in downtown Raleigh.
Their cold brew coffee was listed among 11 Excellent Cold Brew Coffees by Eater. Just a few of the many awesome places where you can get it: Videri Chocolate Factory, Yellow Dog Bread Company, The Mill in Fuquay-Varina, Wine Authorities and Devolve Moto.
For health-conscious Blake Stewart, consuming all-natural products has always been a priority. His grandmother, Edna, was a Southern farmer who canned her own tomato juice, and Blake thought that would be the perfect base for his homemade Bloody Mary mix. After experimenting with a few different recipes, Hail Mary was born, an all-natural, gluten-free mix that is the perfect blend of fresh juiced tomatoes, peppers, horseradish root and high-quality spices. A few cool places to get it: Brew N Que in Cary, Bottle Mixx, DECO Raleigh and NOFO @ the Pig.
The Ford's Foods enterprise started in 1946 when patriarch A.J. Ford began selling produce from the back of his truck. Generations later, the family created Bone Suckin' Sauce, which is a western N.C.-style barbecue sauce, a red sauce with a tomato-paste base. The sauce also uses honey and molasses to offer a sweeter taste than eastern N.C. sauces (vinegar-based) or S.C. sauces (mustard-based). A few fun places where you can get it: their store at the State Farmers Market, Raleigh, Logan's Trading Company, North Carolina Museum of History Shop and NOFO @ the Pig.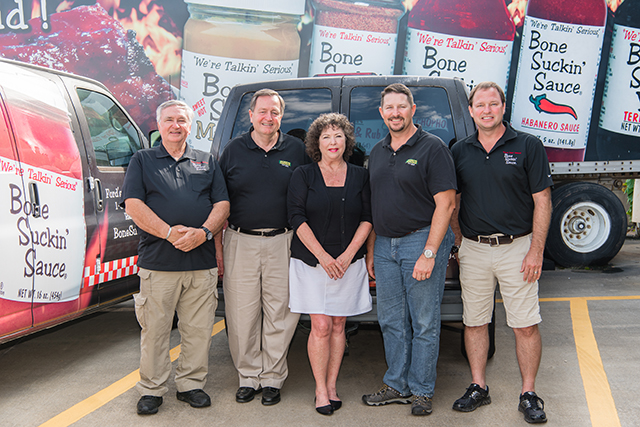 First Olive was started by a mother in Cary making natural products for her son who suffered from eczema. After successfully helping her son's skin condition and also getting great feedback from family and friends about the soaps, First Olive was born and now offers a variety of handmade soaps for everyone, with or without skin issues. Pick up soaps like coconut lime verbena, bamboo charcoal and more for unique gifts for loved ones. Where to get it: DECO Raleigh and Relish Cafe & Bar.
Give your friends the gift of relaxation, anywhere they go. Sluice Hammocks is named after the gold miner's sluice box, which has been used to separate gold from dirt since the early gold rushes. Founder Kemp Dunbar wants to do the same thing: "Let's sift out the distraction and give people a product that works really well and lasts forever." Where to get it: DECO Raleigh, The N.C. Hammock Company, Garden Supply Company in Cary and NOFO @ the Pig.
The list doesn't stop there. Though their products are not technically made right in Raleigh, Feelgoodz (flip flops) and Peter Millar (with their design headquarters and a store in Raleigh) are rooted here, and their products make great gifts!
Raleigh Denim photo: Ted Richardson
Comments