13 Major Music Festivals and Events: Things to Do This September in Raleigh, N.C.
Wednesday, August 22, 2018, 12pm by visitRaleigh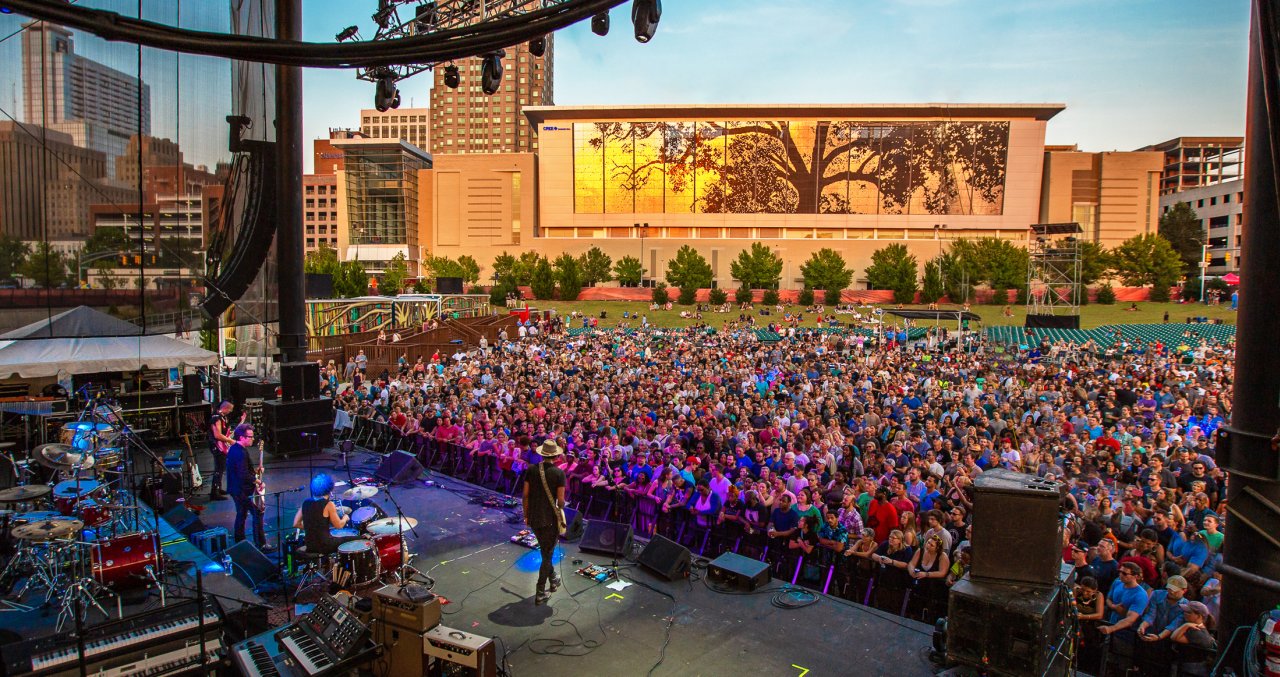 Updated Sept. 24, 2018
Who's ready for a Raleigh road trip? Summer may be hitting its final stretch but festival season is just getting ready to peak this month in the Raleigh area! In a destination known for sprawling, rocking, community-wide festivals, the month of Sept. is the crown jewel. Raleigh M.A.I.N. Events (music, arts, innovation and noise) is a celebration of all the amazing events happening in late summer and early fall in the City of Oaks. Music, beer, arts, bikes, culture—the very best of our capital city is on display all month long. 
 
African American Cultural Festival of Raleigh and Wake County
Sept. 1-2
An annual celebration of African American culture expressed through art, music, food and community, this two-day downtown Raleigh festival showcases local, national and international artists, performers, food vendors and area business owners. Now in its eighth year, the free-admission festival draws nearly 40,000 attendees per year to what's now considered Raleigh's premiere destination for teaching, sharing and celebrating the distinctive folk and cultural traditions of African Americans here in North Carolina and from around the world.
Hopscotch Music Festival
Sept. 6-8
Three days, nearly 150 bands, 12 venues in downtown Raleigh, 50 totally-free day parties and 25,000 fans—it's no wonder why Hopscotch Music Festival is time and time again named one of America's can't-miss music events. The acts—and genres—are as wide ranging as the venues they play in (for example, a 600-seat theater designed for operas and dance performances, A.J. Fletcher Opera Theater, and a tiny dive bar, Slim's Downtown). Headlining acts for this year include Grizzly Bear, Miguel, MC50, Liz Phair, Vic Mensa, The Flaming Lips, Nile Rogers & Chic and more.
Beericana Craft Beer and Music Festival
Sept. 8
This fast-growing beer and music festival held at beautiful Sugg Farm Park brings together more than 70 breweries (including most of the nearly 30 craft beverage brewers in the Raleigh area) and more than 20 food trucks, along with a full lineup of Americana jams, to celebrate good friends, good beer and good times in Holly Springs.
SPARKcon 2018 
Sept. 13-16 Oct. 18-21
Rescheduled to Oct. 18-21 due to Hurricane Florence.
SPARKcon, the totally-weird, totally-awesome creativity festival that takes over downtown Raleigh each Sept., is truly a grassroots event. The "for the people, by the people" approach uses an open-source planning process that allows more than 2,000 artists to be involved each year. Dance, fashion, music, film, food—if you can name it, you can find an event for it at the festival that spans nearly 15 city blocks. The festival has taken big steps to make it even more accessible for individuals with disabilities, including independent wayfinding navigation with BlindSquare, sensory-friendly packs, a SPARKcon Access Guide (available at the info tent and on the cubes at every intersection) and more (get details here).
Dreamville Festival
Sept. 15 April 6, 2019
Rescheduled to April 6, 2019, due to Hurricane Florence.
Curated by platinum-selling rapper and N.C. native, J.Cole, Dreamville will be a one-day, multi-stage festival at downtown Raleigh's Dorothea Dix Park with a one-of-a-kind celebration of local culture, food and art that also features a curated selection of music performers blending together some of today's biggest national acts with exciting up-and-comers. The one-day lineup includes J. Cole, Big Sean, Young Thug, Nelly, Rapsody, King Mez and more!
Apex Music Festival
Sept. 15 Oct. 27
Rescheduled to Oct. 27 due to Hurricane Florence.
Now in its eighth year, the Apex Music Festival attracts thousands of fans to historic downtown Apex to enjoy live music, street vendors, food trucks, beer and wine and an eclectic mix of shops and restaurants. Three outdoor stages and one indoor theater will host a variety of acts from local, regional and national performers from many musical genres—rock, folk, R&B, bluegrass, country and more. The ticketed event, which is best suited for adults, has a full music lineup you can check out here.
Groove in the Garden
Sept. 22
Groove in the Garden is back for year four at Raleigh Little Theatre's beautiful Stephenson Amphitheater. The annual music and arts festival shines the spotlight on some incredible local talent—the 2018 lineup features N.C. artists and bands including Lydia Loveless, Loamlands, Pie Face Girls, Kate Rhudy, ZenSoFly and more. Two stages of music, plus food trucks, beer, wine, local artists and vendors, a kids zone and more make this a can't-miss late summer event in Raleigh.
City of Oaks Pirate Fest
Sept. 22
Ahoy, mateys! 2018 marks 300 years since the notorious pirate Blackbeard roamed the Carolina coast and lost his life—and his head—in a fight with British soldiers. At the City of Oaks Pirate Fest, held at the North Carolina Museum of History, you'll learn more about the history of pirates in N.C., plus you'll get to meet Captain Blackbeard, engage in sword fights, feast at local food trucks, participate in a costume contest, take on arts and crafts projects and more!
La Fiesta del Pueblo
Sept. 23
Back for its 25th anniversary, La Fiesta del Pueblo, a Hispanic cultural event held on Fayetteville St. in downtown Raleigh, draws nearly 20,000 attendees each year and showcases music, art, dance performances, educational booths, children's activities and food from different regions of Latin America, all in celebration of the diversity of Latin-American culture.
International Bluegrass Music Association's World of Bluegrass Week
Bluegrass Ramble, Sept. 25-27
29th Annual International Bluegrass Music Awards Show, Sept. 27
PNC presents Wide Open Bluegrass, Sept. 28-29
The arrival of a toe-tappin', banjo-strummin' week of non-stop bluegrass in downtown Raleigh is one of the most anticipated times of the year. International Bluegrass Music Association (IBMA) brings their Business Conference, along with the world's most talented bluegrass musicians, to Raleigh the last week of Sept.
Those musicians perform in clubs for the Bluegrass Ramble, on street corners and in hotel lobbies—anywhere they can have a jam session throughout the week.
The week is capped off with the International Bluegrass Music Awards Show on Thurs. night, then the weekend PNC presents Wide Open Bluegrass, a two-day festival that sets up five stages of free music, a dance tent, a barbecue championship, tons of art vendors and more. The ticketed Main Stage at Red Hat Amphitheater will feature Ricky Skaggs & Kentucky Thunder with a guest appearance by Patty Loveless, a special collaboration between Alison Brown, Becky Buller, Sierra Hull, Missy Raines and Molly Tuttle (with guest appearances by Gillian Welch and Rhiannon Giddens), Leftover Salmon, The Earls of Leicester presented by Jerry Douglas, The Gibson Brothers and more.
N.C. Pride at Night Festival and Celebration
Sept. 29
Thirty years ago, Raleigh's first Gay Pride celebration was held on Sat., June 25, 1988. Participants, numbering more than 2,000, gathered at North Carolina State University's Memorial Belltower on Hillsborough St. and marched to Capitol Square. On Sept. 29, 2018, participants will again honor the past and celebrate the future with a free street festival outside of Legends Nightclub, a leader in LGBT nightlife in the Raleigh area for more than 25 years.
Live music, every single day. That's how it works in the destination with the most live music in N.C., so we picked out just a few more shows you should know about that aren't a part of the major festivals already mentioned:
Kid Rock and Brantley Gilbert (9/1)
Jason Aldean (9/8)
Bone Thugs-N-Harmony (9/13)
Cherub (9/14)
Eleanor Friedberger (9/14)
Zac Brown Band (9/14)
The Music of Queen with the North Carolina Symphony (9/15)
Shakey Graves (9/16)
Niall Horan (9/17)
Coco Montoya (9/17)
Kaleo (9/18)
All Time Low (9/24)
Vince Gill (9/27)
 
Perfect for a month of music in Sept., visit Marbles IMAX and experience America's Musical Journey (through 9/30), a 40-minute film in 3D following singer/songwriter Aloe Blacc as he traces the roots of American music and explores the great musical cities where jazz, blues, country, soul and rock and roll were born.
The North Carolina State University Wolfpack football team kicks off another season with four home games in Sept. at Carter-Finley Stadium. They'll take on James Madison (9/1), Georgia State (9/8), West Virginia (9/15) and Virginia (9/29) in front of big and loud crowds.
Now in its 37th year, the Raleigh Greek Festival (9/7-9) brings music, dancing and food (so much food!) to the North Carolina State Fairgrounds.
Who's up for tacos and tequila? Tacos 'N Taps (9/8), an all-you-can-taste beer and tequila festival, is bringing more than 80 craft beers, mezcals, tequilas, wine and more to Koka Booth Amphitheatre.
The Atlantic Tire Championships (9/10-16), a United States Tennis Association (USTA) Pro Circuit event that attracts top professional athletes, is back at Cary Tennis Park this month.
Carolina Ballet's Firebird (9/13-30), a spellbinding ballet that combines all the elements of a great story—a handsome prince, a beautiful princess and an evil sorcerer—is set to open up the ballet's 2018-2019 season in spectacular fashion.
Take in Raleigh's first outdoor classical music series held in years with the Raleigh Symphony Orchestra Fall Pops Concert (9/23) at Raleigh Little Theatre's Stephenson Amphitheatre—the orchestra is set to perform music from film favorites from the '80s to today.
The free-admission East Meets West Food Festival (9/29) celebrates Morrisville with a day of food, culture and music from around the world. Dozens of local restaurants sell small plates of their specialties. At the same time, the festival stage hosts performances from groups representing the town's many cultures. Children can have their faces painted or enjoy a variety of other fun activities. 
To see a full calendar of events in Raleigh, N.C., click here!
 
Header photo: Hopscotch Music Festival, Garrett Poulos
Comments