14 of the Best Cocktail Bars in Raleigh, N.C.
Friday, October 25, 2019, 2pm by Tabletop Media Group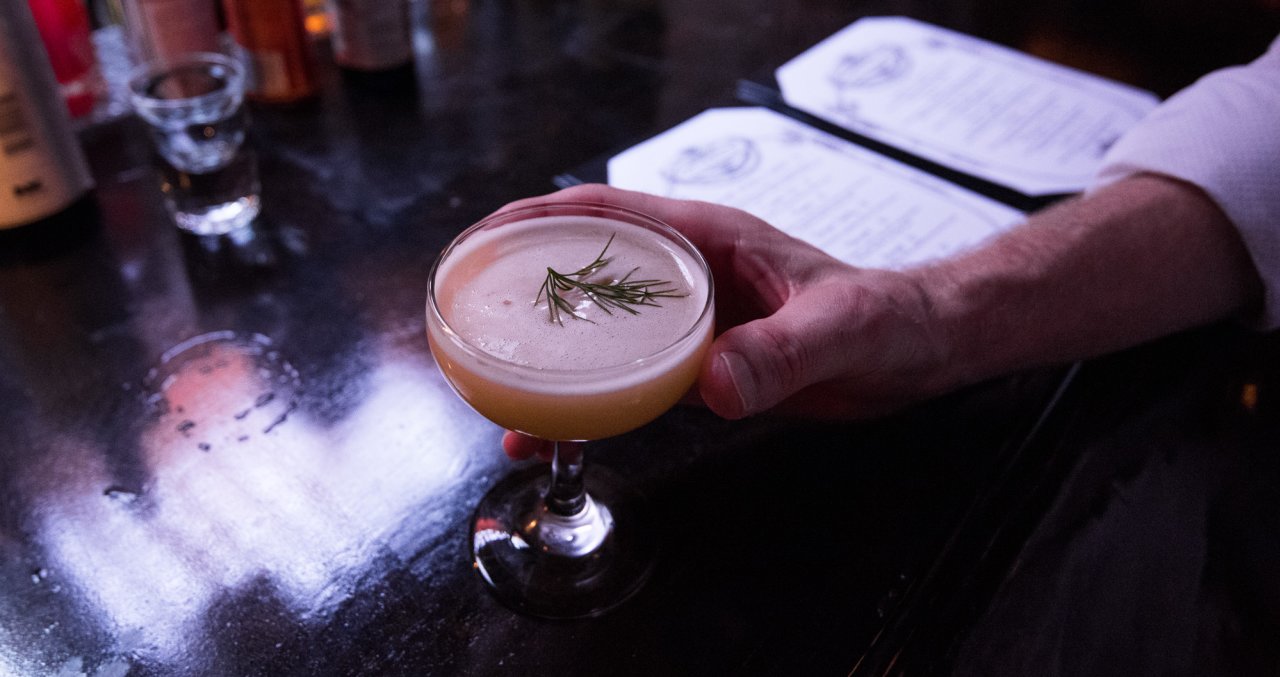 Raleigh, N.C.'s cocktail culture is as vibrant as ever. From sophisticated speakeasies to local neighborhood hangouts, a well-crafted drink—perfect for a warm, sunny day or an intimate night out—is never far away in the Raleigh area.
 
This craft cocktail bar from Ireland native and Hibernian Hospitality owner Niall Hanley is 6,000 square feet of 1920s America underground spirit. Located beneath Caffé Luna and directly across from the new Moore Square, Watts & Ward is a seemingly-endless cavern, with room after room of leather seating, vintage artwork, rustic tables, dim lighting and bookshelves full of history. Tons of seating options, including big booths that are great for groups, an inventive cocktail menu and low-key jazz events all mean you'll need to carve out some time to swing by this speakeasy on a night out.
Peek down a set of stairs off downtown Raleigh's Fayetteville Street and you'll be able to just barely catch a glimpse of a red neon sign lit up that reads "Foundation"—that's how you know you're in the right spot. This basement bar, where house-made colas and syrups are mixed into seasonal drinks, has blazed a path and opened doors for others in modern-day Raleigh's cocktail scene.
Known for having some of the best drinks in the area, C. Grace has been consistently raved about since opening in 2011. The downstairs bar in the Glenwood South downtown district evokes memories of classic jazz clubs where the lights are low, the jazz is hot, the drinks are strong and the nights full of merriment. You'll find live music here five nights a week, paired with old-school drinks and a sophisticated ambiance.
One of the most popular downtown Raleigh nightlife spots—especially when the weather is warm—Whiskey Kitchen creates a memorable experience each time you walk through the open garage door entrance or score a table on the outside patio. With its unique vibe, tasty plates, crafted cocktails and large collection of whiskeys from across the world, this contemporary Southern kitchen has a lot to offer. Opt for a classic cocktail, an Old Fashioned or Manhattan, or something fun like the Berried Alive—vodka, blackberry shrub and ginger beer.
Parliament
With glowing neon lights and an avenue view through a set of large bay windows, Parliament is a cozy spot for people watching and sipping on inventive cocktails. Opening up onto downtown Raleigh's bustling Glenwood Ave. (and right next to local-favorite dining and drinking spot The Rockford) in the Glenwood South district, Parliament features a menu of creative twists on classic cocktails, vodka spiked fruit nectars and house-made syrups paired with carefully-selected liqueurs. You can't go wrong with their signature cocktail, The Parliament—Pinnacle vodka, fresh lime, simple syrup, cranberry and Prosecco.
Honoring the artistry of traditional mezcal and craft cocktails, Gallo Pelón is N.C.'s first Mezcaleria specializing in exotic mezcals and hand-crafted cocktails. Gallo Pelón can be found above its sister restaurant Centro in downtown Raleigh—you'll climb the stairs to the left just inside the Centro door and find a bar with a few seats and tables and shelves packed tightly with spirits. A small outdoor space, with mural-painted walls and hanging lights, makes for perfect date nights.
A place for the whiskey fanatic (more than 300 varieties available), the craft beer fan, the cocktail enthusiast and more, Dram & Draught is a go-to favorite for the drinks. Another added bonus? It's right by one of the oldest restaurants in Raleigh, Char-Grill, a classic burger and shake spot that's open late.
Cary's newest neighborhood bar, SideBar was opened by owner Matthew Bettinger in Feb. of 2018 in downtown's Mid-Town Square. Conveniently located directly next to Pizzeria Faulisi and a few steps away from Bond Brothers Beer Company, spring for a Primm's Cup to enjoy on the outside patio or post up at the bar inside to try the deliciously-frothy Whiskey Sour.
This subterranean drinking den, featuring classic and contemporary cocktails, is the brainchild of James Beard Award-winner chef Ashley Christensen. Down a flight of stairs just around the corner from two of Christensen's eating spots (Chuck's and Beasley's Chicken + Honey), you'll find friendly service, a laid-back vibe, strong drinks and lots of comfortable, dark leather seating. A great date spot or place for small groups, you'll have your choice of some of Raleigh's best cocktails, including the Jane Taylor—reposado tequila, creme de violette, coconut cream, cucumber and lime—and The Foxtail—Jamaican rum, rum agricole, strawberry, orgeat and lime.
The definition of hidden, The Green Light is literally tucked away behind a secret bookshelf inside The Architect Bar & Social House. It's a small, dimly-lit room with a 1920s speakeasy feel—the bar is clad with reclaimed wood, and vinyl records play in the corner. This is the spot to disappear, sit, relax and enjoy a serious cocktail. But don't just take our word for it—Thrillist named it one of the "21 Best Secret Bars in the World."
A family-owned institution for more than 50 years, the double doors of the now-fabled Angus Barn swung wide in June of 1960. Today, more than 20,000 nights and 13 million customers served later, the Angus Barn is known for an impressive wine list, gracious hospitality and a cozy, rustic ambiance (and still serves 22,000 steaks per month). Upstairs, the Wild Turkey Lounge—a first-come, first-served bar and dining area—is filled with leather sofas, plush chairs and small tables that make it equally great as a happy hour spot or place to dine with a small group. Live piano music seven nights a week, paired with extensive wine and spirits lists, help give the Wild Turkey Lounge a unique casual, yet elegant, atmosphere.
Comments