15 of the Best New Year's Eve Events in Raleigh, N.C.
Thursday, December 20, 2018, 11am by Tabletop Media Group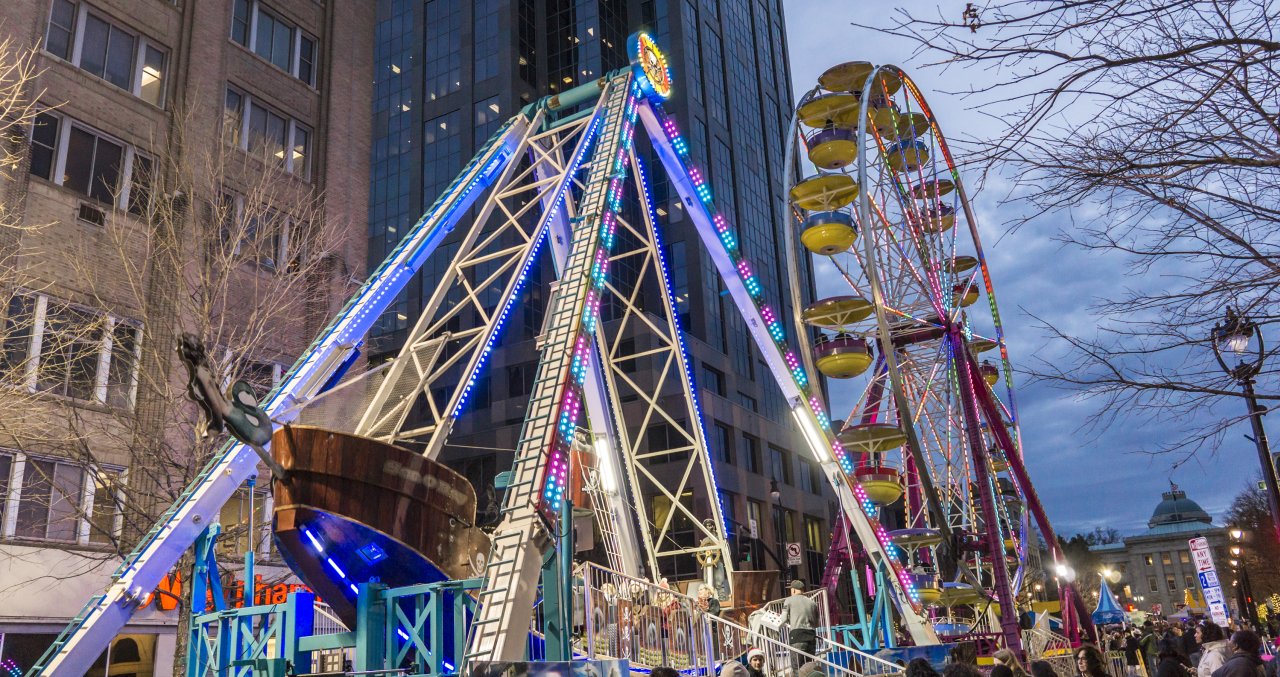 With the busy holiday season on your mind, you might still be looking for the perfect New Year's Eve plans. Worry not! We've rounded up 15 of the best events happening right here in the Raleigh area to ring in the new year.
 
WRAL First Night Raleigh
Close out 2018 in style and ring in the new year with a bang! Join Raleigh for WRAL First Night Raleigh in the heart of downtown. This all-day event features more than 100 performances (music, dance, theater, comedy and more) across 25 venues. Kids and adults alike will love the Ferris wheel where you can see the lights of Raleigh from the very top. Check out our guide to the event for all the details!
Dusty Slay at Raleigh Improv
There's no better way to start the new year than by laughing until it hurts! Comedian Dusty Slay has appeared on The Tonight Show with Jimmy Fallon and NBC's Last Comic Standing. We're super lucky to end 2018 on a hilarious note as Dusty Slay performs at Raleigh Improv.
Carolina Hurricanes game at PNC Arena
Cheer in the new year at PNC Arena as the NHL's Carolina Hurricanes take the ice for an exciting match-up! This New Year's Eve, the Hurricanes play at home against the Philadelphia Flyers at 6pm. Don't miss the last brawl of 2018 for our hometown hockey team.
Say "Aloha" to 2019 at The Haymaker's tiki-style party. The Haymaker, a craft cocktail bar in downtown Raleigh (and located right off the WRAL First Night Raleigh action!), will be transformed into a tropical paradise complete with music, tiki torches and leis. Sip on a mix of traditional cocktails as well as The Haymaker's own spin on tiki classics.
Big Something at Lincoln Theatre
Party down with N.C.-based alternative rock band Big Something, bringing big grooves to Lincoln Theatre on New Year's Eve. Big Something's new year celebration at the venue has become an annual tradition, and there are good reasons for that—funky tunes, big sound, dance grooves and the list goes on. The band Midnight North opens up the night.
Al Williams Band - New Year's Eve at The Point at Glenwood
Welcome 2019 with the Al Williams Band at the local-favorite The Point at Glenwood, located in the historic Five Points neighborhood of Raleigh. You'll enjoy a variety of music that's easy to sing along to, with tunes spanning genres including beach music, Motown and R&B.
New Year's Eve Gala at the North Carolina Museum of Natural Sciences
Dress to the nines and attend the North Carolina Museum of Natural Sciences' annual New Year's Eve Gala. All four floors will feature delicious hors d'oeuvres and open bars! And of course, the night wouldn't be complete without music and dancing all the way into the new year. Tickets are still available for $125 plus tax per person.
The Umstead Hotel and Spa New Year's Eve Celebration
Greet the new year with dancing, drinks and delicious food in Cary at The Umstead Hotel and Spa's annual New Year's Eve celebration. Like last year, The Soul Psychedelique will provide the music for dancing. This party includes premium spirits, an assortment of food stations from the hotel's restaurant Herons (where James Beard-nominated chef Steven Devereaux Greene is one of the country's youngest executive chefs to helm the kitchen of a Forbes Five Star or AAA Five Diamond establishment) and a toast at midnight.
North Carolina Symphony Special Event Concert: Vienna With a Twist at the Duke Energy Center for the Performing Arts
North Carolina Symphony presents an unforgettable night full of Viennese waltzes and big band classics with the N.C. Jazz Repertory Orchestra at the Duke Energy Center for the Performing Arts. Enjoy favorites from Strauss and Tchaikovsky to Ellington and Gershwin—and join in singing "Auld Lang Syne" with the biggest band in the state.
WRDU Rockin' at The Ritz Presents: Shoot to Thrill
Rock into the new year with WRDU Rockin' at The Ritz, presenting Shoot to Thrill, an all-female AC/DC tribute band sure to rock your night as they perform classics like "Thunderstruck" and "Hells Bells." Get free tickets from the band's website, here!
New Year's Eve at The Dillon
Celebrate 2019 on The Dillon sky terrace, with panoramic views of downtown's WRAL First Night Raleigh fireworks and a champagne toast at midnight! Sing along to Blazin' Keys Entertainment's dueling pianos from 8-11pm, then dance the night away with DJ Supr Dupr from 11pm-1am. Enjoy a full, open bar with special features by Ketel One, Tanqueray and Bulleit Rye as well as tasty heavy hors d'oeuvres by Apex's Donovan's Dish. Pro tip: Don't miss the midnight "Bubbles & Bling" toast with Diamonds Direct, who will select five lucky winners for some blingy gifts.
Boodle Fight + Boodle Night 2.0 at MOFU Shoppe
For a super-unique experience in Raleigh this New Year's Eve, check out MOFU Shoppe's second annual Boodle Fight! A "boodle fight" is a Filipino military tradition where a feast is placed on a long table lined with bamboo leaves, and every participant, regardless of rank or file, stands shoulder to shoulder to eat together as a symbol of equality. The "fight" part refers to the fact that the food is traditionally eaten with your hands, and it's everyone for themselves during the feast! This year the food includes suckling pigs, roasted duck, grilled lamb and much more!
New Year's Eve at Poole's Diner
Join James Beard Award-winning chef Ashley Christensen's Poole's Diner for a special, three-course pre fixe menu. The dinner is $75 per person and includes a variety of choices for each course like steak carpaccio with smoked trout roe, duck confit cornmeal cobbler, a holiday charcuterie plate and much, much more!
New Year's Eve Bash with Hank Sinatra at Circa 1888
Rock the house at Circa 1888 with Hank Sinatra, taking the stage at 10pm to bring you a show filled with an enticing mix of hardcore, early '70s garage rock and honky-tonk. This rockin' night will finish off with champagne toast at midnight!
New Year's Eve with Pie Face Girls at The Pour House Music Hall
Ring in 2019 with a pie to the face! Raleigh's own Pie Face Girls, a self-taught punk trio, along with Vacant Company and Drag Sounds, will perform live at The Pour House Music Hall. Make sure you grab your tickets soon to join in on this fun-filled night!
Header photo courtesy of First Night Raleigh
Comments