18 of the Best New Year's Eve Events in Raleigh, N.C.
Thursday, December 19, 2019, 5pm by Tabletop Media Group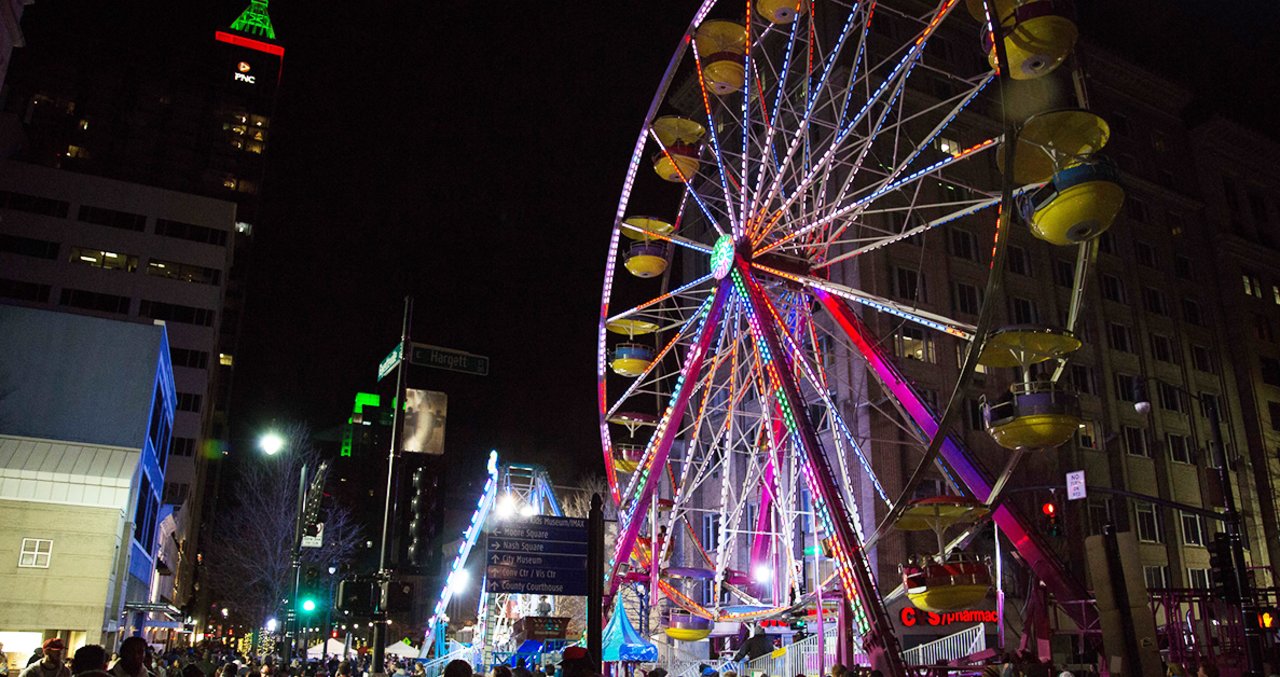 Say farewell to 2019 in the best way possible at one of Raleigh, N.C.'s many exciting New Year's Eve events, which range from high-energy parties and concerts to special dining experiences. There's a fitting party for all to ring in 2020, so make plans to get out and about on Dec. 31 and welcome the new year in the Raleigh area!
 
WRAL First Night Raleigh 2020
Get in on the New Year's Eve action at First Night Raleigh (pictured in header), downtown Raleigh's massive celebration for almost 30 years. Throughout the day, more than 20 blocks will be filled with nearly 100 performances (music, dance, theater, comedy and more) across 25 venues to make your last day of 2019 as entertaining as ever. As it approaches midnight, head to City Plaza to watch the famous acorn drop, followed by a spectacular fireworks show.
3rd Annual Boodle Fight + Boodle Night at MOFU Shoppe
They say it's impolite to play with your food, but at MOFU's New Year's Eve Boodle Fight + Boodle Night, it's encouraged. A "boodle fight" is a Filipino military tradition in which a feast is served on a table lined in bamboo leaves, and everyone, regardless of rank, stands shoulder-to-shoulder to eat together with their hands. The meal is a symbol of camaraderie and equality. This year, MOFU will be serving up suckling pig, roasted duck, whole fish, cheeses, traditional Asian desserts and more; and don't worry about getting anything on your fancy party outfits because bibs and gloves will be provided. Stick around after dinner for Boodle Night, complete with festive drinks like Boodles Mulberry Gin and Boodle British London Dry Gin, along with a champagne toast at midnight.
New Year's Eve Party at Whiskey Kitchen
Ring in the new year at one of downtown Raleigh's finest whiskey bars, where you're guaranteed to have a great night. The celebration will of course include excellent whiskey, as well as live music, dancing, party favors and a midnight toast of bubbly.
New Year's Eve Gala at the North Carolina Museum of Natural Sciences
The North Carolina Museum of Natural Sciences' and Rocky Top Catering's New Year's Eve Gala is one of Raleigh's most spectacular parties of the year. The museum gets decked out on four floors, offering food, drinks and entertainment. Enjoy full bars on each floor with beer, wine, champagne and craft cocktails, as well as different food stations including a Mediterranean-style grazing station, a chef-attended street food station and a petite dessert display. Dance the year away with live music from Sleeping Booty, DJ 360 and Elevate Ambient Performers.
New Year's Eve at Transfer Co. Food Hall
Downtown Raleigh's Transfer Co. Food Hall will be celebrating New Year's Eve Latin style, with a live performance from the Latin Funk All-Stars! and special guest El Padrino Del Son, the "godfather of rhythm." They will also be throwing a kid-friendly party featuring snacks, beverages, games, dancing, a photo booth and more, allowing the whole family to ring in 2020 together.
Foxy New Year's House Party at Chef Ashley Christensen's Fox Liquor Bar
While we're sure your friend's New Year's Eve house party will be plenty of fun, we guarantee Fox Liquor Bar's will be even better (or at least have better drinks). There will be snacks, games, a special menu of cocktails and shooters, jello shots and bubbly options, plus a boombox playing all the hottest music from 2019. The ball drop will be streamed too, so you won't miss a thing.
Gatsby - A Roaring '20s Affair at Imurj
Imurj—a creative space for all artists, musicians and patrons of the arts, located across from downtown Raleigh's Nash Square—is fully embracing the popular Gatsby and Roaring '20s-themed New Year's Eve party. And it guarantees that it will be better than all the rest. Don your best 1920s costume and enjoy a night-long line-up of DJs, including Lost Vegas, Craeons, Phist, Mr. Monopoly and more, ensuring that you'll be dancing 2019 away.
iHeartMedia and G105 2020 New Year's Eve Celebration at Sheraton Raleigh Hotel
For seven years, iHeartMedia and G105's "official" New Year's Eve party has filled the Sheraton Raleigh Hotel's ballrooms with DJs, party favors, a photo booth and, for VIPs, an open bar, complimentary champagne and food. DJ LP, DJ ILL DIGITZ and DJ NEVY will be playing everything from old-school hip hop to EDM to country and everything in between. Book a room to make your night stress-free, without any worry about getting home.
New Year's Eve 2020 at Tin Roof Raleigh
Tin Roof is bringing a big party to Glenwood South this New Year's Eve. Another Roaring '20s theme, the live music bar will be hosting Wayne Harper downstairs and DJ MrlmReady upstairs, so no matter what type of music you listen to you'll be able to jam out. Multiple bars will be open for your drinking pleasure, and you'll know it's midnight when the confetti cannon bursts and all celebrate with a complimentary champagne toast. Cheers to 2020!
Masquerade Murder 7: A New Year's Eve Murder Mystery Party at Aloft Raleigh
New Year's Eve will be served with a side of murder at Aloft Raleigh's seventh annual murder mystery party. Every guest will receive a character bio and their relationship to the suspects, with the opportunity to play a role in investigating the crime. While playing the real-life game of "Clue," graze at the dessert bar and at midnight make a champagne toast with fellow players. Come dressed in your best cocktail attire to enjoy a night of mystery while ringing in the new year.
Annual NYE Party at Aloft Raleigh
Don't care for murder mystery? You can still party like it's 2020 at Aloft's masquerade-themed New Year's Eve party, which is free to any and all who wish to attend. Grab a drink and dance to tunes by DJ Rannasauraus, then secure a hotel room to continue the fun with your friends until the wee hours of the morning.
Viva La Masquerade New Year's Eve Gala at CAM Raleigh
Bunch of Fives Hospitality's masquerade gala in downtown Raleigh's Warehouse District is guaranteed to be a classy occasion for entering 2020, with hors d'oeuvres from PoshNosh Catering, unlimited cocktails and champagne at the open bar and access to CAM Raleigh's fine artwork and impressive lowrider motorcycles currently on display in the ¡Viva Viclas! The Art of the Lowrider Motorcycle exhibition. Also, enjoy cotton candy from Mama's Sugar Shack, a photo booth perfect for snapping the final moments of 2019 and music from DJ Scott Carnival. As a bonus, a portion of your ticket cost will go towards the Contemporary Arts Foundation.
New Year's Eve Party at Wye Hill Kitchen & Brewing
Wye Hill certainly has a lot to celebrate this year, with the restaurant opening in June and quickly becoming a hot spot for great food and drinks in Raleigh. Help them celebrate a milestone year by coming out for their New Year's Eve party on the hill, complete with a massive buffet, beer pairings and their spectacular view of downtown Raleigh we all know and love. Pro tip: Wye Hill is also an ideal spot for seeing downtown Raleigh's fireworks!
Carolina Hurricanes New Year's Eve Game vs. Montreal
If you've been rooting for the Canes all year, there's no better way to send off 2019 than cheering them on against the Montreal Canadiens on New Year's Eve at PNC Arena. The game starts at 7pm, so there's still plenty of time to go out with your friends afterwards or watch the acorn drop in downtown Raleigh, hopefully with another Hurricanes win in the books!
New Year's Eve Dinner at Herons at The Umstead Hotel and Spa
Ring in the new year in a more intimate fashion with an exquisite four-course dinner at Herons in Cary, prepared by award-winning executive chef Steven Devereaux Greene. Wine pairings are also available at an extra cost, ensuring you'll be able to toast to 2020 in style. Book a luxurious guest room to make waking up on the first day of the year all the more better.
North Carolina Symphony New Year's Eve: Vienna with a Twist
For a more cultural New Year's Eve experience, join the North Carolina Symphony at the Duke Energy Center for the Performing Arts for their performance of Gershwin's Rhapsody in Blue and jazzy Big Band classics. If that isn't enough to put a swing in your step, the traditional Viennese waltzes certainly will!
New Year's Eve 2020 at The Pour House Music Hall & Record Shop
Rock out to Zack Mexico, 2 Slices, Acid Chaperone, Jooselord and Vacant Company at The Pour House's special New Year's Eve concert. There's no better way to enter the new year than with good company and great music! Get there early to shop for some vinyl at their brand-new record shop—pick up a record to rock on New Year's Day.
Big Something New Year's Run at Lincoln Theatre
Lincoln Theatre's New Year's Eve concert featuring Big Something and The Mantras is another excellent venue for enjoying great music before the year's over. With the show kicking off at 9pm, you'll be more than energized to ring in 2020.
Header photo: Brian Magee Photography
Comments