30+ Awesome Concerts in Raleigh, N.C., This Spring
Friday, April 06, 2018, 10am by Kristen Baughman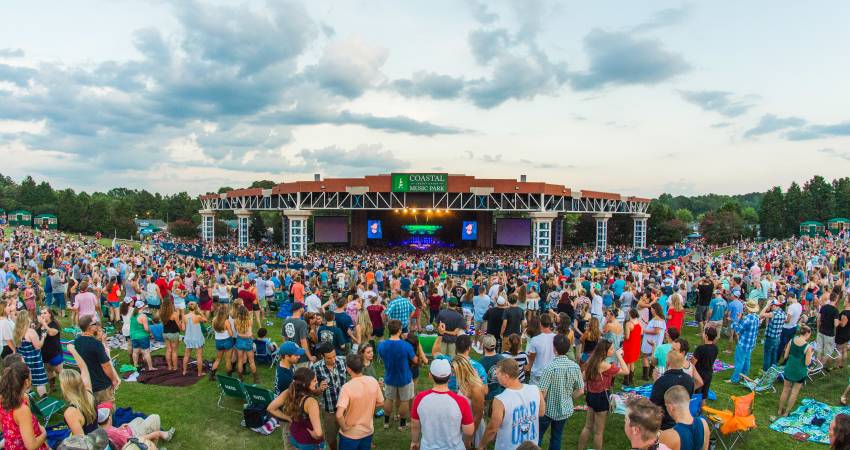 With outdoor concert season coming to full swing this spring, the Raleigh area's live music calendar is full of awesome shows. It's a prime time to see your favorite bands on tour along with a few legends, and to also check out some new artists. Here are 30+ picks to help you start planning your Raleigh road trip:
 
April 14, Duke Energy Center for the Performing Arts
Raised in the Piedmont of N.C., co-founder of the Grammy Award-winning string band Carolina Chocolate Drops, singer-songwriter and multi-instrumentalist Rhiannon Giddens takes the stage at Raleigh Memorial Auditorium at Duke Energy Center. Her elegant bearing and prodigious voice shine through her live performances as she masterfully blends American musical genres like gospel, jazz, blues and country.
April 17, PNC Arena
With number one singles like "Hotel California" and "Take It Easy," the Eagles will be performing hits we all know and love live at PNC Arena. Dance to tunes with a country- and folk-tinged sound in the expansive arena with thousands of fans or just sit back and enjoy the show.
Eric B. & Rakim
April 19, The Ritz
In the history of hip-hop, few artists have had as great an impact on the development and progression of the art form as Eric B. and Rakim, whose 1987 album "Paid In Full" has been titled "The Greatest Hip Hop Album of All Time" by MTV among countless others. Experience them live at The Ritz, with their transformative collection of funk and soul driven music. 
April 21, Lincoln Theatre
Performing live at the Lincoln Theatre, this local-favorite concert venue will be featuring Kooley High, a hip hop group composed of former North Carolina State University students (so you know the energy will be high in Raleigh!). This group has several acclaimed releases like "Days Passed Me By" and "Ceiling," which effortlessly merge freestyle with inspiration from soul and R&B.
April 24, PNC Arena
Global rock icons and newly-announced Rock & Roll Hall of Fame 2018 inductees Bon Jovi just announced their spring leg of their "This House Is Not for Sale" Tour. Expect to hear classics like "Livin' on a Prayer" and "It's My Life."
May 1, Red Hat Amphitheater
Performing live with Big Thief, The National takes the outdoor stage at Red Hat Amphitheater. This band takes inspiration from Americana and indie rock, and their hits are perfect to rock to on a warm spring night.
May 3, Red Hat Amphitheater
Founded in 2008, the highly-acclaimed Fleet Foxes hail from Seattle and skillfully merge indie-folk with sophisticated pop. Expect to hear their hit songs like "Mykonos" and "White Winter Hymnal" in the heart of downtown Raleigh. 
May 4-5, Duke Energy Center for the Performing Arts
N.C. native and singer, songwriter and pianist Ben Folds returns for two nights this spring with the North Carolina Symphony for an electric crossover concert event. Widely regarded as one of the major music influencers of our generation, don't miss your chance to hear him live in concert performing all his hits through the years like "You Don't Know Me" and "The Luckiest."
May 5, Garner Performing Arts Center
Grammy Award-nominated mandolin virtuoso and four-time International Bluegrass Music Association Award-winner Sierra Hull astonishes audiences with her musical talents. This incredible artist starting playing the mandolin when she was just eight years old, and her music is influenced by artists like Alison Krauss. Hull has had a big presence in Raleigh, having performed multiple years during World of Bluegrass and the Wide Open Bluegrass festival in the City of Oaks, with audiences absolutely loving her performances and presence.
Blackberry Smoke
May 10, The Ritz
Blackberry Smoke has never been a band that stands still. Whether pursuing the dream by logging hundreds of thousands of miles on America's highways and abroad or relentlessly exploring the many facets of its most unique art form, the Atlanta Southern rock quintet is always on the move. Catch them at Raleigh's The Ritz for their Find a Light Tour!
May 11, Coastal Credit Union Music Park at Walnut Creek
As part of their The Summer of Living Dangerously Tour, Steely Dan and The Doobie Brothers will be performing live at Coastal Credit Union Music Park at Walnut Creek. Dance the night away at this massive outdoor arena to hits like "Listen to the Music" and "Reelin' in the Years."
May 12, Coastal Credit Union Music Park at Walnut Creek
Kenny Chesney performs for the No Shoes Nation with special guest Old Dominion. Featuring songs reminiscent of warm summer days like "When The Sun Goes Down" and "No Shoes, No Shirt, No Problems," Kenny Chesney's music incorporates country twang with beach vibes, always perfect for the season. Prepare for quite the show as he has been deemed Entertainer of the Year a total of eight times during this career.
Vance Joy
May 12, Koka Booth Amphitheatre in Cary
Australian indie folk singer-songwriter Vance Joy will be performing live at the beautiful, outdoor Koka Booth Amphitheatre. With influence from Bon Iver, his popular indie-pop tunes like "Riptide" are sure to delight concert goers along with new songs from his latest Feb. 2018-released album, "Nation of Two."
Trampled By Turtles
May 15, The Ritz
Catch the American bluegrass/folk-rock band as they jam out with songs off their new album, "Life Is Good On The Open Road," releasing May 4.
Local Band Local Beer: Hank, Pattie & The Current and Town Mountain
May 17, The Pour House Music Hall
Local-favorite bluegrass ambassadors Hank Smith and Pattie Hopkins Kinlaw join forces once again with their original and energetic, new soulgrass band, Hank and Pattie. And raw, soulful and with plenty of swagger, Town Mountain has earned raves for their hard-driving sound, their in-house songwriting and the honky-tonk edge. This is a can't-miss out of the Local Band Local Beer series!
Artsplosure - The Raleigh Arts Festival
May 19-20, downtown Raleigh
The arts take over streets of downtown during Raleigh festival staple Artsplosure with sidewalk chalk murals, large-scale, interactive visual art installations, an Art Market with more than 170 exhibitors and, of course, live music! Performances go on all-festival-long by legends and rising stars from the national and regional jazz, blues and alternative music scenes, the majority of whom have never appeared in Raleigh, and emerging local and regional performers deserving of wider acclaim.
May 20, Red Hat Amphitheater
Primus and Mastadon unite this summer for a tour with special guests All Them Witches at Red Hat Amphitheater. This joint concert series promotes the bands' respective 2017 projects with experimental rock and progressive metal inspired songs.
Ledisi
May 24, The Ritz
A 12-time Grammy Award-nominated vocal powerhouse who has wowed fans ever since she came onto the scene, Ledisi's show is one not to miss. She's earned a place in the pantheon of the best soul singers of her generation, proving to put on a concert you'll never forget.
May 25, Red Hat Amphitheater
Featuring songs written throughout his two decade career, contemporary R&B artist Brian McKnight takes the stage at Red Hat Amphitheater. Sway to smooth tunes like the popular hit "Back At One."
May 25, Coastal Credit Union Music Park at Walnut Creek
As part of the Outlaw Music Festival, join country legends Willie Nelson, Sturgill Simpson and Alison Krauss, plus N.C.'s Delta Rae, at the Coastal Credit Union Music Park at Walnut Creek. Experience a wide range of iconic vocals from raspy "outlaw" tunes from Willie Nelson to the smooth, melodic voice of Alison Krauss. More artists TBA.
May 26, Coastal Credit Union Music Park at Walnut Creek
Platinum selling and Grammy Award-winning rapper Kendrick Lamar performs at the Coastal Union Park at Walnut Creek with SZA, ScHoolboy Q, Jay Rock, Ab-Soul, SiR, and Lance Skiiiwalker as part of Top Dawg Entertainment's TDE: The Championship Tour. Expect to hear songs from the widely-popular film "Black Panther" like "All the Stars" and "King's Dead."
May 26, PNC Arena
After a brief hiatus and solo projects, Jennifer Nettles and Kristian Bush are back as Sugarland, with all the fun hits fans love. Featuring a mix of country and rock, Sugarland visits PNC Arena this summer to play hits like their new song "Still the Same," which was an instant sensation, along with classics like "Stay" and "Stuck Like Glue."
May 30, The Ritz
Multi-platinum artist AWOLNATION joins The Ritz this May. Blending electronic and live instrumentals, expect to hear songs from their third studio album, "Here Come The Runts," which was just released in Feb. 2018.
June 5, PNC Arena
Teaming up once again, legendary rockers Def Leppard and Journey make a stop in Raleigh at PNC Arena for a massive tour. There's no doubt concertgoers will hear hits like "Pour Some Sugar On Me" and "Don't Stop Believin'."
June 7, Red Hat Amphitheater
With infectious singles like "Young Dumb & Broke," Grammy Award-nominated American singer Khalid heads to Red Hat Amphitheater for The Roxy Tour. The talented 20 year old will feature his cutting-edge music like "Love Lies" and "Location."
First Aid Kit, with Jade Bird
June 8, North Carolina Museum of Art
Thanks to Swedish sister duo Klara and Johanna Söderberg, "Swedish Folk Americana" is now an actual thing. They'll bring their soaring harmonies to Raleigh to open a season of can't-miss concerts at the North Carolina Museum of Art's Joseph M. Bryan Jr. Theater in the Museum Park. British singer-songwriter Jade Bird will open.
June 9, Coastal Credit Union Music Park at Walnut Creek
Mickey Hart, Bill Kreutzmann, John Mayer and Bob Weir with Oteil Burbridge and Jeff Chimenti take the stage at Coastal Credit Union Music Park at Walnut Creek. Performing two sets, expect to hear music drawing inspiration from the Dead's historic catalog of songs.
Triangle Psych Fest
June 9, The Pour House Music Hall
Triangle Psych Fest follows in the footprints being made across the country with other festivals such as Levitation, Chicago Psych Fest, Beach Goth Festival, Milwaukee Psych Fest, Moogfest and Hopscotch Music Festival. For years, bands of the underground circles have talked of setting up a collection of like-minded musicians in the area dedicated to the psychedelic music scene that has been flowing through the veins of the South since 1965. Featuring The Veldt, Heaven, Lacy Jags and much more!
June 14, Coastal Credit Union Music Park at Walnut Creek
Joan Jett & The Blackhearts and Styx will co-headline a North American tour with a visit to the Coastal Credit Union Music Park at Walnut Creek. Styx recently released a new album, "The Mission," marking their first LP since 2005. Alongside Joan Jett & The Blackhearts, this powerful line-up is the perfect show for classic rock 'n' roll lovers.
June 15, Red Hat Amphitheater
Paramore's 2018 After Laughter Summer Tour makes a stop at the Red Hat Amphitheater early on in the tour. This summer join the Nashville, Tenn.-based band as you dance to their angsty-pop tunes from their fifth album, "After Laughter" along with popular hits that topped charts like "Still Into You."
June 16, Red Hat Amphitheater
After a series of European show, Arctic Monkeys embark on their North American summer tour including a stop at downtown Raleigh's Red Hat Amphitheater. With influences from Franz Ferdinand, The Clash and The Strokes, Arctic Monkeys fuse indie rock and neo-punk to create danceable hits like "Why'd You Only Call Me When You're High?" and "Do I Wanna Know?"
Shovels and Rope, with Son Volt
June 16, North Carolina Museum of Art
The remarkable duo of Michael Trent and Cary Ann Hearst, who've built a national following with their blend of acoustic guitars, drums and vocals, formed Shovels and Rope in 2008—then they married each other in 2009 (talk about committing!). Their signature Americana sound will fill the air in the heart of the NCMA campus amid gardens, meadows, woodlands and sculptures.
June 16, Coastal Credit Union Music Park at Walnut Creek
Formed in Columbus, Ohio, American country trio Rascal Flatts join the Coastal Credit Union Music Park at Walnut Creek for an outdoor concert like none other. Known for their soothing harmonies and congenial lyrics, listen to chart-topping songs like "Life Is A Highway" and "Prayin' For Daylight."
The list doesn't stop there! Check out the full live music calendar, plus festivals coming up (most with live music!):

Header photo: Garrett Poulos
Comments