25 Things to Do at the N.C. State Fair This Year
Monday, October 02, 2017, 5pm by Tabletop Media Group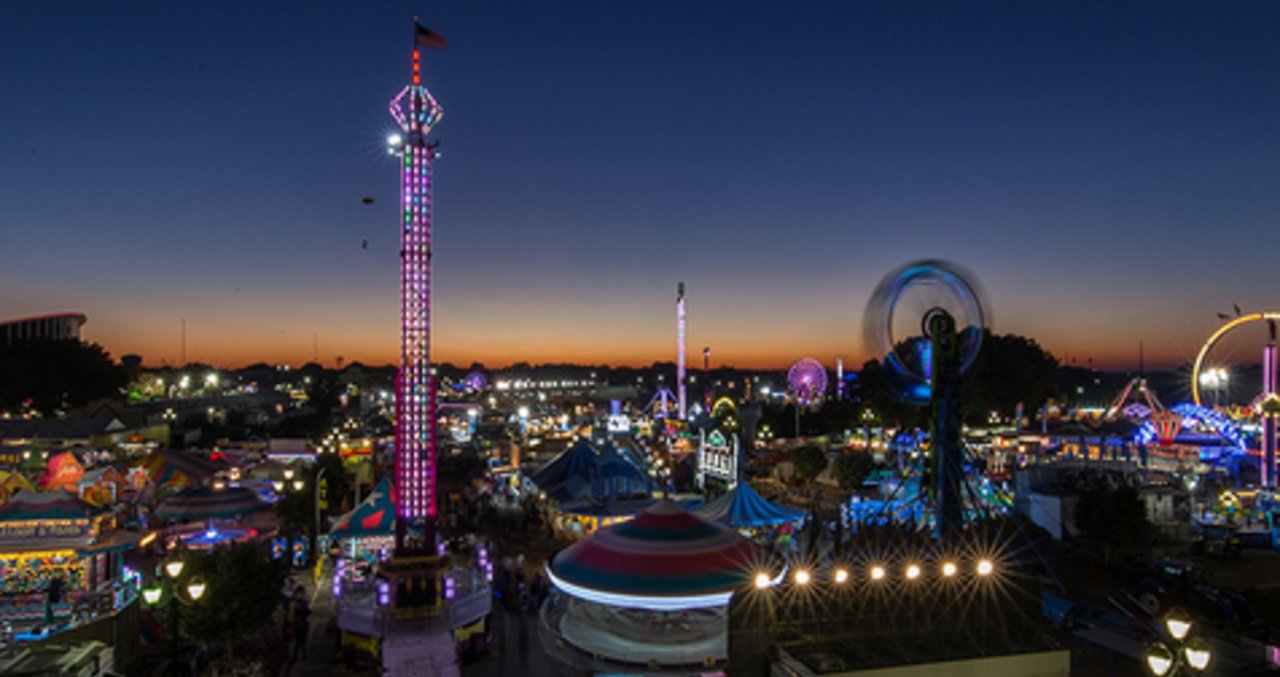 The deep-fried fun begins at the N.C. State Fair on Oct. 12 and runs through Oct. 22! While the schedules and map of the State Fairgrounds may seem overwhelming (so much food, so many rides, so many concerts, so little time), we have a list of 25 things for your Fair bucket list:
 
1. Take a ride on the State Fair Flyer, just added last year. Soar above the midway lights and traverse the carnival with your someone special sitting right beside you. Hop on at the west end "Orville Terminus" near the Kerr Scott Building down to Gate 8 via the "Wilbur Terminus." As you ride, take a peek below your feet to watch the magic unfold at the midway below.
2. Chow down on deep-fried sweets and candy bars. Find a plethora of vendors frying everything imaginable like Oreos, Snickers, Reese's cups, Twix and more. Make sure to get your candy bar topped with powdered sugar, and if you're feeling adventurous, ask for a chocolate syrup drizzle. And in addition to the deep-fried sweets, look out for Howling Cow Ice Cream's specialty Caramel Apple Crisp flavor made for the Fair!
3. Jam with live country music by Parmalee, hailing from The Tar Heel State, at Dorton Arena on Sat., Oct. 14. Their hit song "Carolina" will certainly strike a chord. The best part? The show is free! Get more ideas for artists to catch straight from Homegrown Music Fest concert curator Dave Rose of Deep South Entertainment, here, plus get more ideas for must-see shows below!
4. Order up a giant turkey leg! Weighing a pound and a half, it's hard to miss them on the midway.
5. Raise a glass to the Fair at the Our State Public House! For the first time in the history of the N.C. State Fair, N.C. beer and wine flights will be available for purchase from 40 local wineries and 40 local breweries. What a perfect way to wash down all of that deep-fried cookie dough!
6. End a great night by watching the stunning fireworks show. Every night of the Fair you can catch this magnificent display of lights, beginning at 9:45pm. 
7. Celebrate the 150th Kickoff of the N.C. State Fair on Thurs., Oct. 12. Admission is $1.50, and participating food vendors plan to offer $1.50 portions! This deal is unreal. Plan to arrive early; the gates open at 3pm.
8. Get unlimited rides! New this year, you can get an unlimited ride wristband to take in all the thrills you can handle. $25 online only through Oct. 12, and $35 online once the Fair begins or purchased at a midway ticket booth. Each wristband will be good for one day only, and wristbands don't include the State Fair Flyer. More details here.
9. Watch country music star Ronnie Milsap perform at the Dorton Arena on Mon., Oct. 16. One of country music's most popular and influential performers of the 1970s and 1980s, Ronnie takes the stage to serenade the crowd with his hits "Smoky Mountain Rain" and "Stranger In My House."
10. Try at least one unique funnel cake flavor. From Cheerwine to pumpkin spice, there's a flavor to please everyone that tastes quite nice! 
11. Discover food products from across N.C. at the Got to Be NC Agriculture exhibit. Food and products from Got to Be NC members will be available for fairgoers to taste and purchase. See the list of vendors, here!
12. Try one of the new Fair foods! Cheerwine Funnel Cake, Thanksgiving Eggrolls, Deep-Fried Pumpkin Pies and 25 other new foods are set for this year's Fair. Check out our list of more than 10 of the delicious treats, here.
13. Explore the Village of Yesteryear, one of the Fair's most popular and enduring attractions, featuring 75+ artists and crafters creating, displaying and selling time-honored handmade crafts. 
14. Steal a kiss on the Giant Parthenon Wheel. Best enjoyed in the evening, join your loved one for a ride around the Ferris wheel and take in the colorful lights from the midway below.
15. Throw it back to the mid-'90s and sing your heart out to "Sex and Candy" by Marcy Playground. Catch their performance on Thurs., Oct. 19, at Dorton Arena.
16. Dance the night away to the tunes from Chairmen of the Board. Inducted into the N.C. Music Hall of Fame in 1999, listen to award-winning songs like "Patches" and "(You've Got Me) Dangling on a String."
17. Get corny! Take your pick from one of the roasted corn vendors or snag a bag of kettle corn to save for later.
18. See it to believe it: The largest pumpkin and watermelon in N.C. Peruse the largest fruits and vegetables grown throughout the state.
19. Sway to acoustic funk-pop by Jump, Little Children. Formed at the N.C. School of the Arts, this band takes the stage at Dorton Arena on the last day of the Fair, Sun., Oct. 22.
20. Watch talented dancers and musicians at the Folk Festival every day of the Fair at 10am and 2pm in Dorton Arena. Dancers from across N.C. perform old-time bluegrass music to high-energy clogging and traditional square dancing as they compete for the coveted Bascom Lamar Lunsford Trophy.
21. Groove to live music from ZenSoFly on Fri., Oct. 20, at the Kitchen Craft Waterfall Stage. Mixing house, electronic, hip hop and more, ZenSoFly's beats and rhymes are playful and original.
22. Milk a cow and visit more than 60 animals at the State Fair Ark! You can see cattle, sheep, goats, swine and learn more about the various breeds of farm animals raised right here in N.C. Plus, try your hand at milking a cow with help from the North Carolina State University Animal Science Club.
23. Take a spin on the new rides! Additions to the 2017 ride line-up include Air Raid, F5, Fun Time Railroad and Dodgems Chop Shop. Don't forget all the staples from past years!
24. Challenge a friend at one of the many Fair games. Who will be crowned winner of the largest stuffed animal?
25. Track down the free entertainment like the Chinese Imperial Acrobats, Chicken Rider, International All-Star Circus, Circle "C" Racing Pigs and King BMX Stunt Show. Enjoy a selection of more than 20 performers from the Fair's lineup of entertainment.
Bonus! Stroll through the beautiful, picturesque Flower & Garden show. Relax on the giant Adirondack chair or pose with the signature mum tree for a classic photo opp.
Get even more ideas for things to do when you visit the Fair at their website, listing all the can't-miss fun. And don't forget to tag your Fair photos with #visitRaleigh, so we can share!
Comments