30 Top Picks for Your Spring Bucket List in Raleigh, N.C.
Wednesday, March 06, 2019, 1pm by Michael Robson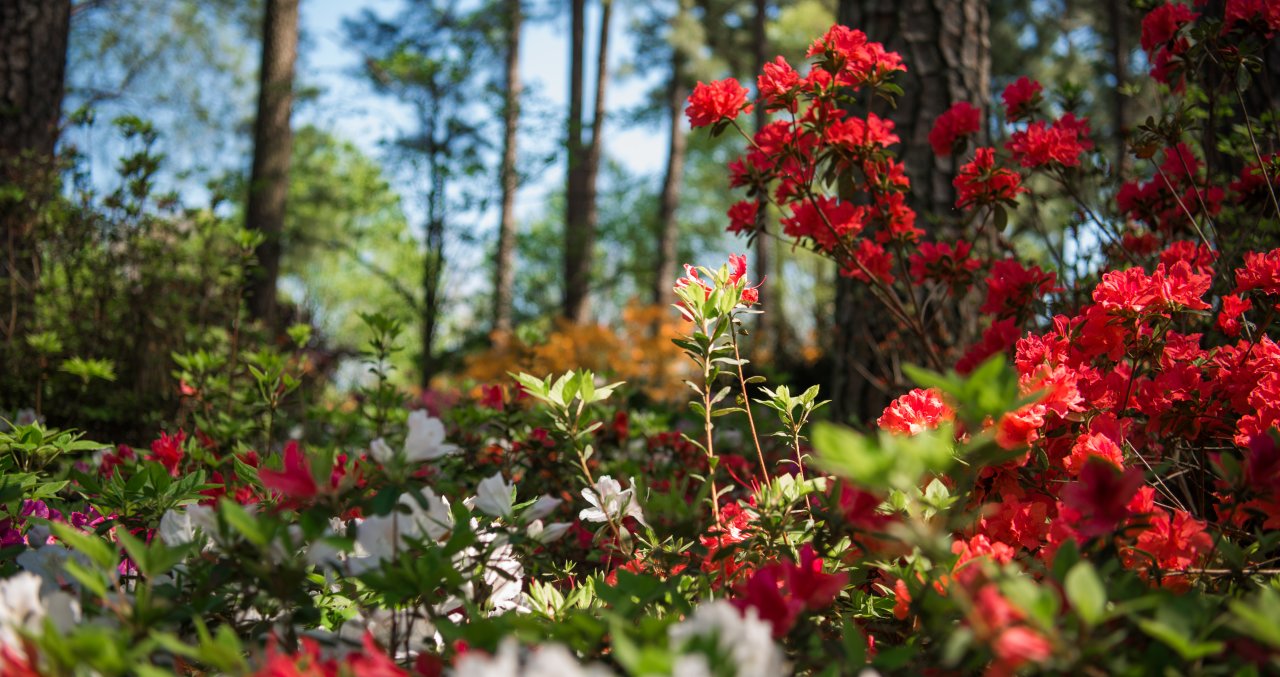 Roll call! Who's ready for beer festivals, outdoor concerts and food truck rodeos? We've got big plans this spring in Raleigh, N.C.! To jump-start these warm-weather months we've put together this list of 30 items for your spring bucket list, perfect for planning a trip to the Raleigh area with friends and family. Need more inspiration? Follow us on Instagram or give us a shout on Twitter—we're here to help!
1. Grab your tickets (quickly!) for the second year of Thrive NC (5/9-10), a two-day food and drink festival in downtown Raleigh's City Market that features 60 of the area's best restaurants serving unlimited food and drink samples (plus live entertainment, chef demonstrations and more). Ashley Christensen, Cheetie Kumar, Vivian Howard, Sam Jones, Teddy Diggs, Andrea Reusing and other top chefs from Raleigh and N.C. will all be there!
2. Grab your drinking buddies and head to Brewgaloo (4/26-27)—N.C.'s largest craft beer festival, featuring 100 breweries, 50 food trucks and drawing 30,000 people—which takes over downtown Raleigh for two days each April. The festival, with free admission on Sat. (so bring plenty of friends!), allows you to purchase either beer samples or full pints from breweries located across the state. In March of this year, Brewgaloo was nominated as one of the top 10 beer festivals in America!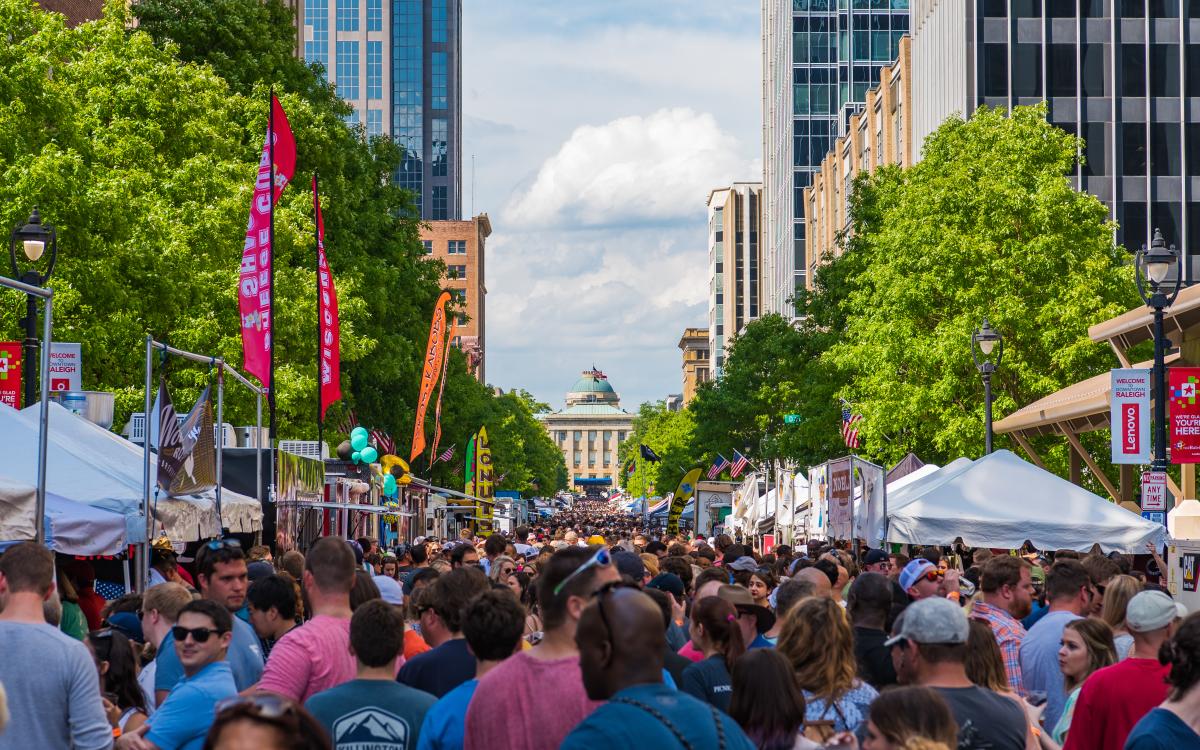 3. Get in on the action at Animazement (5/24-26), a three-day Japanese animation and culture celebration over Memorial Day weekend that draws 15,000 attendees to the Raleigh Convention Center.
4. Gear up for another huge season of outdoor concerts—scoop up your tickets for Dreamville Festival (4/6), Zac Brown Band (4/13), Rainbow Kitten Surprise (4/27), Tash Sultana (5/4), Bryan Adams (5/12), Hootie & The Blowfish (5/31), Florence and the Machine (6/5), Anderson .Paak & The Free Nationals (6/6), Lake Street Dive & The Wood Brothers (6/7) and plenty more!
5. Hurry over to Raleigh's massive new foodie attraction, Transfer Co. Food Hall, a food hall and market housed in a 43,000-square-foot renovated warehouse in downtown Raleigh's Olde East neighborhood. Oysters, bagels, ice cream cookie sandwiches, empanadas and more all under one roof? Yes, please!

6. Spend a night out at two legendary date spots, Irregardless Café and Goodnights Comedy Club (just steps from each other!). Chef Arthur Gordon's Irregardless Café is one of Raleigh's oldest restaurants, serving an incredibly-loyal customer base—and supplying live jazz music on a nightly basis—since 1975. Goodnights Comedy Club provides the laugh-out-loud fun, having played host to a who's who of stand-up comics over the last 30 years. Pro tip: Make an early reservation at Irregardless, and plan to be at Goodnights no later than one hour before showtime!
7. Take a trip to downtown Garner, where you'll find this gorgeous mural—titled "Life in Bloom"—by local artist Sean Kernick. The mural is located on the side of Full Bloom Coffee and Craft Cafe (itself an A+ reason for visiting downtown Garner!) at 141 W. Main St.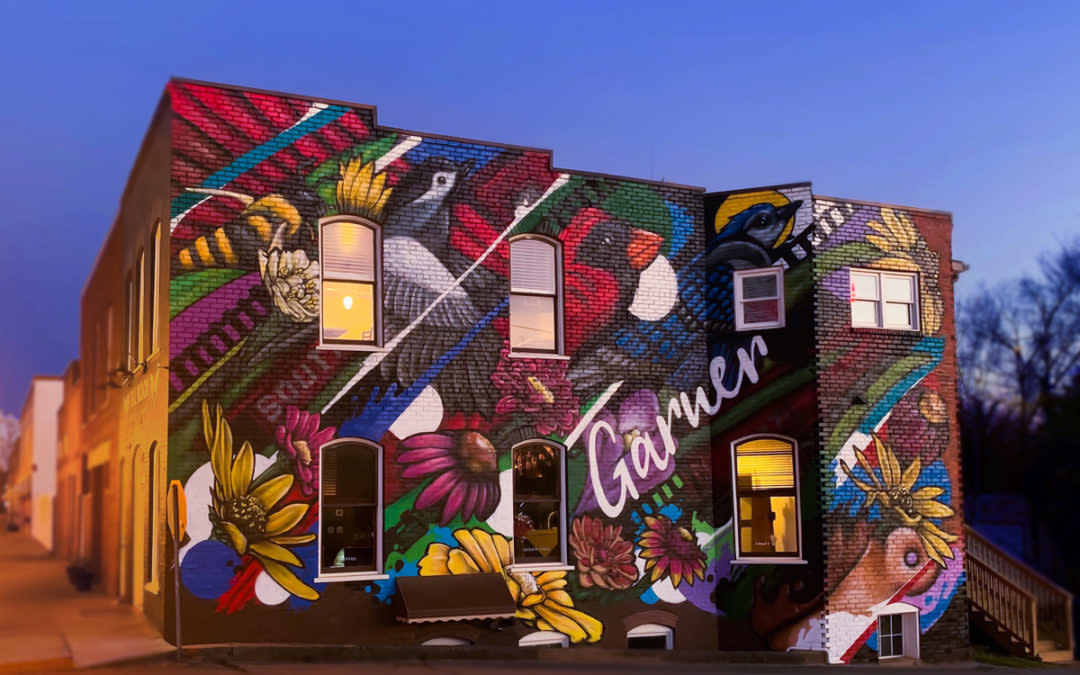 8. Plan ahead for a jam-packed day of drool-worthy barbecue from The Pit, plenty of local brews and toe-tappin' bluegrass music at the 11th annual North Carolina 'Cuegrass Festival in downtown Raleigh's Warehouse District. Live music from Kate Rhudy, Hank, Pattie & The Current, Jon Beyle and more! 
9. Escape the bustle of the city and explore the Raleigh area's 180 miles of greenways, starting with a 27.5-mile paved path that many consider to be the gem of the Capital Area Greenway System. The Neuse River Greenway Trail—an uninterrupted greenway that stretches from Falls Lake State Recreational Area in North Raleigh (where you can rent a bike from The Bike Guy) to the Wake County line in southeast Raleigh—connects to beautiful parks, crosses suspension bridges and travels through wetlands and agricultural fields as it runs down the eastern edge of the city.
10. Grab a happy hour drink at a not-so-common spot—underground at a 1920s speakeasy, behind a bookshelf at "one of the world's most secretive bars" or on the rooftop of a hotel that provides far-reaching views. Check out our guide to rooftop, hidden and underground bars here!

11. Swing by the always-free North Carolina Museum of History in downtown Raleigh for a final chance to explore the work of N.C. artist Ernie Barnes, a Durham, N.C., native best known for his widely-imitated, unique style of elongation, energy and movement that made him one of the premier figurative artists of the late 20th and early 21st centuries. The exhibit, titled "The North Carolina Roots of Artist Ernie Barnes" showcases many unpublished original paintings as well as artifacts from his life. Due to popular demand, the exhibit has been extended through May 27!
12. Celebrate fine visual art and live music at one of the Southeast's premier art festivals, Artsplosure - The Raleigh Arts Festival (5/18-19), which has attracted more than 80,000 people annually to downtown Raleigh during the third weekend of May since 1980. More than 180 artists' work, using countless mediums, is on display for all to see during the free event.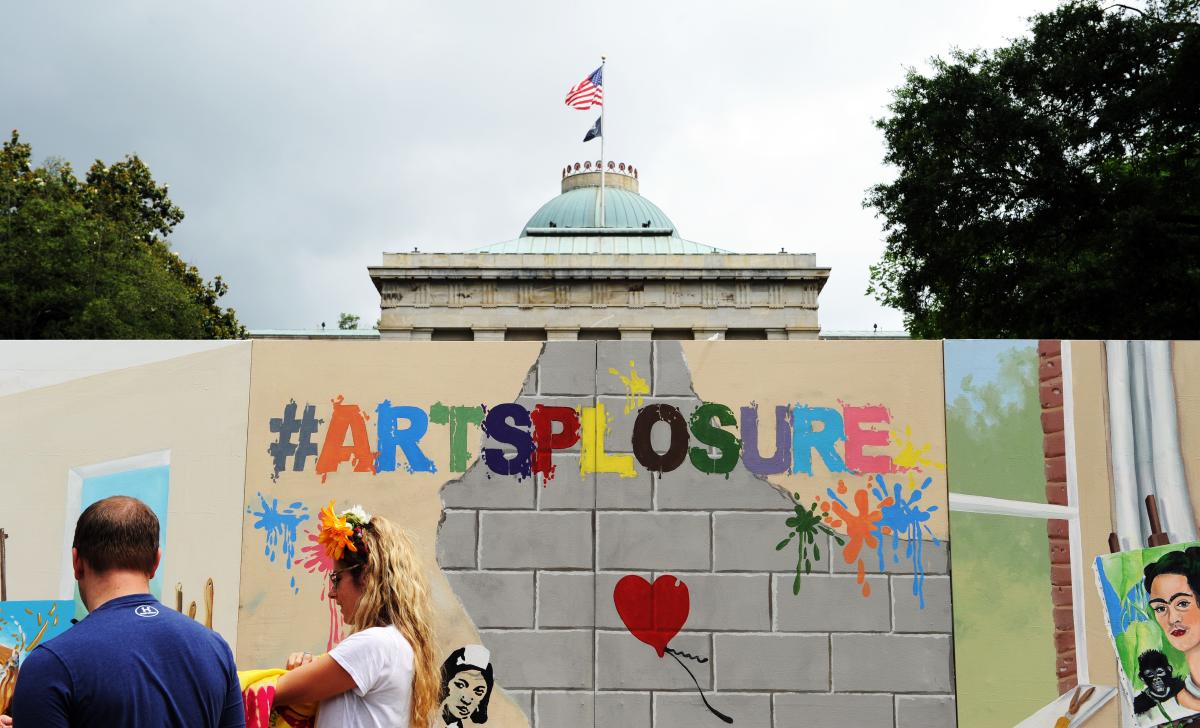 13. Hone your racing skills at speeds of nearly 40 mph at the state-of-the-art indoor go-kart track at Rush Hour Karting in Garner—kids ages eight years old and up can get in on the action, too, and reservations can be made for groups of five or more in advance. Go, go, go!
14. Score a table at Big Ed's City Market Restaurant—founded by legendary Southern restaurateur "Big Ed" Watkins—where farm-fresh country breakfast is served all-day long (and the complimentary biscuits are to die for!).
15. Hitch a ride on Citrix Cycle, a bikeshare program that launched in March 2019 that allows riders to grab a short-term bicycle rental from any of 30 docking stations located in and around downtown Raleigh (for as little as $2 for a 45 minute ride!). You can ride farther, faster and up more hills (without breaking a sweat!) with these snazzy red bikes—approximately 200 of the 300 total bikes are electric assist, meaning you'll get a smooth boost from a battery powered motor as you pedal!

16. Explore more than 30,000 square feet of fresh vegetables, produce, flowers and specialty goods at the State Farmers Market Raleigh (open seven days a week—strawberry season is mid-April to mid-June!), plus even more farmers' markets throughout the area.
17. Stroll through JC Raulston Arboretum at North Carolina State University—a free, nationally-acclaimed garden with tons of fun spots to explore—or get lost in the Raleigh Municipal Rose Garden, where more than 1,200 roses of 60 different varieties decorate the grounds (blooming typically begins in late May). 
18. Make Monday a fun-day by heading to Trophy Brewing Company, the wildly-popular good beer, good pizza (and great people) spot in downtown Raleigh, for Motor City Mondays—Detroit-style pizzas served with your choice of plenty of brewed-in-house beers on tap. You'll also find secretly some of the best desserts in town while you're there!
19. Treat yourself in the best way possible with a weekend getaway at one of Raleigh area's most relaxing retreats. Check into Guest House Raleigh, a historic, eight-room boutique hotel that a husband-and-wife team saved from demolition and relocated to its current location in 2017 (where a backyard courtyard, skyline views and more await!). Or, settle in at The Umstead Hotel and Spa, a AAA Five-Diamond property in Cary that has a spa and restaurant on-site that live up to the hype. Need more ideas? We've got 'em!
20. Barbecue. Barbeque. Bar-b-que. BBQ. No matter how you spell it, we can all agree on one thing: with a plate of 'cue in hand, all is right in the world. That's why we put together this guide to barbecue in Raleigh, N.C. Read up on 10 of our favorite spots for pulled pork sandwiches, hush puppies, banana pudding and more, then let the taste-testing begin! A good place to start? Brew N Que, with locations in both Apex and Cary, where the chopped pork pairs incredibly well with an extra-gooey smoked potato salad that's earned bunches of rave reviews.

21. Giddy-up for another round of Downtown Raleigh Food Truck Rodeos (5/5 and 6/9)! A half-mile of food trucks—lobster rolls, BBQ sandwiches, ice cream sundaes and way more—invade downtown Raleigh. Read our tips on what to know before you go!
22. Celebrate 140 years of natural history at the North Carolina Museum of Natural Sciences, annually ranked as the most-visited attraction in the state, by visiting the downtown Raleigh museum whose roots reach back to 1879. While you're there, visit the Terror of the South diorama, where you'll find Acro, a Cretaceous carnivore whose attack on a herd of plant-eating dinosaurs was captured in prehistoric mud. This "high-spined lizard" is the most complete Acrocanthosaurus skeleton ever found, and the only real Acro skeleton on display in the world!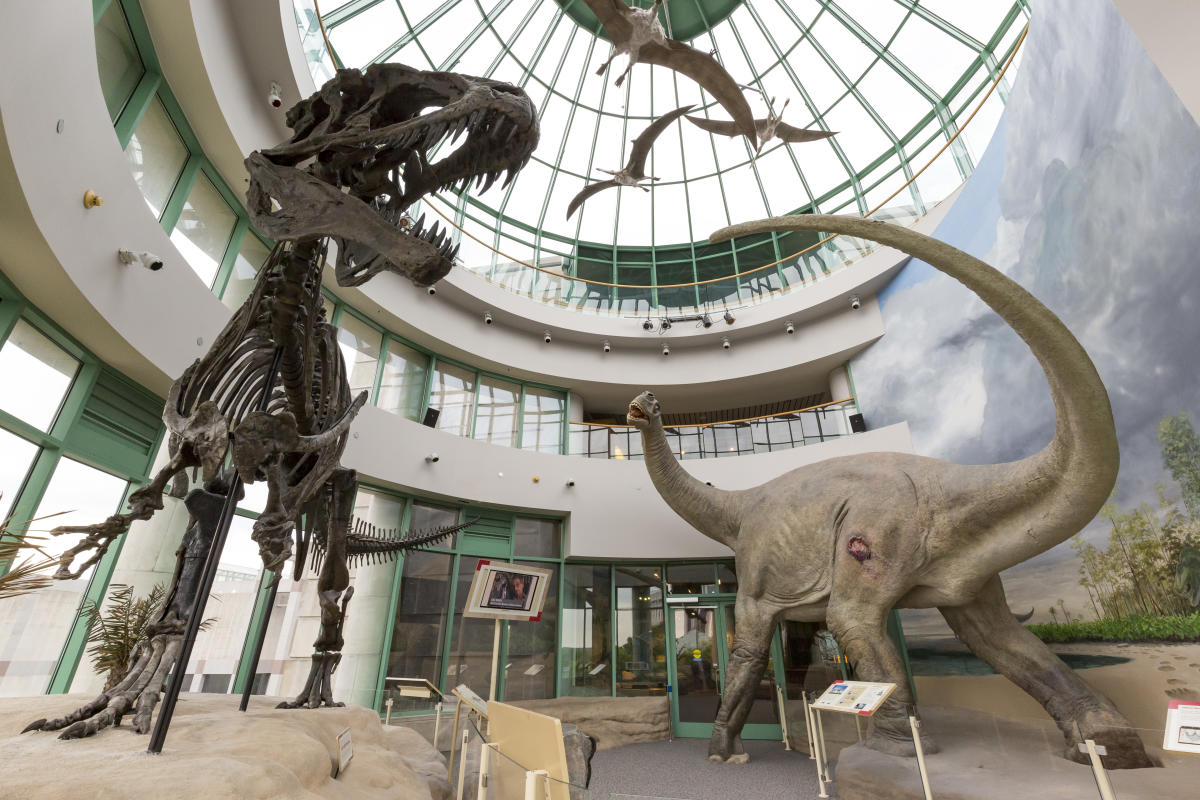 23. Don't miss out on seeing one of the most popular ballet stories of all time as Carolina Ballet closes out their 21st season in Raleigh with Swan Lake (5/16-19), an enchanting fairy tale that tells the story of a beautiful swan princess cursed to live as a swan until she can find true love. Set to one of Tchaikovsky's greatest scores, music for this performance will be played live by The Chamber Orchestra of the Triangle.
24. Tackle the toughest food challenges the City of Oaks has to offer, including a dozen wings that the menu at Aviator SmokeHouse describes as "very, very, very, very, very, very hot," and a burger/barbecue/fries/sweet tea behemoth at Backyard Bistro that could earn you a spot on the restaurant's wall of fame. Warning: Stuff yourself silly at your own risk! 
25. Immerse yourself in artist Yayoi Kusama's Light of Life, a brilliant infinity experience at the North Carolina Museum of Art. A mirrored hexagonal box measuring more than seven feet square and seven feet tall, the work is lined with mirrors and filled with LED lights that are programmed to change patterns and colors in a dazzling two-minute light show. The piece, which drew long lines during its debut as part of a ticketed exhibit in 2018, is now free to see as part of the museum's permanent collection!

26. Help cheer on North Carolina Football Club as they kick off their second season as part of the men's professional United Soccer League (USL), as well as the North Carolina Courage—defending champions of the National Women's Soccer League (NWSL)—both of whom play home games in front of loyal crowds at WakeMed Soccer Park in Cary. 
27. Join in on the fun at the ninth annual Out! Raleigh festival (5/4), an inclusive and action-packed event that draws nearly 50,000 people to celebrate the LGBT community and raise funds to support the LGBT Center of Raleigh. Live entertainment, local vendors and artists, great food and kids' activities line downtown Raleigh's Fayetteville St.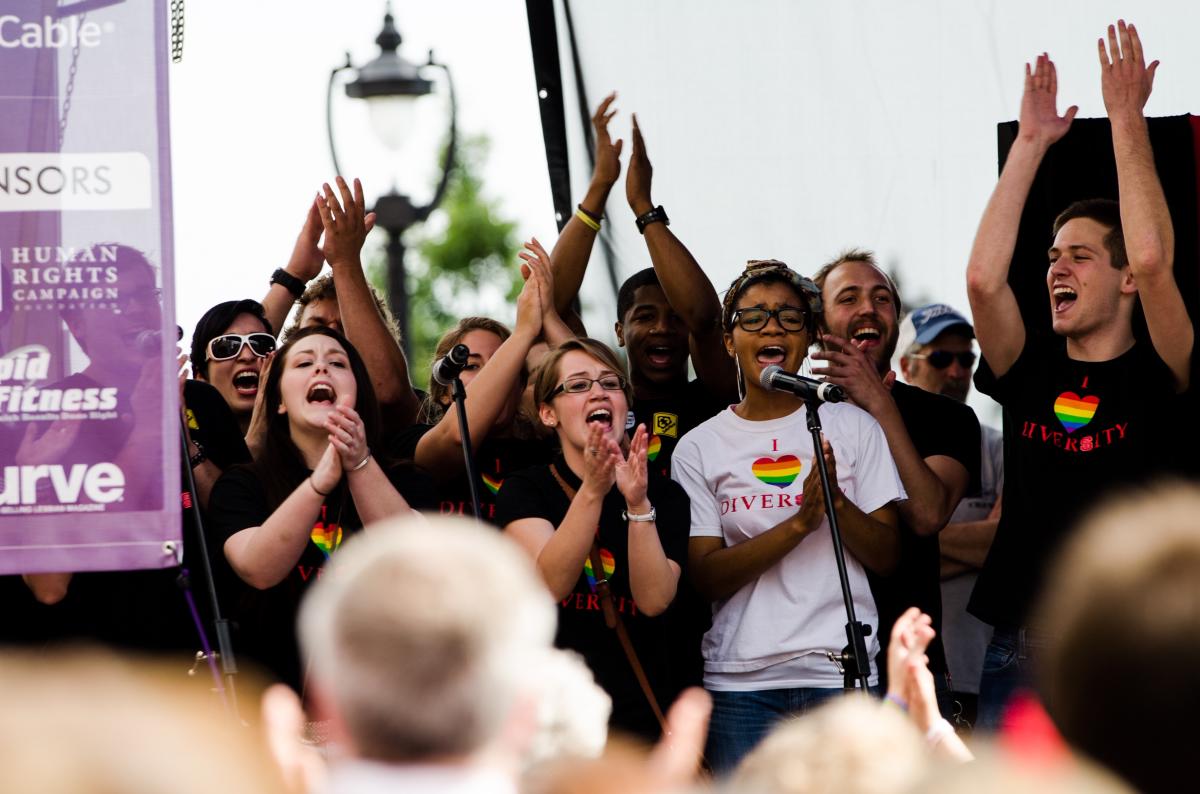 28. Cheers to 10 years of craft beer as passionate mind Sumit Vohra's Lonerider Brewing Company celebrates an amazing decade in Raleigh at their 10th anniversary celebration at The Hideout (4/14)—featuring live music, food trucks and behind-the-scenes brewery tours—plus line up for these other big-time beer festivals: Casks on Fools (3/31) and Mid-Town Square Spring Festival in Cary (4/13).
29. Put your running shoes on and attack The Top of the Hill Trail at Green Hills County Park, a short, steep and rocky climb (almost 200 feet of elevation are gained in just under a tenth of a mile), rewarded with a 360-degree view of Wake County that can't be found anywhere else. On a clear day you'll be able to see the downtown Raleigh skyline in the distance (nearly 10 miles away!). For more running, biking and hiking spots, check out this list!
30. Dig into some of the best food in Raleigh (from the best chefs in Raleigh!). Four culinary superstars were just honored by the James Beard Foundation with semifinalist nominations for the 2019 James Beard Awards (the "Oscars of the food world")—Ashley Christensen (of Poole's Diner and more), Cheetie Kumar (Garland), Steven Devereaux Green (Herons at The Umstead Hotel and Spa) and Oscar Diaz (The Cortez). Read up on why these chefs are among the best of the best, here!
Red Hat Amphitheater photo, Garrett Poulos; Garner mural photo courtesy of Town of Garner; Artsplosure photo, Chris Richman; Raleigh Municipal Rose Garden photo, Brian Magee; North Carolina Museum of Natural Sciences photo, Karen Swain
Comments