8 Things You Need to Know: NCAA 2014 Men's College Cup
Thursday, December 11, 2014, 7am by Greater Raleigh Sports Alliance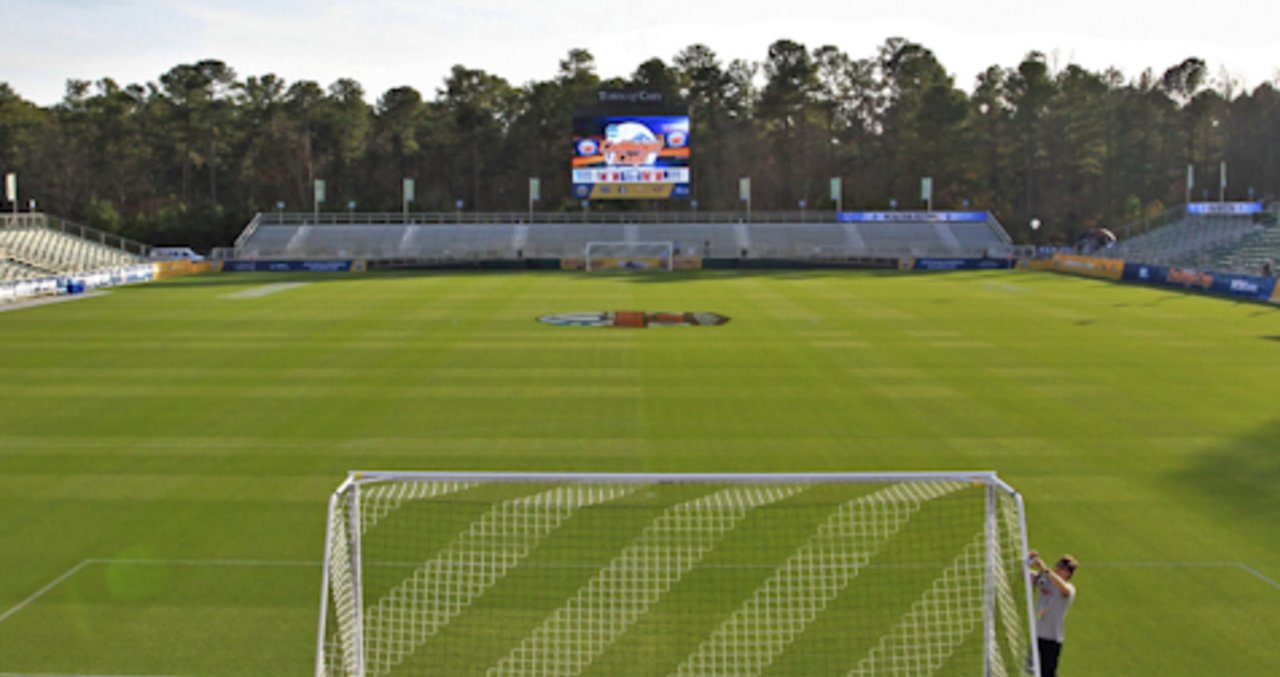 This weekend Greater Raleigh once again takes center stage of the collegiate and amateur soccer world when the NCAA Men's College Cup returns to WakeMed Soccer Park in Cary. Four teams—University of California, Los Angeles (UCLA), University of Maryland, Baltimore County (UMBC), Providence College and the University of Virginia (UVA)—will square off to decide the 2014 NCAA Champion. Two national semifinal games will be played Fri. evening with the championship game on Sun. Here's everything you need to know:
1. Matchups and game times:
Fri., Dec. 12 | 5pm: UMBC vs. UVA (TV: ESPNU)
Fri., Dec. 12 | 7:30pm: UCLA vs. Providence (TV: ESPNU)
Sun., Dec. 14 | Noon: Game 1 winner vs. Game 2 winner (TV: ESPNU)
See the full tournament bracket at NCAA.com/collegecup.
2. Tickets:
Tickets can be purchased for the semifinal games ($30 for both games), the championship game ($20) or as an all-session pass ($43) HERE. Tickets are general admission and include parking fees. Print your tickets at home or have them waiting for you at will-call. Plan ahead and arrive early. Ticketing is being run by Campbell University, the official host institution of the 2014 Men's College Cup.
3. Powerhouses:
UCLA and Virginia both sit inside the top five for all NCAA DI programs for most NCAA Tournament and College Cup appearances. UCLA, a four-time National Champion, is participating in their 32nd straight NCAA Tournament (42 appearances overall), along with making their 14th College Cup. Six-time National Champion Virginia has reached their 12th College Cup (and second straight) in their 36th NCAA Tournament. UCLA is the tournament's number two seed; Virginia is the number 16 seed.
4. Cinderellas:
This UMBC squad has reached a place no team at their university has gone before—the Final Four. The unseeded Retrievers, who have won four games in a row in four different stadiums, are yet to allow a goal in 400 minutes of play in the NCAA Tournament. UMBC is no stranger to competition, however, as this is their fourth NCAA Tournament appearance in the last five seasons.
Providence, this year's Big East Champion (the program's first), had never reached the third round of the NCAA Tournament before this season. Now the unseeded Friars find themselves just one win away from playing for the national title. The team's 15 wins this season is the most in program history.
5. Visitor Info:
The Greater Raleigh Convention and Visitors Bureau set up a website for visitors at visitRaleigh.com/CollegeCup. On this page you'll find:
Calendar of events across the area for this weekend
Accommodation info
Restaurants in the area
Area maps
and more
Visitors can also view the online version of the Official Visitors Guide to Raleigh, Cary and Wake County. While you're in the area, stop by the Visitor Information Center in downtown Raleigh to find out more about the area and receive personalized recommendations for your stay.
Have questions while on the go? Tweet @visitRaleigh with any of your needs!
6. Fan Festival:
The Fan Festival will keep fans entertained before games on Fri. and Sun., located behind sections 109 and 110. The festival will open at 3pm on Fri. and 10am on Sun. The festival will include interactive games, face painters, concessions, merchandise and more. Tickets are required to access the fan festival.
7. A History of College Cups:
This year will mark the 10th College Cup (4th Men's) to be hosted by the Town of Cary and WakeMed Soccer Park since 2003. Either a Men's or Women's College Cup was held in Cary from 2003 to 2010, and again in 2013. Next December, the women will return to Cary to crown another national champion.
8. Stay Connected
Want to keep up with the NCAA College Cup while in town (or watching from home)? Follow along on Twitter and Instagram (and post your tweets and photos) using the hashtag #CollegeCup, and make sure to follow the teams on Twitter: @UCLAMSoccer, @UVAMenSoccer, @PVDMensSoccer and @UMBCMensSoccer
As always, follow and tweet to @visitRaleigh for information on the Greater Raleigh and Cary areas.
Comments