A Look at Raleigh Restaurant Institutions with Irregardless Café's Arthur Gordon
Wednesday, January 25, 2017, 5am by visitRaleigh
Raleigh, N.C.'s independent restaurant scene has come a long way since the '70s, the decade in which chef Arthur Gordon opened the destination's first vegetarian restaurant, Irregardless Café. Throughout the years, especially in the past five, Raleigh has come to boast a vast collection of locally-owned restaurants, with a number of them getting attention from national publications. "Raleigh has definitely come of age. We have really good entrepreneurs," says Arthur.
And as the number of great restaurants grows and new places open and thrive, there's still a selection of decades-old restaurants that are beloved by locals and visitors—staples in the dining scene that have stood the test of time—Arthur's Irregardless Café being one.
We chatted with Arthur about Irregardless, and also got his rundown on other must-try dining institutions in Raleigh.
Irregardless Café
If you're familiar with Raleigh's restaurant scene, it's likely you've enjoyed or heard about Irregardless Café. You may know that the restaurant was the first in Raleigh to serve brunch. You may know that in 2012 Arthur took the restaurant to a new level by cultivating a one-and-a-half-acre garden to feed the restaurant and its catering business arm and to serve the community. You may know that the restaurant ups your experience by offering some of the best live bluegrass, traditional roots, folk and jazz in the area. You may also know that the restaurant just turned 40 in 2015, and Arthur received the N.C. Order of the Long Leaf Pine award, an incredible honor.
"By definition, 42 years later means that we have followed up with the goods and, if anything, we are bigger and better than we've ever been....The fact that we have stood the test of time means that we're on to something," Arthur says humbly.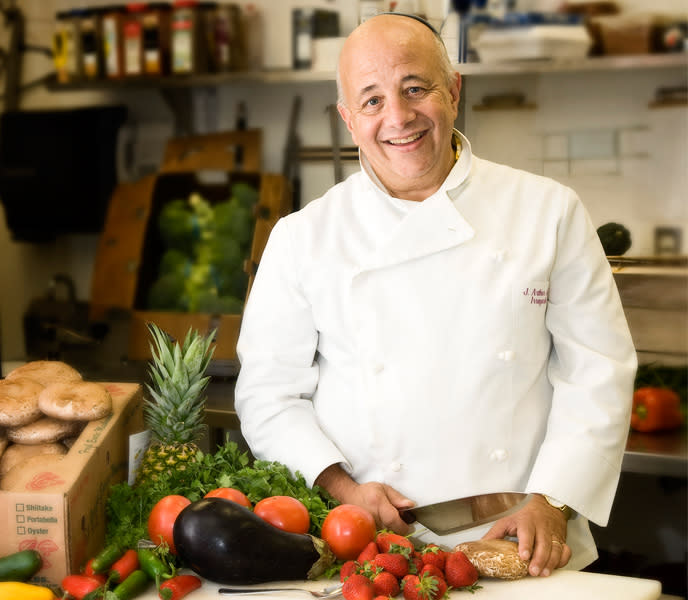 The Portobello Stack (potato cake and portobello mushrooms stacked on a bed of sautéed arugula, carrots and beet), the Morgan Street Chicken (fresh breast of chicken marinated in "Irregardless" lemon tahini dressing, coated with crushed cashews and panko crumbs) and the rest of the delicious, fresh menu are just the beginning of what makes the restaurant unforgettable.
Mentioned above, you can also tune into great live music, plus feel instantly at home with the laid-back, cozy vibe and, overall, feel good about the food you're eating—Arthur strongly believes in fresh, local food sources, with attention on quality down to the soil the produce is grown in. "I have a holistic approach as I'm as equally concerned with the farmer and the quality of the soil because we need the minerals and the vitamins in the soil."
If you're looking to try Raleigh's culinary institutions, you can't miss Irregardless Café. And Arthur also highly recommends these places!
A restaurant impressing foodies for more than 50 years, Angus Barn is better than ever. Foodies will want to order one of the famed beef options or other traditional specialties (including its famous Chocolate Chess Pie), and there's even more—order a cocktail in the Wild Turkey Lounge, dine at the "Chef's Table" in the kitchen or dine in the Wine Cellar (including pairings from the sommelier).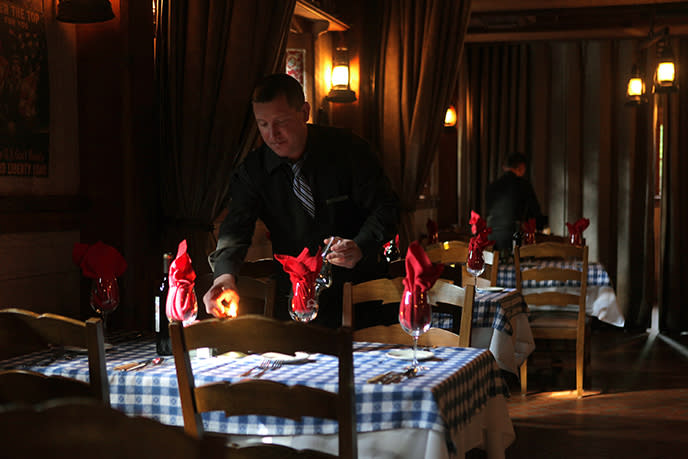 Downtown's Mecca Restaurant has been a Raleigh institution for more than 80 years, operated by the third generation of the Dombalis family—it's the city's oldest family-run restaurant. City movers and shakers, other locals and visitors-in-the-know all head to Mecca for made-from-scratch biscuits for breakfast, fried chicken, friendly helpings of food and service and other classic diner delights.
N.C. is known for its barbecue, and the Raleigh area doesn't disappoint, thanks to places like Clyde Cooper's BBQ. Since 1938, this classic downtown "Q" joint has been offering up Easter Carolina-style barbecue. They slow-cook only top lean pork shoulders and hams until they're melt-in-your-mouth tender, adding their own sauce and a healthy serving of sides (cole slaw, boiled potatoes, potato salad, veggies, stew and more). Don't forget the hush puppies!
Celebrating its 40th anniversary this year, the secret to Neomonde's success lies deeply rooted in tradition and family. For the Saleh family, who immigrated to the U.S. in the '70s and founded Neomonde, uncompromising commitment to excellence is a sacred ideal. Every dish on Neomonde's traditional Lebanese/Mediterranean menu is prepared using simple, natural ingredients of the finest variety, prepared in strict accordance with traditional methods. The result: A truly distinctive level of authenticity. Try the falafel, made of delicious, healthy ingredients (chickpeas, herbs and served with Lebanese pickles and turnips!).
Opened by "Amedeo" Richard DeAngelis in 1963 to serve his family's recipes, this Italian restaurant is a North Carolina State University (NCSU) favorite. Even under new ownership and leadership, the old-school vibe has been kept intact. The NCSU sports "museum," with all sorts of Wolfpack memorabilia is a fan-favorite feature. On the menu, their lasagna is a must!
The Roast Grill is another only-in-Raleigh institution. Founded in 1940 by George and Mary Charles and now owned and operated by George Poniros, The Roast Grill pretty much serves one thing—grill-blackened Southern-style hot dogs. The wieners come topped with mustard, chili, onions and slaw. They don't have—or need—ketchup, relish, mayonnaise, cheese, French fries or chips. Sodas are available and served in bottles, the old-fashioned way.
Angus Barn photo: Ted Richardson
Comments