An Oyster Renaissance in Raleigh, N.C.
Monday, July 15, 2019, 4pm by visitRaleigh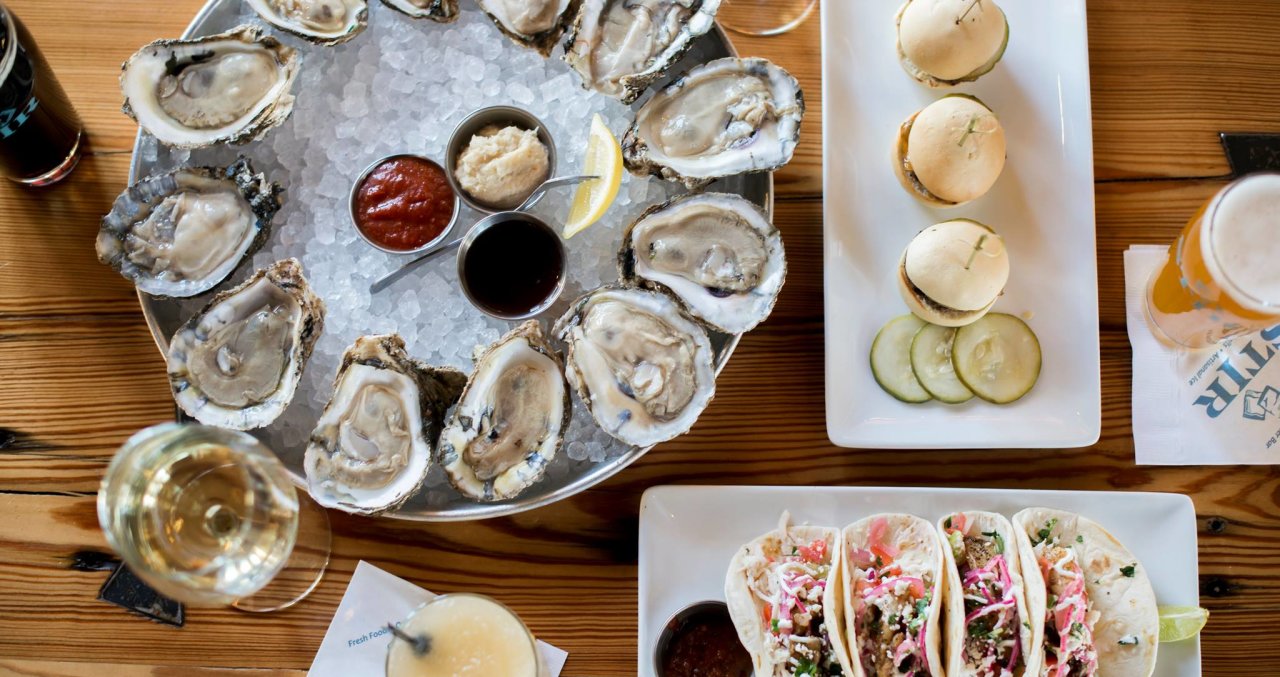 For those who can't get enough of those delicious, briny bivalves, we have great news—there's an oyster renaissance happening in Raleigh, N.C.! Among the abundance of new culinary hot spots recently opened, several have made fresh oysters a centerpiece of their menu offerings. Check out these exciting restaurants—some brand new and some well-established—all devoted to providing an authentic and innovative dining experience with skill, passion and, of course, the freshest oysters possible.
 
Oscar Diaz, a 2019 James Beard nominee for Best Chef: Southeast, helped open The Cortez in 2017, a fresh seafood and cocktail restaurant housed in a gorgeous space in downtown Raleigh's Glenwood South district. The Cortez features freshly-prepared seafood with a globalized pantry, working with local purveyors and fisherman to source responsibly-caught and -raised products and offer a rotating selection of fresh oysters obtained both locally and nationally.
St. Roch owner/chef Sunny Gerhart gained a superb reputation as the right-hand man to James Beard Award-winning chef Ashley Christensen for more than two decades. St. Roch serves flawlessly-fresh and expertly-shucked oysters with an exuberant array of accompaniments: cocktail sauce, lemon wedge, mignonette, pickled banana peppers and fried saltines (yes, fried saltines—you've gotta try it!). 
An establishment that's been serving fresh oysters since 1931 must be doing something right. 42nd St. Oyster Bar, one of the South's most famous landmark restaurants, brings fresh oysters to your table any way you like 'em. Their mantra is "seafood any fresher would still be in the ocean." This is old-school Raleigh and a taste of tradition you shouldn't miss!
One of the main attractions at Transfer Co. Food Hall, Locals Oyster Bar is a taste of the coastline in the middle of landlocked Raleigh. Mindful of the Tar Heel State's bountiful, seafood-rich coastline, the restaurant celebrates this heritage by focusing on the state's cultivated and wild oysters. The tides, season and weather will determine which oysters the bar shucks on any given night. The cocktails, from the gurus behind Person Street Bar, offer a perfect pairing.
Death & Taxes, a wood-fired restaurant from Ashley Christensen that was named one of America's best new restaurants in 2016, serves up perfectly-roasted and -seasoned oysters from their custom-built grill. A constantly-changing menu of seasonal, fresh selections is perfect for sharing with friends and family (so try as many dishes as possible, and don't skip dessert!).
At Stanbury—considered by many to be one of the area's best restaurants—dishes are inspired by the day's offerings, reflecting seasonal availability and highlighting our region's local agriculture producers. Oysters are a mainstay and always prepared fresh and uncomplicated. From Pamlico, N.C., to Blue Point, New York, to the Puget Sound, Washington, you'll likely discover a new variety each time you visit.
Sean Fowler was a chef at the AAA 5 Diamond, Fearrington House, in Pittsboro, N.C., before returning to his boyhood stomping grounds in historic Five Points to open his first restaurant, Mandolin (named one of America's best Southern restaurants in 2018!). One of the most popular items on the menu are newly-harvested Carolina oysters on the half shell. These mouth-watering morsels are served up with a delicious house cocktail sauce and a mignonette hot sauce.
If you're looking for a comfortable spot to enjoy some freshly shucked oysters, then The Full Moon Oyster Bar in Morrisville is the place to visit. The shuckers behind the bar are always incredibly friendly and will even shuck your oysters right in front of you. Like the traditional steam houses on the N.C. coast, Full Moon knows fresh oysters are best prepared using hot steam to preserve the briny freshness we love.
The newly-opened STIR in North Hills boasts an incredible signature raw bar and serves up some of the freshest oysters available. No matter how you like your oysters—raw, steamed, char-broiled, Rockefeller or Casino—you'll discover a feast of options that will satisfy your oyster jones.
Another recent addition to the culinary seafood scene is Cape Fear Seafood Company, having opened a Raleigh location after successfully operating on the N.C. coast for years. If you prefer your oysters fried, then Cape Fear Seafood Company will not disappoint. The oysters are carefully prepared and served with an abundance of Southern hospitality.
Foodie events ahead in Raleigh, N.C.
Beer, Bourbon & BBQ Festival, Aug. 2-3
Beericana Craft Beer and Music Festival, Oct. 12
NC Wine, Cheese & Chocolate Festival, Oct. 12
2019 N.C. State Fair, Oct. 17-27
North Carolina Wine Festival, Oct. 26
Comments