10+ Spring Beer Events in Raleigh, N.C.: Beer Month Celebrations and Beyond
Friday, March 23, 2018, 5pm by visitRaleigh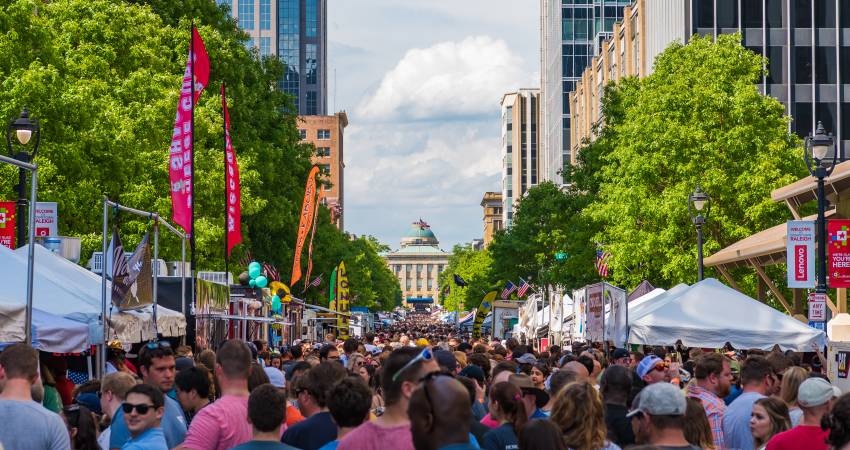 The Spring season in the Raleigh area means big beer festivals, beer dinners and all sorts of celebrations at 25+ breweries—lots of chances to experience the best of our beer scene!
The fun starts in March and leads into April's Beer Month in Raleigh (in celebration of N.C. Beer Month!) when area breweries, bottle shops and restaurants go all out to give you even more reasons to raise your glass to local beer. Beer celebrations continue in May with more beer festivals and events.
Beautiful spring weather and delicious local brews have proved to be a winning combination in the Raleigh area, and spring beer events have become a staple in the City of Oaks. Any day is a good day to drink in the excitement of the local beer scene, but these are the happenings you need to know about this season.
 
Casks on Fools
Sat., March 31, in downtown Raleigh
The 5th annual kick-off party for Beer Month celebrations, Casks on Fools at Crank Arm Brewing features truly-unique casks from more than 20 N.C.-based breweries—we're talking everything from mango habanero IPAs to chocolate cream stouts, Irish stouts with cherries and way more. The by-the-glass cask festival celebrates the innovation of craft beer across the area—this is for the beer lovers and the adventurous drinkers!
SpringFest at Mason Jar Lager Company
Sat., April 7, in Fuquay-Varina
Head to the town of Fuquay-Varina for a day full of beer festivities! Hourly beer releases from The Mason Jar Lager Company and Four Saints Brewing Company, live music from The Little German Band and Dancers, local vendors and artisan booths (including Fuquay-Varina's ever-popular Stick Boy Bread Co.) plus food trucks highlight the event, with more in the plans. 
 
Brewgaloo
Fri. and Sat., April 27-28, in downtown Raleigh
Featuring craft breweries from N.C., plus local food trucks, vendors and bands, the ever-popular Brewgaloo is back with another two-day festival in 2018.
The Fri. night portion of the event, an exclusive chance to sample some of N.C.'s best beers, will be open from 6-10pm and requires a separate ticket. The Sat. event, from 2-10pm on downtown Raleigh's Fayetteville Street, gives you the option of purchasing either beer samples or full pints from more than 100 N.C. breweries.
One reason Brewgaloo is a favorite event for residents and visitors? More than 50 local food trucks will be on hand, serving up the perfect grub to pair with cold brews. Need to know: no admission fee to enter the festival on Sat., so bring extra friends to hang out (plus a designated driver)! 
Triangle Craft Beer Fest
Sat., May 12, in Cary
This event organized by the Triangle Craft Beer Alliance highlights local-favorite breweries all in one spot at Cary's WakeMed Soccer Park. Each brewery is set to pour a special one-off beer you can't get anywhere else. And you can't have a big beer festival without rocking with live music, chowing down with food trucks and shopping local vendors! The event includes unlimited beer sampling (drink responsibly and have a designated driver!). (Need to know: must be 21+ and have a valid ID to enter; pets and children won't be allowed into the event.) Bonus! With admission into the event, you also get into the 7pm North Carolina Courage vs. Washington Spirit game.
 
Beer & Bacon Fest
Sat., May 19, in Cary
What's not to like? Two of our favorite things in one festival at the beautiful Koka Booth Amphitheatre make for a perfect way to spend a day in Cary. Grab your souvenir glass and get to tasting with a selection of 75+ international beers and wines, and make a dent in the two tons of griddled-on-site gourmet bacon from 10 vendors across the country! The Main Stage will host live music all day, plus fun foodie exhibits will be on-site to add to the festivities.

Even more spring events (focusing on beer or featuring local beer)!

Beer dinners, tap takeovers, big spring festivals, food truck rodeos and more:
 
The Triangle Rock Paper Scissors Showdown
Sat., March 24
The Triangle Rock Paper Scissors Showdown at Big Boss Brewing Company is a bracket-style competition of the age-old game we all know and love! Between competition chow down on BBQ and enjoy Big Boss's great brews.
 
Tap Takeovers at Rye Bar & Southern Kitchen
Entire month of April in downtown Raleigh
Rye celebrates Beer Month with a different brewery in-house each week in April, taking over five tap handles! Here's the schedule:
Crank Arm Brewing, April 2-7
Trophy Brewing Company, April 8-14
Lonerider Brewing Company, April 15-21
Deep River Brewing Company, April 22-28
 
Trophy Brewing Company Beer Dinner
Thurs., April 5, in Cary
The Umstead Hotel and Spa and Trophy Brewing Company team up for an awesome Beer Month celebration, featuring a four-course dinner on the lakeside terrace. Each course—created by two-time James Beard Award semifinalist for Best Chef in the Southeast executive chef Steven Greene—is paired with one of Trophy's exclusive craft beers. 
 
Live & Local: Spring Fest on Hillsborough Street
Sat., April 14
This annual, family-friendly street festival features a full day of music, artists, inflatables for kids, beer from Raleigh Brewing Company and more.
Gizmo Grill and Chill
Wed., April 18
Join Edwards Mill Bar & Grill on their patio for five courses of delicious grilled items from chef Matt, which pair perfectly with offerings from Gizmo Brew Works.
 
North Carolina 'Cuegrass Festival
Sat., April 21, in downtown Raleigh
A jam-packed day of barbecue from The Pit, local brews and toe-tappin' bluegrass music in downtown Raleigh's Warehouse District.
 
Cary's Downtown Chowdown
Sun., April 22, in downtown Cary
Enjoy a full afternoon along Academy St. for the first Downtown Chowdown of the year. Taste some of the best food around or try craft beer and wine vendors, all while enjoying music from great local performers.
 
Beers for Beagles
Sun., April 22
Join Triangle Beagle Rescue as they raise money for their rescue beagles at passionate mind Sumit Vohra's Lonerider Brewing Company. You'll meet some great pups and get to drink some delicious Lonerider beer, including peanut butter Sweet Josie Brown Ale! All leashed dogs are welcome. There will be vendors, music, raffles, food trucks and beagles galore!
 
Downtown Raleigh Food Truck Rodeos
Spring dates are Sun., May 6, and Sun., June 10, in downtown Raleigh
A half-mile of food trucks line Fayetteville Street two times this spring for Downtown Raleigh Food Truck Rodeo!
Comments