Visitors Guide: Carolina Hurricanes 2019 Stanley Cup Playoff Games
Thursday, May 09, 2019, 8pm by visitRaleigh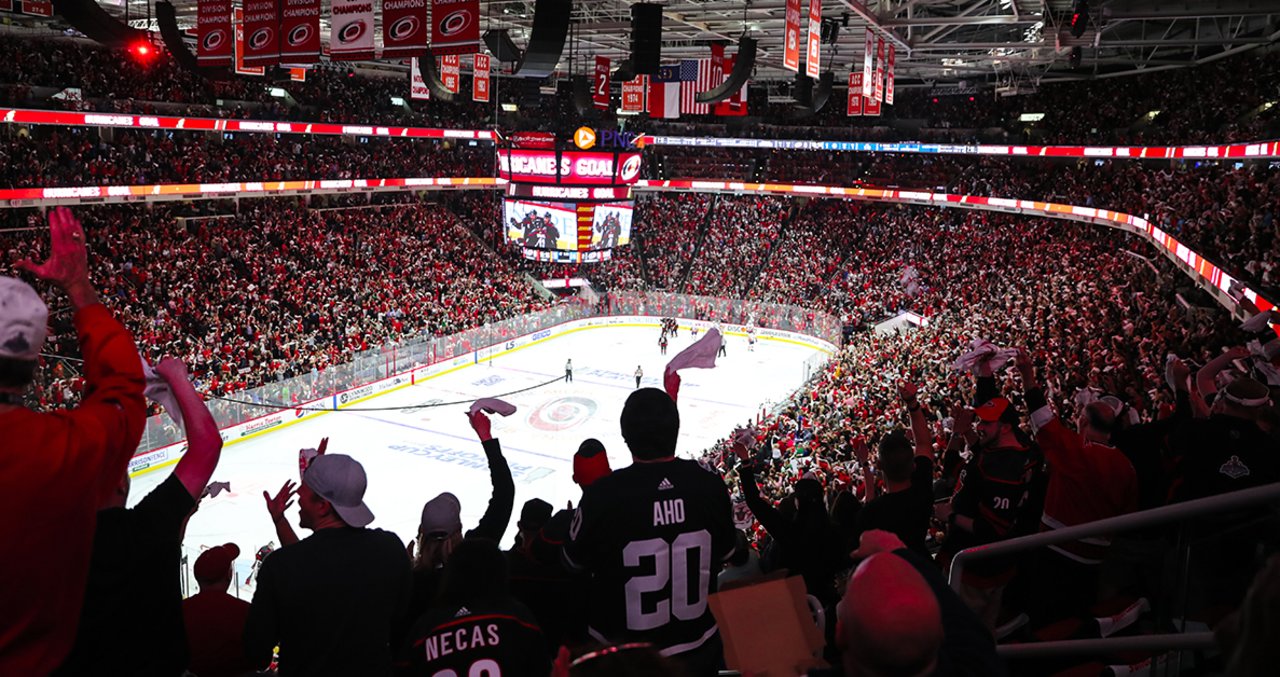 Let's. Go. Canes!
One of the hottest teams in hockey, the NHL's Carolina Hurricanes surged into the Stanley Cup Playoffs with a historic late-season run. In round one, they took down the defending champions on the road in a double-overtime Game 7 victory. In round two, they made quick work of the New York Islanders with a four-game sweep. Now, they'll face the Boston Bruins in the Eastern Conference Finals with games three and four (plus game six if necessary) at PNC Arena in Raleigh, N.C.
Eastern Conference Final schedule and tickets
Game 1: Away, Thurs., May 9, 8pm, NBCSN
Game 2: Away, Sun., May 12, 3pm, NBC
Game 3: Home, Tues., May 14, 8pm, NBCSN (Get tickets)
Game 4: Home, Thurs., May 16, 8pm, NBCSN (Get tickets)
Game 5: Away, Sat., May 18, 7:15pm, NBC - if necessary
Game 6: Home, Mon., May 20, 8pm, NBCSN (Get tickets) - if necessary
Game 7: Away, Wed., May 22, 8pm, NBCSN - if necessary
Not going to the game? See below for where to watch both home and road games.
PNC Arena and game day info
Planning on tailgating? Here's what you need to know.
Game day schedule:
Parking lots open (seven hours before puck drop)
South Plaza Party* begins (three hours before puck drop)
PNC Arena doors open (1.5 hours before puck drop)
Player warm-ups (0.5 hours before puck drop)
Puck drop (likely to be 8pm for most games)
*South Plaza Party: Arrive at PNC Arena by 4:30pm to enjoy inflatables, the Canes mobile tour, outdoor lawn games and more on the South Plaza in front of PNC Arena. Food (hot dogs, chicken bites, ribs and frips) and beverage (soda, water and Budweiser and Bud Light aluminums) will be available for purchase.
Get more info on special promotions here!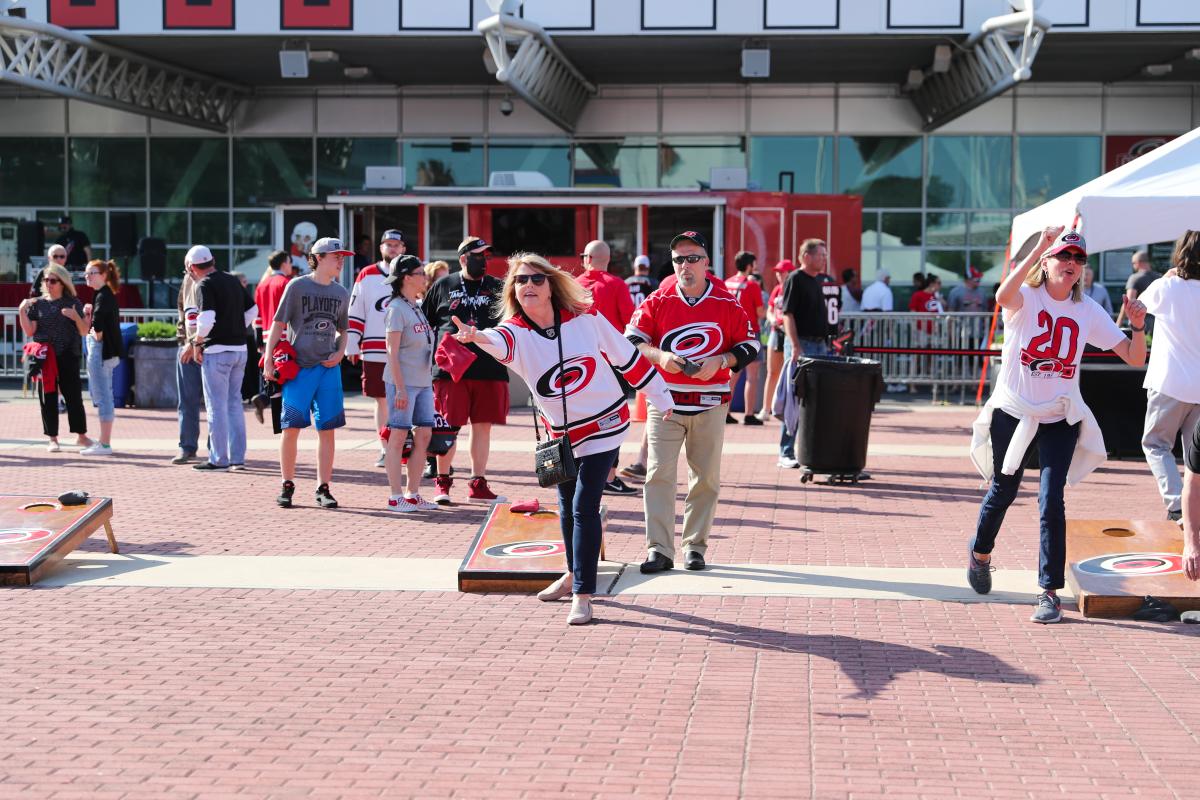 Places to stay
Visiting fans have plenty of options for where to stay in the Raleigh area.
Carolina Hurricanes and PNC Arena recommend these hotels:
Visitors can also opt to stay near the airport, in downtown Raleigh or in Midtown Raleigh, or see a full list of hotels in the area.
Where to watch road games
Canes Cool Bars
During the playoffs, the Canes have teamed up with Carolina Ale House (Downtown Raleigh)—the host of Canes Bool Bars for more than 10 years and with more than 50 TVs, a family-friendly environment and delicious food and drinks—to host watch parties for road games. Each party starts an hour before puck drop, and in addition, the block of Glenwood Ave. from Johnson St. to Tucker St. (adjacent to the Ale House) is blocked off two hours prior to puck drop and features a giant LED screen that shows the game. Beverage and hot dog stations are nearby. Each party includes giveaways, visits from mascot Stormy and the Pepsi Storm Squad plus more. Tip: Space is limited inside, so get there early! And if you're watching outside, bring chairs for seating.
More places to watch from (showing games on big screens/projectors and throwing parties):
More area info

Photos: Header and South Plaza Party photos, Jaylynn Nash, Carolina Hurricanes; Caniac Coach photo, Carolina Hurricanes; "Restaurants Near PNC Arena" and Barbecue Guide photos, Keith Isaacs
Comments