Costumes take the Krispy Kreme Challenge to a "hole" new extreme
Thursday, February 06, 2014, 8pm by Kristy Stevenson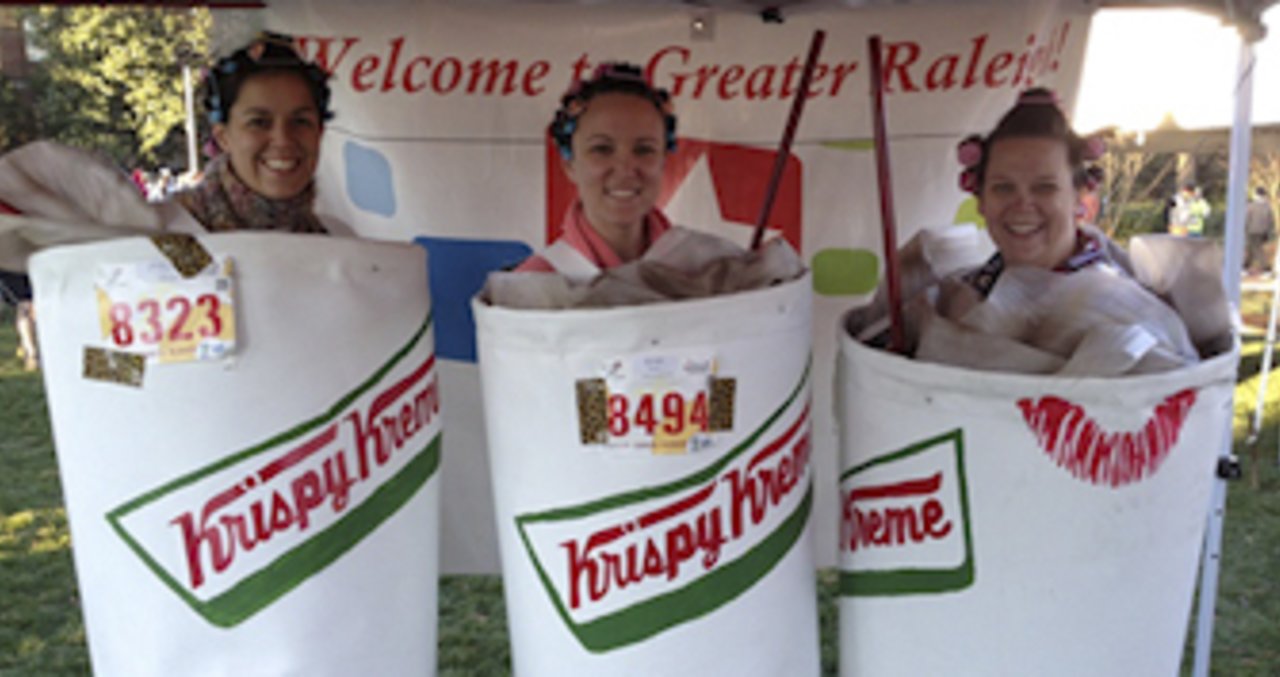 Expect to see characters like Prince, Pac-Man, the Spartans and more at the Krispy Kreme Challenge (K2C) and the 2nd Annual Krispy Kreme Challenge Costume Contest, presented by visitRaleigh.com, this Sat., Feb. 8!
If you're not familiar with the Krispy Kreme Challenge, here's the gist: What started as a challenge between ten friends quickly transformed into a tradition carried on by North Carolina State University students. This is the challenge: Run 2.5 from the North Carolina State University Memorial Belltower to Krispy Kreme in downtown Raleigh, chow down a dozen doughnuts and then run back another 2.5 miles. Soon after its beginnings, the Krispy Kreme Challenge began to capture national attention, and participation spread beyond just students to visitors of all ages, challenging the gastrointestinal strength of more than 8,000 competitors.
Over the past ten years, K2C has become about even more than a five-mile run and almost 11,000 pounds of doughnuts. Full of sugar-coated inspiration, runners have upped their game by adding costumes to the mix, taking running five miles dressed in running attire, to running five miles dressed in what may be a full-body, cardboard apparatus. Runners may also take it to the next extreme by pushing a prop or running while in proper formation (see Pac-Man group below). From pop-culture, to Hollywood favorites and, of course, doughnuts and coffee, these folks take running the Krispy Kreme Challenge to a "hole" new level. Registration for the run has closed, but if you didn't get to register, you can still see all of the crazy costumes on Sat.! If you have registered for the run, sign up for the costume contest here!
Check out some of our favorite costumes from last year's visitRaleigh.com Costume Contest below!
This Krispy Kreme delivery man was "Happy All Around," pushing his delivery truck through the race!
These gals were ready for their 8am pick-me-up from Krispy Kreme.
Can you believe that Pac-Man chased the ball for a full five miles, while also being chased by a ghost?
Gnome.
…and we can't forget Prince!
To see all 2013 K2C Costume Contest contestants, check out our Pinterest page!
This year marks the second year of the Krispy Kreme Challenge Costume Contest, presented by visitRaleigh.com. Sign up here, if you're participating in the Krispy Kreme Challenge! The single division prize is a Nike+ Fuelband and Runner's Swag Bag (a $150 value) and the group division prize is a $200 gift certificate for any Greater Raleigh restaurant (winner chooses the restaurant)! (See official rules here.)
Good luck!
Comments