Dragon Boat Festival at Cary's Koka Booth Amphitheatre
Friday, September 19, 2014, 4pm by Kristy Stevenson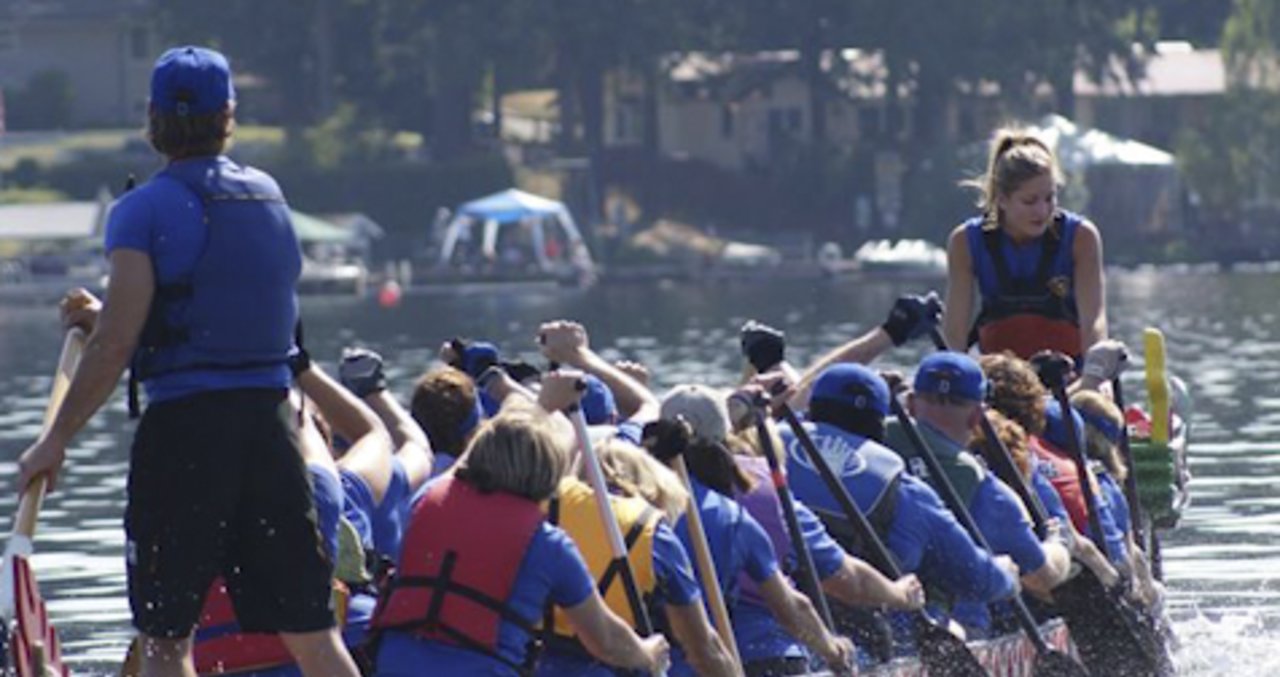 Head to Koka Booth Amphitheatre and Symphony Lake for the 1st Annual Dragon Boat Festival! Both the race and accompanying festival started more than 2,000 years ago in southern Mainland China. Brought to you locally by Asian Focus, the Pan American Dragon Boat Association and the Board of the Carolinas Asian-American Chamber of Commerce (CAACC), this event is designed as a day of community-based recreation that promotes team-building, wellness and cultural awareness. Previous years have boasted more than 7,000 visitors.
The Dragon Boat Festival is popular across the country, and is an opportunity to bring people together, watch races from club and community teams, experience various food and performances and enjoy a fun cultural experience. The festival title–in Chinese, "Duanwu Jie"–translates to the Double Fifth Festival which is derived from being celebrated on the fifth day of the fifth month in the Chinese calendar (the lunar calendar), commonly known as the Summer Solstice.
The team sport of dragon boat racing consists of 20 paddlers, a drummer and a steers person paddling to cross the finish faster than the competition. The paddlers work in unison to a drummer's beat in a long, narrow boat decorated at bow and stern with a dragon's head and tail. The event encompasses the elements of power, speed, synchronization and endurance. Twelve local teams have entered the competition and welcome you to cheer them on: N.C. Taiwanese Chamber of Commerce Top Fast, Grand Asia Market RTP Community Team, North Carolina State University, CDBA, TACAS, Healing Dragons, Merck Dragon Boat Team, RCLS, HEALING DRAGONS OF LAKE JAMES, TAA-NC, Koka Cruisers and Raleigh Relentless.
The day will include cultural performances (music, dance, sports, fashion), a variety of food/drink, as well as exhibits. There will also be informational vendor booths set up on site.
The festival itself runs from 9am-4:30pm on Sat., Sept. 27, while the boat race will take place between 9:30am-4pm. Races will continue throughout the day. Admission is free; blankets, lawn chairs and bottled water are allowed. No picnics are permitted as the festival will feature a variety of international cuisine for purchase. Venue-owned parking is offered at no charge.
Photo credits: Dragon Boat Festival in the Greater Triangle Area Facebook Page
Comments