Drive Shack, an Interactive Golf Complex, is Now Open in Raleigh, N.C.
Thursday, August 15, 2019, 5pm by visitRaleigh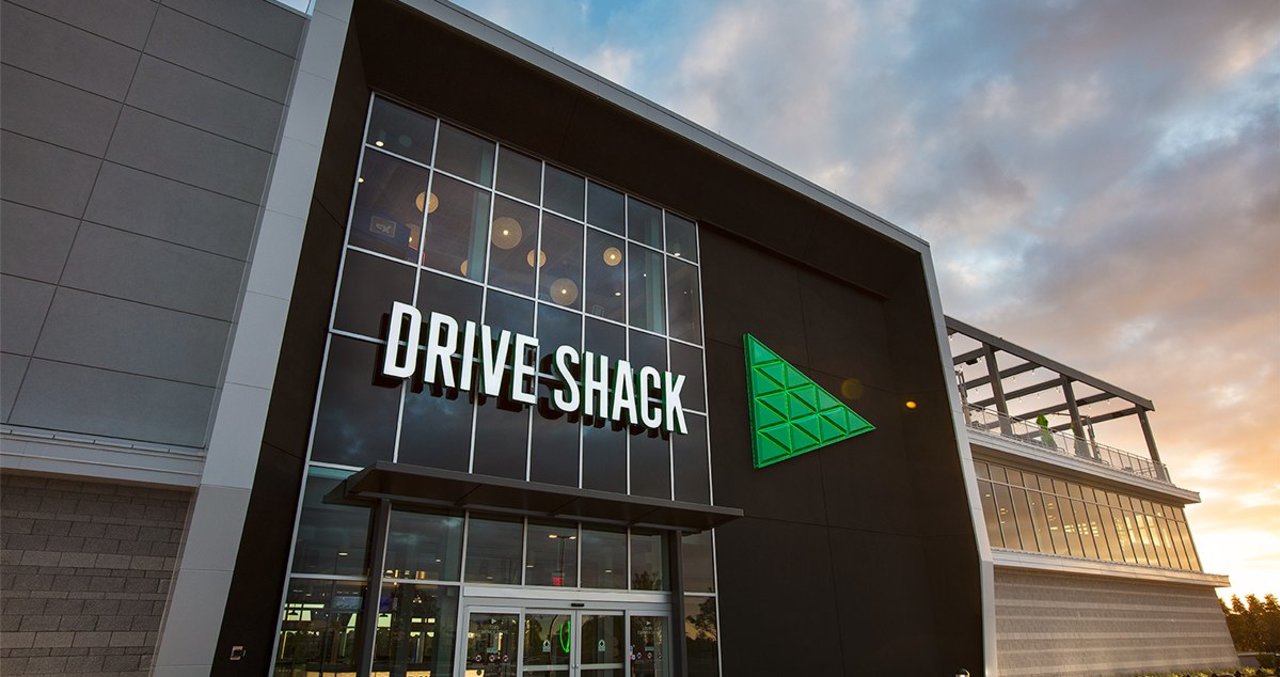 Ready for some big entertainment news? A major new attraction has swung into action in the City of Oaks!
Drive Shack—the interactive golf complex that caters to big groups looking for big fun—opened in Aug. in Raleigh, N.C. The three-story complex with ample free parking is located at 6901 Play Golf Way (not far from PNC Arena). 
The 65,000-square-foot facility includes 96 golf bays, a full-service restaurant, a rooftop bar, more than 300 televisions, an arcade area, meeting rooms and more. 
This is the second Drive Shack location to open in the U.S. (the first opened in Orlando in 2018).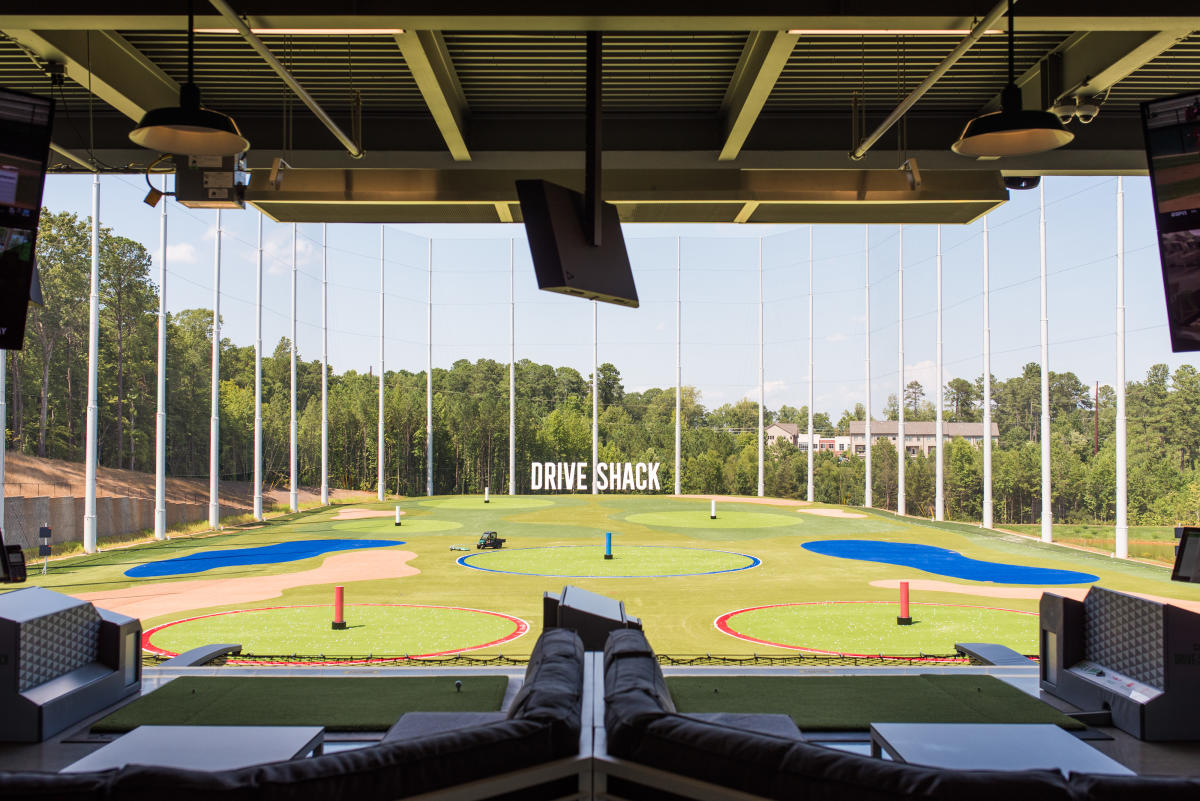 Drive Shack allows guests and groups to rent bays by the hour, giving them access to wait-service, unlimited driving range balls, full sets of TaylorMade golf clubs, a climate-controlled seating area, televisions and more. 
The 260-yard-long driving range combines physical targets to aim for with augmented reality and virtual games. The range utilizes TrackMan technology, pinpointing the flight of your golf ball and allowing you to virtually play real-world championship golf courses or go head-to-head against friends to collect points for hitting physical targets (games are tracked and scored on television screens inside your bay).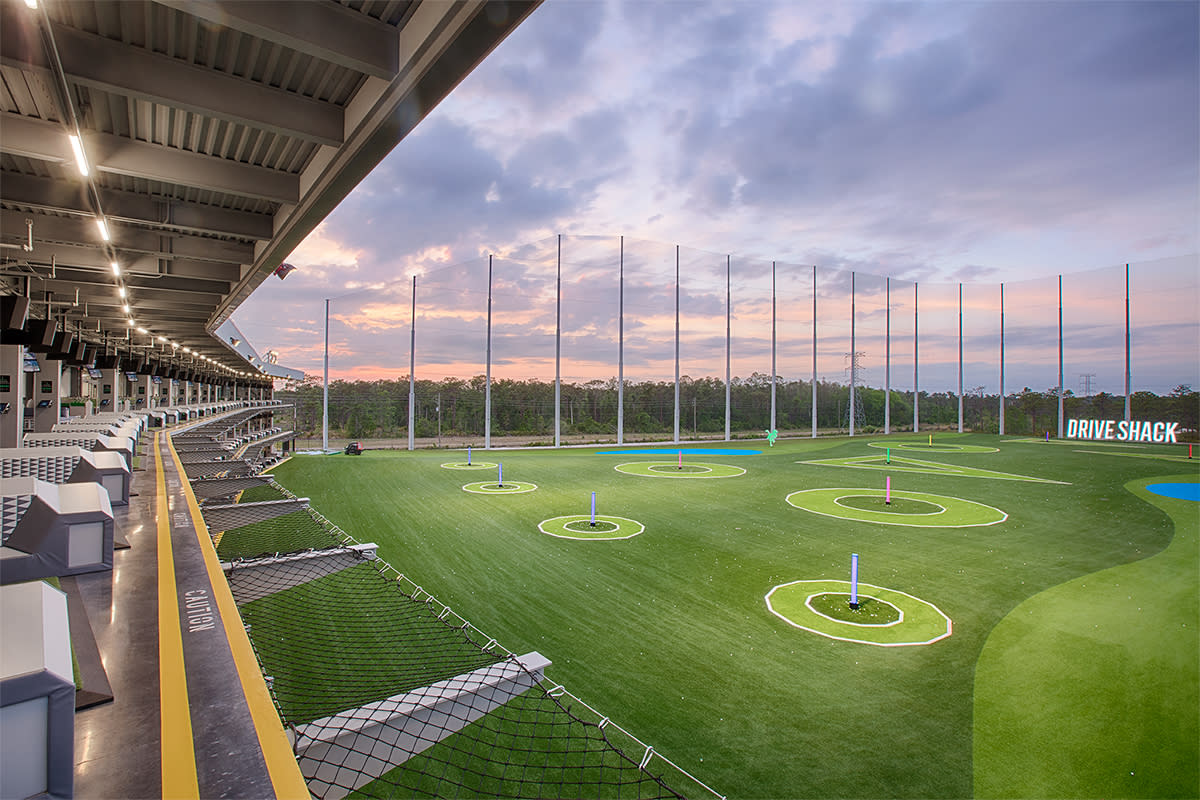 Pricing varies based on time and day, but starts at $10 per person, per hour (a group of three would pay a total of $30 per hour around lunchtime, for example). Each bay can accommodate six guests. During peak times—typically after 5pm—a maximum price of $40-50 per hour is in place to rent an entire bay (meaning each person pays less than $10 per hour if you bring a group of six). Happy hour and late-night specials may also appear on the venue's calendar. 
Bay rentals are done on a first-come, first-served basis, so a wait could be expected during evenings and weekends. For those times, the bar and restaurant area are more than happy to keep you occupied.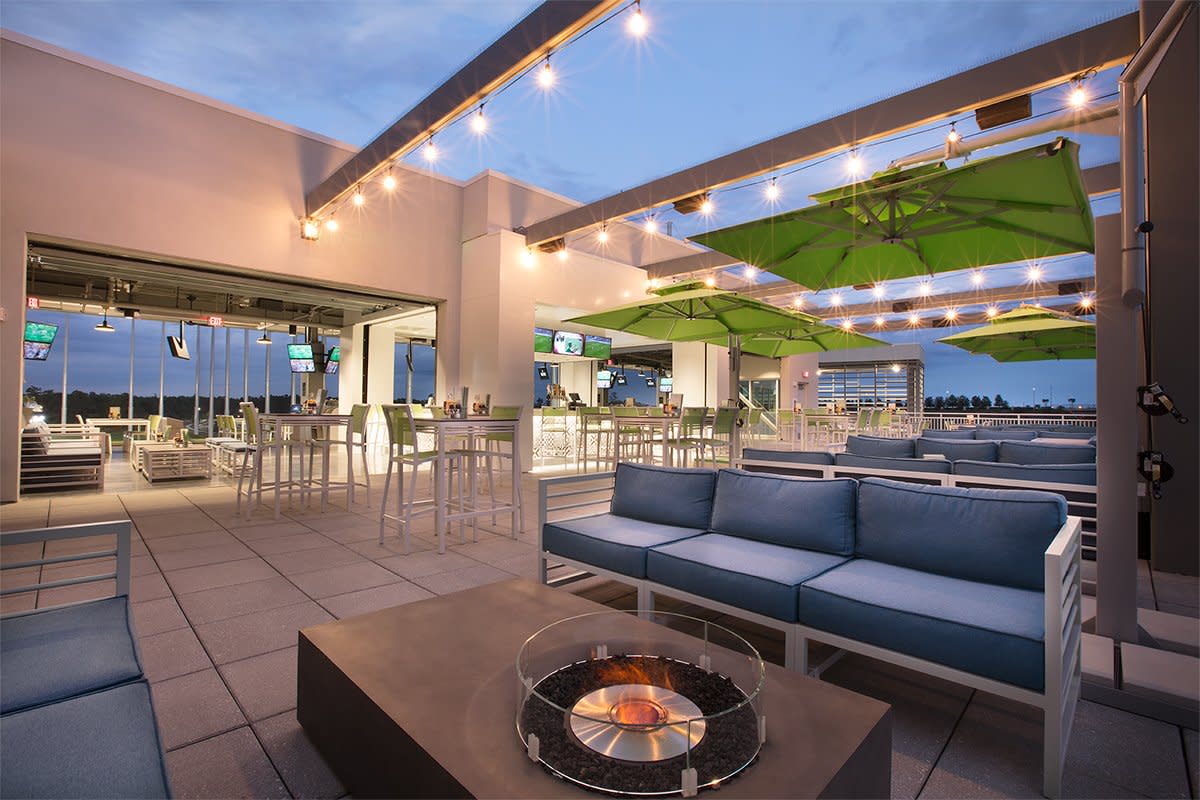 The food and drink menu consists of burgers, wings, tacos, nachos, salads, local craft beer, cocktails and more (if there's no wait, you can eat and drink while hitting golf balls or relaxing at your bay).
The restaurant and bars, including the rooftop area, are also always open to guests who don't plan to use the golf facilities.
Larger groups of 12 or more can book party packages in advance.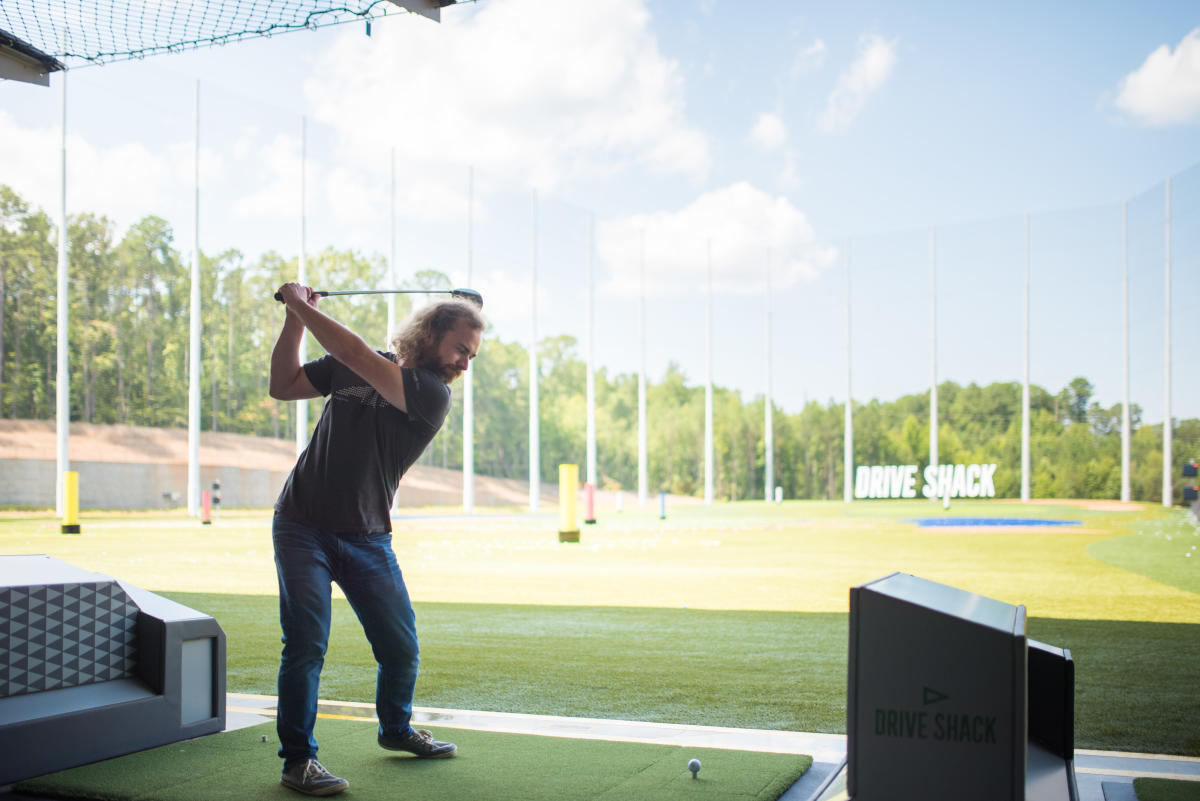 On the second floor, a free-to-play arcade room features Golden Tee, Skee-Ball, shuffleboard, mini basketball goals and more. 
On the rooftop patio, space for live music and comedy nights is expected to be in use on a weekly basis. Cornhole tournaments may appear on the future schedule as well. 
Drive Shack is open seven days a week, from 10am-midnight, Mon.-Thurs., 10am-2am on Fri., 9am-2am, on Sat. and 9am-midnight on Sun.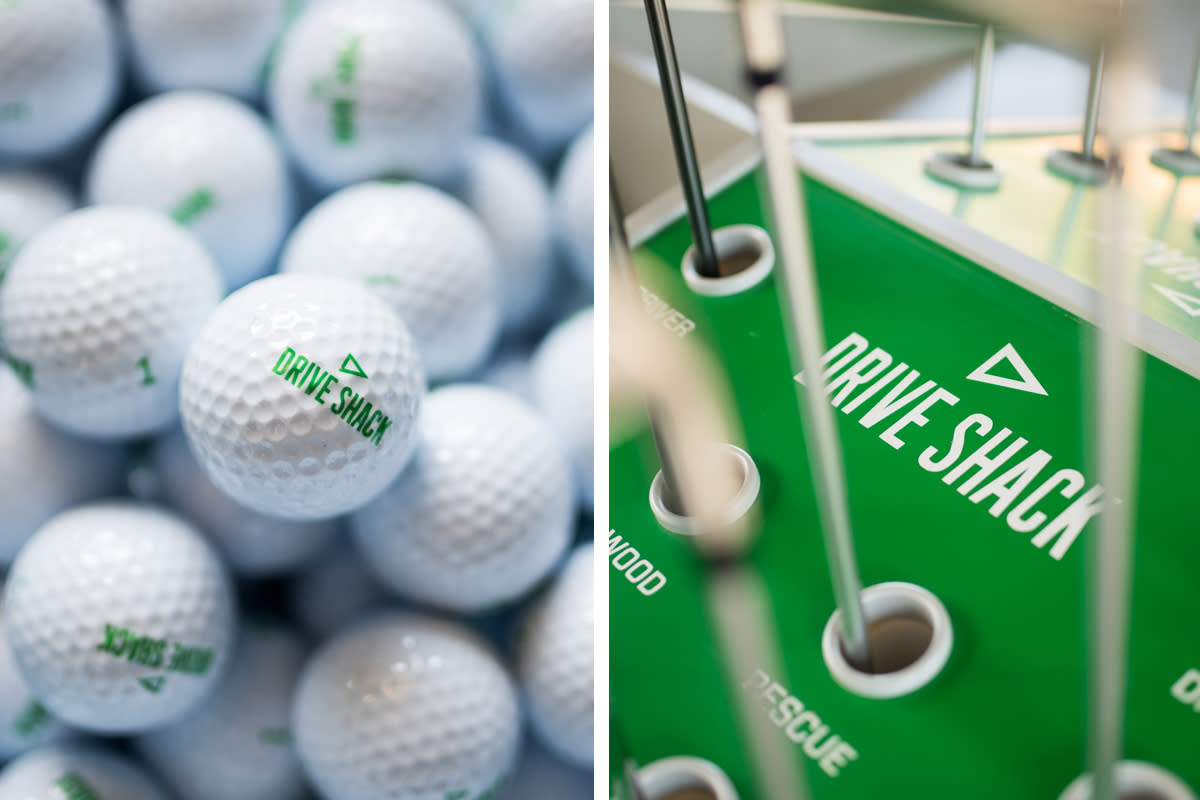 Header, evening bays and rooftop patio photos courtesy of Drive Shack
Comments