Eat Your Way Around the World in Raleigh, N.C.
Thursday, February 16, 2017, 6am by Tabletop Media Group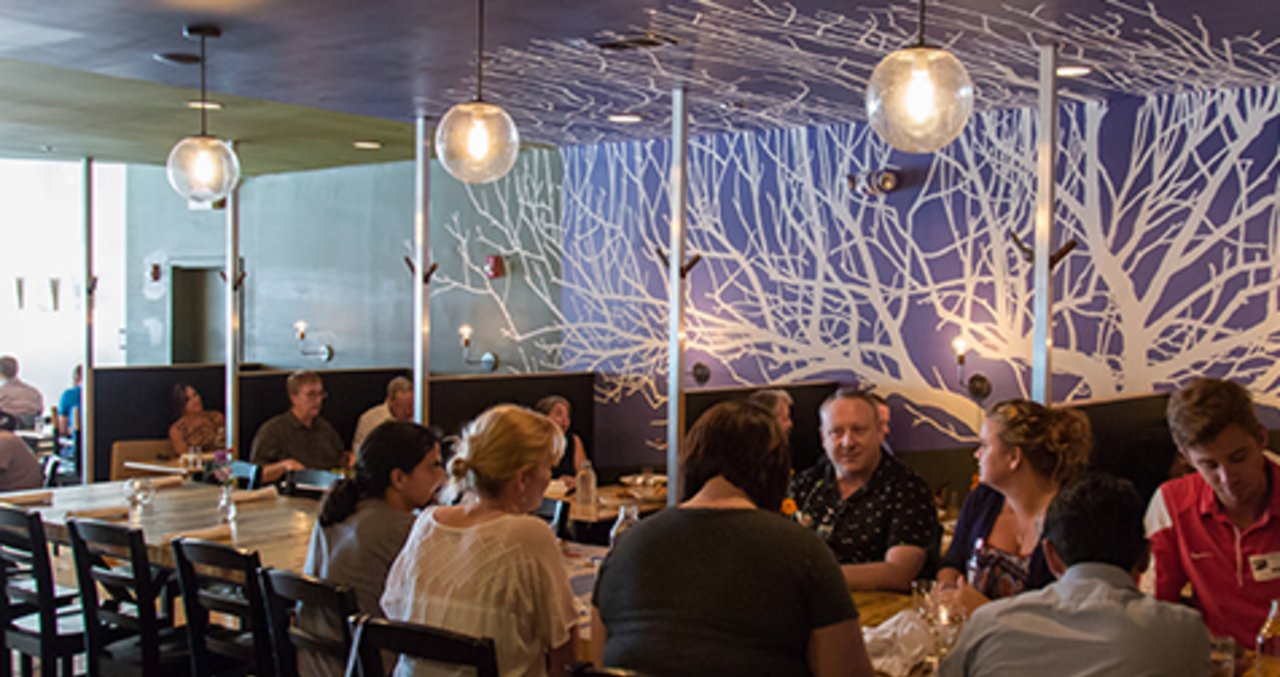 Many cultures are represented in Raleigh, N.C., and you can experience a world of flavors right here in the capital city area. Try these seven dishes as you eat your way around the globe!


Beef Larb at Bida Manda
Bida Manda's hand-tossed meat salad includes fresh local herbs, spicy lime and fermented Padek fish sauce, shredded galangal, toasted rice powder and grilled vegetables. Try the beef larb the traditional Laotian way with beef tripe and served with sticky rice. Feeling adventurous? Skip the fork and eat this dish with your hands!


Pakoras at Garland
Chef Cheetie Kumar serves up delicious Pan-Asian fare at Garland in downtown Raleigh (pictured in header). Order the pakoras for a starter, "bird's nest" fritters of farmers' market vegetables in a spicy chickpea and rice batter served with tamarind and cilantro-mint chutneys. Pakoras are found across the Indian subcontinent, especially in India, Bangladesh, Nepal and Pakistan. Meet Cheetie and get a look inside the restaurant:


Frog Legs at Saint Jacques French Cuisine
At Saint Jacques French Cuisine, chef Serge Falcoz-Vigne serves traditional French dishes. You'll feel like you're dining in the heart of Paris while you dine on the "traditionnelle cuisse de grenouille à l'ail et persil." This appetizer is comprised of crispy frog legs sautéed with butter, garlic and parsley, then finished with lemon juice. C'est délicieux!


"The Hustle" Poke Bowl at Raleigh Raw
The Hawaiian poke bowl trend is sweeping the nation, and for good reason! Poke began with fishermen seasoning the cut-offs from their catch to serve as a snack, and seasonings are influenced by Japanese and other Asian cuisines. We're big fans of Raleigh Raw's "The Hustle" poke bowl, which includes chives, dragon fruit, jalapeños, pistachio dust, sesame asparagus, seaweed salad, shallots and microgreens. Add tuna for your protein and sit outside while you dream of being in a Hawaiian paradise.
Fiyel Wat and the Veggie Platter at Abyssinia Ethiopian Restaurant
Dining in Ethiopia is characterized by the ritual of breaking injera and eating from the same plate, signifying the bonds of loyalty and friendship. Bring a group to dine at Abyssinia Ethiopian Restaurant to enjoy savory Ethiopian dishes like the veggie platter, which includes split red lentils, cracked yellow peas, house salad, cabbage and collard greens. The "fiyel wat" is also an excellent dish including cube-cut pieces of goat tenderloin cooked with olive oil and spices, then slowly simmered in spicy red pepper sauce, fresh garlic, onion and special seasoned house butter. Use the injera, a spongy, sour flatbread to scoop up the meat and vegetable stews. No silverware needed!


Argentinean Steak and Cuban Sides at The New Oakwood Cafe
Get the best of both Argentina and Cuba at downtown Raleigh's Oakwood Cafe. Our recommendation is the chargrilled Argentinean steak served with a delicious chimichurri sauce. Select from delicious sides like tostones, fried yuca, plantains, rice and beans.
Capirotada at Centro
In the mood for something sweet? Centro's capirotada is a traditional Mexican food similar to a bread pudding. This hot and sticky dessert is served with fresh goat's milk caramel ice cream at Centro, and traditionally you'd eat this dessert during the Lenten period and on Good Friday.


See a complete list of Raleigh area restaurants here!

Comments