Eight Food Trucks Worth Tracking Down in Raleigh, N.C.
Wednesday, August 01, 2018, 4pm by Tabletop Media Group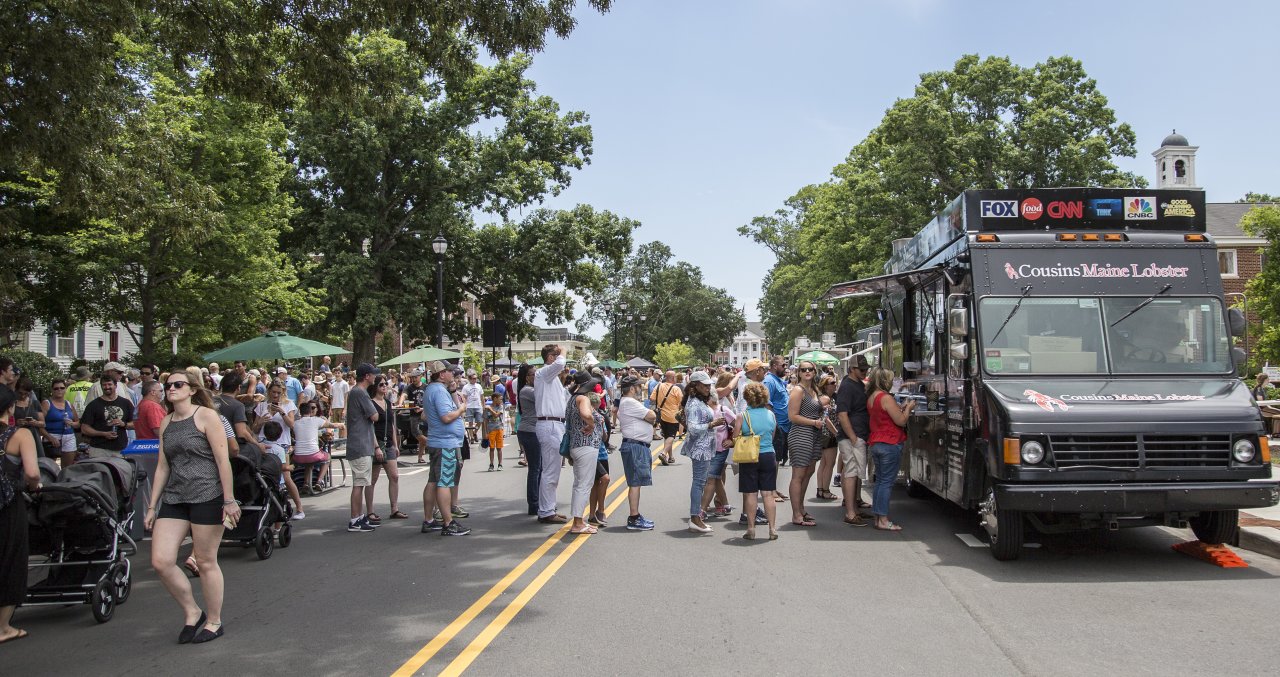 Create your own food truck rodeo by visiting eight of the best food trucks in the Raleigh area! With so many delicious options, these food trucks are sure to appease your appetite.
 
The Wandering Moose serves up delicious slow-cooked meats and scratch-made sauces. This food truck was born when two old friends came together with the idea of bringing their passion for slow-cooked meats to the public. Don't miss their Black Angus Brisket sandwich with slow-cooked brisket topped with melted blue cheese, caramelized onions and homemade "horsey sauce." Feel free to over-indulge with a side of their Smoky Bacon Mac N Cheese with homemade bacon chunks. Visit their website to see where the truck will be next.
Using Maine lobster prepared in small batches to give you that authentic taste you're looking for, Cousins Maine Lobster—who rose to fame on ABC's Shark Tank television show—not only has a food truck roaming the Raleigh area but will also be opening a stand at the soon-to-open Morgan Street Food Hall in downtown Raleigh. Until then, visit their food truck to try the Maine Lobster Roll, which is served chilled with a touch of mayo on a New England style roll. Check Cousins Maine Lobster's website for the full schedule.
Gonza's Tacos y Tequila—the popular restaurant that's home to a host of accolades like "Best Mexican Food" in the Raleigh area and "Best Tacos" in the Tar Heel State—also has a food truck that traverses the streets in the City of Oaks. Featuring the most requested dishes on their restaurant's menu, there's no wonder that "Gonza on Wheels" is a hot spot destination for locals. We suggest devouring a plate of carnitas tacos with slow roasted pork, tomatillo salsa and onion. Find out where the truck will be on their website.
A food truck born out of a passion for cooking authentic Indian cuisine by two-time award-winning chef and owner Alaksha Surti (raised in India, Surti worked in hotels Australia, London, Sri Lanka and elsewhere before settling in the Raleigh area), Curry in a Hurry brings a world of flavors to the table through Indian curry dishes. A crowd favorite is the butter chicken curry served over Basmati rice (pro tip: order a side of their garlic Naan, a traditional Indian bread baked in a clay oven with fresh garlic, for dipping into the butter chicken—yum!). Like Cousins Maine Lobster, Curry in a Hurry will also have a stall at Morgan Street Food Hall in downtown Raleigh, but until then, head to their website to see where the truck will be rolling to next.
The Humble Pig is an award-winning food truck and catering business owned and operated by husband-and-wife duo Jessica and Ross McCarthy. The Humble Pig serves standard food truck fare in their tacos and fries, but everything is lifted by their mastery of smoke, salt and fire. The pulled pork, beef brisket and smoked chicken wings are all cooked over wood coals in a rotisserie smoker, then sauced and assembled inside. Wings are served whole—with the wing and drumette—and, like the pulled pork sandwich, the brisket sandwich and the smoked tacos come served with a side or two (seasonal veggies, baked beans, coleslaw, standard and sweet potato fries). To try some items off the Humble Pig's menu, pay the food truck a visit at their next event or destination.
American Meltdown (gourmet melts)
American Meltdown creates a variety of delicious gourmet melts. Southern Living selected the truck as one of the South's best food trucks in the 2016 Food Awards issue. Try the Scarborough Fare with herb pesto and Gouda cheese on sourdough bread, or if you're looking for something a little heartier, we suggest the Dirty South with homemade pimento cheese, sweet corn and andouille sausage on bread from Guglhupf Bakery. The fried Brussel sprouts, dipped in a lemon aioli, are the go-to move for something on the side. Head to their website for the whereabouts of the truck.
Belgian Waffle Crafters is the first and only Belgian waffle food truck in the Raleigh area. With sweet and savory scratch-made waffles, this food truck won't disappoint. For those with a sweet tooth, try the Sweet Strawberry, a waffle topped with strawberries, powdered sugar and homemade whipped cream. Pro tip: Add the hot Belgian chocolate fudge for an extra sugar rush! If sugar isn't your thing, we suggest the Waschetta waffle, which is topped with goat cheese, strawberries, balsamic glaze and ground pepper. For their schedule, visit their website.
One of the longest-running food trucks around, Baguettaboutit was born from passion, culinary expertise, a dedication to local culture and ingredients and, most of all, a really, really great product—they were even featured on Food Network with Anthony Anderson. Baguettaboutit takes the idea of hot dogs and throws it out the window. Instead of a bun, delicious North Carolina-made sausages are stuffed inside freshly-baked French baguettes. Try the Nu Jersey Turnpike, a sweet Italian sausage with a to-die-for roasted red pepper sauce stuffed inside a fresh baguette. To get one of these delicious sandwiches yourself, go to their website for the truck's schedule.
Header photo: Brian Magee Photography
Comments