WRAL First Night Raleigh: A Guide to Downtown Raleigh's Massive New Year's Eve Celebration
Tuesday, December 14, 2021, 2pm by David Menconi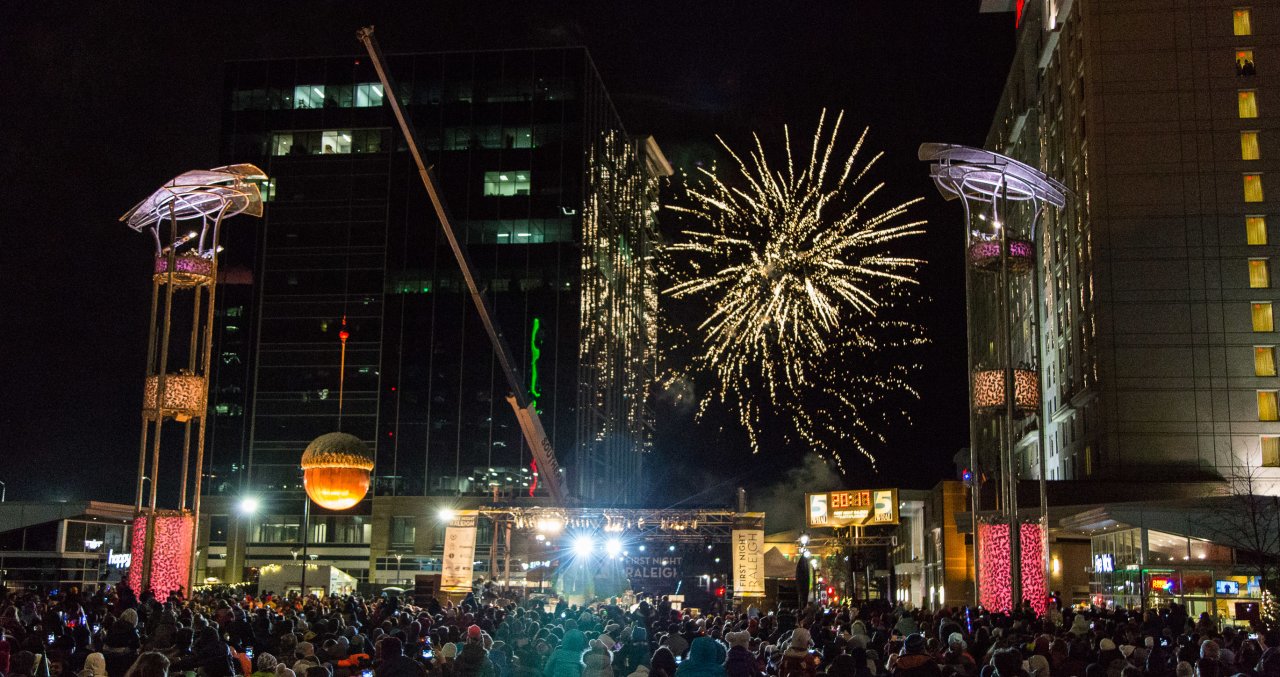 Note: Authored by David Menconi, this piece has been produced in partnership with Raleigh Arts. Menconi's latest book, "Step It Up and Go: The Story of North Carolina Popular Music, from Blind Boy Fuller and Doc Watson to Nina Simone and Superchunk," was published in Oct. 2020 by University of North Carolina Press.
---
Update, Dec. 27: All First Night Raleigh activities will now take place outside, and proof of vaccination or a negative COVID-19 test will be required to take part in most activities. See firstnightraleigh.com for more info.
 
Following a one-year hiatus because of the COVID-19 pandemic, WRAL First Night Raleigh—an all-day event with nearly 100 performances and attractions—is back for New Year's Eve in 2021. This year's edition marks the 30-year anniversary of the event's Raleigh debut, which happened way back on Dec. 31, 1991.
But because the pandemic has not completely receded and remains ongoing, the event will look a little different this time around. Here is what to know about what will be different, and what will stay the same. 
 
Admission
As always, grownups can save a little coin by buying First Night Raleigh tickets in advance of the event. Up until Dec. 31, advance tickets go for $12 for everyone age 6 and up (kids 5 and under are free when accompanied by a ticketed adult).
If you want to buy tickets at the gate, the price rises to $16 for everyone age 13 and up while remaining the same $12 for kids ages 6 to 12. Tickets give you access to all First Night venues, performances and interactive exhibits, happening from 2pm-midnight on Dec. 31.
Performance highlights
Live music at City Plaza will get underway at 6pm and run to midnight and beyond. Headlining the main stage this year is Sonny Miles, who is probably best-known for landing a song on former President Barack Obama's best-of-2019 playlist; Durham group Zoocru; the Raleigh rock band Jack The Radio; and, from the late great Doc Watson's hometown of Deep Gap, the bluegrass ensemble Liam Purcell & Cane Mill Road.
Among the acts performing in various indoor venues downtown are the African American Dance Ensemble, Gregg Gelb Jazz Group, Anya Hinkle, Zoe & Cloyd and XOXOK.
Attractions
The big Ferris wheel is back again, positioned at Fayetteville and Hargett Sts., and offering bird's-eye views of the festival. You can also partake in Gold Leaf Sleigh Rides, departing from the corner of Morgan and Fayetteville Sts., as well as "Chimes" and other displays on downtown's holiday-season "Illuminate" light display.
Also back this year is the Disco Roller Rink, but in expanded form. This year's model is much bigger than past iterations, occupying half a block at the intersection of Fayetteville and Morgan Sts.
"What's fun about First Night Raleigh is blending the tradition of classics that everyone enjoys with fresh new things," says First Night Raleigh program director Cameron Laws. "The roller rink is kind of both. We've done it before, but never one this large—6,000 square feet."
Counting down
For three decades, Raleigh has lived up to its City of Oaks nickname with its iconic acorn sculpture (made by artist David Benson in 1992 in honor of the city's bicentennial). For most of the year, the half-ton sculpture sits on display outside Duke Energy Center for the Performing Arts.
But come New Year's Eve, the acorn will be back at City Plaza to make its annual midnight drop—preceded by the obligatory countdown and followed by fireworks.
COVID-19 protocols
Thanks to the Delta and Omicron variants, safety procedures will remain in effect. That means you'll have to show either proof of vaccination or a negative COVID-19 test from within the past 48 hours to enter any indoor venue. There are, however, no vaccination or test requirements for attending First Night Raleigh's outdoor events.
"We've probably had more questions about that than any other part of it," says First Night Raleigh executive director Michael Lowder. 
Venue highlights
Because of construction around Fayetteville St.'s City Plaza, the First Night main stage had to be moved elsewhere for several years. But it's back there this year for performances as well as the festivities surrounding the big countdown to midnight.
A number of new spots have been added to the venue grid, too, including the Transfer Co. Ballroom and the new VAE (Visual Art Exchange) gallery. But overall, there will be fewer indoor venues this year due to virus concerns—about 15, down from several dozen in years past—with events and programming happening outside wherever possible.
"We hope to be back to full capacity next year," says Laws.
For the kids
As part of that outdoor emphasis, the afternoon and early evening children's programming will take place on Centennial Plaza right outside the North Carolina Museum of Natural Sciences. That schedule begins at 2pm with games, crafts and such.
There's also a 7pm countdown at the City Plaza main stage, for kids as well as anyone else who doesn't feel like staying up until midnight.
 
Header photo by Sandra Davidson, courtesy of First Night Raleigh
Comments