10 Breweries and 10 Restaurants to Try in Raleigh, N.C.
Friday, April 27, 2018, 1pm by Tabletop Media Group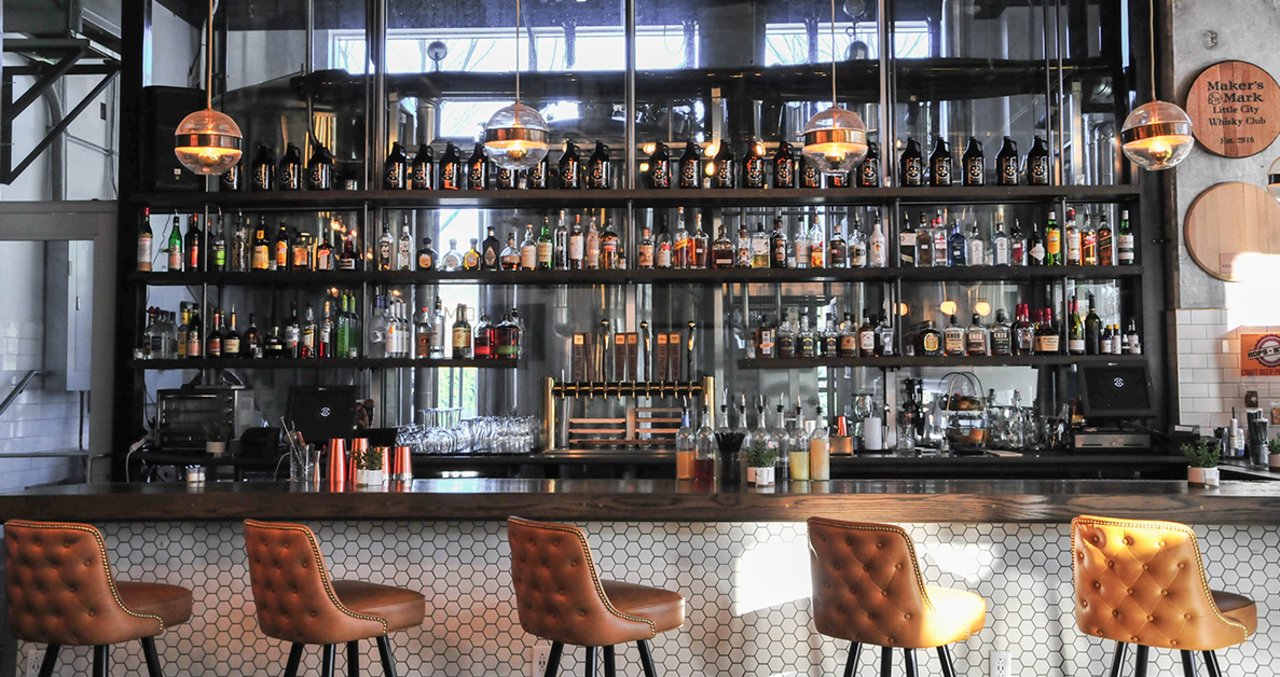 When hunger strikes after beer, don't fear! The Raleigh area has awesome brewery restaurants (check out our list, here!) and fun weekly food truck nights are held at most breweries. But the brewery/food options don't stop there—lots of breweries are within walking distance or a short drive of even more local-favorite food! We have 10 brewery and restaurant pairings for you to try, especially now that the warmer months are here and walking is even more encouraged.
Brother and sister team Vansana and Vanvisa Nolintha, along brewer Patrick Woodson, started one of Raleigh's most interesting concepts, Brewery Bhavana. This brewery, taproom, dim sum restaurant, library and flower shop features a marble wall with more than 20 taps that pours delicious beers. The beers pair perfectly with dim sum options like shrimp and fresh corn dumplings, steamed pork buns and fried rice topped with a soft egg. Grab a few bites at the bar before you head next door for a sit-down dinner at Lation restaurant and bar Bida Manda.
 

Laotian food is distinct from other Southeast Asian cultures' cuisines due to its influence from Thai, Chinese, Vietnamese and French cuisines. Order the beef larb, a traditional Laotian dish served at ceremonies like weddings and birthdays. The beef larb is a mixture of marinated beef, herbs and spicy lime sauce. If you enjoy spicy dishes, you'll definitely love this entree. If you're looking for something a little more filling, the crispy pork belly soup is local favorite. Giant bowls of coconut curry are adorned with crispy pork belly, peanuts, eggs, fresh vegetables and herbs. Tip: Arrive early at Brewery Bhavana for a seat at the bar, and also make reservations at Bida Manda for dinner; both spots get packed as the evening goes on!
Bond Brothers Beer Company in downtown Cary offers more than 9,000 square feet of brewery, tap room and beer garden to enjoy. With 14 outstanding beers on tap and a robust barrel sour program, they were voted  "Best New Brewery" in the country in USA TODAY's 10Best in 2017. After a few pints (try the Blackberry Raspberry Sorcery, the American Kettle Sour or the Breakfast Variant—an Imperial stout with oats, coffee and cocoa nibs!), head over to Pizzeria Faulisi for Neapolitan pizza.
 

Freshly-milled flour from Boulted Bread in Raleigh along with Caputo flour from Italy are combined to make this restaurant's unique dough. Pizza options range from the classic margherita pizza with mozzarella, tomato and basil to the salumi pizza with hot sopressata, mozzarella and asiago. We're big fans of this short walk from brewery to pizzeria!
Take a trip to The Hideout, Lonerider Brewing Company's West Texas-themed brewery and taproom headed up by passionate mind Sumit Vohra. No visit to Lonerider is complete without trying the Shotgun Betty German-style hefeweizen wheat beer. If you'd like a West Coast-style American pale ale, then become acquainted with the town's Peacemaker. Make sure to get your Raleigh Beer Trail Passport stamped after sampling a few brews, then make your way to Angus Barn for an elevated dining experience.
 

A family-owned institution for more than 50 years, Angus Barn has some of the most delicious steaks in the state. You'll most likely need a reservation, or you can try your luck at getting a spot at the Wild Turkey Lounge. Angus Barn specializes in serving certified Angus Beef, aged in house. This award-winning steakhouse has one of the largest wine cellars in the country and perhaps the most decadent chocolate chess pie, which is a sweet ending to a steak dinner. Ask your server for a scoop of vanilla ice cream on top of this creamy, smooth slice of pie made with semi-sweet chocolate.
The Crank Arm Brewing team is passionate about beer—and bikes. The downtown Raleigh brewery has a mission to provide fresh artisan beer while utilizing green transportation methods. Crank Arm has three flagship beers on tap at all times: Rickshaw, a rye IPA; White Wall Wheat, a Belgian-style wit; and Unicycle, an American-style pale ale.
 

After enjoying a few pints and a game of giant Jenga, head over to Jose and Sons for Mexican food with a Southern twist. A must-try menu item is the Crank Arm Barbacoa. Crank Arm beer and chile-braised brisket is served in a banana leaf with corn tortillas and guacatillo salsa. What a delicious combination and great way to support a neighbor! And if you're out and about with several friends, go in for the Chef's Picnic, a family-style meal of grilled meats, seasonal vegetables, market greens, salsas and corn tortillas.
Brice's Brewing Company is the town of Garner's first brewery and features a Belgian-heavy beer lineup. Sip on the Intermezzo Belgian Dubbel, featuring notes of dark caramel, orange and slight pepper. After tasting a few of these unique beers, walk or take a short drive over to one of Raleigh's best taquerias. Taqueria El Toro.
 

Located in a small shopping center next to El Toro Supermarket, this taqueria is truly a hidden gem. Upon entering Taqueria El Toro, you'll notice award-winning bulls decorating the walls and peach-colored walls. Walk up to the counter, place your order and get ready for some serious eats. The menu is filled with options like tortas, sopes, tacos, gorditas and burritos. There's also a wide selection of different types of meats to choose from like tripe, steak, carnitas and more. After your name is called over the intercom to pick up your food, visit the condiment bar, which has fresh pico de gallo, guacamole, pickled carrots and onions, hot sauce, fresh limes, cilantro and more.
Located off of E. Whitaker Mill Rd. in Raleigh, Lynnwood Brewing Concern (LBC) features a wide selection of year-round beers, seasonal offerings and collaborative beers. Opt for a crowd favorite, the Bad Leroy English brown with a rich malt complexity including caramel, toffee, nutty and toasty flavors. LBC offers a fun indoor space with games as well as a beer garden to hang out with friends.
 

After having a few pints, walk over to one of Raleigh's newest restaurants, Hummingbird. Chef Coleen Speaks' newest neighborhood cocktail bar and cafe features classic cocktails, wines and bottled beers alongside original cocktails with floral inspiration. Try some of the popular dishes like the crispy buttermilk fried quail, charbroiled oysters, togarashi-seasoned popcorn and shrimp dip.
Fainting Goat Brewing Company, located on Main St. in Fuquay-Varina, provides a variety of high-quality, full-flavored beers in a casual setting. Fainting Goat's core brews include the Pomegranate Tart Witbier, ​BrewQuay Double Buck DIPA and What the Buck American Pale. After a few brews and hanging out on the patio, head across the street to The Mason Jar Tavern.
 

Start off with the pimento cheese dip or the Mason Jar fries, and don't miss the TMJT Burger with bacon jam and blue cheese on a local Stick Boy Bread Co. brioche bun. If you're in the mood for another beer, Mason Jar Tavern also has an excellent selection of local craft brews and beers they brew at The Mason Jar Lager Company, a short drive away. You may want to go for a walk around the quaint downtown Fuquay-Varina to work off some of the beers and delicious food!
Raleigh Brewing Company's kid- and pet-friendly taproom is open seven days a week. Play darts, cornhole and board games—or just relax on the outdoor patio with a beer in hand. Beers on the menu all year round include the Hell Yes Ma'am Belgian Golden Ale, Coffee Hidden Pipe Porter, The Walter Imperial IPA and the House of Clay Rye IPA. (And kids love Raleigh Brewing's root beer!)
 

When hunger starts building, go for a stroll about 10 minutes down the road to a staple in Raleigh, Neomonde. Founded almost 40 years ago by four brothers who came to America from the mountainous region of northern Lebanon, Neomonde serves delicious Mediterranean food and also offers a small grocery. Menu items not to miss are the hummus and pita bread, falafel and chicken shawarma.
Little City is a locally rooted, centrally located craft brewery nestled around Raleigh's Glenwood South entertainment district. Perfect for the warmer months ahead, we highly recommend tasting the brewery's Strawberry Kölsch and its hefeweizen.
 

Just a short walk away, pay a visit to Vidrio. located directly off of Glenwood Ave. This Mediterranean-inspired, two-story gathering space is absolutely stunning, with the walls of the main dining room adorned with nearly 400 hand-blown glass pieces. Vidrio's small plates are great for sharing with a group of friends, and a few favorites include the Moroccan beef skewers, charred octopus, stone-hearth flatbreads and oysters on the half shell.
At the 20-barrel microbrewery with a tasting room in Raleigh's Five Points neighborhood, Nickelpoint Brewing Co. preserves European beer styles while using the latest findings in brewing science. Enjoy the Vienna Lager, which has a clean lager finish and a light-to-medium body; the Belgian Golden Ale, complex in flavor with fruity esters and moderate spiciness; and the Blonde Ale, a crisp, refreshing ale with light malt sweetness.
 

If your sweet tooth begins to strike, Hayes Barton Cafe is a Raleigh institution serving up pies and cakes more than five-and-a-half inches high. A slice of peanut butter mousse pie is not to miss (and even more perfect after you have one of Nickelpoint's porters). Hayes Barton Cafe also offers lunch and dinner with classic cafe offerings like sandwiches, salads, burgers and hot dogs.
 
Don't forget to print and take your Raleigh Beer Trail Passport when you visit all the breweries! Get stamps at each brewery to earn prizes!
Comments