Five of the Best Holiday Light Displays in Greater Raleigh
Monday, December 22, 2014, 3pm by Kristy Stevenson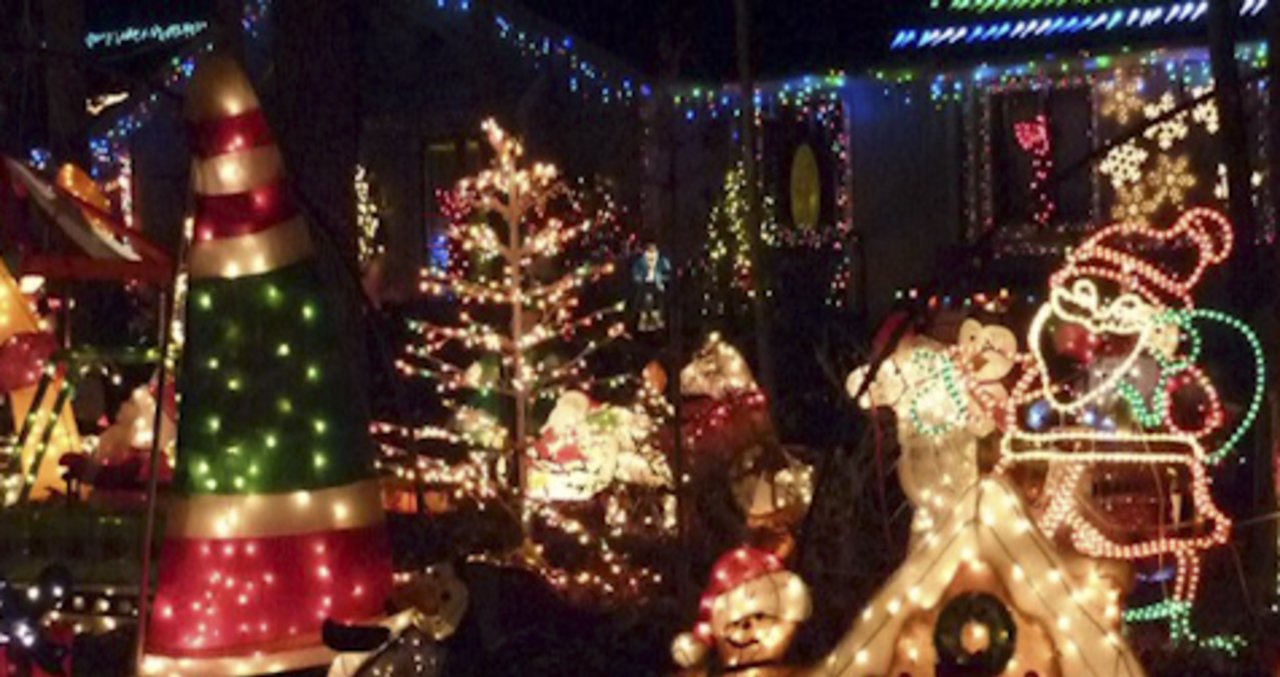 During the holiday season, the Raleigh area is aglow with displays of Christmas lights, blow-ups and other seasonal presentations. Here are some of the best places for December pageantry:
Happyland Christmas Lights
5505 Huntingwood Dr., Raleigh. These lights twinkle in memory of Rick Moore (1986-2004), who in his short life always wanted "more lights." Drive by Mon.-Thurs., 6:30-10pm; Fri.-Sun., 6-10:30pm. On Christmas Eve the lights will run sundown-10:30pm with the manger lit throughout the night. Free.
Piper Lights
5725 Fixit Shop Rd., Wake Forest. Drive through a display that connects yards and crosses a pond (creating beautiful reflections). Ride the train and visit the candy store for hot chocolate, popcorn and old-fashioned candy treats. You might even see Santa! Sun.-Thurs., 6-9pm; Fri.-Sat., 6-10:30pm. Admission is free; donations accepted.
Wendell Wonderland's Lake Myra Christmas Lights
10 S. Cyress St., Wendell. The Town of Wendell has a spectacular light show set to music. This year's display features 400,000 lights computer synchronized to "dance" in time to the music. The display is created by the Williams family of Wendell, who painstaking design and assemble the glowing event each year. Visitors neither walk nor ride through the exhibit–it's more like going to the movies. You'll park (or stand) and watch the show from the viewing area in front of the display. Each show is 30-90 minutes in length. Sun.-Thurs., 6-10pm; Fri.-Sat., 6-11pm. Admission is free; donations accepted.
Magical Winter Lights Show
Park West Village; Intersections of Chapel Hill Rd., Cary Pkwy., and Morrisville Pkwy., Morrisville. PaintScaping brings the walls of the Park West 14 Cinemas to life with 3D projection mapping and animation set to holiday music. Nightly, 6-8pm. Story time with Santa is 5:30-8:30pm, Fri.-Sun.. Plus, falling snow, train rides every night and carolers on the weekend. Free.
Neighborhoods
Some neighborhoods are known for their cumulative effort and fantastic holiday spirit–Raleigh subdivisions like Bedford, Black Horse Run and Stonehenge; the historic district of Wake Forest; and Planter's Walk in Knightdale, for example. Check out this map of many the hot spots in the area created by Wake Forest Commissioner Jim Thompson and shared via social media.
What are some of your area favorites?
Comments