Four Fun Interactives at "The Secret World Inside You" at North Carolina Museum of Natural Sciences
Thursday, January 12, 2017, 4am by visitRaleigh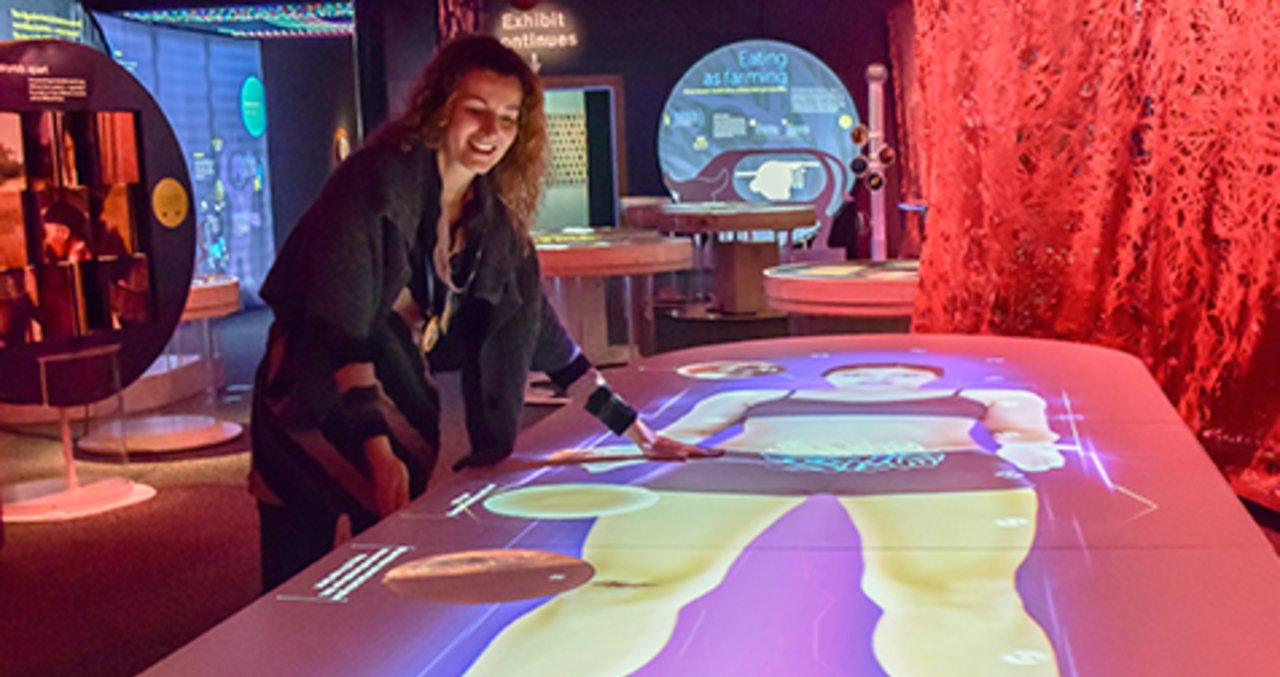 More than 100 trillion tiny microorganisms are crawling on your skin, swimming in your gut and traveling through your intestines! And that's a good thing!
Contrary to the misconception that these microbes (the term used for organisms that are too small to be seen with the naked eye) are just "germs" that cause diseases, most microbes living in your body are vital in keeping your digestive system, immune system and even your brain working properly.
Learn about this world of bacteria, viruses, fungi and other organisms, called the "human microbiome," on and in your body at the Secret World Inside You exhibit at the North Carolina Museum of Natural Sciences in Raleigh, N.C., running through March 12!
The exhibit is highly interactive, offering lots of fun ways to explore and understand how important microbes are to your body. Here's a quick rundown of four of the awesome interactives throughout the exhibit:
Interactive table exploring how microbes impact health
Once you start interacting with this, you'll be hooked. Visitors can touch spots located all around the 14-foot projected image of a woman to see how microbes affect different parts of the body. Touch a spinning disc and a line will reach out to a point on her body, then a circle appears with a video showing what's going on inside the body.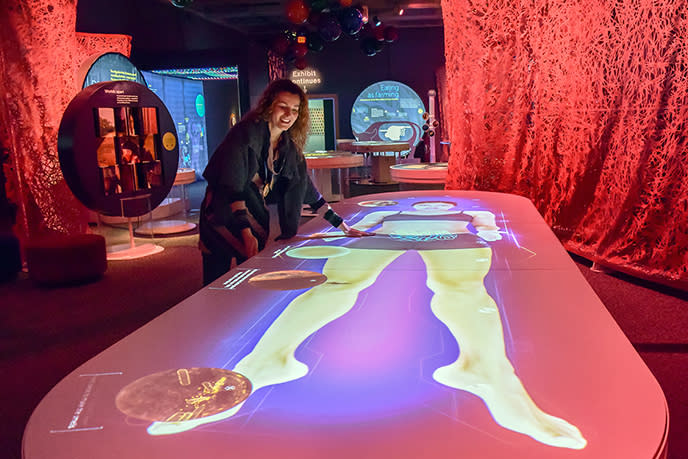 Game tables
After going through much of the exhibit, test your knowledge and learn more with three fun games, "Feed Your Gut!," "Cure Your Infection!" and "Reboot Your Biome!" Four circular tables with pinball plungers on the sides display a series of timed games. In "Feed Your Gut!" you build your own microbiome by selecting foods, then pulling and releasing the pinball plunger to shoot them into "your gut"—the goal is to build a rich, healthy, diverse microbiome. See how your microbiome scores!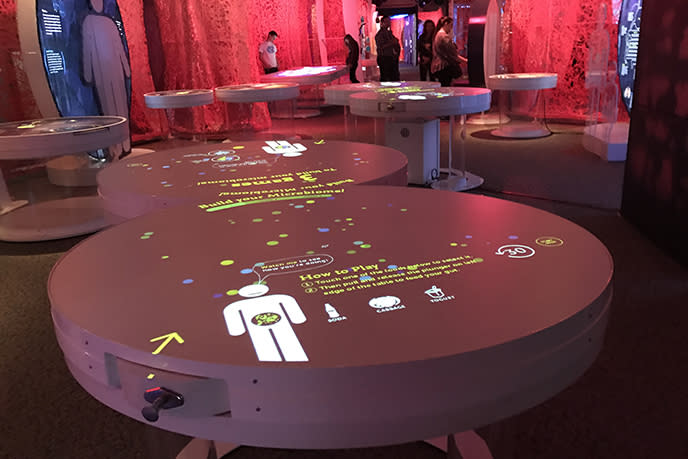 "Pit Stop" sniff test
An interactive exclusive to the exhibit during its time in Raleigh, "Pit Stop" features cutting-edge research by scientists in the North Carolina Museum of Natural Sciences's Genomics and Microbiology Research Lab on the armpit microbiomes of human and non-human primates. As the section describes, "Bacteria in your armpits thrive on nutrients in your sweat and produce body odor. Your smell is determined by your body's chemical reactions, your community of microbes and the food you eat." Take the sniff test to identify smells frequently associated with body odor, one being bleach, interestingly enough!
"Hometown Heroes" microbiome portraits
Another interactive exclusive to Raleigh, "Hometown Heroes" shows how different lifestyles and everyday activities can affect the microbes in your armpit. The museum swabbed the armpits of local celebrities to then display their microbes, or as the interactive describes, their "tiny microbial sidekicks." Locals include passionate mind and handbag designer Holly Aiken, Fortnight Brewing Company head brewer Derek Garman, Raleigh Denim Workshop co-founder and designer Victor Lytvinenko, banjo player and recording artist Hank Smith and more. Play with the touchscreen monitor to see their profiles and see their microbes!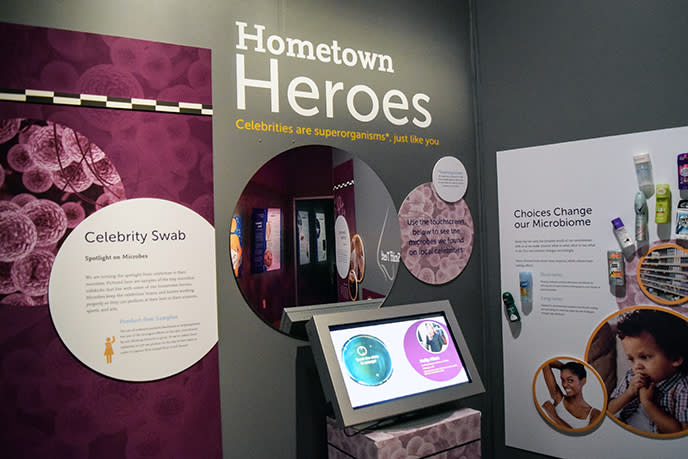 Plan your visit to the museum and exhibit today! General admission to the museum is free. Tickets to get into this featured exhibit are $10 for adults, $8 for senior/military/student and $7 for children (3-12)—get your tickets here!
Also, check out more current exhibits at Raleigh's museums here to kick off the new year.
Comments