Holiday Traditions, Old and New, in Raleigh, N.C.
Thursday, October 26, 2017, 7am by visitRaleigh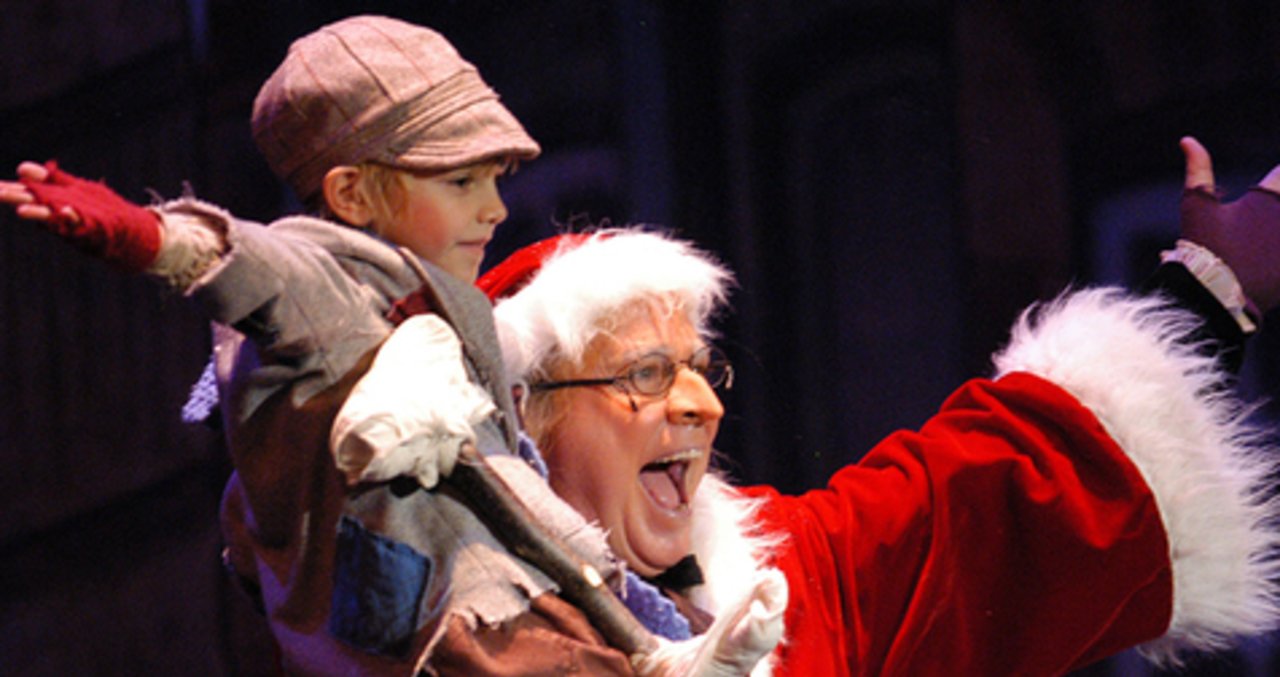 The holidays are the perfect time to come together with friends and family, celebrating the magic of the season and taking part in Raleigh, N.C.'s holiday traditions, old and new.This list, full of events and activities in N.C.'s capital city area, should get you started on planning special ways to capture the holiday spirit this season. From performing arts productions to incredible light displays, these are some of the tried-and-true and can't-miss things to do during the holidays:
73rd Annual ABC11 Raleigh Christmas Parade (11/18)
The largest Christmas parade between Atlanta and Washington, D.C., will march through downtown Raleigh for more than two hours, drawing nearly 60,000 visitors to the streets to see marching bands, dancers, classic cars, super heroes and Santa Claus. Bring the whole family (including pets!) plus some chairs—there's great street-side viewing everywhere on the 1.4-mile route.
Annual North Hills Tree Lighting Celebration (11/18)
The annual lighting of a 41-foot-tall Christmas tree, a visit from Santa Claus, trackless train rides for kids, live music and plenty of vendors on hand make this celebration an equally great event for families and a fun date idea. Arrive a tad early to join in on the Holiday Sip & Shop to knock out some shopping at local retailers like Peter Millar, Quail Ridge Books, Scout & Molly's plus more while enjoying complimentary hot chocolate and cider.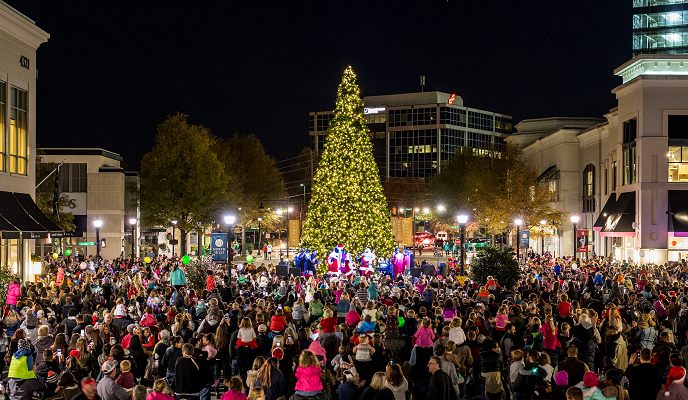 Wendell Wonderland (12/1; light show runs nightly 11/22-12/31)
A perfect chance to experience historic downtown Wendell, with a visit from Santa Claus, trolley rides through town, live music local vendors and more. One of the area's most popular light shows, the Lake Myra Christmas light display, will also be in full swing, featuring more than 400,000 lights—and it's all free! 
Rudolph the Red-Nosed Reindeer: The Musical (11/24-12/24)
Based on the animated television special "Rudolph The Red-Nosed Reindeer" and the stage production directed and conceived by Jeff Frank and First Stage, the characters you know and love—Rudolph, the Abominable Snowman, Santa and Mrs. Claus and more—come to life in this Broadway Series South production. And here's a tip: stroll through downtown Raleigh, before or after the show, for a great meal or to get some shopping done.  
North Carolina Chinese Lantern Festival (11/24/17-1/14/18)
A super trip-worthy event for the whole family returns for a third straight year—the North Carolina Chinese Lantern Festival brings more than 20 larger-than-life lanterns to Koka Booth Amphitheatre in Cary. Made up of thousands of LED lights, displays light up the skies and mesmerize visitors on this one-hour walking tour. Have your cameras ready for the Chinese Dragon that sits on Symphony Lake!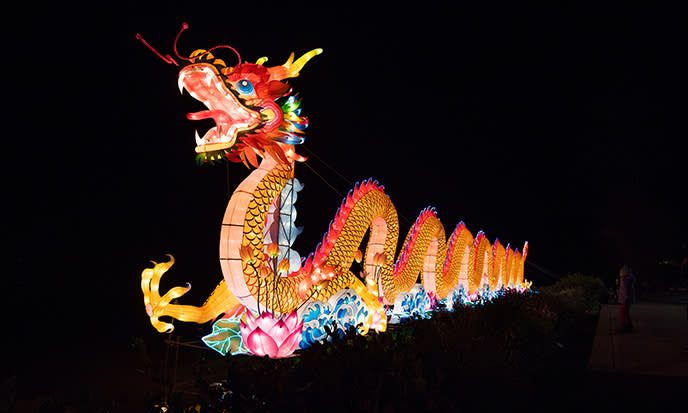 North Carolina Symphony Performances
If you can only see one or two of the nearly 200 performances by the North Carolina Symphony each year, this may be the time to do it. Special performances include a Polar Express Special Event Concert (11/22), a Home Alone Special Event Concert (11/24-25), a Christmas with the Callaway Sisters Pops Series concert (12/15-16) and a New Year's Eve Celebration Special Event Concert (12/31).
Pullen Park's Holiday Express (12/7-17)
This year-round favorite destination for families is now all dressed up for the holiday season, festively decorated with thousands of lights. The major attractions? A rideable, miniature train that meanders through and around the park plus a carousel that keeps kids of all ages happy for hours. (It's sold out for this year but we couldn't go without mentioning it—it's a true holiday tradition here! But look out for tickets for next year's event as they go on sale mid-to-late July.)
Movies at The Cary Theater
The holiday season is one of the most popular times of the year to head to the movie theaters, so try out this unique experience: The Cary Theater, housed in a historic property in downtown Cary, opened up in 2014 and offering independent film showings, music and other live performances. They'll be showing seasonal movies including "National Lampoon's Christmas Vacation," "White Christmas," "The Polar Express," "It's a Wonderful Life," "A Christmas Story" and "Elf" before the end of the year.
Christmas on Salem Street (12/1-3)
Christmas carols, a tree lighting, horse-drawn carriages, cookie decorating and a visit from Santa in charming historic downtown Apex—this annual tradition has so much to love. Don't miss the Grand Christmas Parade on Sat.! 
Raleigh Winterfest (12/2)
Downtown Raleigh's winter wonderland experience includes the Mayor's Tree Lighting, festivities, rides and more. Get ready to celebrate the holiday season on Fayetteville St. and City Plaza!

A Christmas Carol, presented by Theatre In The Park (12/6-10; pictured in header)
This theater production from local passionate mind Ira David Wood III (meet him in the video below!), celebrating it's 43rd year this holiday season, has wowed more than a million guests throughout the years. The beloved musical comedy, in which Wood himself puts on an incredible performance as Scrooge, has been a longstanding tradition for families in the area—tickets tend to go quickly so plan ahead!  
 
State Capitol Tree Lighting Ceremony (12/6)
With luminaries lighting the Capitol grounds and local choral groups filling the air with seasonal songs, the lighting of the tree at the North Carolina State Capitol Building is a sign for many that the holiday season is officially here. After the lighting of the tree, stick around to tour the inside of the Capitol, covered in wreaths and draped in garland.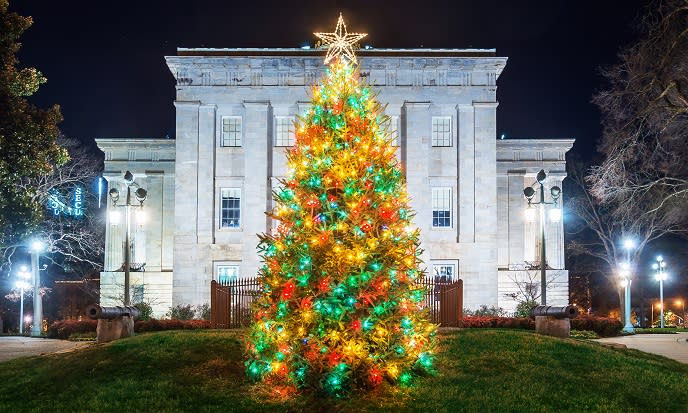 46th Annual Historic Oakwood Candlelight Tour (12/9-10)
Historic Oakwood, a community of homes, many of which are dated to the mid 1800s to early 1900s, has its own smalltown feel. Elegantly decorated for the holidays, you can step inside about a dozen private homes, staffed with docents to tell the rich history of this Century Victorian neighborhood.  
The Nutcracker, presented by Carolina Ballet (12/15-24)
Grace, grandeur and mysterious illusions. Carolina Ballet's holiday classic is a can't-miss tradition for locals, visitors, families and friends. The only production in the country using illusions created by renowned magician Rick Thomas, The Nutcracker will make characters levitate, disappear and reappear before your eyes in 14 performances at the Duke Energy Center for the Performing Arts.
An Angus Barn Dinner
Visiting one of Raleigh's most treasured, family-owned restaurants is never a bad idea. Open for more than 55 years, Angus Barn is an institution—an award-winning steakhouse with one of the largest wine cellars in the country. During the holidays, gorgeous decorations adorn the red barn building inside and out. It's no wonder visitors who have experienced Angus Barn around this time keep returning year after year.  
23rd Annual Kwanzaa Celebration (12/29)
A celebration for all people, focusing on family and friends, Town of Cary and the Ujima Group, Inc., will host the 23rd annual Kwanzaa Celebration at the Cary Arts Center. The theme for this year's celebration is "Peace, Love and Respect...For Everybody" and will feature a performance by the African American Dance Ensemble, Kuumba Dance Company (Danville, Va.) and Ms. Lois Deloatch, noted for her rich contralto voice and expansive repertoire of classic tunes and original compositions.
First Night Raleigh (12/31)
Raleigh's biggest New Year celebration fills the city's center with crowds and activities: entertainment, tons of live music, vendors and an epic grand finale that sees a giant copper acorn drop from the sky as the clock strikes midnight.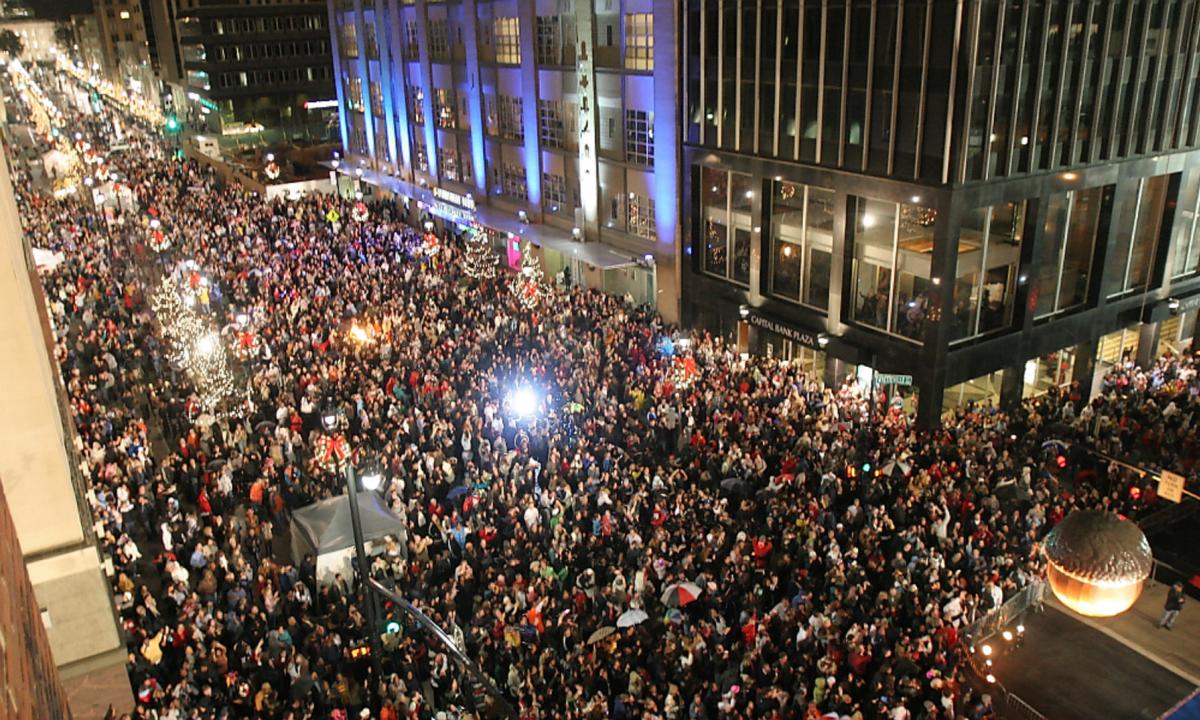 Strolls Through Town Main Streets
For a classic fall or winter night out, stroll the historic main streets of Raleigh area towns, decorated with wreaths, garland and lights and lined with festive storefronts. In addition to the holiday main street experiences mentioned above (in Wendell and Apex), check out this article with some things to do (not only in Nov. and Dec., but also year-round) on the main streets of Cary, Apex, Fuquay-Varina and Wake Forest. Each of those main streets include cozy coffee shops, local-favorite stores to shop for loved ones and awesome restaurants.
Have your own holiday traditions in Raleigh, N.C.? Drop us a line on Twitter and Facebook to let us know!
North Hills Tree Lighting Celebration photo, Terrence Jones Photography via North Hills; Raleigh Winterfest photo, Carolyn Scott Photography; North Carolina State Capitol photo, Bill Dickinson
Comments