Hopscotch Music Festival: Day One (Thursday)
Friday, September 05, 2014, 6pm by Tyler Cox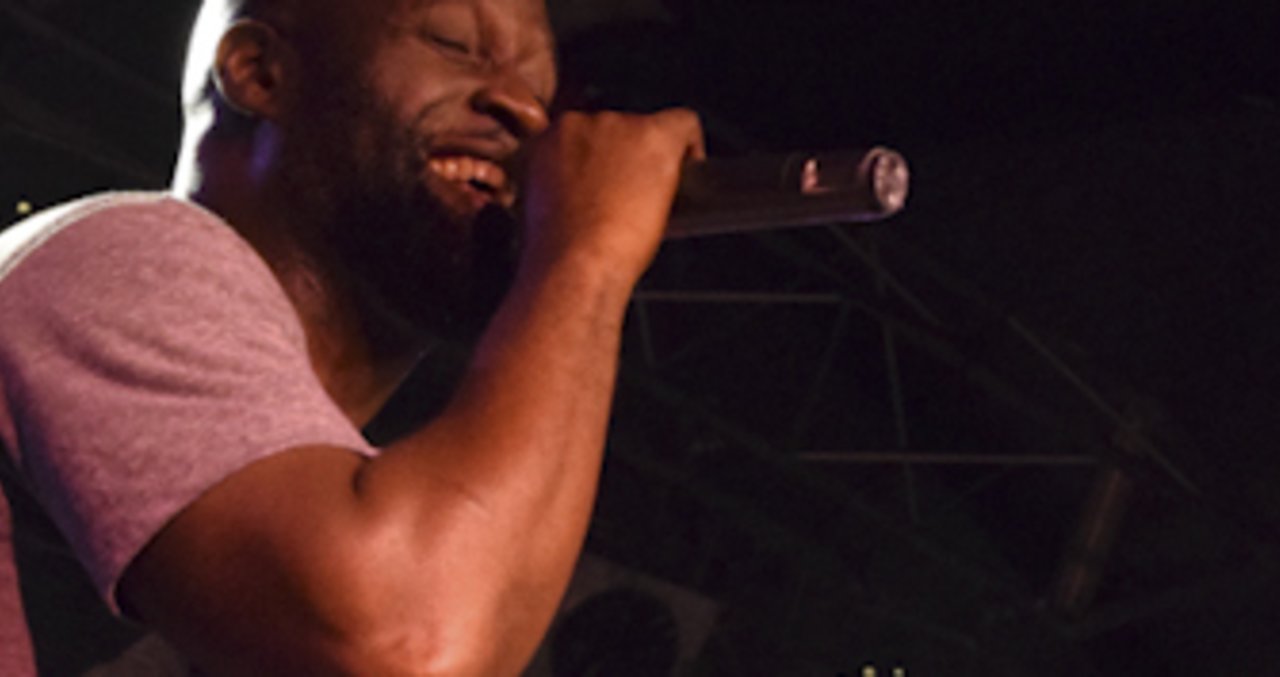 This is it. The weekend I've been waiting for since 2010. The commencement of one of our proud country's greatest music festivals: Hopscotch Music Festival 2014, now in its fifth year. In past years, something always came up, keeping me from experiencing the coolest party in North Carolina. Last year at this time, I was in the process of moving from Winston-Salem to downtown Raleigh and missed out. This year, I knew nothing would get in my way. And I'm going to do it up right.
To honor the event, I've decided to write a running diary of my nights out in Raleigh.
Thurs., Sept. 4, 2014
5:45pm


Contemporary Art Museum (CAM Raleigh) hosts a VIP pre-party to kick off Hopscotch Music Festival 2014. I'm already impressed. Spacious, bright and clean, this venue adds panache to the weekend festival. The atmosphere makes me feel underdressed even though everyone here is dressed as casually as possible. It's going to be a long night, after all–there's no need for suits and ties at a festival that spreads itself across the city.
I see Standard Foods Grocery and Restaurant serving roasted eggplant with water-blanched peanuts, shiso (an Asian mint-like herb) and lettuce from Raleigh City Farm. Poole's Diner set up a small grill to make toasted, bite-sized pimiento grilled cheese, and I'm all over it.
New Belgium Brewing supplied the beer, and I opt for Hop Kitchen, an American pale ale brewed in collaboration with its Fort Collins neighbors Odell Brewing Company. I'm thirsty, so this brew doesn't last long in my hands.


5:55pm
I sample the red wine from McRitchie Winery & Ciderworks, which is excellent. Stanbury and Foundation are dishing out craft cocktails that look amazing, even in a plastic cup. I pass by Larry's Bean's–cold brew coffee on tap! Love it. New Belgium Brewing kicks its final keg.
Thurston Moore comes on stage. The principal singer and songwriter for Sonic Youth, Moore plays a 20-min. set of his experimental noise rock backed only by a drummer. No vocals. None needed.


6:23pm
Foundation and Stanbury run out of mixers and are now serving healthy pours of straight bourbon.
7:00pm
I arrive at City Plaza to catch the Durham-based hip hop group Toon & the Real Laww. You know you're good when you're picked to open for De La Soul on the main stage. Strong support from the crowd.
De La Soul. 'Nuff said.
Z Pizza (Downtown) refuels me, and I eat as I watch De La Soul rock the block. Now I'm ready to rock. The problem with Hopscotch Music Festival 2014, if this is even a problem, is that it brings more than 150 exceptional talents to downtown Raleigh, many of which even a Music Maniac like myself hasn't heard of. There are several bands playing simultaneously at venues across downtown all night long. I decide to explore and catch a few songs from as many bands as I can, hoping to broaden my musical horizons. This is going to be fun.
8:40pm
Wild Fur at Lincoln Theatre. I couldn't pass up the chance to hear my area's singer-songwriter Wylie Hunter's newest project. I chose a great show to start my small stage odyssey. I love the synth-tinged Americana coming out of Hunter's collaboration with another local stud, Nick Jaeger.


9:01pm
It's raining, and, like most people, I'm on foot going from venue to venue. I'm not happy, but I'm a festival veteran. I will not let the weather spoil my night.
9:10pm
Young Cardinals at Deep South the Bar. I like power pop, and this band out of Raleigh had a good edge to them. A little dark power, perhaps.


9:50pm
Sun Club at Lincoln Theatre. I'm back at Lincoln Theatre, which has, in my opinion, the most enticing lineup tonight. I wish I had caught more of these guys, but I arrive a little late. Sun Club, out of Baltimore, elicits comparisons to Vampire Weekend for their happy electric pop ditties. I hear more of the quirky band Born Ruffians in their style. I wonder if anyone will top this performance tonight.


10:15pm
I'm thirsty again, and Lincoln Theatre offers one of my favorite N.C. craft beers in the bottle–Bad Penny Brown Ale from Big Boss Brewing Company. Malty, chocolaty goodness. Yum.


10:31pm
American Aquarium at Lincoln Theatre. It's still raining, so I decide to stay dry a little longer and catch the beginning of this Raleigh band's set. I want to slow it down some and get my alt-country fix. Think Uncle Tupelo or early Wilco. Though American Aquarium tours constantly around the U.S., tonight is my first time seeing them live. I've been making poor life decisions, I know. These guys are easily the tightest band I've seen tonight, everything perfectly in sync.


11:13pm
IIII (read "four") at A.J. Fletcher Opera Theater at Duke Energy Center for the Performing Arts. How can I resist a band featuring 14 drum kits? I cannot. Two synthesizers/mixers in the middle of the stage are surrounded by 14 drummers, including core member Brian Chase of the Yeah Yeah Yeahs. 14 bass drums pound in unison, their pulsating rhythm shaking the very foundation of this theater. I stay from the beginning to the end, the only show tonight that has sucked me in for its entirety. What a performance! Electronica meets a drum line, only more so. Just wow.


12:10am
Reptar at Deep South the Bar. Friends have been pushing me to see Reptar for almost a year now, and it never happened. I decide to see what the fuss is about. It takes me about three seconds to get hooked. Seven band members crowd the stage at the tiny bar, giving them barely enough room to move around. They don't seem to care. These guys are jumping, dancing, twirling, head banging and pouring sweat. This is high energy indie pop at its finest, and they're exciting the crowd which, after so many hours of music, must be exhausted by now. I should be, too, but somehow I find an energy reserve, dug from the depths of my rain-soaked body by this band out of Athens, Ga.


12:47am
I call it a night, deciding to skip The War on Drugs back at Lincoln Theatre. After all, this is only the first night of three. In a few hours, I'll do it all again.
Comments