Hopscotch Music Festival: Day Three (Saturday)
Sunday, September 07, 2014, 3pm by Tyler Cox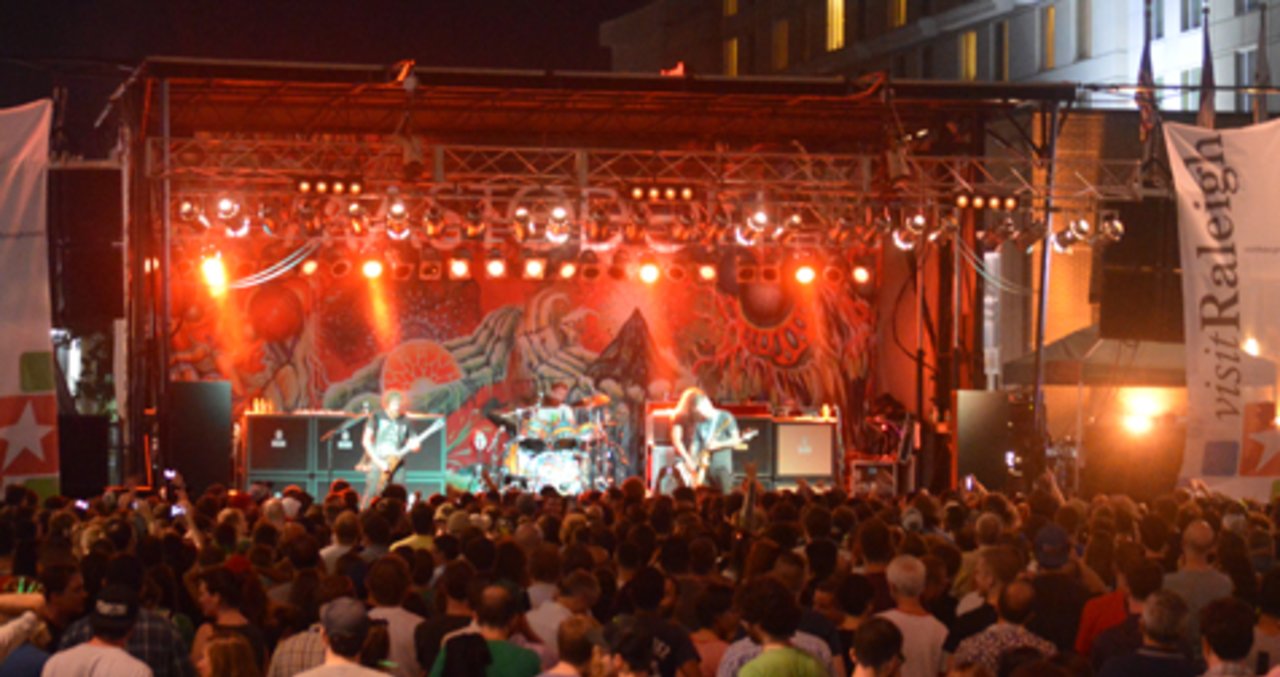 To honor Hopscotch Music Festival 2014, I'm posting my diary of my nights out in Raleigh at the event. This is part three, the final entry.
Sat., Sept. 6, 2014
1:00pm
I start my afternoon off with brunch at one of my favorite downtown Raleigh staples, Remedy Diner. Though known for its vegan and vegetarian fare, there's still plenty on the menu for my fellow meat-eaters. I choose a simple breakfast burrito and a pint of Sweet Josie Brown Ale by Lonerider Brewing Company, which hits the spot.


2:15pm
Phil Cook & Caitlin Rose at The Pour House Music Hall. Trekky Records co-hosts this day party, giving me a second chance to see Loamlands. But that's not until later. Right now, multi-instrumentalist Phil Cook (of Megafaun) and Nashville country music singer Caitlin Rose team up for some soft acoustic tunes. Beautiful.


2:40pm
Rebekah Todd at Slim's Downtown. I'm in luck. Not only do I finally get to hear Rebekah Todd's soulful acoustic folk, I get to hear her backed by Gabriel Reynolds and Nathan Spain of Morning Brigade. This short set includes one of her newest tracks, "Roots Bury Deep," as well as a fun little cover of Pharrell's "Happy."


3:40pm
Hearts & Daggers at The Berkeley Café. I have a new favorite party band. They're upbeat, sassy and wild, and I absolutely love them. They give outlaw country a fightin' edge, just the way it should be.
Landlady at The Pour House Music Hall. Catchy hooks, melodic indie-pop, big ideas, excellent stage presence. I wish I had been able to catch more of their set.


4:42pm
Loamlands at The Pour House Music Hall. I wrote about Loamlands yesterday, so I'll only say that I could not wait for the chance to see them again in a slightly more up-close-and-personal venue. I must be in a country/rock mood.


5:18pm
Some Army at Legends. I give the country music a break to delve back into indie rock. Some Army channels early Radiohead and Coldplay, but in their own, unique way. They lean toward hazy psychedelic rock, slowly building and sucking me in.


5:43pm
Time to head home for a while and recharge for the night.
8:23pm
Mastodon at City Plaza. I'm not normally a big metal fan, but I make exceptions. Mastodon is one of them. I saw them last back in 2009, when they played their record Crack the Skye in its entirety, so this City Plaza show provides an opportunity to hear what they've been doing lately. Once More 'Round the Sun was released earlier this year, a magpie collection of big riffs, highly technical guitar work and heavy rock.
I'm pleased to see them on the Hopscotch Music Festival 2014 bill because they appeal to a different sect of concertgoers. This year's festival had big headliners in indie rock, hip hop and metal, something for everyone.
Oh yeah, and I like watching people headbang and crowdsurf.
9:05pm
Madison Jay at The Hive. I move on to catch this local freestyle legend.


9:25pm
Y'ALL at Kings Barcade. When I arrive, a few minutes early, there are perhaps two dozen people spread out around the horseshoe shaped bar and venue. I move to the front preemptively to get the full experience of Y'ALL's psychedelic power pop. Completely enthralled by the music, I forget I'm in a club. When I turn around, about half an hour later, I'm stoked to see Kings Barcade at full capacity.
Beer break! Deep South the Bar has a line out the door to see Coke Weed, and I'm not quite ready to trek over to Contemporary Art Museum (CAM Raleigh), so I drop in on Crank Arm Brewing, one of my favorite local breweries. I'm a big fan of Holy Spokes, their chocolate habanero porter.


10:28pm
Because cats rule the Internet.


10:50pm
The Range at Contemporary Art Museum (CAM Raleigh). I'm way overdue for some electronic music. Smart EDM by this artist out of Providence, R.I.


11:12pm
I hate it when my beer makes faces at me.


11:30pm
How To Dress Well at Contemporary Art Museum (CAM Raleigh). More electronic-based music, and with a full band! That's how to hook me. I love the range of Tom Krell's voice, and he contrasts his moody beats with some dynamic dance grooves.


12:02am
Dent May Band at Deep South the Bar. I pick Dent May to close out my Hopscotch Music Festival 2014 experience, with a conventional pop/rock sound.


12:33am
I'm signing off. It's been a successful weekend. Farewell, Hopscotch. See you next summer!
Comments