Hopscotch Music Venue Profiles
Thursday, August 14, 2014, 5pm by visitRaleigh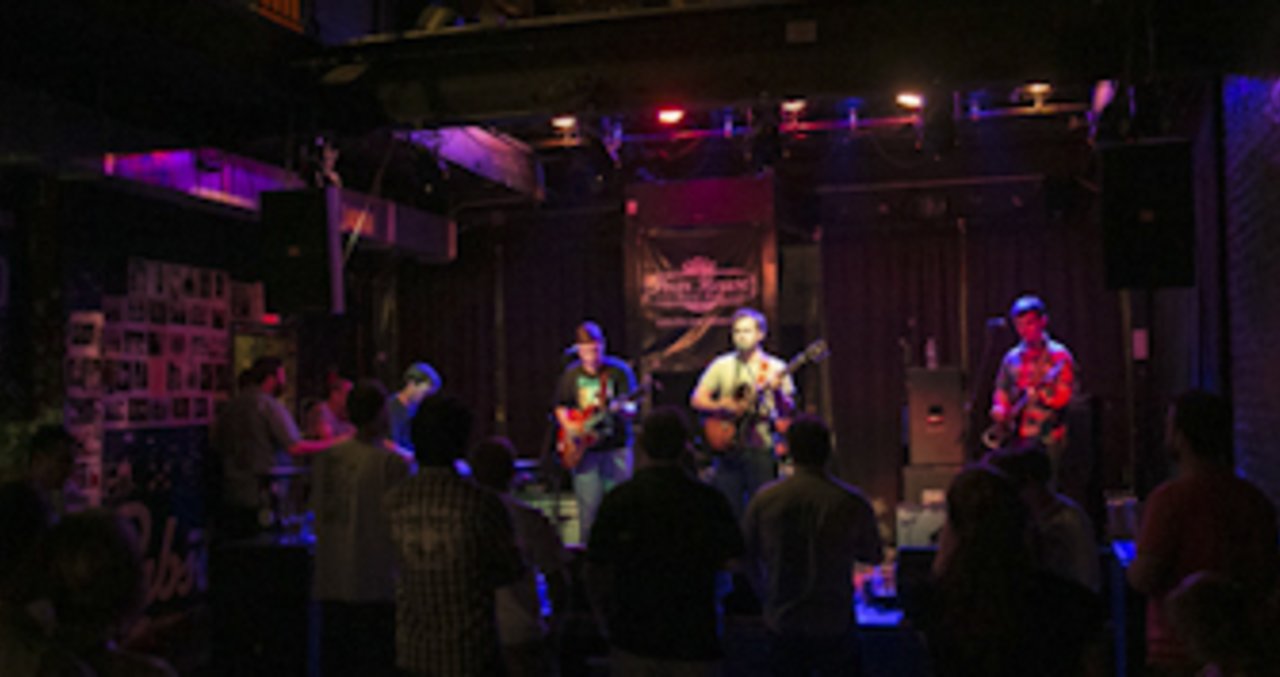 Festivalgoers, meet the Hopscotch music venues. Get the scoop on the dozen Hopscotch Music Festival 2014 venues below, plus some tips to help along the way.
City Plaza
Located in the heart of the center city, the artful City Plaza, with 50-foot programmed light towers, three sculptures from North Carolina-based artists and a smart design, is one of the premier and most popular spots for outdoor live music events in Raleigh. Experience Spoon, St. Vincent, Mastodon, De La Soul and more rocking downtown Raleigh all the way down Fayetteville St. and back at the plaza. Memorable Hopscotch moment in City Plaza: Wayne Coyne of The Flaming Lips shooting lasers out of a pair of giant hands all the way down to the North CarolinaState Capitol. Located near an abundance of Foodie hot spots.
Photo by Ted Richardson
Contemporary Art Museum (CAM Raleigh)
CAM Raleigh features an ever-changing collection of contemporary art and strives to inspire visitors with captivating works from some of the top artists today. The museum, in a repurposed early 20th century produce warehouse, honors the spirit of the former tenant by keeping fresh works moving in and out, showing visitors what's current in the art world. Situated in the Warehouse District, chow down on delicious eats at spots such as The Fiction Kitchen and The Pit, before or after performances. And you can also grab a brew on your way at Crank Arm Brewing.
Deep South the Bar
Experiencing Deep South when you come to Raleigh for live music is a must. With lyrics covering the interior walls of the venue, look for the words from some of your favorite songs. Deep South certainly knows live music as it hosts concerts 365 nights per year. Thirsty? Deep South offers crazy-good local beers! Plus, catch some fresh air between performances at the venue on the outdoor patio and see an iconic view of the Raleigh Convention Center's CREE Shimmer Wall.
Photo by @kristenabigailphoto on Instagram
A.J. Fletcher Opera Theater at Duke Energy Center for the Performing Arts
A theater full of personality and class, the venue offers 600 seats, with the farthest balcony seat (yes, balcony seating for an "overhead" view of the stage) 70 feet from the stage. You won't want to miss room-filling sounds from artists such as Phosphorescent, Future Shock, IIII and Celestial Shore. Located on the east side of the Duke Energy Center for the Performing arts, the walk to the venue makes for great photo/Instagram ops.
Kennedy Theatre at Duke Energy Center for the Performing Arts
This 170-seat, 40x60-foot, black-box experimental theater fuses intimacy with energy and the deeply personal with the universal theater experience. In past years, the venue's atmosphere has dramatically amplified the mood of the performances held here. Kennedy Theatre is going to be the perfect venue to catch Screature, White Lung, Power Trip, Ken Mode and more this year.
Kings Barcade
After relocating to Martin St. in 2010 following a three-year absence from the music scene, Kings Barcade has once again become a prime location to catch independent bands on the rise. A favorite of local musicians, this spacious club is not only a great place to hear music, but also a good place to hang out in the cocktail lounge downstairs, Neptune's Parlour, which has become home to the venue's arcade game collection. Muppets (yes, "The Muppets," as in those funny-looking, puppet creature things) Statler and Waldorf catch every single show at the venue. Find them and say hello to them while you're there.
Lincoln Theatre
A haven for singer-songwriters, rock fans and a plethora of cover bands year-round, this former movie theater is home to one of the best sound and lighting systems in the area. Music Maniacs can get up-close-and-personal with Hopscotch artists stage-side, or watch from a variety of levels for multiple views. Don't miss Raleigh's American Aquarium (Sept. 4, 10:30pm) or Demon Eye (Sept. 6, 9:30pm) perform at the venue. Catch Sun Kil Moon, Witch Mountain, Mark McGuire and more here as well over Hopscotch weekend
The Pour House Music Hall
You may feel a bit like Harry Potter skulking around Knockturn Alley the first time you walk down the narrow alley and through the door of this Moore Square institution. Open nearly 365 days a year, The Pour House Music Hall plays host to bands of all genres, from bluegrass to metal and reggae year-round. But the place isn't called The Pour House Music Hall for nothing. The venue is known for its well-stocked bar and variety of quality beers on tap, so go thirsty.
Slim's Downtown
Slim's may be your quintessential hole-in-the wall venue. Blink as you're walking past its downtown Raleigh storefront and you might miss it. Inside you'll find one of the area's more shoulder-to-shoulder venues as patrons crowd the narrow stage and line the stairway to get a better view. Check out the small lounge with a pool table upstairs to get a game in (you might have to get in line). Local brews offered include Aviator Brewing Company and Big Boss Brewing Company, and the venue offers them at surprisingly affordable prices. Must be 21+ to enter.
The Hive (at Busy Bee Cafe)
The Busy Bee restaurant originally opened in 1913, serving breakfast and lunch to Raleigh's downtown crowd. For years after the cafe closed in 1925, the space was used for an auto parts tore, a hardware store and more, and in 2009, the building underwent an extensive renovation, reopening as Busy Bee Cafe and The Hive (second level of Busy Bee Cafe). Named one of America's 100 Best Beer Bars this year by Draft, this local hot spot offers some of the best of craft brews and, in addition to Hopscotch performances, hosts live music events year-round such as the PineCone Bluegrass Jam. Must be 21+ to enter.
Tir na nOg
With a prime location in Raleigh's Moore Square, Tir na nOg is part restaurant, part bar and part venue. Catch a performance, taste local brews and dine on some killer Irish fare. Its Pub Classics include Ye Olde Celtic Nachos, Scotch Eggs, Guinness Wings and more. And it's right next to The Pour House Music Hall, so if you're catching shows there, hop next door for a bite to eat.
Vintage21
On Sept. 4-6, during the evenings, Vintage Church's downtown Raleigh location will turn into a Hopscotch Music Festival music venue. See noise genre music here and more (if you haven't experienced the noise genre--Hopscotch is the place to do it). Spacey rock jams are also on the bill here.
Wanna' know how to get to the venues? The festival website has a venue map to plan ahead with that also includes parking lots/garages, Larry's Beans Veggie Shuttle sites and SiteWork Art sites.
Haven't purchased tickets yet? Get them here!
Comments