Hot and Strong: Seven Can't-Miss Coffee Shops in Downtown Raleigh
Thursday, September 08, 2016, 7am by visitRaleigh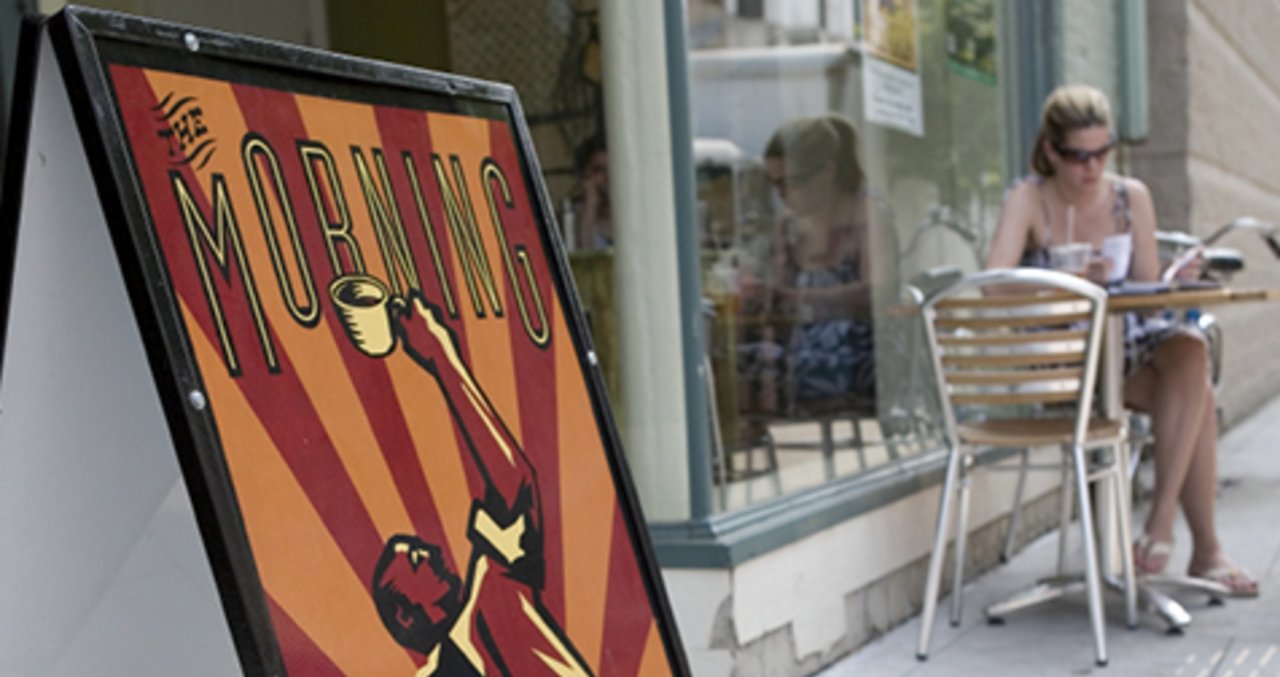 Updated Dec. 5, 2018
You need coffee. Downtown Raleigh, N.C., has it, with more great options than ever before. In Raleigh, coffee is more than a pick-me-up. It's a way to meet friends, connect and share important ideas or to take a moment for yourself. These spots, and many more, help accomplish all those things. You'll find quiet corners, friendly faces, books to read, pastries to be enjoyed and, yes, you'll find great coffee. 
 
On downtown Raleigh's E. Hargett St., Morning Times is a great place to get updated on the day's news while munching on an omelette, breakfast sandwich, the morning mac (yes, it's super) or another breakfast item fave. Morning Times also has lunchtime eats, such as their spicy chicken sandwich and Reuben melt. "Morning" is in the name but the shop's open through 10pm every day. For a cozy coffee shop vibe, head up to the second-floor room, with interesting art and a laid-back atmosphere.
 
Take your pick of indoor or outdoor seating at 42 & Lawrence, a hip "coffee lab" in downtown Raleigh where cold brew, lattes, coffee sodas and kombucha are all on tap and ready to pour! This shop gives off a cool European vibe but with local coffee and local staff. Keep an eye out on Facebook for occasional events. The menu also changes with the seasons, so plan your visit to enjoy seasonal favorites.  
 
Like the name says, located in downtown Raleigh's One City Plaza building and known for its loyal customer base that rave about the reasonably-priced, delicious sandwiches, great breakfast options and fresh-brewed coffee. As a major added bonus, you can create your own ice cream concoction, which is highly recommended!
 
Now a staple in downtown Raleigh, Sir Walter Coffee is known for an amazing retro atmosphere as well as a fabulous menu. Open all hours of the day, you can get your perfect beverage at the perfect time. This cafe is a treat for the senses with its vibrant orange and grey furniture, magnificent artwork and optional outdoor seating. Whether it's morning waffles and coffeehouse classics, afternoon espresso and bubble tea or evening tea cocktails and beer, you'll enjoy whiling away the hours at this delightful cafe. 
 
Heirloom Brewshop is eager to impress Raleigh visitors with its Asian-inspired food, drinks and aesthetics. You can find this coffee shop/sake bar in Raleigh's booming Warehouse District, not far from Morgan Street Food Hall, Father & Son Antiques and Junction West. It's the ideal nook to enjoy a relaxing break from the hustle and bustle of a busy season. The coffee shop not only serves up masterful drinks but also seamlessly blends the different cultures the shop incorporates into its offerings. Husband-and-wife team Chuan Tsay and Anna Phommavong spent weeks traveling through Asia doing research before opening the space in the fall of 2018. Settle for a spell and enjoy the ambiance with a sake cocktail or pour-over coffee.
 
Housed in a beautiful space just a block from downtown Raleigh's City Plaza, Sosta Cafe is one of the city's best-kept secrets. Salads, sandwiches and coffee served with "authentic French attitude"—you'll know what that means the moment you walk in. Grab a locally-roasted cup of coffee and spring for an omelet with whatever fillings you want (before 10:30am). 
 
This coffee, cocktail and dessert lounge—you decide on the order you want those items in—is a perfect spot to start your morning with coffee and a house-baked pastry, fuel up during the day or cap off a fun night downtown. If you're feeling adventurous, ask your barista for a recommendation—you may end up with a drink like the Black & Coke (chilled espresso and Mexican Coke) or the Daywalker (chilled espresso with bitters and ginger beer). You can't go wrong!
 
Check out even more awesome coffeehouses downtown, here.
Comments