Hot and Strong: Downtown Raleigh Coffee Scene
Thursday, September 08, 2016, 7am by visitRaleigh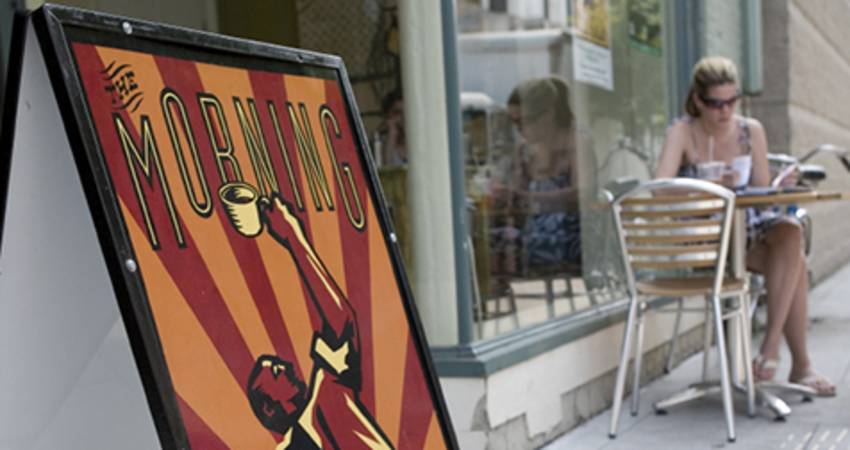 Updated Feb. 7, 2017
You need coffee. Downtown Raleigh, N.C., has it, with more great options than ever before. In Raleigh, coffee is more than a pick-me-up. It's a way to meet friends, connect and share important ideas or to take a moment for yourself. These spots, and many more, help accomplish all those things. You'll find quiet corners, friendly faces, books to read, pastries to be enjoyed and, yes, you'll find great coffee. 
When you see the classic neon "COFFEE" sign out front, you'll know you're in the right place. Morning Times is a great place to get updated on the day's news with a cup of coffee and a bagel, muffin, scone or other breakfast item. Morning Times also has lunchtime eats, such as their famous tuna salad, their apple and brie sandwich and more. "Morning" is in the name, but there's an evening scene as well: eat dessert and sip wine as you stroll the upstairs gallery at night, featuring works by that month's chosen artist.
BREW is a coffee and beer bar that brings coffee and beer lovers together in downtown Raleigh's Seaboard Station. You'll find incredible lattes, delicious pour-over coffee (a method of manual brewing in which a thin, slow stream of water is poured over a filtered cone—the handcrafted coffee experience takes longer, but really brings out the flavors of the bean), tasty pastries and local beers on tap, through which baristas can serve a nitro-cold, smooth brew that pours like a Guinness. 
One of the newest places to eat or drink in downtown Raleigh, 42 & Lawrence has already scored big points with lovers of cold brew coffee, espressos, draft lattes and other "tasty experiments." You can even grab a cold brew flight, kombucha tea or a coffee soda—which is exactly what we'd expect from a place dreamed up by Larry Larson of Larry's Coffee.  
Near the action downtown and located beneath the Aloft Raleigh on Hillsborough St., the second location for this local-favorite coffee shop has a rotating roster of roasters, usually local, excellent cappuccinos and scrumptious waffles—try blueberry with blueberries on top! They also sell a wide variety of coffee equipment and have fantastic spaces for business meeting needs.  
Like the name says, located in downtown Raleigh's One City Plaza building and known for it's loyal customer base that rave about the reasonably priced, delicious sandwiches, great breakfast options and fresh-brewed coffee. As a major added bonus, you can create your own ice cream concoction, which is highly recommended!
Housed in a beautiful space just a block from downtown Raleigh's City Plaza, Sosta Cafe is one of the city's best-kept secrets. Salads, sandwiches and coffee served with "authentic French attitude"—you'll know what that means the moment you walk in. Grab a locally-roasted cup of coffee and spring for an omelet with whatever fillings you want (before 10:30am). Chances are good that the owner of this super-cool spot will be behind the counter and whipping up your order.
This coffee, cocktail and dessert lounge—you decide on the order you want those items in—is a perfect spot to start your morning with coffee and a house-baked pastry, fuel up during the day or cap off a fun night downtown. If you're feeling adventurous, ask your barista for a recommendation—you may end up with a drink like their Black & Coke (chilled espresso and Mexican Coke) or the Daywalker (chilled espresso with bitters and ginger beer). You can't go wrong!
Check out even more awesome coffeehouses downtown here, including Devolve Moto and Cafe Helios in the Glenwood South district. 
Comments