How to Celebrate St. Patrick's Day in Raleigh, N.C.
Saturday, March 10, 2018, 11am by Kristen Baughman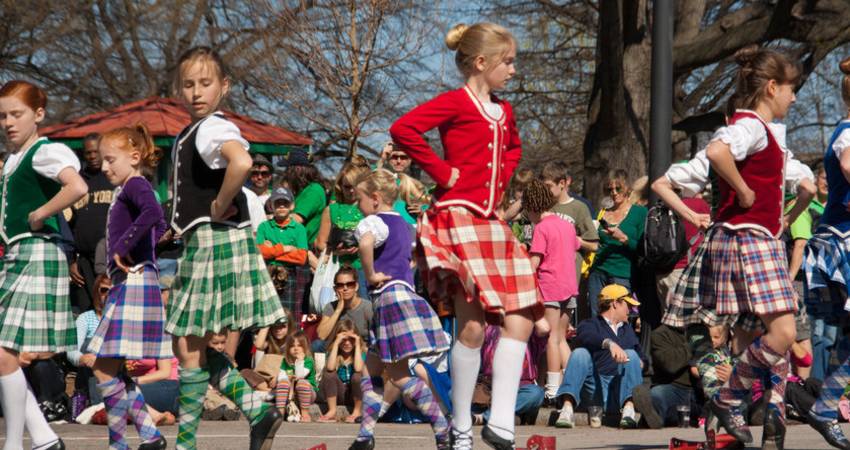 Wear your green and celebrate St. Patrick's Day in the Raleigh area! The Raleigh St. Patrick's Day Parade and Wearin' 'O the Green Festival is Sat., March 17, 10am-5pm at the south end of Fayetteville Street. This festival celebrates the great St. Patrick as well as Irish and Celtic traditions and culture. Enjoy food and drink, plus activities for kids on Leprechaun Lane. Shop Celtic-inspired jewelry and arts and crafts, and take in live music from the Shamrock 'n Roll Stage and the Courthouse Steps Stage all afternoon. As a bonus, admission is free!
Not only can you celebrate this special holiday at the festival but also at the area's awesome Irish pubs and restaurants where you can grab a pint and a bite to eat. Many of these spots are hosting special events in honor of the holiday!
 
Hibernian Restaurant & Pub
Headed up by passionate mind Niall Hanley, Hibernian Restaurant & Pub celebrates both the old world flavor and the new vibrancy of Ireland. Enjoy an atmosphere of a traditional Irish social club along with the warmth of a Gaelic home kitchen. Take it from us—the Shepherd's Pie and Guinness chocolate mousse are not to miss!
On Sat., March 17, noon-11pm wear your green and head to Hibernian's Saint Paddy's Day Festival at the 300 block of downtown Raleigh's Glenwood South district for a big, free street festival featuring live music, food and drink and Irish dancing throughout the day. The pub opens early at 7:30am to show the Six Nations rugby event live on television (great opp to try the Irish coffee, and the 10:45am Ireland vs. England game is a perfect kick-off for the day)!

Doherty's Irish Pub & Restaurant
Doherty's Irish Pub & Restaurant offers a fun and relaxing atmosphere with delicious Irish-American fare, made fresh daily by Doherty's chefs and the team. This Irish pub also has 17 taps (including four local brews), live music, patio seating and private dining for groups.
Celebrate St. Patrick's Day at the Cary location with festivities starting at 3pm with live music, great food, cold beer and more. Nine Times Around kicks off the day, and Mike MickXer will be on around 6:30pm. Watch Irish dancers perform at 5:30pm, and at 7:30pm live bagpipes will take the outdoor stage for a performance the whole family will love. The after-party rocks the pub at 10pm with DJ George.
The Apex location kicks off their festivities at noon with live music from Finally Friday, then Moonlight Rescue at 3pm and Nine Times Around at 7pm. Irish Dancers will be on at 6:30pm and bagpipes at 8:30pm. DJ Tino Gray carries on the music starting at 10pm for the after-party.
 
O'Malley's Pub & Restaurant
This favorite neighborhood pub has been serving up pints, cocktails and savory meals since 1996. O'Malley's Pub & Restaurant's cozy atmosphere and friendly staff are sure to leave you in good "spirits" this St. Patrick's Day.
Join O'Malley's Pub & Restaurant on Fri., March 17, for green beer, giveaways, specials and much more! And of course, live music will be a highlight of the pub's celebration, with Chris Overstreet at 2pm and the Magic Pipers Band at 9pm.
 
Saints & Scholars Irish Pub
North Raleigh's Saints & Scholars Irish Pub serves up homemade food in a dining room lined with Irish decor, plus includes a bar with more than 15 beers on tap. Bring your pooch this St. Patrick's Day, too, to enjoy their pet-friendly patio with two fire pits and canopies. Saints & Scholars will be hosting a St. Patrick's Day party on Fri., March 17, featuring an Irish buffet 11am-10pm, $5 Irish pints and live music on the patio with The Nostalgics, 7-11pm, and DJ Wanda Thompson, 11pm-2am.
 
Tra'Li Irish Pub & Restaurant
Tra'Li Irish Pub & Restaurant is prided on being an authentic Irish pub. The woodwork and design of the pub will transport you to Ireland, along with the Irish food and drinks offered. Above all, Tra'Li provides a sample of the hospitality you would expect to receive in Ireland.
Experience an evening of traditional song and music on St. Patrick's Eve at the Brier Creek location, Fri., March 16, 8-10:30pm. For this event, the pub has assembled some fine musicians who will perform under the title "Ring of Cary," playing Irish music with traditional songs and tunes.
The Brier Creek location will then kick off St. Patrick's Day festivities on March 17 around 5:30pm with traditional Irish music from Cran Ull starting at 6pm. This talented group draws their influences from County Clare and Dublin as well as N.C. If it's jigs and reels that you want to hear for St. Patrick's Day then Tra'Li Irish Pub is where you'll want to raise a few pints this holiday.
The Raleigh/Morrisville location will be hosting a full evening of Irish music and dance along with a special St. Patrick's Day menu on Sat., March 17. There will be a limited menu including Irish favorites like corned beef and cabbage. As for music, Tra'Li is hosting quite the line-up! McBackerty's Tappers plays Irish pub songs at 4:30pm, followed by Shanachie at 6:30pm, featuring sweet melodies and beautiful vocals. After dining on some Irish favorites, stick around for Cran Ull at 8:30pm, featuring fiddles, flute, banjo, bodhran and squeezebox as well as the fascinating voice of Margaret Rush, who will be joining Tra'Li all the way from Dublin. Finally, Inis Cairde will take the stage after Cran Ull's performance to grace listeners with live traditional Irish music.
 
Bonus!
Also check out these big celebrations:
St. Patrick's Day Fun at the North Carolina Football Club Home Opener
Kick off the USL 2018 season with special St. Patrick's Day fun and deals for the first home game at Sahlen's Stadium at WakeMed Soccer Park in Cary, March 17, 3:30pm, against the Tampa Bay Rowdies. Enjoy $3 beers and get your hands on a limited edition St. Patrick's Day team scarf with your purchase of a Four Leaf Clover Package. Get details here.
To add to the fun: take the FREE Red and Blue Express shuttle from downtown Raleigh to the event! Start the festivities early and grab a beer in downtown Raleigh at Hibernian (festivities mentioned above!), then head to one of the participating pick-up location bars—Carolina Ale House and The London Bridge Pub—to be taken to the game (and back when it's over). Get the VIP treatment by riding in style with free Lonerider Brewing Company beer, soda and water on the bus. Get more information on shuttle times and more here. (Note: Shuttle has a distinct party atmosphere possibly not suited for family groups with children.)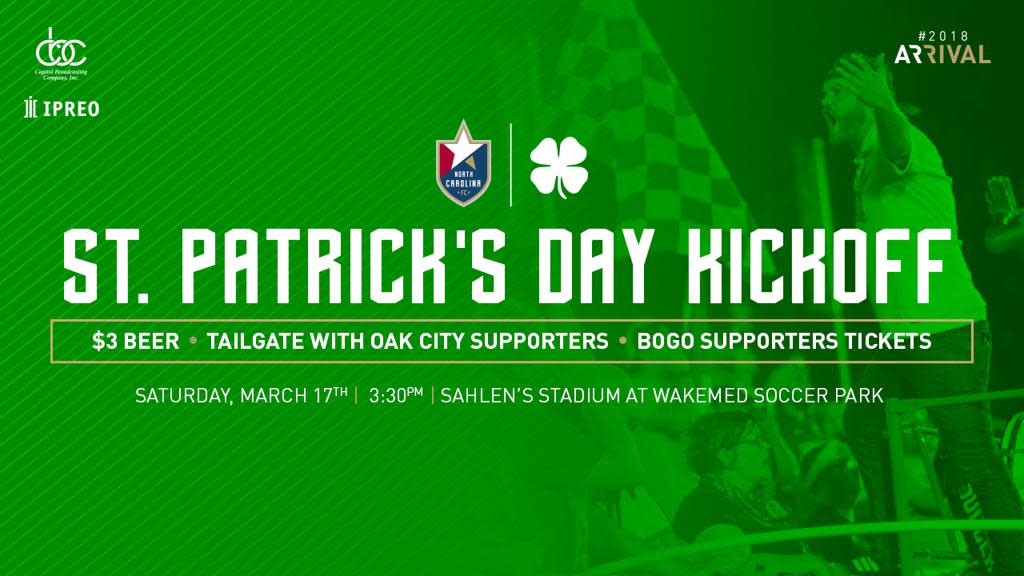 10th Annual St. Paddy's Four Miler
March 24 from 10:30am-2:30pm, starting at the Raleigh Beer Garden, race around town in your favorite kilt at the St. Paddy's Four Miler! All runners will win a T-shirt, Bond Brothers Beer Company beer from Cary and a finisher's medal. Come out for live music, food and beer as well as a free run for the kids! Hosted by nOg Run Club, all proceeds from this event will go to local charities. First beer is free with entry! Entry fee is $40 ahead of the race and $45 day of.
 
Comments