How to Celebrate St. Patrick's Day in Raleigh, N.C.
Friday, March 06, 2020, 12pm by visitRaleigh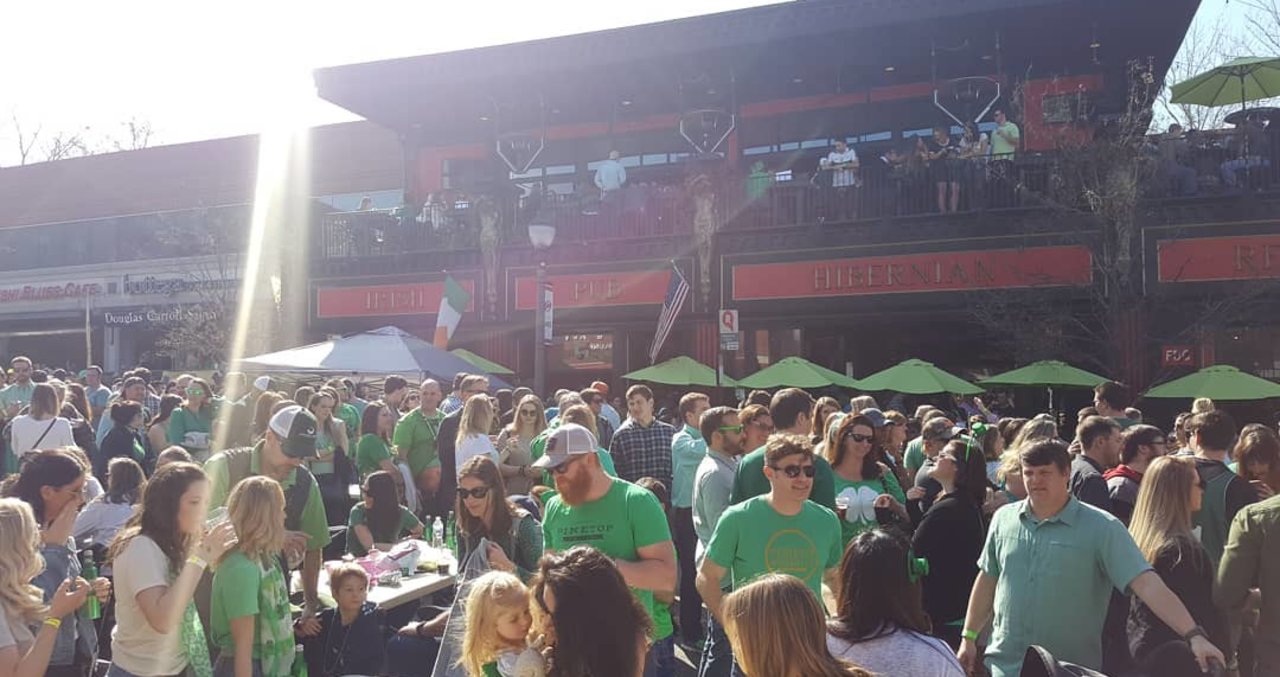 Paint the town "green" with a holiday visit to the Raleigh area for St. Patrick's Day. From parades to pub crawls, Raleigh pulls out all the stops to celebrate all things Irish!
 
Parades and festivals

Raleigh St. Patrick's Day Parade and Wearin' 'O the Green Festival (canceled)
March 14
The Raleigh St. Patrick's Day Parade, and the Wearin' 'O the Green Festival that follows, will take over Fayetteville St. in downtown Raleigh once again for the 37th consecutive year. A tradition which started with just a dozen or so participants in 1983 has grown exponentially over the years and draws crowds from miles around.
Following the parade (10-11:30am), celebrate the great St. Patrick as well as Irish and Celtic traditions and culture with food and drink; activities for the kids; jewelry arts and crafts from festival vendors; and live music from the Shamrock n' Roll stage and the Wake County Courthouse steps. As a bonus, dogs are welcome (on a leash!) and admission is always free!
Update, March 11: This event has been canceled.
Saint Paddy's Day Festival at Hibernian Restaurant & Pub (canceled)
March 14
Owned by passionate mind Niall Hanley, Hibernian Restaurant & Pub celebrates both the old world flavor and the new vibrancy of Ireland. On March 14, the Glenwood South location will team up with Shop Local Raleigh to put on the annual Saint Paddy's Day block party. From noon-11pm, Glenwood Ave. will come alive with live bagpipe music, Irish dancers, food and drinks. The party will then move inside and continue until the wee hours of the morning.
Hibernian isn't the only bar on Glenwood Ave. getting into the holiday spirit. Stop in at the Raleigh Beer Garden, which is celebrating its roots with live music and the largest selection of beers under one roof. Just down the street, Tin Roof Raleigh is hosting weekend festivities including a Shamrocks & Shenanigans party.
Update, March 12: The block party on Glenwood Ave. has been canceled. Hibernian Restaurant & Pub will be open as normal.
St. Patrick's Day Festival at Lafayette Village (canceled)
March 21
For a family-friendly immersion into the Irish experience, don't miss this North Raleigh festival taking place at the French-inspired shopping center, Lafayette Village on March 21, noon-4pm. While that combination might sound a bit odd to some, the village happens to be the perfect setting for the whole family to get a fun-filled peek into Irish culture. Join in for some live music, food and the opportunity to find the proverbial "pot of gold"—also known as boutique shopping at its best.
Update, March 12: This event has been canceled.
Pub celebrations and parties
March 13-14; March 17
If there ever was a time to believe in the luck of the Irish, St. Patrick's Day is it. As luck would have it, Boxcar Bar + Arcade is going all in, taking full advantage of St. Patrick's Day weekend starting on Fri., the 13th. Head on over to their two-day Bad Luck/Good Luck Party where you can sip superstition-themed drinks and cocktails while surrounding yourself with leprechauns, chocolate coins, rainbows and other lucky charms. You can also come back on Tues. for more fun and games at their St. Paddy's Day Party.
 
Trali Irish Restaurant & Pub
March 14 and 17
Tra'Li provides a sample of the hospitality you would expect to receive in Ireland at two locations in the Raleigh area (Morrisville and Raleigh). Both locations will host plenty of music on both Sat., the 14th, and Tues., the 17th, to mark the Irish holiday. The Raleigh location is celebrating their 12th birthday on Tues. as well!
 
March 14 and 17
Doherty's hosts its 8th Annual St. Patrick's Day Celebration this year at both its locations in Cary and Apex. The event starts Sat. with an outdoor party featuring live music, great food, Irish dancers and live bag pipes for a celebration the whole family will love. It picks back up on Tues. at 11am at both locations for another full day of Irish-inspired revelry!
 
March 17
Swing by one of the best local pubs in North Raleigh on March 17 for awesome drink specials and a special menu of Irish delicacies. Live music from the world-class, regional band CRUSH will kick the party into high gear around 8pm.
 
March 17
Neighborhood favorite O'Malley's has been serving up pints, cocktails and savory meals since 1996. Join in the St. Patrick's Day celebration at O'Malley's with green beer, giveaways, food and drink specials and of course, plenty of live music (starting at 11am!).
Irish eats and treats

Cheers and Green Beers St. Patrick's Brunch
March 14
Get ready to shamrock your taste buds at 10th & Terrace, the rooftop bar with a view atop the Residence Inn Raleigh Downtown. Hang out for the St. Patrick's Day Parade just a few blocks away, then head up to rooftop bar afterwards to keep the party going with green beer and plenty of brunch favorites. There's also live music from 11am-3pm.
 
St. Paddy's Day Buffet at The Piper's Restaurant and Tavern
March 17
The best part of any holiday is chowing down on your favorite holiday foods. While plenty of pubs and restaurants in the area are serving traditional fare, only Piper's in North Raleigh is hosting a buffet. Belly up to their table starting at 4pm on March 17 for all the corned beef, shepherd's pie and Irish soda bread you care to eat. While dining, revel in the sounds of bagpipes as well as live Irish music from local band Barleycorn & Rye.
Pub crawls galore!

It's no secret that St. Patrick's Day is the perfect opportunity to indulge in an adult beverage or two. If you're looking for a good pub crawl to make fast friends and explore the city, there are plenty to choose from. Here are three of our favorites.
14th Annual St. Pat's Pub Crawl, March 14, 2pm-2am
The Great St. Paddy's Day Pub Crawl, March 14, noon-8pm
LepreCon St. Patrick's Crawl Raleigh, March 14, 2pm-2am
Comments