How to Do a Perfect Girls Getaway in Raleigh, N.C.
Friday, August 31, 2018, 11am by visitRaleigh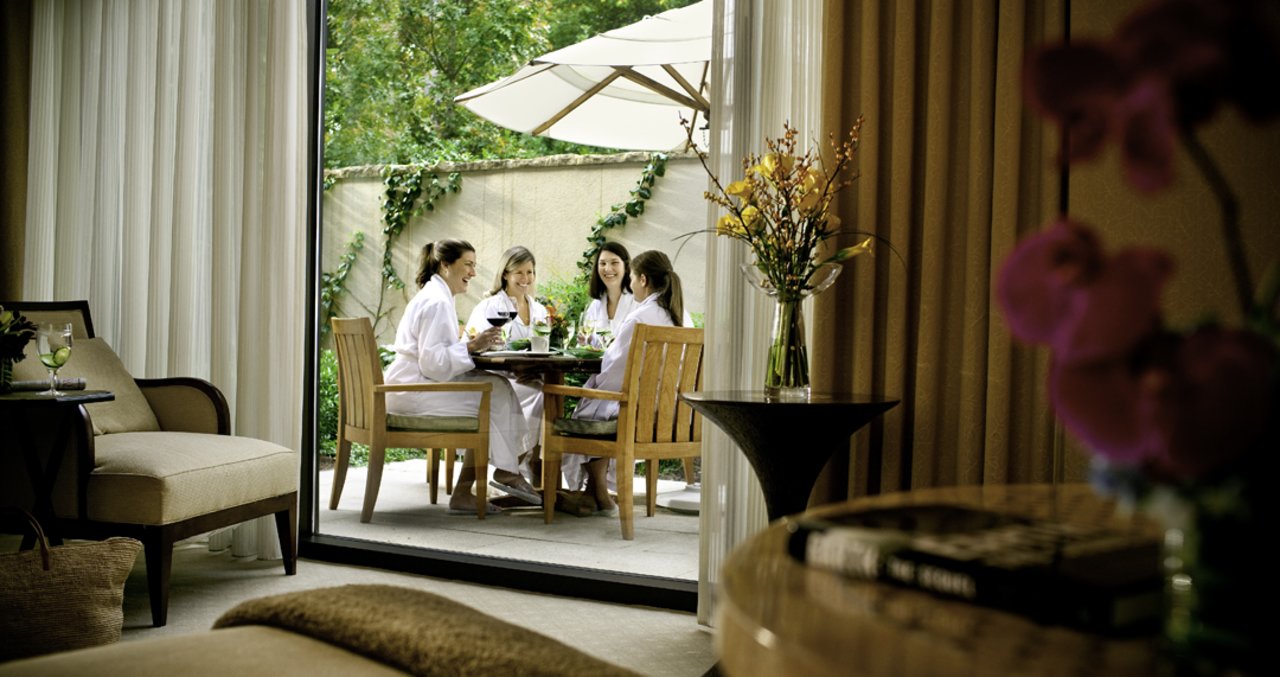 Check in
The Raleigh area offers several accommodation options perfect for a weekend girls getaway. Take The Mayton Inn in Cary for instance, where you can enjoy the amenities of a first-class hotel with the intimacy of a bed and breakfast. Discover rooms with their own distinct charm and style, and with a range of suites available, create a slumber party vibe with private space for everyone. Be sure to escape to the hotel's spa, savor Southern flavor at Peck & Plume and use easy access to downtown Cary to explore.
For an escape in a bit more of a natural setting, The Umstead Hotel and Spa is tucked away into 12 acres of woodlands and overlooks a private lake in Cary. A world-class getaway, The Umstead—previously recognized by Forbes Travel Guide and AAA as a Five-Star and Five-Diamond property, respectively—was named the third-best hotel in the U.S. by Condé Nast Traveler last year, thanks to a soothing spa, five-star cuisine, gracious staff and 150 luxurious guest rooms.
For a setup closer to downtown Raleigh, check out Aloft Raleigh. Or, relive your college days (with better accommodations) by checking into The StateView Hotel on the North Carolina State University campus that boasts state-of-the-art amenities and beautiful outdoor pool area. You can also make reservations at the AC Hotel by Marriott Raleigh North Hills in Midtown Raleigh.
Get dolled up
Blow dry bars are a quick, easy way to glam up for dinner or a night on the town. Raleigh's blow dry bars specialize in everything from beachy curls to formal up-dos.
At Blown Away Raleigh in North Hills choose from a menu of options with fun names like "Straight Up" and "Extra Dirty." Each style includes a shampoo and costs $40—a steal when you're looking to not "blow" your budget on a full cut and color. Insider tip: Blown Away hosts girls'-night-out events complete with beauty services and a party planner.
You can also check out Parlor Blow Dry Bar, where you can get in, get gorgeous and get going. Or, discover creative hairstyles at Alter Ego in downtown Raleigh.
Dine like queens
Where can a group of gals get a decent meal in this town? Almost anywhere, considering Raleigh's expansive restaurant scene. Swing by Hummingbird for delectable small plates, perfect for sharing among friends. The restaurant's eclectic and bright décor will be the highlight of your day or night. Insider tip: Large parties should choose to dine outside to enjoy plenty of elbow room.
Enjoy a sophisticated bite inspired by Paris at Coquette—a true French brasserie specializing in authentic cuisine. Enjoy entrees like Coq Au Vin, sides of French bread and yummy desserts. Walk-ins and reservations are both accepted.
Finally, Mandolin is a sure bet for ladies who brunch. Posted on a well-known corner of Midtown Raleigh, Mandolin uses local ingredients to create fresh takes on Southern food. Weekend brunch here is a real treat because of the food and the "modern farmhouse" vibe. Insider tip: Find easy and convenient parking behind the restaurant.
To discover more brunch hotspots, read 20 of the Best Brunch Spots in Raleigh, N.C.
Paint the town
Raleigh's nightlife scene makes having a fun, flirty night out a breeze. If you're staying at the AC Hotel in North Hills, kick things off at one of the best rooftop bars in the city, its Level7 lounge. Take in the stellar views of North Hills while nibbling on tapas-style bites and toasting to the weekend. Music is also on tap as the bar hosts local musicians. Insider tip: Outside visitors can bypass the lobby by entering through the hotel's side entrance to get to the elevators.
From there, hop over to Yard House to enjoy craft, local and imported beers as well as great happy hour specials. Or, drop by Kings Dining & Entertainment for food, creative cocktails, bowling, billiards and more.
If you're downtown bound, swing through Glenwood South. At the Empress Room, a relaxed hideaway dials up the charm with comfortable couches and the perfect atmosphere for girl talk. From there, go underground at C. Grace—a hip, jazzy bar directly just below the Empress Room—or turn up at Parliament, a classic bar featuring a glowing neon light and a house DJ.
Just a few blocks away, downtown Raleigh's Warehouse District is home to Vita Vite. This neighborhood bar pairs art, good wine and craft beer with a cozy atmosphere. Enjoy open seating with shared tables and couches, a fireplace and a selection of small plates. With wine glasses in hand, peruse artwork by Southern artists and buy a piece, if so inclined. (A second Vita Vite location, opening late this summer in North Hills, promises to take things to a new level with an upstairs bar and balcony.) Just down the street is Legends Nightclub—the place to get your dance on.
For a different downtown vibe altogether, beeline over to the Moore Square speakeasies. There's Watts & Ward, taking a page straight out of the 1920s with an underground entrance next to Brewery Bhavana. Settle into an underground den of leather chairs, sofas and dim mood lighting. There's a great patio as well.
Insider tip: Park at the Moore Square Parking Deck. It's close and reasonably priced.
From there, visit The Architect Bar & Social House inside a building originally built in 1922. You and your girlfriends will enjoy socializing and dancing underneath the bar's arrow-shaped skylight. Discover The Green Light, a speakeasy inside the Architect, accessible through a door hidden behind a bookcase.
To discover more nightlife, read 14 of the Best Cocktail Bars in Raleigh, N.C.
Shop 'til you drop
Retail therapy is essential to a girl's weekend, and Raleigh is a shopper's paradise. Start at Lafayette Village in North Raleigh—a shopping center that looks like a Paris postcard, complete with a tiny replica of the Eiffel Tower. There, you'll find lots of cool, trendy and reasonably-priced threads at boutiques like Pink Boutique and Gigi's Boutique.
Continue your shopping over in North Hills, where, you'll find StyleFinder, specializing in personal style assessments. Fashion consultants will not only help you identify your true, personal style, but also help you realize it. Have a ball discovering the various styles in your friend group while shopping the racks. Insider tip: Play dress up with a stylist with the boutique all to yourself by booking a private event.
Village District also boasts a plethora of eateries, boutiques and mainstream stores. One spot of note is The Local Squirrel. With a rustic and eclectic vibe, this lifestyle boutique has it all, from bridal gifts to tabletop trinkets made by local and national vendors. You and your friends should also visit Charlotte's, voted the number one gift shop around for nine years. Also, the Antique's Emporium for furnishings, fine art and more.
In downtown Raleigh, you'll find gems like DECO Raleigh with its eclectic mix of wares from more than 75 local artisans and makers. The brainchild of Pam Blondin, the store is deeply rooted and connected to the community. For high-quality denim, there's Raleigh Denim Workshop—part retail store, part workshop, started by Sarah Yarborough and Victor Lytvinenko. Raleigh Denim specializes in authentic and high-quality pieces to elevate your style. And for the perfect fashion accessories to go with your new denim, there's Holly Aiken - Stitch, carrying urban totes, messenger bags, wallets, phone cases and more in the downtown storefront where you can see Holly and her team handcrafting each product.
Stay active
Break a sweat and strengthen the bonds of sisterhood with yoga at Blue Lotus, with classes that cater to everyone from beginners to yogis. Join a public class or book a private session for your crew. Another increasingly-popular spot for yoga is Midtown Yoga in North Hills. Get adventurous at Cirque de Vol. This gym turns fitness into fun with beginner-friendly aerial and trapeze classes that you'll be head over heels for. You can also pedal over to CycleBar for a mind-blowing, heart-pumping party on a bike. Each facility features a CycleTheatre® with custom bikes and state-of-the-art audio, visual and lighting technology.
Get creative
Embrace your creative side at Raleigh spots like Wine & Design, a studio where you sip wine and enjoy a painting class led by local artists. Or, you and your friends can really cook with a visit to Whisk—a kitchen supply store/playground offering private cooking classes with a chef instructor.
Awaken your sense of smell with a trip to ESCENTUELLE Signature Fragrance Creation. With their custom perfume experience, you can easily create fragrances using high-quality ingredients from the oldest perfumery in France. Arrange a perfume party with a "scent artist" so everyone leaves with a signature souvenir. Insider tip: Hosts arranging parties of 11 to 15 guests enjoy the experience for free!
Rest and relax
Gather the troops to enjoy sophisticated spa services including massages, facials and more back at The Umstead Hotel and Spa, where you can also customize a package for your group. Enjoy the sauna, steam room, whirlpool and a meditation courtyard as well. Insider tip: Book your hotel stay at The Umstead to fully enjoy the spa experience.
Other day spa options include Skin Sense, which boasts the only Himalayan sea salt cave in the area. You can also re-invigorate your mind, body and spirit at the upscale, Lorena Luca Spa & Skin Clinic.
Comments