Illuminate Art Walk Brings Glowing Art to Downtown Raleigh
Tuesday, December 07, 2021, 4pm by David Menconi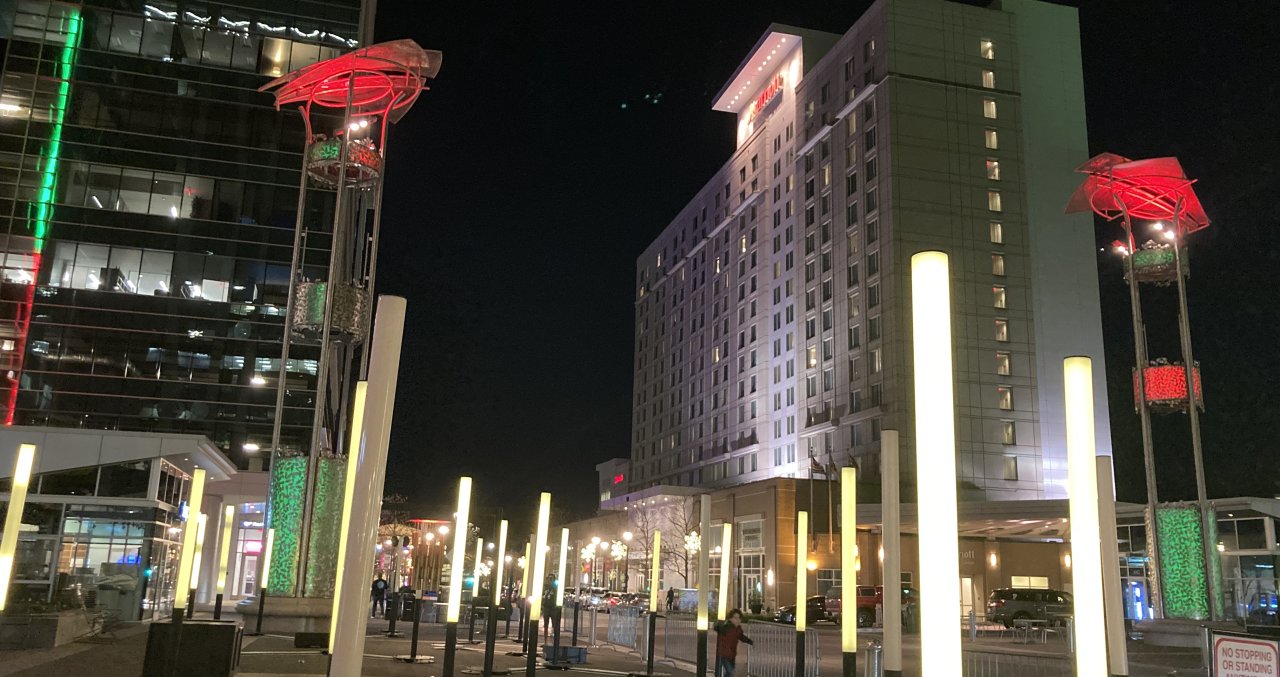 Note: Authored by David Menconi, this piece has been produced in partnership with Raleigh Arts. Menconi's latest book, "Step It Up and Go: The Story of North Carolina Popular Music, from Blind Boy Fuller and Doc Watson to Nina Simone and Superchunk," was published in Oct. 2020 by University of North Carolina Press.
---

The Downtown Raleigh Alliance has unveiled another reason to head to the city's downtown quadrant during this year's extended holiday season—the second edition of the Illuminate Art Walk. It's a self-guided walking route that will take you to 15 glowing commissioned works crafted by an array of local, regional and international artists at a dozen spots across downtown Raleigh, most of them along the main Fayetteville St. corridor, from the Duke Energy Center for the Performing Arts at the south end up to the North Carolina State Capitol building to the north. Another three are positioned less than a mile away in the Glenwood South entertainment district.

"The sort of dream behind last year's version of the Artwalk was to get people to visit downtown over the holidays in a safe and socially distant way," says Taylor Rankin, senior marketing and communications manager for the Downtown Raleigh Alliance. "So the installations were spread out, mostly behind storefront windows, and we tried to activate some of the quieter parts of downtown. Just inviting people to take a walk and explore parts of downtown they might not already be familiar with."

Primarily sponsored by Wake Technical Community College, this 2021 version of the Illuminate Art Walk offers ample self-photo portrait potential. It was unveiled on Dec. 3, as part of that month's First Friday. Some of the more attention-getting works in the series are "Tinsel: A Walk-Through Ornament," which is a 16-foot-high ornament display set up outside the Duke Energy Center; Penland School of Craft artist Ellie Richards' "Seating ReArrangements," consisting of colorfully lit-up chairs; and several displays by Nate Sheaffer, a noted local artist who specializes in neon artworks. Most of the works were commissioned by the Downtown Raleigh Alliance.

"We look for opportunities to support local artists with commissions," says Rankin. "That was our big purpose last year because it was such a hard time for artists who rely on commissions to make a living, and it continues this year." 
You'll find the exhibit's main centerpiece within Fayetteville St.'s City Plaza gathering spot, in front of critically-acclaimed vegan restaurant Element Gastropub. Titled "Chimes" and sponsored by Opendoor, it's the work of Montreal's Collectif Blackbox. "Chimes" is an interactive installation that has shown all over the world in recent years after debuting at Fete des Lumieres of Lyon (France) as part of MONTREAL EN LUMIERE in the city's 2018 Quartier des Spectacles.

"There are light posts, with chimes in the center as focal point," says Rankin. "The way you interact is to play these giant chimes in the center, and that lights up the posts while making cool sounds you can hear throughout City Plaza. The light sequences are very cool, too, colors that display different patterns. Great for kids and families."
The 2021 Illuminate Art Walk will remain on display through Jan. 7, 2022. The tour is self-guided, walkable and free to all. For a map and guide to the exhibits, see downtownraleigh.org/illuminate.
 
More holiday events in Raleigh, N.C.
WRAL Nights of Lights, through Dec. 24
Miracle® at The Haymaker, through Dec. 31
THE RINK, through Jan. 1
Magic of Lights, through Jan. 2
North Carolina Chinese Lantern Festival-Cary, through Jan. 7
The Justice Theater Projects presents Black Nativity in Concert, Dec. 11-12
Raleigh Ringers Holiday Concerts, Dec. 12-13
Trans-Siberian Orchestra, Dec. 15
Carolina Ballet presents The Nutcracker, Dec. 17-24
27th Annual Kwanzaa Celebration, Dec. 30
Official NYE Celebration at Raleigh Union Station, Dec. 31
WRAL First Night Raleigh 2022, Dec. 31
Comments