Major Music Festivals and Events: Things to Do This September in Raleigh, N.C.
Tuesday, August 27, 2019, 9am by visitRaleigh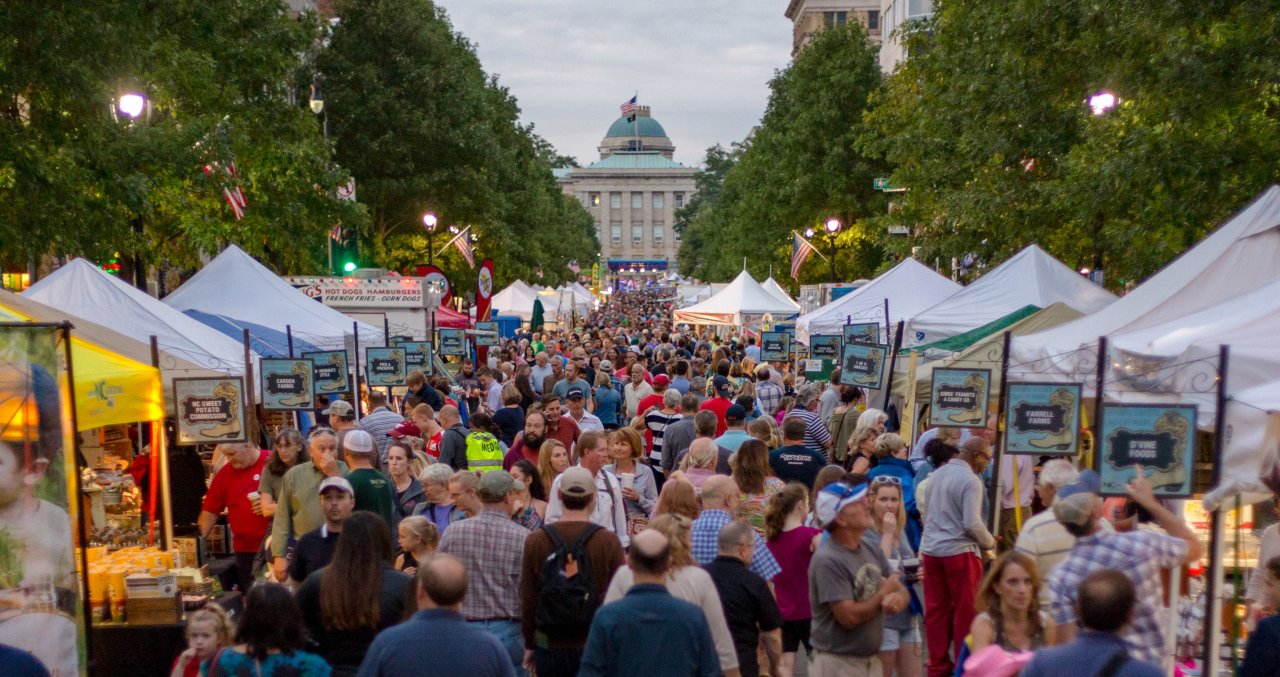 Every two weeks, we send out a newsletter that includes the best of the best upcoming events. If you sign up for our E-magazine, you'll get those, plus all the latest insider content (100 things to do in downtown Raleigh, for example, or all the details on Drive Shack's newest location in the City of Oaks).
---

Who's ready for a Raleigh road trip? Summer may be hitting its final stretch but festival season is just getting ready to peak this month in the Raleigh area. In a destination known for sprawling, rocking, community-wide festivals, the month of Sept. is the crown jewel. Music, beer, arts, bikes, culture—the very best of our capital city is on display all month long. 
 
African American Cultural Festival of Raleigh and Wake County
Aug. 31-Sept. 1
An annual celebration of African American culture expressed through art, music, food and community, this two-day downtown Raleigh festival showcases local, national and international artists, performers, food vendors and area business owners. Now in its ninth year, the free-admission festival draws nearly 40,000 attendees per year to what's now considered Raleigh's premiere destination for teaching, sharing and celebrating the distinctive folk and cultural traditions of African Americans here in N.C. and from around the world.
Hopscotch Music Festival
Sept. 5-7
Three days, more than 120 bands, 11 venues in downtown Raleigh, 50 totally-free day parties and 25,000 fans—it's no wonder why Hopscotch Music Festival is time and time again named one of America's can't-miss music events. The acts—and genres—are as wide ranging as the venues they play in (the 5,000-seat Red Hat Amphitheater and a tiny dive bar, Slim's Downtown, for example). Headliners for 2019 include Sleater-Kinney, James Blake, Jenny Lewis, Chvrches, Phantogram, Little Brother and more!
Sept. 6-8
A tradition in Raleigh since 1982, the Raleigh Greek Festival—held at the North Carolina State Fairgrounds—features live music and traditional folk dancing plus all the authentic food options you could ask for (gyros, souvlaki, baklava, cookies, pizza, stuffed grape leaves, wine and more).
Outdoor Movies
Up for a picnic and movie under the stars before summer comes to an end? We are!
Sept. 7
At Cotton House Craft Brewers in downtown Cary, a newly-finished backyard and patio calls for celebration! Enjoy live music by Grammy-nominated singer-songwriter Gabriel Kelley, followed by a rowdy-good time with Hogslop String Band from Nashville. Additional fun includes awesome vendors, your favorite food trucks, an outdoor beer shack, mobile axe throwing and more.
Sept. 7-8
The ultimate event for kids, this interactive expo will feature local and national companies that have products and services catered to your kids and families. Help your curious kid mine for gems, play in the bouncy house, get their face painted, visit the craft corner and more!
Sept. 9-15
Positioned to begin at the conclusion of the US Open, the Atlantic Tire Championships is a USTA Pro Circuit Event that attracts many of the top ATP professionals and capitalize on the excitement created from the biggest Grand Slam. Held at Cary Tennis Park, with a number of ticket packages available.
Sept. 12-29
George Balanchine's Rubies—featuring the music of Igor Stravinsky—returns to the Raleigh stage to open Carolina Ballet's 2019-2020 season. This program will also feature a new Weiss/Raffael collaboration featuring music by San Francisco composer Shingi Eshima, as well as Robert Weiss' beloved Meditation from Thaїs and his Classical Ballet set to the music of Prokofiev.
SPARKcon
Sept. 13-14
SPARKcon, the totally-weird, totally-awesome creativity festival that takes over downtown Raleigh each Sept., is truly a grassroots event. The "for the people, by the people" approach uses an open-source planning process that allows more than 2,000 artists to be involved each year. Dance, fashion, music, film, food—if you can name it, you can find an event for it at the festival that spans nearly 15 city blocks.
City of Oaks Pirate Fest
Sept. 14
Ahoy, mateys! 2019 marked 300 years since the notorious pirate Blackbeard roamed the Carolina coast and lost his life—and his head—in a fight with British soldiers. At the second annual City of Oaks Pirate Fest, held at Dorothea Dix Park, you'll learn more about the history of pirates in N.C., plus you'll get to meet Captain Blackbeard, engage in sword fights, feast at local food trucks, participate in a costume contest, take on arts and crafts projects and more!
Opens a New Sept. 14
Ready for its ninth year, the Apex Music Festival attracts thousands of fans to historic downtown Apex to enjoy live music, street vendors, food trucks, beer and wine and an eclectic mix of shops and restaurants. Two outdoor stages and one indoor theater will host a variety of acts from local, regional and national performers from many musical genres—rock, folk, R&B, bluegrass, country and more.
East Meets West Festival
Sept. 14
The free-admission festival celebrates Morrisville with a day of food, culture and music from around the world. Dozens of local restaurants sell small plates of their specialties. At the same time, the festival stage hosts performances from groups representing the town's many cultures. Children can have their faces painted or enjoy a variety of other fun activities. 
 
Sept. 15
Perhaps the sweetest event of Sept., NC Sugar Rush is an all-dessert food truck rodeo held at Raleigh's City Market. More than 20 vendors—offering a range of goodies from cotton candy to cupcakes to cherry pies—will be on hand, along with face painters, balloon artists and more to keep the kids entertained.
Sept. 15
The first ever "dinner and a movie" event at Mandolin Farm includes a burger bar from chef Sean Fowler (the mastermind behind Mandolin, named one of America's 50 best Southern restaurants) along with farm-fresh sides, gourmet popcorn, tea, lemonade and a showing of "Ferris Bueller's Day Off" (plus wine and beer for an additional cost). Tickets are required—bring your own chairs and blankets!
 
Savor the Triangle Food Festival
Sept. 18
A culinary celebration that provides a chance to taste many of the area's best restaurants (Locals Oyster Bar, Brew N Que, Taverna Agora, Gravy, Sassool and The Pit, to name a few of the 20-plus vendors), this ticketed event indoors at the North Carolina State Fairgrounds comes with food, drinks, sweets, fun photo opps and more.
 
Sept. 19
Author Randall Munroe—the brilliant mind behind the wildly-popular web comic XKCD—will discuss his new book, How To: Absurd Scientific Advice for Common Real-World Problems, at James B. Hunt Jr. Library. Each ticket includes a copy of the book.
 
15th Annual Capital City Bikefest
Sept. 20-22
Capital City Bikefest is a free, family-friendly, three-day event at the Tobacco Road Harley-Davidson dealership. Now in its 15th year, the event celebrates Raleigh's rich motorcycle culture and features live music, parades, charity rides, stunt shows, vendors and more. All proceeds from the weekend are donated to the USO of N.C. and the U.S. Veterans Corps.
 
BugFest
Sept. 21
Experience more than 100 exhibits, crafts, games and activities at BugFest, the North Carolina Museum of Natural Sciences' annual event that lets you interact with entomologists and other scientists while learning about the fascinating world of bugs. Featuring the ever-popular Café Insecta, where the brave can sample buggy dishes prepared by local chefs. The best part? The event is totally free for the expected 35,000 attendees.
 
Groove in the Garden
Sept. 21
Groove in the Garden is back for year five at Raleigh Little Theatre's beautiful Stephenson Amphitheater. The annual music and arts festival shines the spotlight on some incredible local talent. Two stages of music, plus food trucks, beer, wine, local artists and vendors, a kids' zone and more make this a can't-miss late summer event in Raleigh.
Sept. 21
Local bands, bounce houses, rides and games—plus more than 20 cooks and 50 vendors vying for cash prizes for best whole hog, chicken and ribs—draw more than 4,000 people to the Rolesville BBQ & Bands Festival each year. Admission to the event is free but barbecue plates are for sale (and it may be a good idea to purchase in advance before they sell out!).
 
La Fiesta del Pueblo
Sept. 22
Back for its 26th year, La Fiesta del Pueblo, a Hispanic cultural event held on Fayetteville St. in downtown Raleigh, draws nearly 20,000 attendees each year and showcases music, art, dance performances, educational booths, children's activities and food from different regions of Latin America, all in celebration of the diversity of Latin-American culture.
Opens a New Window. Sept. 24-28, 2019
The arrival of a toe-tappin', banjo-strummin' week of non-stop week of bluegrass in downtown Raleigh is one of the most anticipated times of the year. The International Bluegrass Music Association brings their business conference, along with the world's most talented bluegrass musicians, to Raleigh during this week. Those musicians then perform in clubs, on street corners and in hotel lobbies—anywhere they can find a jam session—during the Bluegrass Ramble (9/24-26). And on the Thurs. of that week, the 30th Annual International Bluegrass Music Awards Show marks the biggest night in bluegrass where nearly a dozen awards are handed out to recognize the top achievements across the industry.
The week is capped off with PNC presents Wide Open Bluegrass (9/27-28), a two-day festival that sets up seven stages of free music, a dance tent, a barbecue championship, tons of art vendors and more. The Main Stage at Red Hat Amphitheater is FREE for the first time in 2019 Opens a New Window. (and headlining acts include Del McCoury Band, Molly Tuttle, Balsam Range, Sister Sadie and more!).
N.C. Pride at Night Festival and Celebration
Sept. 28
Thirty years ago, Raleigh's first Gay Pride celebration was held on Sat., June 25, 1988. Participants, numbering more than 2,000, gathered at North Carolina State University's Memorial Belltower on Hillsborough St. and marched to Capitol Square. On Sept. 28, participants will again honor the past and celebrate the future with a free street festival outside of Legends Nightclub, a leader in LGBT nightlife in the Raleigh area for more than 25 years. Set to headline the festival is singer, songwriter, dancer, actor, choreographer, producer and social media influencer Todrick Hall!
Brew 'n' Choo
Sept. 28
Food trucks and local breweries will be on hand for Brew 'n' Choo, a series of family-friendly events at the North Carolina Railway Museum & New Hope Valley Railway that offers a family-fun opportunity to take a one-hour train ride through the woods (food and beverages allowed on the train!) and/or a 45-minute walking tour of the railway and museum.
Paddle the Pond
Sept. 28
A rare opportunity to get on the water at Historic Yates Mill County Park, visitors will learn basic canoe skills and a bit about the millpond's history, then head out to explore the pond's many features as seen only from the water.
Sept. 28
Enjoy a day at Historic Oak View County Park listening to stories from professional storytellers in this event presented by Wake County Public Libraries. The event also includes a wagon shuttle, activity tents and food vendors. The event includes lawn seating, so bringing a blanket or chair is recommended.
 
Asia Fest (and Dragon Boat Festival)
Sept. 28
Celebrating Asian culture, diversity, ethnicity and cuisine at Cary's Koka Booth Amphitheatre, each year approximately 10,000 visitors come to the Asia Fest (aka the Greater Triangle Dragon Boat Festival) to experience nearly 100 exhibits and activities such as dragon boat races, cultural displays, games and stage performances. Tickets are required and can be purchased on site or in advance.
 
Fresh off a playoff run to the Eastern Conference Final in 2019, the Carolina Hurricanes are back at PNC Arena for another season of high-level hockey. They'll play three pre-season games at home in Sept. before facing off for the regular season in Oct.
Header photo by Garrett Poulos
Comments