N.C. band, Morning Brigade, talks favorite Raleigh venues and more.
Friday, May 02, 2014, 12pm by Tyler Cox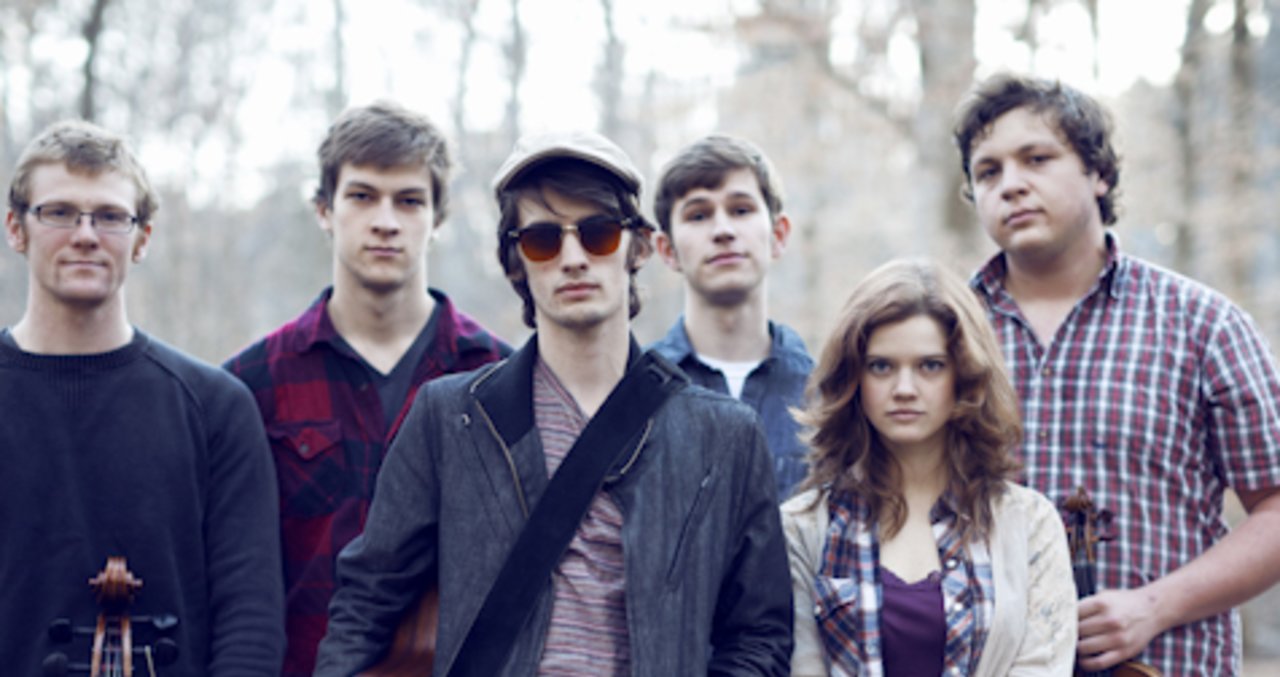 Acoustic indie pop band Morning Brigade recently completed their second full length album, "Grow Around the Bones," released on Apr. 26 to wide acclaim. They kick off May with a Greater Raleigh album release show tonight at Kings Barcade, the first of four dates (and counting) in the area this month. Be sure to check out Morning Brigade tonight at Kings Barcade, May 3 at Gizmo Brew Works, May 24 at The Pour House Music Hall and on May 30 at Lonerider Brewing Company. I spoke with Nathan Spain, their drummer and manager, about their upcoming shows and live music in Greater Raleigh.
How did your band come together?
It was kind of a process, getting the entire band together. I'm not entirely sure about the details of the initial meeting. Peter Vance, the lead singer from Washington, D.C., was playing some open mic shows around the Franklin St. area [downtown Chapel Hill]. Our keyboardist Gabriel Reynolds was in the area. Through [Peter] playing the shows, they talked about putting a band together. Gabe and I had been in a band in high school. When they asked about getting a drummer, Gabe suggested me. Peter had the initial idea to have a string section. One of them asked Christian Adams [who plays cello] to be involved. They asked Eli Howells to play violin. Most of us met on the first day of practice. I'm pretty sure Gabriel was the only one who knew everybody. Mary Koenig we added after the first couple shows, recognizing we might need a female vocalist. She was hesitant to officially join until she played a few shows with us and she started to feel a little more comfortable with us. Then she officially joined us.
What's your relationship with Raleigh?
It's kind of multifaceted. Most of us stem from around Raleigh and Cary. Eli and Peter are not from Raleigh. The other four of us are from Apex, Cary and Raleigh and a lot of us went to school in the Raleigh area. Gabe and I were involved in Raleigh and played shows at The Brewery on Hillsborough St. before it got torn down. If it weren't for Raleigh fostering friendships between us, if it weren't for the music scene, we certainly would not have formed, at least in this incarnation of the band. I think Gabe and Mary met at a piano bar Gabe was playing at downtown when they were younger and I think Mary approached him. They started talking and became friends.
What's your favorite venue in Raleigh to play?
Morning Brigade has played Deep South The Bar, Kings Barcade, Tir na nOg, Berkeley Café, Lonerider Brewing Company, The Pour House Music Hall and Slim's Downtown. We've been together two-and-a-half years so I'm probably forgetting a few. We have a top three–it sort of cycles in and out according to the season. Deep South The Bar has a great administrative [team]. Dave Rose runs the place well. He's responsive to bands' needs, which is very helpful. Kings Barcade–we have a personal relationship with Michael there. They are easy to work with–great sound and space–100-percent geared to music. Tir na nOg has such a great thing going with Local Band - Local Beer. Craig Reed who books that show is great to work with. It's so easy to work with all three of those venues.
You have three more shows planned in Raleigh this month. Tell me about them.
We're playing Gizmo Brew Works on Sat., May 3. This type of gig is one we very much enjoy. We've played Lonerider Brewing Company a couple of times. We love going to craft breweries and mixing two different types of art in craft brewing and local music. I think the crowds we see at craft breweries are the type that are there to support local art. All around, always a good time when we play a local brewery. The lineup that was put together for this show is something special. We're very excited to play with Birds & Arrows and Embers End.
We're playing the The Pour House Music Hall with Matt Phillips & The Philharmonic and Rebekah Todd & The Odyssey [on May 24]. We're playing Lonerider Brewing Company again on May 30.
What should we expect from a Morning Brigade live show?
I would say, after talking to fans after they see their first Morning Brigade show, you can expect to be surprised by what you're gonna' hear. When we sat down in the studio for this last record we wanted to capture what it's like to be in concert. We're loud, dynamic, orchestric at times and sometimes restrained and deliberate. However we set up a set list, the end result is a rollercoaster of dynamic music that gets people's attention.
Finally, let's talk about your favorite local bars.
In Raleigh, I point to places like Raleigh Times Bar, a great hangout spot. Foundation is a cool place–love going there. We like to have intimacy, places where we can sit outside and places that have local beers on tap. There are a lot of those in the area. Considering how many local breweries in the area [16 in Greater Raleigh, total!], it's easy to find places like that in Raleigh. It's such a great scene.
Photo credit: ccc fotographie 
Comments