N.C. Brew Selection Rocks at PNC Arena
Friday, May 23, 2014, 6pm by Derek Allman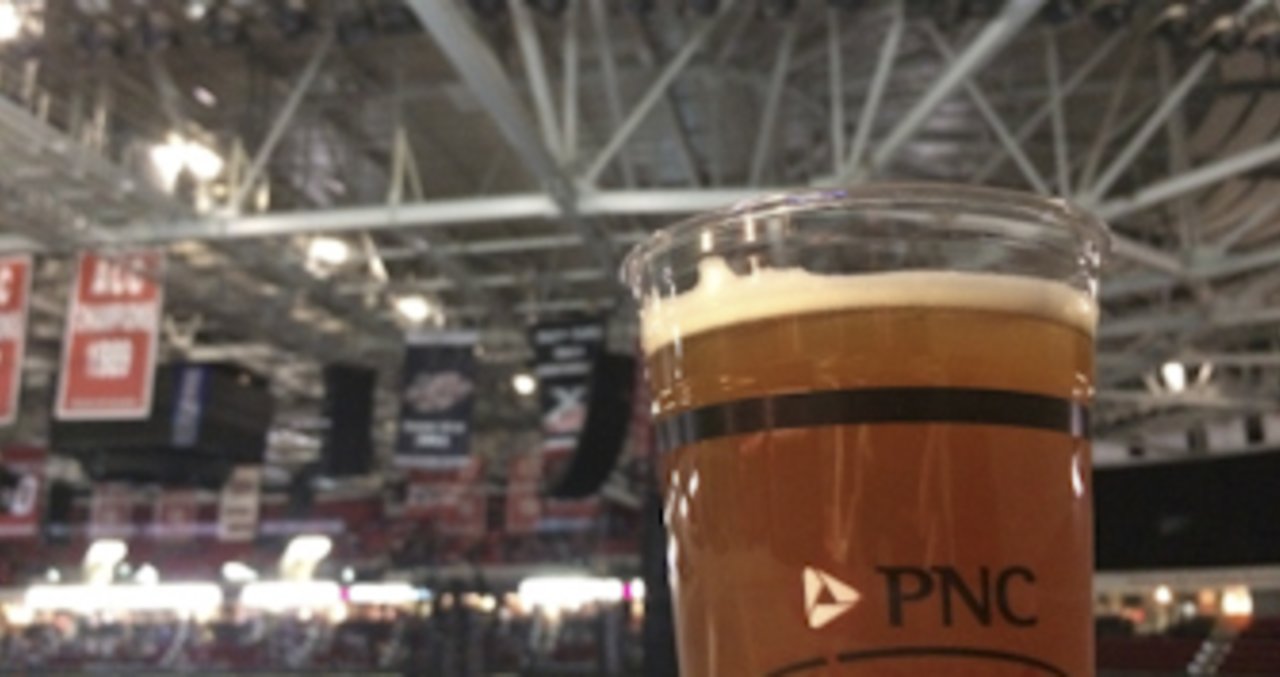 Music Maniacs taking in concerts at PNC Arena will be stoked to find out about the great selection of N.C. craft brews on draft. Not only can music fans experience big-name artists live, such as Bruno Mars and Tom Petty and The HeartBreakers, this summer and on, but can also enjoy a N.C. brew while doing so!
There's something about live music and craft beer that goes together so very well. I pin it on the fact that great-quality live music deserves to be enjoyed with great-quality brews, which Greater Raleigh breweries offer.
PNC Arena offers Natty Greene's Pub & Brewing beers, on tap, including year-round beers Buckshot Amber Ale, Wildflower Witbier, Guilford Golden Ale and Southern Pale Ale. If you're new to craft brews and want to try one out, the Guilford Golden Ale is a good beer to start with, with a low amount of bitterness, a full body, slight tartness and a delicious wheat flavor. (On another important note: Though its closed during concerts, the Natty Greene's PUBDECK is a must-visit during Carolina Hurricanes NHL hockey games. The area features a 2,000-square-foot sports bar, pub-style food, waiter/waitress table service and more. The deck screams craft beer, with information and artwork all throughout the section from Natty Greene's Pub & Brewing.)
Carolina Brewing Company is one of Greater Raleigh's oldest breweries, and you can bet that its Carolina Pale Ale can be enjoyed at concerts, on draft and served in four different sections and also in bottles on the 200 level. Taste of one Greater Raleigh's staple beers, an American-style pale ale using three varieties of American-grown hops to create a "pleasing bitterness, aroma and lingering hop taste," as the brewery describes it.
Greater Raleigh's Aviator Brewing Company continues to rise in popularity and is constantly offering unique and innovate beers. On tap currently are Devil's Tramping Ground Tripel, Hotrod Red, Saison de Aviator and HogWild IPA. I suggest the Saison de Aviator, available until Sept. 30, 2014, right through the summer. The brew is a Belgian-style made with pilsner malt, mid-kilned malts, coriander and sweet orange peel, offering up a refreshing and celebratory taste. Hops fans will absolutely love the HogWild IPA!
Also on tap are Foothills Brewing (Winston-Salem) beers, also a N.C. favorite! Taps can be found throughout the arena, with a dedicated section for Foothills Brewing, complete with a bar and a great selection of brews.
So, if you're a Music Maniac and a fan of delicious beer, you're all set when you rock at shows at PNC Arena! When you see your favorite artist, give the Greater Raleigh beers a try, and if you've already tasted what our area breweries have to offer, you already know you're in for some good offerings. Have one to go along with the mouthwatering food PNC Arena offers, including Carolina barbecue, grilled sausages, fresh charbroiled burgers and much more.
Concerts coming up this summer at PNC Arena include Bruno Mars (June 14), Katy Perry (June 22) and Tom Petty and The Heartbreakers (Sept. 18).
Cheers!
Comments