Nickel Creek and Josh Ritter at Koka Booth Amphitheatre
Monday, August 25, 2014, 10am by Tyler Cox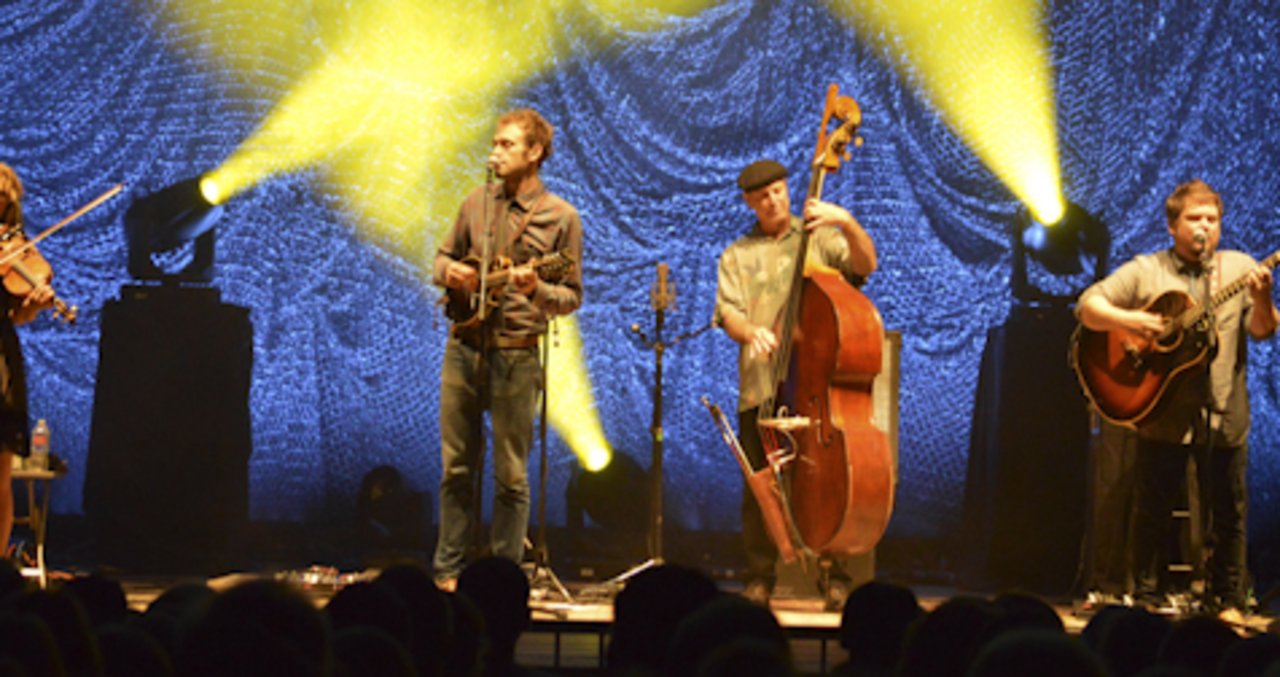 Nickel Creek's first tour in seven years could not have passed through a better venue. On the road in support of "A Dotted Line," their first studio album since 2005, the band spent an Aug. evening at Cary's Koka Booth Amphitheatre. This show was extra special as singer-songwriter Josh Ritter joined the bill for the second of only three nights together.
For this blogger, few events better signify the warm North Carolinian spring and summer like an evening at Koka Booth Amphitheatre. Sitting on 14 acres with a capacity of 7,000 people, the amphitheatre is encircled with hardwoods and pine trees. To the south, bordering the grounds, the shimmering Symphony Lake beckons visitors to picnic beneath the pines before and during events.
CobbleStone Courtyard, where the main entrance spills out, serves beer, wine, sandwiches, pizza, ice cream and other snacks.
Crescent Area houses Crescent Café, where guests can purchase beer, wine, mixed drinks and hot sandwiches. The amphitheatre sells table seats in Crescent Area featuring wait staff service.
A new wrinkle for me was the addition of three food trucks, and each show is sponsored by two local breweries. I lucked into Natty Greene's Pub & Brewing and Fortnight Brewing Company.
Koka Booth Amphitheatre gives patrons plenty of reason to keep coming back. Pickin' in the Pines Bluegrass Series kicks off this year on Sept. 3 and continues every Wed. through Oct. 1. Between May and Aug., Koka Booth Amphitheatre hosts the outdoor movie series, WakeMed Movies By Moonlight. Beginning in late May, the North Carolina Symphony Summerfest runs for eight weeks. Raizin' A Ruckus Country Music Series brings stellar country tunes every Wed. in July. Meanwhile, the venue books a star-studded lineup to play throughout the warm season. Past acts include Crosby-Stills-Nash, Alan Jackson, Duran Duran, The Avett Brothers, Ben Folds, The Lumineers and My Morning Jacket.
But on Aug. 14, Nickel Creek and Josh Ritter held the eyes and ears of my fellow Music Maniacs. At 7:30pm, Josh Ritter walked on stage. I've been seeing Josh Ritter live for 10 years, and this show marked the first time I'd seen him without a full band. He was joined on stage by Josh Kaufman, who added some dazzling guitar work for about half of Ritter's set.


Ritter and Kaufman opened with the wistful "Monster Ballads," setting the tone for his set: peaceful, honest and mellow. Lacking a big band, Ritter avoided the raucous songs in his catalogue, such as "To the Dogs or Whoever" and "Mind's Eye," to focus instead on the acoustic ballads which originally brought him notoriety. He strummed old favorites (including "Kathleen," "The Temptation of Adam" and "Me & Jiggs") and mixed in a few new unreleased songs, including my new favorite, "Cry Softly." His songs tell stories of the Midwest, his literary style a unique blend of poetry and prose.
Ritter's 2013 album "The Beast In Its Tracks," a stripped down solo acoustic record, seemed destined to get lots of love from this type of set. Not surprisingly, Ritter closed his set with three songs off his newest release: "New Lover," "Hopeful" and "Joy To You Baby," a song about acceptance and moving forward. Ritter's Midwestern croon had the crowd at ease and primed for the headliner.
Nickel Creek blended bluegrass with rock, pop and ragtime, creating a new genre dubbed "newgrass." Members Chris Thile (mandolin), Sean Watkins (guitar) and Sara Watkins (violin) are all in their 30's now (upright bass player Mark Schatz joins them on tour), but that same youthful energy that made them crowd favorites when they formed 25 years ago remains the hallmark of their music.


Nickel Creek began their set with their new album's opening track "Rest Of My Life." Ostensibly about waking up with a hangover following a wild party the night before, this song sounded to me like a metaphor for their career. Their first successful run as a band netted them, among many other awards, a 2003 GRAMMY for Best Contemporary Folk Album. Perhaps a hangover set in after so many years together, and now the band is waking up to a new life post-hiatus. "I'm coming to. I'm turning myself into something a little less promising, a little more useful," Thile sang.
But that didn't mean the band would forget the songs that made them famous. Only six of their twenty songs from their set list were off the new album. Old fans were treated to "The Lighthouse's Tale," "This Side," "Smoothie Song," "When You Come Back Down" and "Ode To A Butterfly." New fans caught "Destination" and "21st Of May," singles released ahead of "A Dotted Line," as well as the humorous instrumental "The Elephant In The Corn." After explaining that they'd been kicking around a cover song for a couple of weeks, Nickel Creek launched into Fleetwood Mac's "The Ledge," delighting the eclectic crowd.

Their two-song encore concluded at 10:30pm with the closing track from "A Dotted Line:" "Where Is Love Now." "Where is love now?" they harmonized. "Out here in the dark?"
Clearly it was, and the crowd let them know it. Welcome back to N.C., Nickel Creek. In your absence, I never found somebody more like you.
To my fellow Music Maniacs: Miss the Nickel Creek and Josh Ritter show? Check out Koka Booth Amphitheatre's concert lineup here and experience the stellar venue for yourself.
Comments