Now Open: Morgan Street Food Hall is a First of Its Kind in Raleigh
Thursday, September 06, 2018, 11am by visitRaleigh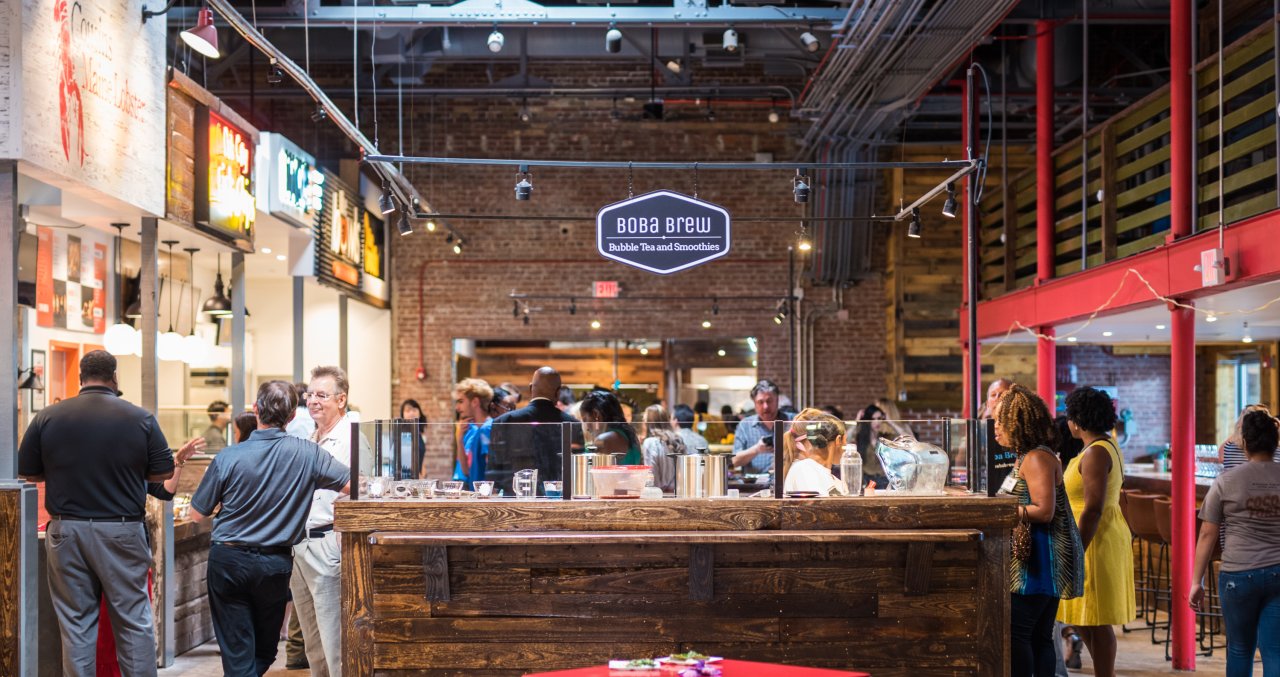 Morgan Street Food Hall, the highly-anticipated, multi-vendor food hall located in downtown Raleigh's Warehouse District, is now open! The repurposed warehouse, measuring 22,000 square feet, provides residents, workers and visitors a unique dining experience from a wide variety of local chefs, restaurateurs and purveyors.
The first of its kind in Raleigh, the space features 20 culinary concepts ensconced in fully-outfitted spaces offering cooked-to-order meals, snacks and specialty foods like crepes, Thai rolled ice cream, bubble tea, lobster rolls, tacos and more, plus specialized retail carts selling packaged food and culinary-related items. The food hall is also home to a massive indoor/outdoor bar—The Arbor—with another smaller gin-focused bar set to open at a later date.
The outdoor space—which has plenty of tables, chairs, bar rails and a gorgeous set of string lights—has already proven to be a super-popular hangout spot well into the evenings for family dinners, date nights and groups of friends getting their grub on.
 

The opening is another accomplishment for Niall Hanley, owner of Hibernian Hospitality Group and brainchild behind the food hall as well as some of Raleigh's other boldest eating and drinking establishments. The company's Raleigh Beer Garden rewrote the record books with the world's largest draft beer selection (verified and made official by the Guinness World Records) when it was unveiled in the summer of 2015 in downtown Raleigh's Glenwood South district. Watts & Ward, a 6,000-square-foot craft cocktail speakeasy, opened in April 2017 to much anticipation and rave reviews.
 

The food vendors at Morgan Street—which include Carroll's Kitchen, a local nonprofit social enterprise cafe dedicated to ending homelessness for women, Raleigh Raw, a juice bar and cafe serving up organic and raw foods, and Cow Bar, a new burger concept offering larger-than-life gourmet burgers and fries (plus many, many more)—have you covered from morning to evening. Hours will vary by food vendor, but the food hall is open Sun.-Wed., 7am-10pm, and Thurs.-Sat., 7am-2am.
 

Recently, Thrillist called Raleigh's Warehouse District "one of 12 neighborhoods across America about to get crazy popular," and Forbes called it "the hottest neighborhood in Raleigh" in anticipation of Morgan Street Food Hall's opening. You'll find a contemporary art museum, locally-brewed beer, can't-miss barbecue, hand-crafted denim, a gourmet chocolate factory and much more all within just steps of each other.
Ready to plan a visit? Read up on our top 10 things to do in Raleigh, see a list of upcoming events and find a hotel near Morgan Street Food Hall here!
Morgan Street Food Hall is located at 411 W. Morgan St. in downtown Raleigh. To see more photos and stay up to date on vendor news, follow them on Instagram.
Comments