Picture This: Greater Raleigh Wall Murals, Part I
Thursday, April 03, 2014, 12pm by Kristy Stevenson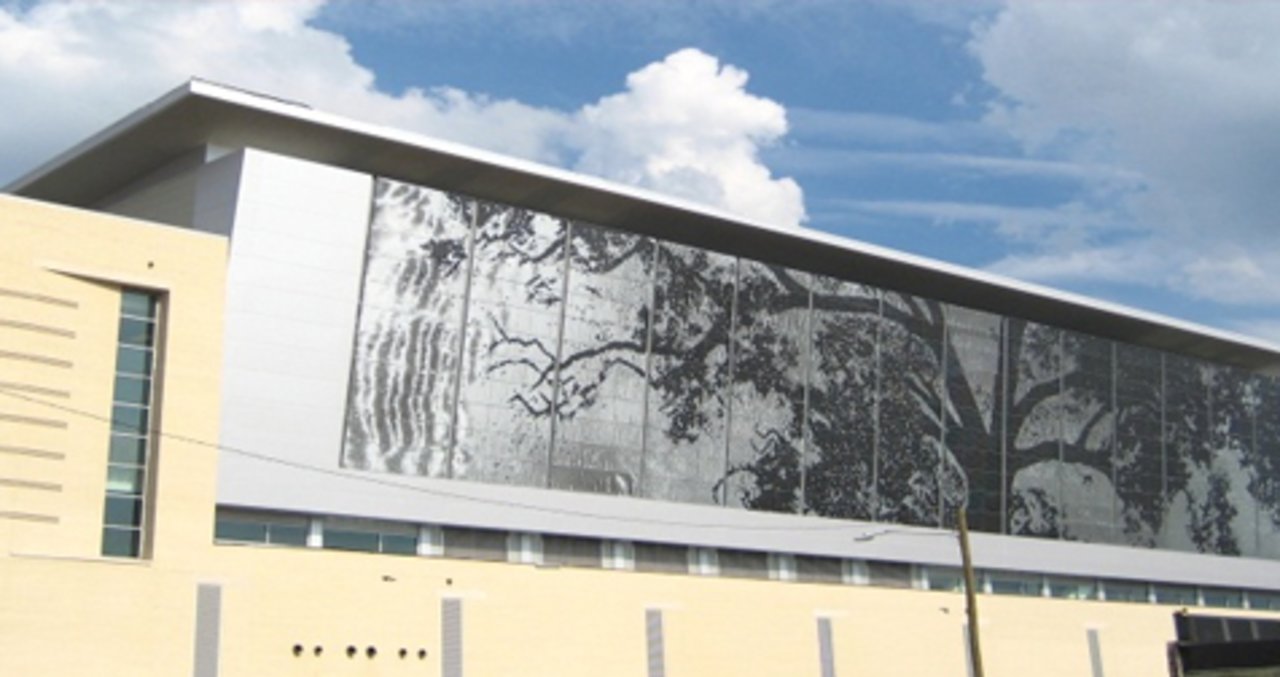 Art comes in all shapes and sizes. And downtown Raleigh features some of the coolest–on a grand scale. I'm talking about murals and other visual "urban art" that adorn the sides of area buildings and other landmarks. Over the years, these striking works transformed the landscape and provided eye-catching attention to what may have otherwise been just ordinary spaces. Some have been removed, while others stood the test of time. How many of these have you spotted?
The Cree Shimmer Wall (pictured above): A reflective LED tree mural displayed on the side of the Raleigh Convention Center. The wall depicts an image of an oak tree and has become a symbol for Raleigh, the City of Oaks. The piece is made up of 79,464 light and dark aluminum squares that change shape and disappear as the squares flap in the wind. When the Barenaked Ladies played the Red Hat Amphitheater, they did a rap about the nearby Shimmer Wall.
Education Wall: Vernon Pratt's 1992 piece, part of the Artworks for State Buildings (Education Building, Government Mall, off Wilmington and Lane Sts. in downtown Raleigh).
Artspace: Once the city's livery and later the Sanders Ford dealership, this 30,000-square-foot garage has been converted into artist studios where established and emerging craftsmen inspire and engage visitors in the visual arts process. It's also the hub of First Fridays.
Butterfly Mural: This little building on Blount St. just sits in the middle of downtown amongst its larger counterparts. The design has faded over the years, but it's still an interesting talking point.
Lincoln Theatre: The west-facing wall of Cabarrus St.'s Lincoln Theatre features a mural of Honest Abe behind the wheel of a Lincoln.
Johnson St. Mural: This piece was created on Raleigh's Johnson St., across from the now defunct Hi 5 pizza place and sports bar.
City Market: This mural on the edge of the City Market (Davie and Person Sts.) seems to be an ode to the agriculture of N.C. Check out the faces drawn into the fruits and vegetables.
"The Fantastic Sky Race": The Raleigh Appearance Commission and the City of Raleigh approved a project in which students at the North Carolina State University College of Design created panel art for the parking garage at the corner of Davie and McDowell.
Triangle Transit: The Dillon Supply Company building at the west end of Martin St. has been selected as the replacement for the current Amtrak station. The building features a 200-foot transportation-themed mural (including Trolley Pub) spanning the east and south facing walls of the property. A sign on the front car of the train reads, "Together we will place tracks to a future beyond anyone's imagination."
Watch for Picture This: Greater Raleigh Wall Murals, Part II coming soon…
Comments